Ginkgo boosts blood flow to the brain. It is most often associated with memory, but may also have rapid & sustained attention-sharpening effects.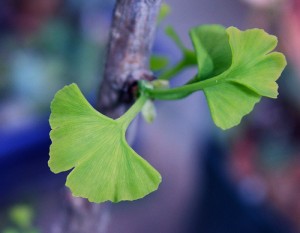 A cornerstone herb of Traditional Chinese Medicine, ginkgo biloba is a multifaceted brain-booster that helps to support:
Cerebral circulation: Famously boosts blood flow to all extremities, including head & brain.
Neuroprotection: Its antioxidant activity may help "quench" brain cell-damaging radicals.
Brain chemicals: Enhances synapses' neurotransmitter uptake, especially acetylcholine.
Overview
Considered a "living fossil," Ginkgo biloba trees have existed for over 200 million years, with individual specimens found to live up to 3,000 years. A foundation herb of Traditional Chinese Medicine, ginkgo biloba has long been prized for its health-supportive properties. One ancient Chinese record reportedly suggests that the tree's leaf was used 2,800 years ago for the same reason it is primarily used today: To enhance circulation.1
Ginkgo biloba is a vasodilator
Ginkgo enhances circulation by relaxing, toning and regulating blood vessels. Ginkgo's vasodilating activity is notable because it increases blood flow to the body's extremities, including the head and the brain.
Ginkgo biloba also supplies compounds called terpenes that may further support robust circulation by helping to make blood cells less "sticky," for free-and-easy blood flow… including to the brain.
Ginkgo's brain circulation boost may sharpen cognition by:
"Charging" brain energy. Robust circulation supplies the brain with lots of oxygen and glucose–which brain cells then "burn" for the neural energy that powers all cognition.
Nourishing the brain. Enhanced cerebral circulation improves delivery and uptake of other neuro-nutrients and nootropics the brain needs for peak performance.
Besides circulation, ginkgo may also sharpen memory and mental performance by:
Upping brain antioxidant activity.2 In this capacity, ginkgo may also help to fight the damaging oxidative stress that is associated with accelerated aging of brain cells, age-related cognitive decline and a range of degenerative brain problems.
Increasing neurotransmitters. In animal research it blocks the enzyme that destroys acetylcholine (memory chemical) and was suggested by the authors to be "useful in the treatment of dementia." 3 Early animal research suggests it may also boost serotonin and norepinephrine.4
Blocking amyloid plaque formation–potentially helping to inhibit a major contributor to the onset of Alzheimer's. Note: this possible bio-activity has only been demonstrated in "petri dish" grade research, and is weakly suggestive at best.5
How might Ginkgo Biloba help mental performance?
Ginkgo is best known as a memory-booster. It may help with mild recall problems, but does not seem as effective for age-related memory loss. Ginkgo may also help mental processing speed and attention. In elderly populations, it may help mood and memory, as well as vertigo tied to poor blood flow to the brain. In younger populations, ginkgo biloba has been shown potential in early research as a fast-acting attention enhancer.
Modern scientists are now validating–as well as discrediting–some of ginkgo's purported brain-boosting benefits. Let's check out some of what they've found.
Research
In the modern era, over 400 clinical studies have investigated ginkgo–making it one of the most widely researched herbs for memory and cognitive support. The above mechanisms of action have all been demonstrated in animal studies and in-vitro studies. However, ginkgo has also been the subject of numerous human clinical trials–with conflicting results that raise some questions about the herb's legendary brain-booster status.
Human research
Ginkgo helps mild to moderate memory impairment
31 patients over the age of 50 took either a placebo or 40 mg standardized ginkgo biloba extract (24% flavonoids; 6% terpenes) for a span of six months and were tested at the study's beginning, 12-weeks in, and again at the conclusion.
Researchers reported that ginkgo biloba extract "had a beneficial effect on cognitive function," and that the group taking GBE "showed significant superiority" over placebo when in tests that measured speed of mental processing.6
Ginkgo biloba extract 120 mg enhances working memory after two days
Researchers tested three doses of plain GBE, administering 150 mg, 300 mg, 240 mg or placebo to 31 study subject volunteers. This study was "acute" in that the supplementation period only lasted two days, after which subjects underwent cognitive testing.
At the study's end, researchers concluded their test results "confirm that the effects of GBE extract on aspects of cognition" in otherwise healthy adults, with benefits found to be "more pronounced for memory, particularly working memory." Researchers found the 120 mg dose to be most effective, and noted that the greatest improvement was seen in study subjects in the 50-59 age range.7
Standardized high-dose Ginkgo brings rapid and sustained attention improvements
In a very short and acute clinical trial, 20 healthy young adults were given either a placebo or single-dose standardized ginkgo biloba extract of 120 mg, 240 mg, or 360 mg. Subjects were cognitively tested (with Cognitive Drug Research battery, or CDR) for their speed of attention, attention accuracy, memory speed and quality of memory. Tests were given prior to the single dose, and again at hours 1, 2.5, 4 and 6.
Researchers reported that, compared to placebo, ginkgo improved multiple cognitive performance measures, with the most dramatic being in "speed of attention," with good results at 240 mg and better results at 360 mg. This improvement was noted at the 2.5 hour mark, but was still noticeable at 6 hours after supplementation. Researchers concluded that acute Ginkgo dosing can produce "sustained improvement in attention in healthy young volunteers."8
Ginkgo fails 3 out of 4 cognition measures, but improves short-term memory
241 adults age 55 to 86, all of whom had age-related memory problems, were given placebo, low-dose (2.7 mL) liquid extract of Ginkgo, or high-dose (5.7 mL) liquid extract of Ginkgo every day for 24 weeks. Subjects were given a variety of cognitive tests, with mental performance measures including attention, concentration, long-term memory, learning curve, and short-term visual memory. At study's end, researchers reported ginkgo was ineffective for all cognition measures except one: Short term visual memory. In this group, placebo showed 11% improvement in short-term memory, high-dose ginkgo showed 18% improvement, and low-dose ginkgo showed 26% improvement.
Researchers concluded these results suggest "the use of Ginkgo extracts in elderly individuals with cognitive impairment might be promising."9
Ginkgo fails to demonstrate any benefit for risk of dementia or Alzheimer's
In the Ginkgo Evaluation of Memory trial, researchers tracked 3,069 volunteers over the age of 75 with either healthy cognitive function or Mild Cognitive Impairment (MCI) to see if Ginkgo might help with age-related degenerative brain concerns. Subjects took either placebo or 240 mg ginkgo (as a standardized extract, EGb-761) every day for a span of about six years, and were evaluated for dementia and progression of dementia.
Researchers concluded that the ginkgo biloba "was not effective in reducing either the overall incidence rate of dementia or Alzheimer's," noting that it failed to make a difference in those with normal cognition or MCI.10
Ginkgo fails to help with memory or cognition in healthy adults age 60+
Volunteers over the age of 60 (98 men and 132 women) were given either placebo or 120 mg ginkgo bilboa daily for a span of six weeks. Researchers tested participants across 14 different aspects of cognition, including attention, memory, learning, language, and concentration. After all testing was completed and results were analyzed, researchers found that the placebo group performed better in 7 of those measures and ginkgo group performed better in the other seven measures.
Researchers concluded that ginkgo, when taken as directed, "provides no measurable benefit in memory or related cognitive function to adults with healthy cognitive function."11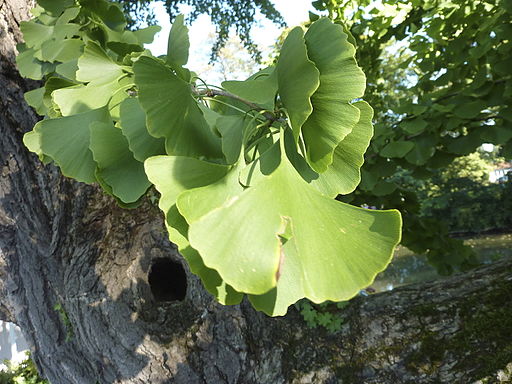 Dosage Notes
Retail dosage is often presented in ginkgo 30 mg, 60 mg, and 120 mg serving sizes.
Some products' ginkgo serving size may go as high as 500 mg.
For mild memory & mood concerns, 40-60 mg of ginkgo biloba extract 3X daily has been suggested.
For degenerative brain concerns, 80-120 mg of the extract 3X daily has been suggested.12
For short-term daily attention needs, For best results, it is recommended that these doses be taken as the standardized form of ginkgo biloba.
Available Forms
Plain ginkgo biloba. Unadulterated powdered ginkgo leaf. It's the cheapest form, but not recommended because you have no way of knowing how much–if any–active ingredients are found in the powdered herb.
Standardized ginkgo: Standardized ginkgo products will supply precise levels of antioxidants and terpinoids. Typical standardization is 24% flavonoids ("flavone glycosides"). Better ginkgo supplements (in our opinion) will also be standardized to include 6% terpinoids ("terpene lactones").
Ginkgo extract: This form will concentrate ginkgo leaves into a more potent extract that supplies more active ingredient in fewer milligrams. Extracts of ginkgo leaf will typically be presented at a 4:1 concentration, and may be presented in capsules or as a liquid.
Side Effects
Ginkgo is generally well-tolerated. Rarely reported side effects are transient and minor, and my include gastric distress, constipation, dizziness and headaches. Ginkgo may increase bleeding, and should be used with caution under a doctor's direction in those with bleeding concerns.
Supplements in Review Recommendation
Ginkgo Biloba standardized to 24% Ginkgo Flavone Glycosides AND 6% Terpene Lactones, 120 mg – 240 mg daily.
Ginkgo seems a quick sharpener of attention and short-term memory… as long as you're relatively young and healthy. However, evidence for ginkgo helping age-related cognitive decline (including dementia and Alzheimer's) seems shaky; studies are weak and conflicting.
Don't bother with plain ginkgo biloba supplements. Buy standardized ginkgo, and be sure it includes terpene lactones and not just ginkgo flavone glycosides. Standardizing for both of ginkgo's active ingredients guarantees full-spectrum activity for cerebral circulation and more.
Inside Scoop: Ginkgo as a Professional's Nootropic
Ginkgo is overwhelmingly positioned as an herbal supplement for memory, which automatically links the herb to ages 65+.
But in our opinion, ginkgo is better suited for younger professionals: Coders, designers, researchers, students and others who spend hours at a stretch trying to focus on a computer.
In the Kennedy study, those who took high-dose (360 mg max) ginkgo biloba started feeling attention-sharpening effects after 2.5 hours, then rode those effects for another 3.5 hours.
The study was small, and dosage was high, but nevertheless, we think this is the most intriguing untapped application for ginkgo biloba supplements.
What professional couldn't benefit from a several-hour burst of sharper focus?
References
Singh, VP. Gymnosperm (naked Seeds Plant). Sarup & Sons, 2006 ↩
Suter, A., et al. A new ginkgo fresh plant extract increases microcirculation and radical scavenging activity in elderly patients. Adv.Ther 2011;28(12):1078-1088. ↩
Das A, Shanker G, Nath C, Pal R, Singh S, Singh HA (2002). Comparative study in rodents of standardized extracts of Bacopa monniera and Ginkgo biloba: anticholinesterase and cognitive enhancing activities. Pharmacol Biochem Behav 73: 893–900. ↩
Amri, H., Drieu, K., and Papadopoulos, V. Ex vivo regulation of adrenal cortical cell steroid and protein synthesis, in response to adrenocorticotropic hormone stimulation, by the Ginkgo biloba extract EGb 761 and isolated ginkgolide B. Endocrinology 1997;138(12):5415-5426. ↩
Luo Y, et al. Inhibition of amyloid-beta aggregation and caspase-3 activation by the Ginkgo biloba extract EGb761. Proc Natl Acad Sci U S A. 2002 Sep 17;99(19):12197-202. ↩
Rai GS, Shovlin C, Wesnes KA. A double-blind, placebo-controlled study of Ginkgo biloba extract ('tanakan') in elderly outpatients with mild to moderate memory impairment. Curr Med Res Opin 1991;12:350-5. ↩
Rigney, U., Kimber, S., and Hindmarch, I. The effects of acute doses of standardized Ginkgo biloba extract on memory and psychomotor performance in volunteers. Phytother Res 1999;13(5):408-415. ↩
Kennedy, D. O., Scholey, A. B., and Wesnes, K. A. The dose-dependent cognitive effects of acute administration of Ginkgo biloba to healthy young volunteers. Psychopharmacology (Berl) 2000;151(4):416-423 ↩
Brautigam MR, Blommaert FA, Verleye G, et al. Treatment of age-related memory complaints with Ginkgo biloba extract: a randomized double blind placebo-controlled study. Phytomedicine 1998;5:425-34 ↩
DeKosky ST, Williamson JD, Fitzpatrick AL, et al. Ginkgo biloba for prevention of dementia: a randomized controlled trial. Journal of the American Medical Association. 2008;300(19):2253–2262. ↩
Solomon PR, Adams F, Silver A, et al. Ginkgo for memory enhancement: a randomized controlled trial. Journal of the American Medical Association. 2002;288(7):835–840. ↩
http://www.nlm.nih.gov/medlineplus/druginfo/natural/333.html ↩