L-Theanine is an amino acid thought to increase Alpha brainwaves, which reduces stress & anxiety while enhancing alertness.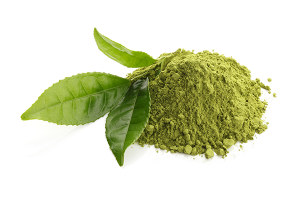 L-Theanine is a unique amino acid that directly affects brain function by:
Modulating alpha brainwaves associated with relaxation & creativity
Calming "excitable" neurons, which may help balance mood & mindset
Protecting brain cells against damage that makes them misfire & shut down
Balancing brain chemicals, increasing GABA, serotonin & dopamine
Overview
L-Theanine is an amino acid that is naturally found in some types of tea. Green tea supplies about 1%-3% L-theanine, amounting to about 40 mg amino acid per each brewed cup.1 Although black tea leaves are also a source, theanine is most closely associated with green tea, and may explain the hot beverage's legendary ties to calm tranquility.
Tea supplies some L-Theanine, but supplements supply a lot more: Up to 200 mg per serving. This might 4X amplify L-Theanine's benefits for anxiety, attention and sleep.
How does L-Theanine work?
It has a few brain-supportive bio-activities, but the most intriguing (to us, anyway) is its ability to increase alpha brainwaves, which are linked to:2
Slower & bigger brain wavelength amplitude
More harmonized & consistent brain activity
Peak cognitive brain state; relaxed, alert & awake
What are Brainwaves?
All the electrical impulses that are happening within the brain at any given time add up to a frequency that's known as a brainwave. Different frequencies are tied to different kinds of thinking, all of which can be measured by an EEG test. The four main brainwaves, their frequencies and functions are:3
| | | |
| --- | --- | --- |
| Brainwave | Frequency (in Hertz) | Associated with |
| Alpha | 8-13 | Relaxation without sedation. Alert-yet-calm mindset. Has been tied to creativity. |
| Beta | 13-30 | Occurs in REM sleep; while awake, it promotes "tense" concentration & alertness. |
| Delta | 1-5 | Deep-sleep brain wave linked to healing and memory formation. |
| Theta | 4-8 | Awareness states like meditation or in between sleep and wakefulness. |
Our take: Very few nootroptics are known to boost brainwaves. L-Theanine may be the best nootropic for raising the alpha frequency, making it uniquely qualified to unlock peak mental productivity.
Brainwave benefits are just the beginning. L-Theanine has also been suggested to help enhance cognitive performance with a "1, 2" brain chemical punch:
L-Theanine boosts "calming" neurotransmitters including serotonin, dopamine, and GABA, while modulating brain cell neurotransmitter receptors.4 Dopamine and GABA in particular have been suggested to help reduce anxiety and balance mood.
These two bonus bio-activities seem to modulate brain chemical balance in a way that "settles" excitable nerves–toning down nerve responses, keeping nervous system activation in check, and balancing overall neurotransmitter status.
How does L-Theanine feel?
L-Theanine may bring calm tranquility while sharpening attention, alertness and focus. The "Alpha" brain waves L-Theanine influences are associated with feelings of "wakeful relaxation" and enhanced creativity. L-Theanine may be ideally suited for studying, new learning, creative problem solving, art, or other tasks that require quiet, focused thinking.
Coffee's "jittery" focus vs. green tea's "relaxed" focus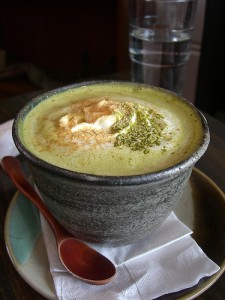 We all know coffee is great for boosting alertness… at the expense of making us jittery, nervous wrecks.
If you've tried green tea, you may have noticed coffee-like feelings of focus, just with calm clarity instead of nervous tension.
L-Theanine is the reason why green tea is so soothing.
L-Theanine has been shown to counter the agitating side effects of caffeine, and instead promotes clean alertness.7 This is why L-theanine + caffeine is such a popular nootropic stack.
With all these activities, as well as green tea's reputation as a relaxant, L-theanine has become a popular mood supplement. Additional purported effects beyond relaxation reportedly include sharpening of concentration and enhancement of learning ability.8 Let's see what the L-Theanine research says.
Research
Animal Research

There are three animal studies that jump out, all of which seem to investigate (and validate) L-Theanine as a brain-protective nutrient:
Gerbils treated with theanine were shown to have better brain cell survival.9
Rat brain cells survived longer with green tea, suggesting theanine neuroprotective effects10
Theanine has been shown to protect brain cells in rats, translating into better spatial memory.11
Another interesting animal study seems to look into L-theanine's more popular use for anxiety:
One-week-old chicks were given theanine (or nothing) and challenged with isolation and "foot numbing" injections to induce stress. Researchers found that theanine had soothing anti-stress effects, and suggested it "may be useful in modulating anxiety states."12
Human Research
There are a decent number of human clinical trials on L-Theanine, but they're all fairly small. Nevertheless, these studies seem to suggest many cognitive applications, demonstrating L-Theanine's potential for alertness, attention, stress reduction, neural protection, sleep and more:
High-dose L-Theanine relaxes the mind without drowsiness
Researchers gave 35 study participants either 50 mg of L-Theanine or placebo and administered EEG tests (which measure the brain's electrical activity) before supplementation and at minutes 45, 60, 75, 90, and 105. In evaluating the EEG test results, researchers reported that the L-Theanine group experienced a significant boost in alpha brainwaves. Researchers noted alpha brainwaves are involved in attention, and suggested that L-Theanine "relaxes the mind without inducing drowsiness."
Researchers concluded that "L-Theanine, at realistic dietary levels, has a significant effect on the general state of mental alertness or arousal."13
Theanine (as tea) may help elderly with cognitive dysfunction
Researchers began with the premise that theanine can pass through the blood-brain barrier and modulate the neurotransmitters glutamate and glutamine. To see how this might translate into cognitive benefits, researchers gave powdered green tea—supplying about 47 mg of theanine per day—to elderly volunteers. Researchers reported that those who consumed the theanine-rich green tea powder appeared to have a "significantly lower decline in cognitive function" when compared to the placebo group.
Researchers concluded that their results appear to suggest that "theanine might have improved slight cognitive dysfunction" in the elderly study subjects.14
Editor's Note: This study is lacking in detail; we advise viewing it as weak evidence.
L-Theanine may reduce physical and mental stress
In a small double-blind study, 12 subjects were given four distinct trials designed to induce acute mental stress with challenging math problems. Some participants were given L-Theanine or placebo at the beginning of the trials or mid-way through; others were given no treatment at all. In evaluating the results, researchers found that those who had tested while taking L-Theanine showed a lower heart rate and lower salivary stress markers than while on a placebo or without treatment.
Researchers concluded that L-theanine seemed to blunt the activation of the body's sympathetic nervous system, and that the amino acid "could cause anti-stress effects via the inhibition of cortical neuron excitation."15
L-Theanine 250 mg: "Psychoactive" attention benefits
One early study zeroed in L-Theanine's "Alpha" benefits with a thorough EEG test that connected 168 scalp electrode contacts to each participant's head. Researchers then noted that with theanine supplementation, there was actually an overall decrease in background alpha wavelength activity—but that despite this, participants' performance in attention-related tasks was significantly enhanced (versus placebo).
Researchers concluded that theanine has "clear psychoactive properties" and "may have a specific effect on the brain's attention circuitry." Researchers suggested the amino acid may have potential for further study on attention.16
L-Theanine 200 mg suggested to be "a safe, natural sleep aid"
One review found that taking 200 mg of L-Theanine prior to bedtime may support "improved sleep quality," not by sedation, but by soothing and calming effects. Researchers noted that since "L-theanine promotes relaxation without drowsiness," it may also be used at any time of day to calm the mind.17
Dosage
Research ranges from "dietary" cup-of-green-tea dosage levels of 50 mg to high-potency dosage of 250 mg or more. Standalone L-Theanine supplements are most often found in 100 mg and 200 mg serving sizes.
Side Effects
L-Theanine is an amino acid that is naturally found in the brain, so it is very well-tolerated. Our research found zero side effects tied to this nutrient; it is believed to be overwhelmingly safe.
Available Forms
L-Theanine: Plain, straight-up L-Theanine. The most affordable form.
Suntheanine®: This "branded" form of L-Theanine is backed by 40+ patents in the US and worldwide. It is not made from green tea, but is produced with unique fermentation technology that mirrors green tea and achieves 100% purity. Suntheanine® has undergone some clinical trials, including one that showed it helped to balance mood during PMS.
Supplements in Review Recommendation
L-Theanine's brainwave benefits are compelling. A lot of evidence shows it promotes a mindset that is calm and relaxed, yet alert and focus. To us, this might be exciting for those who want to enhance work productivity (especially while under stress), creativity, studying ability, and physical/mental competitive edge. As a bonus, when taken at night its relaxing effects settle a racing mind, doubling as a sleep aid. L-Theanine is a must-have nootropic with tons of upside.
150 mg L-Theanine is our suggested dosage. This is about midway between the relaxing cup-of-green-tea dosage and higher clinical dosages used for cognitive performance. Since L-Theanine has been shown to be well-tolerated and to potentially have dose-dependent effects, we suggest starting at 150 mg, seeing what you feel, and then bumping up for more pronounced benefits.
References
Hänsel R, Keller K, Rimpler H, Schneider G. Hager's handbook of pharmaceutical practise for druggists. 4th ed. Heidelberg (Germany): Springer-Verlag; 1992. p. 628–40. ↩
Nathan PJ, Lu K, Gray M, Oliver C. The neuropharmacology of L-theanine(N-ethyl-L-glutamine): a possible neuroprotective and cognitive enhancing agent. J Herb Pharmacother. 2006;6:21–30. ↩
Yamada T, et al. Effects of theanine, r-glutamylethylamide, on neurotransmitter release and its relationship with glutamic acid neurotransmission. Nutr Neurosci. 2005 Aug;8(4):219-26. ↩
Kakuda T, Nozawa A, Sugimoto A, Nino H. Inhibition by theanine of binding of (3H)AMPA, (3H)Kainate and (3H)MDL 105,519 to glutamate receptors. Biosci Biotech Biochem, 2002;66:2683–2686. ↩
Rogers PJ, Smith JE, Heatherley SV and Pleydell-Pearce CW, 2008. Time for tea: mood, blood pressure and cognitive performance effects of caffeine and theanine administered alone and together. Psychopharmacology, 195, 569-577. ↩
Vuong QV, Bowyer MC, Roach PD. L-theanine: properties, synthesis and isolation from tea. J Sci Food Agric. 2011;91:1931–9. ↩
Kakuda T, et al. Protective effect of gamma-glutamylethylamide (theanine) on ischemic delayed neuronal death in gerbils. Neurosci Lett. 2000 Aug 11;289(3):189-92. ↩
Kakuda T, et al. Neuroprotective effects of the green tea components theanine and catechins. Biol Pharm Bull. 2002 Dec;25(12):1513-8. ↩
Egashira N, et al. Theanine prevents memory impairment induced by repeated cerebral ischemia in rats. Phytother Res. 2008 Jan;22(1):65-8. ↩
Yang QS, et al. Effects of theanine and houpu extract in 7-day chick social separation-stress procedure. Zhongguo Zhong Yao Za Zhi. 2007 Oct;32(19):2040-3. ↩
Nobre AC, et al. L-theanine, a natural constituent in tea, and its effect on mental state. Asia Pacific Journal of Clinical Nutrition, 01/2008; 17 Suppl 1:167-8. ↩
Kakuda T, et al. Neuroprotective effects of theanine and its preventive effects on cognitive dysfunction. Pharmacol Res. 2011 Aug;64(2):162-8. ↩
Kimura K. L-Theanine reduces psychological and physiological stress responses. Biol Psychol. 2007 Jan;74(1):39-45. ↩
Gomez-Ramirez M, et al. The deployment of intersensory selective attention: a high-density electrical mapping study of the effects of theanine. Clin Neuropharmacol. 2007 Jan-Feb;30(1):25-38. ↩
Rao TP, Ozeki M, et al. In Search of a Safe Natural Sleep Aid. J Am Coll Nutr. 2015 Mar 11:1-12. ↩