Phosphatidylserine (PS) keeps brain cell membranes flexible & permeable–"turning back the clock" on memory & mental clarity.
Phosphatidylserine (PS) is a phospholipid; a fatty compound that's vital for the proper function of cell membranes. Within the brain, PS supports:
Cell membrane fluidity. PS is used to make neuron membranes during neurogenesis.
Membrane functions. Cell membranes' many dynamic activities help sharpen thinking.
Memory, clarity and mood via acetylcholine, dopamine, norepinephrine and serotonin.
Brain energy. PS helps membranes fuel brain cells, so they can "fire" with electrical impulses.
Brain cleanup. PS signals immune cells to engulf & neutralize dying, toxic neurons.1
Overview
PS is a phospholipid. Phospholipids are life-essential compounds that help cells to move and utilize fats.2 This is especially important for brain health because fats make up nearly 70% of the brain's overall structure.3 Though it is everywhere in the body, PS is most highly concentrated in the brain, where it makes up 15% of the total phospholipid pool.4 PS is a vital substance for brain cell membranes, where it naturally settles to regulate several bio-activities tied to memory and attention.
Brain cell membranes: More dynamic than you might think
More than a static barrier, brain cell membranes perform a range of cognition-critical activities:5
Help synthesize neurotransmitters
Send & receive brain electrical impulses
Allow nutrients & oxygen into brain cells
Block toxins from entering brain cells
Alert immune system to dispose of brain waste
Brain cell membranes are the driving force behind clear memory and sharp thinking. PS is clinically proven to nourish and enhance these neural membranes.
Phospholipid-rich brain cell membranes are vital for cell-to-cell communication, mental energy, and neural longevity.6 When brain cell membranes are healthy—supple, flexible and fluid—they can profoundly benefit every single aspect of cognitive performance: Attention, concentration, memory, mood, learning… everything.
Here's the challenge: As we get older, starting in our 30s, phospholipids—including phosphatidylserine—start declining in the brain:7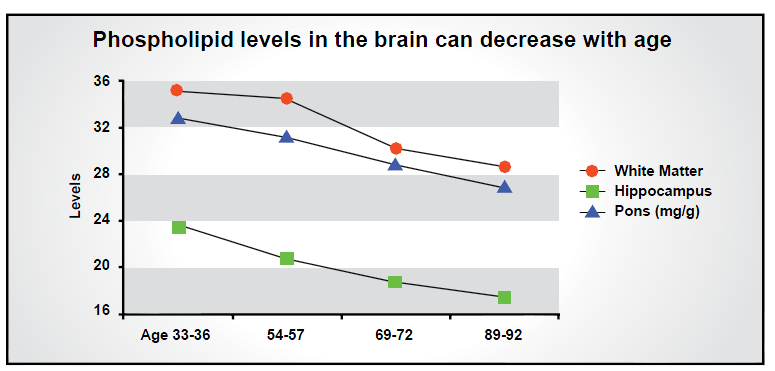 When brain phospholipids get too low, the brain's structure starts changing.
Phospholipid-depleted brain cell membranes may malfunction, misfire, or become stiff and thick, which impairs the healthy cellular exchange of nutrients, oxygen and glucose. These brain cell membrane changes can cause brain and nervous system problems8, and are a major contributing factor to Alzheimer's.9 More immediate concerns with phospholipid decline may include Mild Cognitive Impairment (MCI), Age-Associated Memory Impairment (AAMI), and early signs of Age-Related Cognitive Decline (ARCD).
Our take: PS supplements replenish a dynamic brain phospholipid that maintains brain cell membranes in a youthful and healthy state. When cell membranes are flexible, fluid and permeable, mental performance is sharp.
How phosphatidylserine works within the brain

How might PS help mental performance?
Memory. PS is one of the most evidence-backed memory-boosters known. Its memory-sharpening effects seem ideal for mild age-related brain fog, but may also improve mental function in more serious cases of dementia and cognitive dysfunction. PS has been suggested to slow, halt and reverse the progression of age-related cognitive decline, leading one researcher to say PS makes the brain perform like it's 12 years younger. It has also been shown to enhance mood, motivation and quality of life in geriatric years.
With all these activities, it may come as no surprise that PS is a widely-studied nutrient for brain health. Let's check out what some of these studies say.
Research
PS 100 mg boosts mental performance in those with early cognitive impairment
One study administered PS 100 mg (or placebo) to 51 patients aged 55-75 believed to have Alzheimer's for a span of 12 weeks. At the study's end, researchers found that patients who took PS showed improvement across several measures of cognitive performance when compared with placebo. The most significant improvements were found in patients with the mildest cognitive impairment.
Researchers concluded that phosphatidylserine "may be a promising candidate for study in the early stages of Alzheimer's."16
PS 100 mg appears to help with Age-Associated Memory Impairment
Researchers investigated how PS supplementation of 100 mg daily (or placebo) for 12 weeks might help 149 age-associated memory impairment (AAMI) patients between the ages of 50 and 75. After the supplementation period was complete, investigators found that, relative to those who took placebo, patients who took PS performed better on tests of learning and day-to-day memory. Participants who had the worst cognitive function were found to be most likely to benefit from PS supplementation.
Researchers concluded that these results suggest PS may make the brain function like it is 12 years younger, and "may be a promising candidate for treating memory loss later in life." 17
PS 300 mg seems to help mood in elderly with depression
In this small study, 10 elderly women with depression were given a placebo for 15 days followed by 300 mg PS daily for 30 days. Patients were then evaluated with a series of four tests for measuring mood, memory, and overall cognition.
Researchers concluded that PS "induced consistent improvement of depressive symptoms, memory and behavior."18
PS 300 mg is helpful for cognition and well-tolerated in geriatric populations
Researchers gave 300 mg PS (or placebo) to 494 geriatric patients with moderate-to-severe cognitive decline for 6 months. Patients were tested for behavior and cognition at the study's start, three-month, and six-month marks. At the study's end, researchers reported that PS was tied to significant improvements across cognition—including learning, awareness, behavior, motivation and memory—and that the supplement was well-tolerated.
Researchers concluded that PS's enhancement of cognition and behavior was a "clinically important" discovery, since the study subjects were a good representation of an overall geriatric population in age-related cognitive decline.19
PS 800 mg may fight brain-dulling stress hormones
In this small placebo-controlled study, 9 men were given PS 800 mg for 10 days. Researchers found PS seemed to blunt the rise in Adrenocorticotropic hormone (ACTH) and cortisol, two stress hormones. This may be significant because a hyperactivated HPA axis is strongly correlated to cognitive impairment.20
Researchers concluded PS may "counteract stress-induced activation of the hypothalamo-pituitary-adrenal (HPA) axis" in men.21
Phosphatidylserine's FDA-qualified health claim
The US Food and Drug Administration (FDA) allows supplement manufacturers to make the following health claim for PS in the context of dementia and cognitive dysfunction:
"Very limited and preliminary scientific research suggests phosphatidylserine may reduce the risk of dementia and cognitive dysfunction in the elderly. FDA concludes that there is little scientific evidence supporting this claim."
It doesn't look like much… but it is rare and unusual for the FDA to approve a qualified health claim. These qualified claims typically suggest there is strong evidence for the nutrient helping with whatever health concern is named—even if it is grudging, like this one.
Dosage
In clinical studies, 100 mg to 800 mg of PS daily have been associated with cognitive benefits. When it comes to retail supplement dosages, 100 mg to 500 mg daily is often recommended for supporting brain health and mental clarity.
Side Effects
PS is already present in practically every cell in your body. Because of this, the body recognizes supplemental PS as a safe, natural substance–it is very well-tolerated. Phosphatidylserine side effects are rarely reported, and may include mild upset stomach. A few reports of sleep disturbance have been noted when PS is taken at bedtime.
Available Forms
Phosphatidylserine: Plain PS was originally sourced from cows' brains, but safety concerns led to development of vegetarian PS, which is typically made from soy lecithin. This soy-based PS is now the most widely found form in brain health supplements.
SerinAid®: This is a branded form of PS made from soy lecithin. It is generally regarded as safe (GRAS), and available in liquid and powder formulations… but has no apparent proprietary advantages over plain PS, despite its higher cost.
Sharp PS® GREEN: This trademarked form of PS undergoes special processing that sources PS from non-GMO sunflower instead of soy, so it is free of all soy allergens.  This innovative form of PS is also noted for its environmentally-friendly manufacturing practices.
Supplements in Review Recommendation
Phosphatidylserine as Sharp PS® GREEN, 100 mg
PS is one of the most proven neuronutrients. The brain needs it to function properly, and taking it seems to enhance cognition in many ways. PS is mostly used for age-related cognitive decline. It might just be the best single memory nutrient ever discovered. While most PS studies focus on elderly groups, its beneficial bio-activities likely help the brain across all age groups.
100 mg PS has shown cognitive benefits in strong studies; it's a good dosage to start with. We like sunflower-sourced Sharp PS® GREEN for tolerability reasons: It avoids side effects, sensitivities or other concerns some people may have with PS made from soy. 
References