Sytrinol is a patented formulation of natural citrus and palm fruit extracts known to reduce cholesterol and aid cardiovascular health.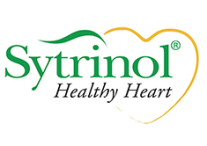 Sytrinol contains a blend of palm tocotrienols and citrus flavonoids, which have been clinically researched for their beneficial effects on the heart. This review discusses the benefits of using Sytrinol over other similar supplements for reducing cholesterol:
Patented. Sytrinol has a patent for the composition of at least one tocotrienol (derived from palm oil) and one polymethoxylated flavone, under US Patent 7887852.
Standardized. Guaranteed to include a standardized composition of tocotrienols and bioflavonoids for maximum efficacy.
Clinically researched. Sytrinol's benefits on cholesterol are backed by research studies.
Overview
Sytrinol is a patented blend of natural citrus and palm fruit extracts standardized to tocotrienols and bioflavonoids. Clinical studies have demonstrated that Sytrinol modulates cardiovascular health, including supporting healthy cholesterol levels by lowering LDL cholesterol and increasing HDL (good cholesterol) levels. Furthermore, healthy triglyceride levels are supported.
Sytrinol is manufactured by InterHealth Nutraceuticals, part of Lonza, a company specializing in the research, development, manufacturing and distribution of nutraceutical ingredients. Take a look at the ingredients within Sytrinol;
Polymethoxylated flavones – a methoxylated sub-group of citrus flavonoids. Two primary polymethoxylated flavones in Sytrinol are tangeretin and nobiletin. These molecules are more biologically active and have been clinically researched for their antioxidant effects on the heart.
Palm tocotrienols are the second main ingredient within Sytrinol. These analogues of vitamin E (tocopheral) occur naturally and are thought to aid the health of the heart. They also have high antioxidant properties.
The mechanism of action for Sytrinol
To delivers cardiovascular benefits, Sytrinol possesses three mechanisms of action that work in harmony with each other for optimal effects on your health:
Polymethoxylated flavones reduce apolipoprotein B – a protein required for the synthesis of LDL cholesterol.
The polymethoxylated flavones tangerin and nobiletin reduce a liver enzyme named diacylglycerol acetyl transferase, which is required for the synthesis of triglycerides.
Tocotrienols inhibit a liver enzyme named HMG CoA reductase, which is responsible for the synthesis of cholesterol.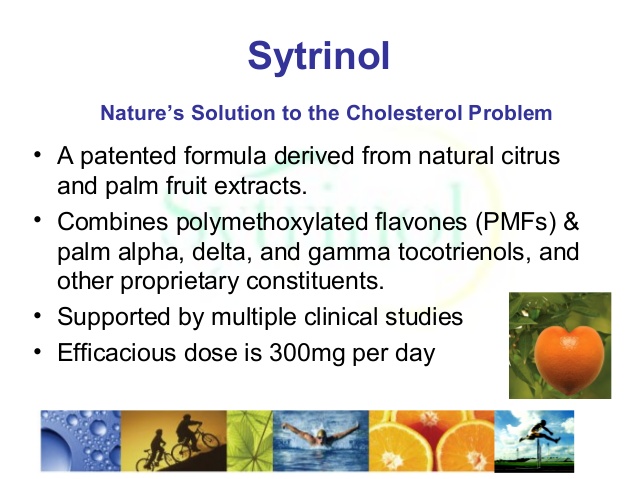 These mechanisms of action work together to support cholesterol levels and LDL cholesterol levels significantly more than other dietary supplements.
Did you know? Sytrinol works within 30 days to lower bad cholesterol levels as well as triglycerides – fat deposits in the blood.
Why use Sytrinol?
61 million Americans suffer from cardiovascular disease, with heart attacks and strokes resulting in more than 930,00 deaths. One of the main causes of cardiovascular disease is cholesterol. Cholesterol is a fatty substance that travels in the blood by attaching to lipoproteins. when LDL cholesterol (also known as bad cholesterol) levels are high, you're at risk of suffering from cardiovascular disease. This is because LDL transforms into a thick plaque in the body which inhibits blood flow and may constrict blood vessels, as well as reducing your oxygen supply to the brain and heart.
As Sytrinol has been clinically proven to reduce bad cholesterol, it's ideal for using to protect your heart health. Furthermore, the tocotrienols in Sytrinol contain higher antioxidant activity than tocopherols. Tocotrienols have been clinically shown to reduce cholesterol levels.
Sytrinol Patents
Sytrinol has a patent (US Patent 7887852) for the soft gel composition, including at least one tocotrienol (derived from palm oil) and one polymethoxylated flavone.
The patent covers optional ingredients, including DHA, EPA, a phytosterol, co-enzyme Q10 or a mixture. The patented blend should also include;
Tangerin and nobiletin in a 1:1 ratio.
Tocotrienol derived from palm oil.
An oil carrier.
At least one of a phytosterol, co-enzyme Q10, DHA, EPA, or a mixture of, garlic, red yeast rice, carnitine, polycosinol, chromium, green tea, grape seed extract, ginseng, pine bark extract, gugulipid, pantethine, artichoke leaf, silymarin, gymnema sylvestre, or a mixture.
This patent was acquired by inventor Ronald G. Udell in 2005.
Sytrinol Nutritional Supplement Uses
Sytrinol is most commonly used to reduce blood cholesterol levels in people with high cholesterol. Sytrinol is often formulated with other ingredients, including co-enzyme Q10, garlic extract and red yeast rice. These additional ingredients provide an optimal liver cleansing blend. The liver is the organ that flushes out excess toxins. Furthermore, the liver regulates cholesterol levels in the body by synthesizing cholesterol for cell exportation, and eliminating cholesterol by converting it into bile salts – it can then be put into bile and removed in the feces.
Unlike other cholesterol supplements, Sytrinol offers a powerful blend of ingredients at a lower dose. Users only require two 150mg doses daily for beneficial effects.
Sytrinol also provides another significant advantage over other cholesterol supplements. It's effect on C-reactive protein (CRP) may play a major part on addressing cardiovascular health challenges. Research has signified that inflammation may result in c-reactive protein being produced in the body. High CRP levels can suggest inflammation in the arteries, increasing the risk of heart attack. Nobiletin and tangeretin – the primary polymethoxylated flavones in Sytrinol have been researched for their anti-inflammatory properties. Therefore, Sytrinol may have a positive effect on c-reactive protein to aid heart health.
Did you know? Interhealth, part of Lonza also manufacture UC-II collagen extract for joint health, as well as Sytrinol.
Sytrinol Benefits and Brand Advantages
Clinically effective – Sytrinol has demonstrated its ability to significantly reduce bad cholesterol levels by up to 30 percent.
Researched – Sytrinol has been clinically studied to reveal the extent of its effects on cholesterol levels. Furthermore, Sytrinol was developed after twelve years of research on its ingredients.
Natural alternative to statin prescription drugs – Sytrinol is a natural replacement for statin drugs.
Fast acting – using this supplement will provide quick results – the manufacturers of Sytrinol suggest that consumers will see results in 4 weeks of use.
Convenient – Sytrinol is taken once to twice daily (300mg/2 x 150mg) and doesnt need to be consumed before, during or after meals, meaning its highly convenient to consume.
Powerful antioxidant formula – a powerful antioxidant formulation aids heart health. The mechanisms of actions that Sytrinol offers deliver optimal benefits.
Research
Human Research
Effect of citrus flavonoids and tocotrienols on serum cholesterol levels in hypocholesterololemic subjects
In this two open-label studies and one double blind study, three groups of patients between 19 and 65 years of age, and with cholesterol levels of >230mg/dL were examined. Subjects were randomly given either 270mg flavonoids and 30mg tocotrienols (S) or placebo (P) every day for a 4 week period. Measurements of fasting levels of blood cholesterol, LDL levels, HDL, and triglycerides were conducted at baseline and 4 weeks for all groups, as well as at 8 weeks and 12 weeks for group 3. Results revealed that a daily dose of flavonoids and tocotrienols significantly improved cholesterol levels in comparison to P.
The researchers concluded that "Significant reductions were shown in total cholesterol (20%-30%), LDL (19%-27%), apolipoprotein B (21%), and triglycerides (24%-34%). HDL levels remained unchanged in G1 and G2 but increased 4% (nonsignificant) in G3 and was accompanied by a significant increase in apolipoprotein A1 (5%)."1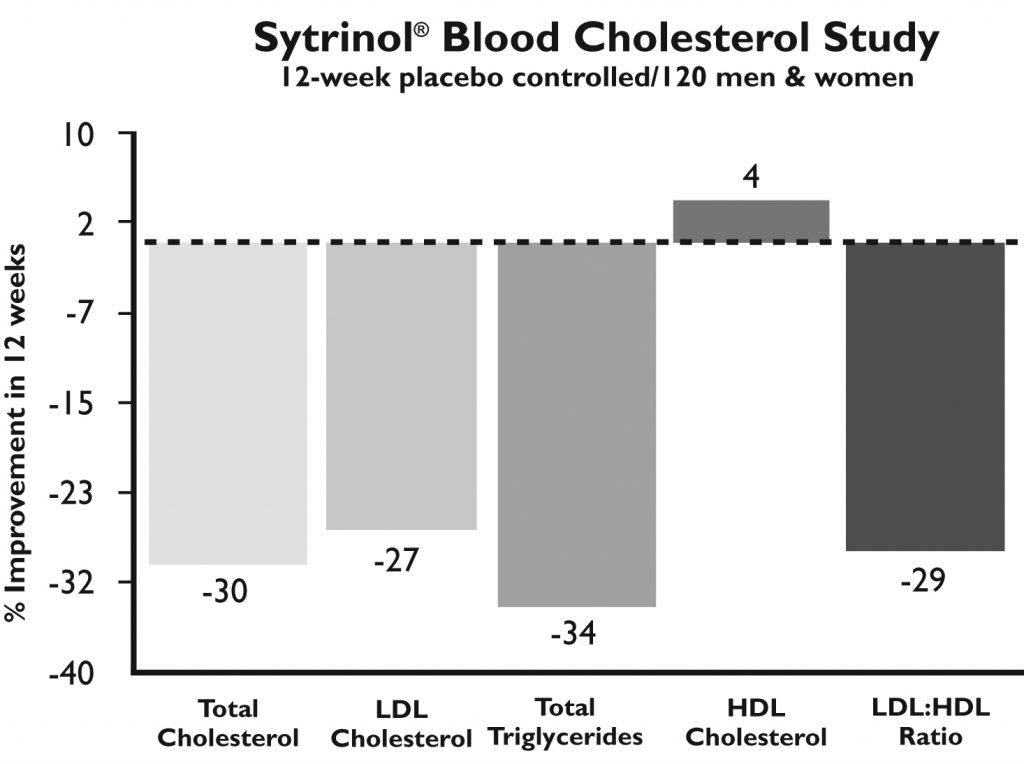 Sytrinol Dosage
The recommended daily dosage of Sytrinol is 300mg.
Sytrinol Side Effects
Toxicity studies have determined that Sytrinol is well tolerated. A 150 pound person consuming 14g of Sytrinol daily has proven to have no side effects. Therefore, consuming Sytrinol in its recommended dosage will have no significant side effects.
Supplements in Review Recommendation
Sytrinol is a clinically proven natural supplement for improving cholesterol levels and aiding heart health. This patented formula consists of citrus flavonoids and tocotrienols, which contain high antioxidant properties to reduce bad cholesterol levels and overall cholesterol levels.
A 300mg daily dose (either as one 300mg dose or 2 x 150mg doses) is recommended for reducing cholesterol. This is the suggested dose by the manufacturer, as well as the dose used in research in which subjects demonstrated a significant reduction in cholesterol. For optimal results, this supplement would be best used in conjunction with a low cholesterol diet.