Animal Research
e: 18pt;">
Betaine compound TMG may help protect against fatty liver.


TMG is a natural compound found in many foods. TMG has been suggested to help with liver health by:
Increasing SAMe. TMG helps produce SAMe, a compound that supports the liver through multiple effects such as helping make glutathione.
Reducing homocysteine. This amino acid is elevated in liver disorders, and may be linked to liver damage and fat deposits (steatosis).
Overview
More commonly known as betaine, trimethylglycine (TMG) is a natural compound made in the body and present in a variety of foods. TMG's major role is to support methylation – the process that moves methyl groups needed for many important biological functions.
TMG contains 3 methyl groups, which explains its chemical name tri-methyl-glycine. In addition, it also acts as an osmolyte – a compound that helps cells maintain optimal volume and fluid balance.
Clinicians use TMG to reduce elevated blood levels of homocysteine (homocystinuria), an amino acid that has been linked to fatigue, seizures, osteoporosis, and other health issues. TMG is also a popular supplement ingredient; it is used to improve digestion, exercise performance, liver health, and even brain function. As a liver supplement, TMG is mostly used to protect against fatty liver.
Did you know?
The average intake of betaine from the diet is 100-300 mg daily in the USA.
1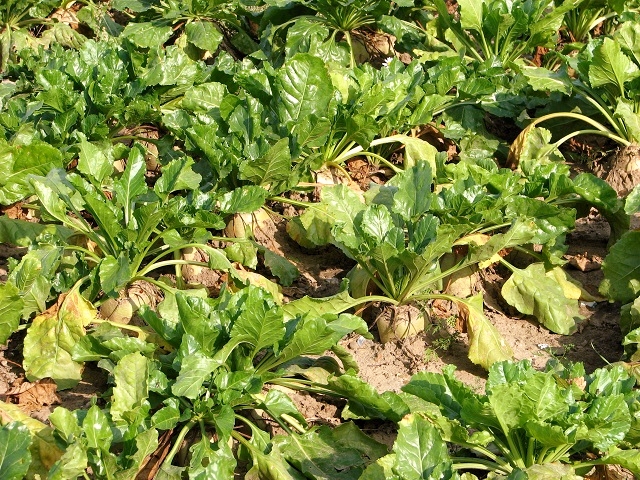 <

Foods Highest in Betaine

Food
Betaine amount per 100 g
Quinoa
630 mg
Spinach
577 mg
Cereals
100-360 mg
Canned beets
256 mg
Dark rye flour
146 mg
<
How TMG Might Help With Liver Health
<
Participating in the methionine cycle
Betaine donates its methyl groups to homocysteine, creating methionine as a result. This reduces levels of homocysteine and S-Adenosyl-L-homocysteine (SAH), which are elevated in liver disease and have been associated with effects such as liver damage and fatty liver. In addition, methionine helps produce S-Adenosyl methionine (SAMe), which is required to produce glutathione to protect the liver. SAMe levels are typically low in liver disease. 2
Did you know? Out of all the organs, betaine is most highly concentrated in the liver.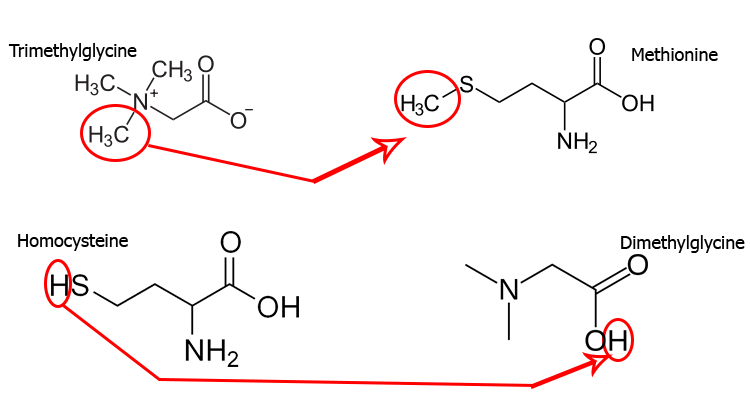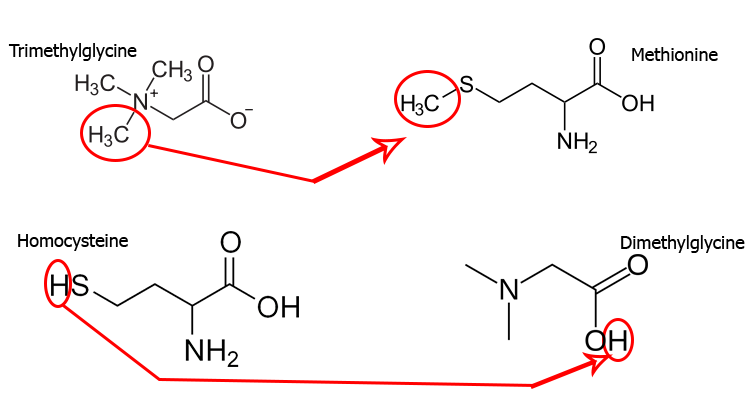 TMG Use
TMG Uses & Benefits for Liver Health

ople take TMG to protect against fatty liver and to support overall liver health. These uses are backed by a large volume of animal research reporting protection against both alcoholic and nonalcoholic fatty liver, in addition to several human studies. However, more clinical research is needed to fully explore TMG's liver benefits.

In addition, many TMG supplements are advertised as a way to "cleanse" or "detox" the liver, but these terms are simply marketing buzzwords without any medical backing.

Read more: The detox myth
Researc
Research

Research

Animal and isolated cell culture studies of TMG/betaine suggest that it can help with fatty liver. Specific findings indicate that TMG/betaine can:
Prevent fat accumulation in rats with fatty liver caused by a high-fat diet 3
Human R
Human Research

tudies of betaine/TMG suggest that it may help with fatty liver caused by alcohol abuse, obesity, diabetes, and other issues. However, more research is needed, and the current findings do not appear to be as strong as the ones reported in animal studies.

TMG (20 g) may improve nonalcoholic steatohepatitis

This study explored the beneficial effects of betaine for nonalcoholic steatohepatitis (NASH). Ten people were given betaine anhydrous (TMG) daily for 12 months. They experienced improvements in levels of AST and ALT – enzymes used as measures of liver function. This was accompanied by improvement of liver steatosis (fat accumulation), fibrosis, and other liver health markers.
The researchers concluded that "Betaine is a safe and well tolerated drug that leads to a significant biochemical and histological improvement in patients with NASH." 10
Betaine (3 g) may improve HDL ("good") cholesterol in people with fatty liver
This randomized, double-blind, placebo-controlled study evaluated the effects of betaine on the liver in men with mild fatty liver. Twenty men were given placebo or betaine (3 g) daily for 12 weeks. Betaine supplementation improved HDL ("good") cholesterol levels.
The researchers concluded that "Betaine increased plasma HDL which may reflect the favorable effects of betaine on liver function-related metabolic metabolism." 11
Betaine (20 g) may have minor benefits for nonalcoholic fatty liver
This randomized, placebo-controlled study examined the benefits of betaine for patients with nonalcoholic steatohepatitis (NASH). A total of 35 participants were given betaine (20 g) or placebo dialy for 12 months. The betaine group experienced a decrease in severity of liver steatosis (fat accumulation), but no other improvements over placebo.
The researchers concluded that "Compared to placebo, betaine did not improve hepatic steatosis but may protect against worsening steatosis." 12
Dosage
Dosage for Liver Health

osages used in studies vary, but 20 g is the most common dosage
Standalone betaine supplements typically provide 1-3 g dosages
Multi-ingredient supplements usually include smaller TMG dosages, such as 100-150 mg
Recommended dosage for alcohol-induced fatty liver is 1-2 g taken 3 times daily
Availab
Available Forms

strong>Betaine anhydrous. The most common form of trimethylglycine. Other forms of betaine (citrate, aspartate, and HCL) function similarly, but are not technically considered trimethylglycine.
Cystadane®. A branded, prescription version of TMG used by doctors to treat homocystinuria.
Supplements in Review Recommendationtrong>

TMG (betaine anhydrous), 1-6 g daily for liver health.
TMG may protect against fatty liver. Although more high-quality human research is needed, current evidence suggests that TMG can protect against both alcoholic and nonalcoholic fatty liver conditions.
Clinicians recommend taking 3-6 g daily. Clinical experts suggest taking 1-2 g doses of TMG three times daily for alcohol-induced fatty liver. Smaller dosages (1-3 g daily) can be taken for general liver health.