Non-psychoactive cannabis compound CBD may ward off acne, psoriasis, and other skin conditions.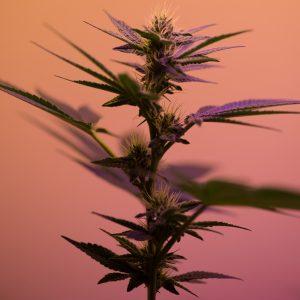 CBD is one of the main therapeutic compounds present in cannabis plants. CBD has been proposed to support skin health by:
Improving acne. Several studies have shown that CBD can ward off acne.
Protecting against other skin conditions such as psoriasis and seborrhea.
Overview
Cannabidiol (CBD) is one of more than 60 cannabinoids present in the Cannabis sativa plant. Cannabinoids are responsible for the health benefits of cannabis, with CBD being the second-most common cannabinoid after tetrahydrocannabinol (THC).
What makes CBD unique, however, is that it shares many of the beneficial effects of THC but does not make you high. As a result, CBD is growing in popularity as a way to reap the health benefits of marijuana without the intoxicating effects. It is used for a wide range of disorders including anxiety, epilepsy, insomnia, arthritis, Alzheimer's, chronic pain, and many other conditions.
In addition, some people are beginning to use CBD for treating acne, psoriasis and other skin issues. Although there isn't a lot of evidence to support its effectiveness, early studies suggest that CBD holds real potential in the treatment of skin disorders.
Did you know?
Cannabis smokers have detectable levels of cannabinoids in their hair.
1
How CBD Might Help With Skin Health
Because research is still in its early stages it's difficult to say exactly how CBD supports skin health. However, the most popular, research-supported mechanisms include:
Anti-inflammatory activity
Inflammation plays a role in acne and other skin disorders. CBD has been shown to decrease inflammation by reducing levels of various pro-inflammatory cytokines such as TNFa, a cytokine that is particularly active in acne.
Decreasing lipid production
CBD seems to reduce the production of lipids (fats) in sebocytes – the skin cells that make sebum, an oily substance overproduction of which plays a role in acne. As a result of this, less sebum is produced by these cells.
Decreasing growth of sebocyte cells
Proliferation refers to an increase in the numbers of a cell. CBD has demonstrated antiproliferative activity against the unwanted growth of sebocytes.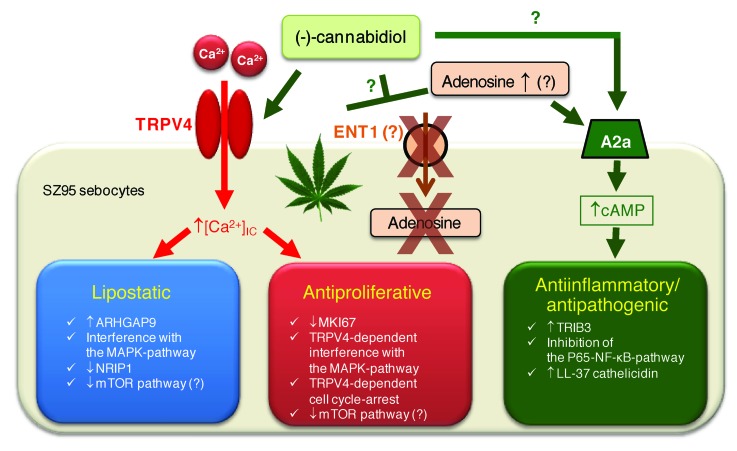 Interacting with the Endocannabinoid System
Researchers have recently discovered receptors of the endocannabinoid system (ECS) in the skin, suggesting that the ECS plays a role in skin health. The disruption of this system might be involved in skin conditions such as acne, seborrhea, allergic dermatitis, itch and pain, psoriasis, and hair growth disorders. 2
Although CBD does not strongly interact with the two known ECS (CB1 & CB2) receptors, it may interact with other undiscovered ECS receptors,3 and can indirectly affect the ECS by increasing levels of anadamide, a cannabinoid made in the human body.
Antibacterial activity
Bacteria are known to be involved in a variety of common skin concerns such as acne. Cannabidiol has been demonstrated to have antibacterial activity that can suppress the growth of harmful bacteria. 4
CBD Uses & Potential Benefits for Skin Health
Although CBD is more popular for other health concerns, some people are beginning to use it both orally and topically for acne. In addition, some people use it for other skin conditions such as  seborrhea, itching, eczema, dry skin, and psoriasis, and as an overall beauty and skincare product.
There is little human research to back these uses, but early cell culture studies suggest that CBD has serious potential in the treatment of acne, psoriasis, and other skin disorders.
Did you know? Acne is a human-specific condition, which means that it's not possible to examine it in animal studies. Because of this, research focuses on either isolated human cells or clinical trials with human participants.
Research
Petri Dish Research
Cell culture studies of CBD report that it can help fight psoriasis and acne.
CBD appears to have biological effects that can help fight acne
This cell culture study examined the potential of CBD in improving acne. The researchers applied CBD to isolated human sebocytes (skin cells that produce sebum, the oily substance implicated in acne) and other skin tissues. CBD showed anti-inflammatory effects, and reduced lipogenic (fat-forming) activities and the creation of new sebocyte cells, suggesting that it can help treat acne.
The researchers concluded that "…CBD has potential as a promising therapeutic agent for the treatment of acne vulgaris." 5
This cell culture study explored the effects of three different cannabinoids – THC, CBD, and cannabigerol – on psoriasis. The researchers applied these cannabinoids to keratinocytes – the main type of cell found on the outermost layer of the skin. All three compounds reduced the proliferation (increase in number) of keratinocyte cells, which is believed to play a central role in psoriasis.
The researchers concluded that "…cannabinoids inhibit keratinocyte proliferation, and therefore support a potential role for cannabinoids in the treatment of psoriasis." 6
Human Research
Cannabis cream may help with acne by reducing sebum and skin redness
This single-blind study examined the effects of cannabis seed extract cream on skin health and acne. Men used a placebo cream or one combined with 3% cannabis seed extract on each cheek, twice daily for 12 weeks. The researchers then compared the effects on the cheek treated with the placebo cream with the cheek treated with the cannabis cream. The cannabis cream-treated side had reduced sebum (oil) production and erythema (skin redness).
The researchers concluded that "Its [cannabis cream] improved efficacy could be suggested for treatment of acne vulgaris, seborrhea, papules and pustules to get attractive facial appearance." 7
Did you know?
Research suggests that CBD can be effectively absorbed into the skin through transdermal patches.
8
Dosage for Skin Health
There isn't enough research to recommend a CBD dosage for skin concerns
The general dosage of CBD is usually 15-30 mg in CBD hemp oil form
CBD creams typically contain anywhere from 150 – 2000 mg CBD total
Available Forms
CBD oil. The most popular form of CBD, oil tinctures can be taken for skin concerns but are not as effective as topical CBD.
CBD capsules/edibles. Although convenient and long-lasting, capsules and edibles have lower efficacy because of low bioavailability.
CBD vape oil. Vaping CBD provides the fastest effects, but has the shortest duration.
Topical CBD. CBD creams, lotions, salves, and balms are the ideal form for acne and other skin concerns because they can be applied directly on the skin.
CBD Isolate. 99%+ pure CBD in crystal/powder form.
Supplements in Review Recommendation
CBD cream for skin health.



CBD shows early promise as a skin health supplement. Early research shows promise for treating acne, psoriasis, and other skin concerns with CBD. However, there isn't enough human evidence to recommend it outright.
There is no established CBD dosage for skin health. Given the lack of research it is best to start with dosages recommended by CBD supplements.