Rhodiola may boost mental and physical energy during times of stress.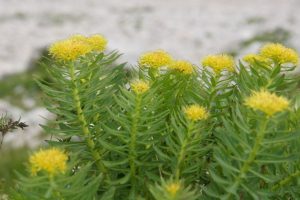 Rhodiola rosea is a popular medicinal herb that grows in cold northern climates. It holds multiple health benefits, and appears to help with energy levels through:
Stress resistance. Rhodiola alleviates fatigue, improving physical and mental performance & energy under stressful situations.
Overview
Rhodiola rosea is a hardy plant native to the frigid and mountainous regions of Europe, Asia, and North America. It has long been used by traditional medicine as an adaptogen – a herb that helps normalize and strengthen body functions compromised by all forms of physical or mental stress, such as cold temperatures, sleep deprivation, or general fatigue.
As such, rhodiola's benefits can be best summed up as improved mental and physical performance under stress. Indeed, it is commonly used in Russia by doctors, students, athletes, and other individuals prone to stints of intense mental and physical exertion, and the use of rhodiola is quickly rising worldwide.
Clinical studies support the claim that rhodiola may benefit physical and mental performance, although experts highlight the need for further research. 1
Historically, rhodiola has been used to cope with the harsh living conditions of Siberia and northern Canada and there is some evidence that it may have even been used by Vikings to help boost endurance and strength.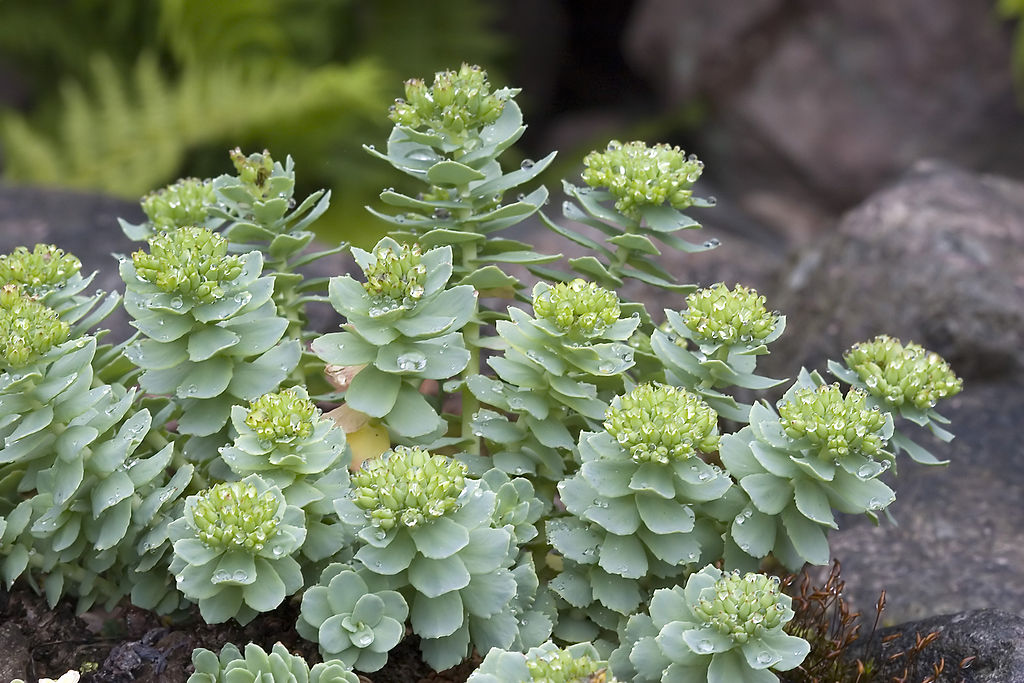 How Rhodiola Rosea Might Help With Energy
The main active ingredients in rhodiola are believed to be rosavins and salidrosides. They are proposed to work through several mechanisms:
Interacting with the HPA axis
Research shows that rhodiola may work primarily by impacting the hypothalamic-pituitary-adrenal axis (HPA) that controls our response to physiological stress. In particular, rhodiola has been demonstrated to reduce levels of cortisol (stress hormone) and enzymes and proteins involved in stress stimuli that are regulated by this axis. 2
Neurotransmitter support
Rhodiola appears to inhibit the action of monoamine oxidases – a family of enzymes that break down the neurotransmitters dopamine, serotonin, and norepinephrine.This effect may play a major role in its ability to boost mental energy in particular.3
Rhodiola Rosea Uses & Benefits for Energy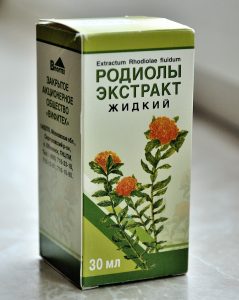 As an energy booster, rhodiola is most commonly taken to alleviate fatigue and other forms of physical and mental stress. It can also provide related benefits such as improved concentration, mood, and exercise performance. Current research evidence is supportive of the use of rhodiola as a physical and mental energy booster for people experiencing physiological stress as a result of demanding work, exercise, or other activities. However, it is important to highlight that unlike many other energy supplements, rhodiola does not further increase your normal energy levels and only works if the body is under some form of stress.
Rhodiola extract has been used in Sweden since 1985, and even earlier in the
Soviet Union
.
Research
Animal Research
Animal studies indicate that rhodiola may increase energy by:
Reducing fatigue in rats, resulting in increased swimming time 4
Stimulating the central nervous system in mice 5
Human Research
Clinical research indicates that rhodiola may be capable of reducing both mental and physical fatigue, although some studies have been criticized for poor design.
Rhodiola extract (576 mg) appears to decrease fatigue and improve attention in stress-related fatigue

This randomized, double-blind study examined the use of a Rhodiola rosea root extract for stress-related fatigue. Sixty people with fatigue syndrome were given placebo or rhodiola extract (576 mg) daily for 4 weeks.
The Rhodiola group had a substantially bigger improvement in symptoms of fatigue and attention performance. In addition, Rhodiola significantly reduced levels of cortisol — the main stress hormone — during the awakening stress test.
The researchers concluded that "R. ROSEA extract SHR-5 exerts an anti-fatigue effect that increases mental performance, particularly the ability to concentrate, and decreases cortisol response to awakening stress in burnout patients with fatigue syndrome"6
Rhodiola extract (200 mg) may increase endurance exercise capacity
This double blind, placebo-controlled, randomized, crossover trial tested the use of rhodiola as an ergogenic aid.  A total of 24 people were given rhodiola extract (200 mg) or placebo and 1 hour later performed various tests of exercise capacity, such as reaction time and speed of limb movement. The groups were then switched so that all participants tried both placebo and rhodiola. Rhodiola was found to increase time to exhaustion during endurance exercise from an average of 16.8 minutes to 17.2.
The researchers concluded that "Acute Rhodiola rosea intake can improve endurance exercise capacity in young healthy volunteers."7
Rhodiola extract (50 mg) may boost physical performance and mental energy in stressed students
In this randomized, double-blind, placebo-controlled study, foreign language students were administered 50 mg of rhodiola or placebo for 20 days during exams. They were tested for physical and mental performance before and after the supplementation period. Researchers reported the most significant improvements associated with rhodiola were in the areas of physical fitness, neuro-motor test performance, and mental energy.
Researchers concluded that rhodiola "gave significant results compared to the placebo group but the dose level probably was suboptimal."8
Rhodiola extract (175 mg) appears to alleviate stress-related mental fatigue
This double-blind crossover study investigated how repeated low-dose rhodiola supplementation may help with fatigue. Researchers selected 56 young, healthy physicians and tested their mental performance during night shifts. Evaluation included multiple tests for various aspects of cognition such as short term memory, concentration, processing speed, calculation, and associative thinking.
At the study's end, researchers concluded that rhodiola supplementation was associated with "a statistically significant improvement" in cognitive testing performance, and further suggested that rhodiola rosea extract can "reduce general fatigue under certain stressful conditions."9
Dosage for Energy
Research studies have used doses as low as 50 mg to as high as 600 mg
Supplements usually provide 100 mg – 500 mg doses of Rhodiola
Available Forms
Standardized extract. Rhodiola rosea is most commonly sold in the form of root extract standardized to contain 3% rosavins and 1% salidrosides – the two types of compounds believed to be its main active ingredients.
Supplements in Review Says
Rhodiola rosea extract 100+ mg standardized to 3% rosavins and 1% salidrosides for energy.
Rhodiola is an excellent energy booster in cases of physical or mental fatigue. Research suggests that Rhodiola rosea helps the body resist various forms of stress, resulting in improved physical and mental performance.
There is no established dosage, but 100 mg is a good starting point.  Start with the lower 100 mg dose and assess the effects before potentially moving up to as high as 500 mg.