Broccoli-derived sulforaphane is one of the most promising phytochemicals for promoting good health and long life.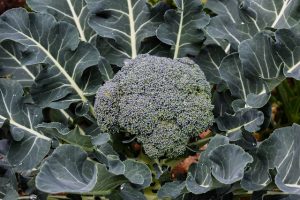 Broccoli has garnered increasing attention as a way to promote longevity. As a greens supplement, it may benefit your health through:
Activating NRF-2. This genetic pathway may promote longevity and protect from chronic conditions by fighting oxidative stress and inflammation.
Supplying nutrients. Broccoli is a good source of vitamin C,  selenium, and many other vitamins and minerals.
Overview
Broccoli (Brassica oleracea) is a cruciferous vegetable – a group that includes common dietary plants such as cauliflower, Brussels sprouts, and cabbage. Broccoli is considered a nutritious, health-promoting food, a reputation supported by a growing volume of medical research that has linked cruciferous vegetable consumption to reduced mortality and lower risk of cardiovascular disease and other chronic health disorders.
Researchers attribute most of the health benefits of broccoli to a group of phytochemical compounds known as isothiocyanates, which are created from glucosinolates when broccoli is eaten.
Sulforaphane – the most important of these isothiocyanates – has undergone intense medical research and seems to offer much promise as an anti-aging, longevity-promoting phytochemical. Its levels are particularly high in broccoli sprouts – young stems and leaves that emerge from broccoli seeds.
When broccoli is crushed, chewed, or cut, the enzyme myrosinase turns the glucosinolate compound glucoraphanin into sulforaphane – its main active ingredient. In this sense, broccoli is similar to
garlic
– another plant that releases its main bio-active compound after being damaged.
How Broccoli Might Improve Your Health
Activation of NRF-2
The NRF-2 signalling pathway regulates the activity of genes that help counter aging, oxidative stress, and inflammation, effects which have led some researchers to dub it the "longevity-promoting" pathway. Sulforaphane has been consistently shown to activate this pathway, with one study reporting that it increased NRF-2 activation from a baseline of 129 minutes to only 80 minutes. 1
According to one estimate, the average Canadian and American consumes about 8.2 g of fresh broccoli per day, with Europe having slightly lower values at 6.8 g.
2
Antioxidant activity
Broccoli contains a wide range of compounds – including selenium, sulforaphane, and polyphenols – that either act as antioxidants themselves or enhance the body's inherent antioxidant system. Since oxidative stress is involved in a wide range of conditions including diabetes, osteoporosis, and Alzheimer's, and even the process of aging itself, consumption of antioxidants can help promote longevity and fight specific health disorders. 3
Suppression of NF-κB
NF-κB is one of the major inflammatory pathways, meaning that its activation results in increase of inflammation. Isolated isothiocyanates (such as sulforaphane) and whole broccoli extract have been shown to suppress this pathway. 4 Much like oxidative stress, excessive inflammation can contribute to chronic health disorders such as Alzheimer's and diabetes, and suppressing inflammation appears to be the most important factor for prolonging your lifespan to 100 and beyond. 5
Broccoli Uses & Benefits
Like other greens supplements, broccoli products are mostly taken to support overall good health. But unlike most green foods, broccoli actually shows substantial promise as a promoter of a long, healthy life in early animal and human research.
Indeed, research studies have has shown that sulforaphane – the main active ingredient in broccoli – activates a specific longevity-promoting pathway in the body, and can help fight oxidative stress, inflammation, and other factors implicated in aging, helping protect the body from cardiovascular, neurodegenerative, inflammatory, and other chronic health disorders.
Renowned nutrition and aging researcher
Dr. Rhonda Patrick
is one of the most outspoken supporters of broccoli consumption. Check out her informative video on sulforaphane below.
Research
Animal Research
Broccoli and isolated sulforaphane have been extensively examined in cell culture and animal studies. Some of the most significant findings indicate that:
Beetles supplemented with broccoli extract had a 15% longer lifespan, an effect mediated by the same Nrf-2 and FOXO genetic pathways present in humans6
Sulforaphane appears to have neuroprotective effects that can help with Alzheimer's, Huntington's, and other neurodegenerative disorders 7
Sulforaphane may be a "novel agent to treat depression and anxiety disorders" as shown by efficacy in mice 8
Sulforaphane promotes hair growth and protects against hair loss by acting on dehydrotestosterone (DHT) 9
Sulforaphane may help "restore or delay the decline of cellular immunity with ageing" by supporting dendritic cell function 10
Human Research
Clinical trials suggest that broccoli intake can promote longevity, reduce inflammation, and help with diabetes.
Broccoli powder appears to improve cardiovascular risk factors in type 2 diabetes
In this randomized, double-blind, placebo-controlled study, the effects of broccoli sprout powder (BSP) were tested in 81 type 2 diabetics. They were given 1 of 3 treatments for 4 weeks: BSP) 5 g daily, BSP 10 g daily, or placebo. The 10 g BSP group experienced improvement of several blood lipid markers, including reduced blood triglycerides, OX-LDL/LDL ratio, and atherogenic index, as well as higher levels of HDL ("good") cholesterol.
The researchers concluded that "BSP as supplementary treatment in type 2 diabetes could have favorable effects on lipid profiles and OX-LDL/LDL ratio, as risk factors for cardiovascular disease." 11
High-sulforaphane broccoli powder appears to reduce inflammation in type 2 diabetes
This  follow-up randomized, double-blind, placebo-controlled study tested the effects of broccoli sprouts in type 2 diabetes. A total of 81 type 2 diabetics were given 1 of 3 treatments for 4 weeks: broccoli sprouts powder (BSP) 5 g daily, BSP 10 g daily, or placebo. The BSP groups experienced a decrease in several markers of inflammation, including C reactive protein, interleukin-6 (IL-6), and tumor necrosis α (TNF-α).
The researchers concluded that "High-sulforaphane BSP had favorable effects on inflammatory markers in type 2 diabetic patients." 12
High cruciferous vegetable consumption appears to promote longevity
This study explored the link between cruciferous vegetable consumption and health. A total of 134,796 Chinese adults were assessed for their vegetable intake and followed up over a period of 5 – 10 years. Most notably, the researchers discovered that the top 20% of consumers of cruciferous vegetables had a 22% reduction in all-cause mortality, which simply means that they were 22% less likely to die from any cause.
The researchers concluded that "Our findings support recommendations to increase consumption of vegetables, particularly cruciferous vegetables, and fruit to promote cardiovascular health and overall longevity."13
Cruciferous vegetables may have anti-inflammatory effects
This study examined whether cruciferous vegetables have an anti-inflammatory effect. The researchers looked at the link between cruciferous vegetable intake and inflammatory and oxidative stress markers in 1,005 women. Their analysis found that women with higher intake of these vegetables had lower levels of pro-inflammatory cytokines such as TNF-α, IL-1β, and IL-6.
The researchers concluded that "the previously observed health benefits of cruciferous vegetable consumption may be partly associated with the anti-inflammatory effects of these vegetables." 14
Broccoli Greens Dosage
According to researcher Dr. Rhonda Patrick, 100 mg of broccoli sprouts (equivalent to about 40 mg sulforaphane) is the ideal dose
Most broccoli supplements are sold as broccoli sprout extract capsules containing anywhere from 2 – 30 mg sulforaphane
If you're going to eat broccoli, steam it
. Research shows that boiling broccoli reduces the bioavailability of isothiocyanates by as much as 3 times. Steaming it, on the other hand, has been shown to preserve or even increase the content of glucosinolates and other nutrients, making it the ideal way of consuming broccoli for maximizing its health benefits.
15
16
17
Available Forms
Most broccoli supplements come in the form of broccoli sprout extract that can be standardized to contain a certain amount of sulforaphane – typically 0.3 %
Broccoli can also be sold as powder, and mixed with other green foods in multi-ingredient formulas.
Supplements in Review Says
Broccoli sprout extract containing 40 mg sulforaphane daily.

We highly recommend trying out broccoli extract to support overall health. Broccoli-derived sulforaphane has shown great promise as a way to counter a wide range of chronic health disorders and even slow the process of aging itself. We agree with Dr. Rhonda Patrick that broccoli is worth adding to your daily regimen.
Take broccoli sprouts containing 40 mg sulforaphane. Dr. Rhonda Patrick recommends taking daily doses of broccoli sprouts (as food or in supplement form) that contain 40 mg of sulforaphane.