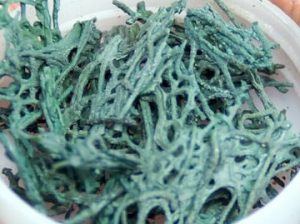 Nutrient-rich microorganism spirulina confers a wide range of health benefits.

Spirulina is an edible microorganism used in greens supplements thanks to its rich nutritional profile and bio-active compounds. Spirulina supports overall health through multiple mechanisms, such as:
Boosting the immune system. Spirulina may enhance the body's immunity, conferring protection from illness and allergies.
Antioxidant support. Spirulina contains multiple antioxidants as well as compounds that boost the body's own antioxidant production.
Regulating blood lipids. Spirulina has been shown to lower blood levels of cholesterol and other fats, while boosting HDL("good") cholesterol.
Decreasing blood pressure through regulating compounds that constrict and dilate blood vessels.
Supplying nutrients. Spirulina is rich in protein, vitamins, minerals, and bio-active compounds.
Overview
Spirulina is a cyanobacterium, a type of bacteria that lives in water and gets its energy from photosynthesis. Spirulina is a rich, organic source of nutrients and phytochemicals such as essential fatty acids, multiple vitamins (B, C, and E in particular), minerals, beta-carotene and other carotenoids, phycocyanin, and chlorophyll. Moreover, spirulina has a high protein content that is considered complete because it provides all nine essential amino acids.
Spirulina has a long history of use as food and medicine; even the Aztecs included it in their diet. Today spirulina has grown into a popular superfood greens supplement, sold by itself or mixed with other green food ingredients. Spirulina is purported to have a wide variety of health benefits such as improved digestion, immunity, energy, brain health, cardiovascular health, and overall well-being.
Unlike most greens supplements, spirulina has been extensively researched, confirming many of its beneficial bio-activities and suggesting that it may help with diabetes, elevated blood pressure, and other conditions.
Spirulina is also called blue-green algae, but this term is misleading because it is actually a bacterium.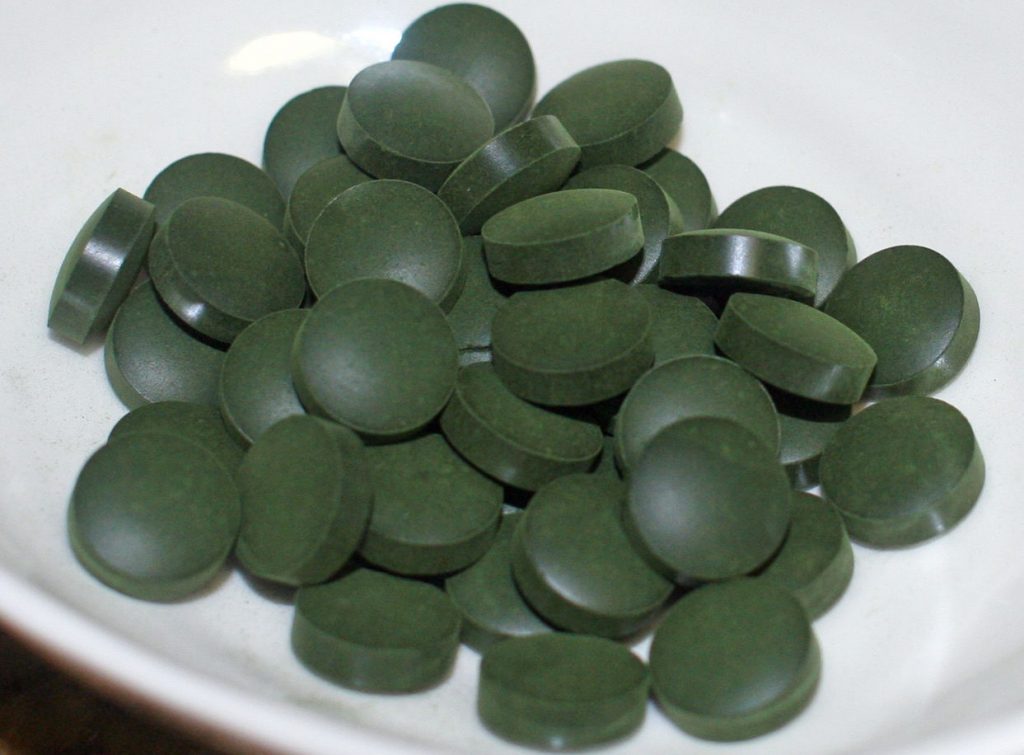 How Spirulina Might Improve Your Health
Because spirulina contains so many different nutrients and chemical compounds, it has been difficult to identify exactly how it works. Thus far, researchers have proposed several mechanisms:
Enhancing lipid metabolism
Several studies have found that spirulina supplementation improves blood lipid risk factors such as elevated cholesterol. One of the ways it might achieve this is through inhibiting cholesterol absorption and lowering the activity of pancreatic lipase, an enzyme involved in lipid metabolism. The bio-active compound phycocyanin has been proposed as the main molecule responsible for these effects.1 2
Regulating vasoconstricting and vasodilating compounds
Spirulina has been suggested to lower the production and release of compounds that promote vasoconstriction (tightening of blood vessels) while simultaneously promoting an increase in vasodilating (widening of blood vessels) compounds such as nitric oxide.3
Antioxidant support
Spirulina contains a large number of compounds that can act as antioxidants, including phenols, tocopherols, beta-carotenes, vitamin B12, and phycocyanins. In addition, some of its nutrients – such as the amino acids cysteine and methionine – are used by the body to synthesize glutathione, a potent antioxidant molecule. It's also possible that vitamin C and E in spirulina may also increase glutathione levels.
In turn, enhanced antioxidant capacity helps combat oxidative stress, which has been implicated in a wide range of health concerns such as mental disorders and even the process of aging.
Boosting immunity
Spirulina has been demonstrated to affect the levels of cytokines – protein molecules that help control the body's immune and inflammatory responses. For example, spirulina has been shown to increase the levels of IL-2, an anti-inflammatory cytokine, and decrease the levels of IL-6, a pro-inflammatory cytokine.
Spirulina Uses & Benefits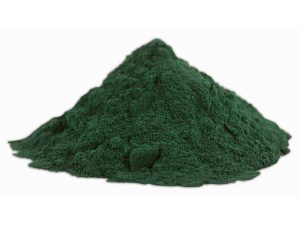 Spirulina is a popular greens supplement and ingredient. Spirulina's proposed benefits include increased energy and vitality, brain health, cardiovascular health, immune function, weight loss, and improved well-being.
There is a significant amount of evidence for most of these effects, such as reports of lowered blood pressure and glucose levels, enhanced immunity, and improvement of the blood lipid profile.
In addition, several studies have reported that spirulina supplementation can benefit your workout by reducing exercise-induced muscle damage and prolong time until exhaustion during running.
All in all, it appears that spirulina's rich nutritional content and unique chemical compounds can enhance your health in many different ways.
Spirulina might also support eye health thanks to containing very high concentrations (about 15 times higher than carrots) of
beta-carotene
. This compound is converted by the body into vitamin A, which is critical to healthy vision.
Research
Human Research
Research has shown that spirulina supplementation has a number of wide-ranging health benefits and applications.
Spirulina (8 g) appears to improve immunity, lipid profile, and antioxidant capacity in older adults
This randomized, double-blind trial examined the efficacy of spirulina as a health-promoting food for older adults. Seventy-eight participants (age 60-87) were assigned to placebo or spirulina (8 g daily) groups for 17 weeks. The spirulina group experienced a reduction in cholesterol, improved immune system function, and a rise in antioxidant activity.
The researchers concluded that "spirulina has favorable effects on lipid profiles, immune variables, and antioxidant capacity in healthy, elderly male and female subjects."4
Spirulina (6 g) appears to improve running performance, exercise fat oxidation, and antioxidant activity in healthy men
This double-blind, crossover study tested the effects of spirulina supplementation on exercise performance. Nine men with moderate training experience were given spirulina (6 g) or placebo daily for 4 weeks, and then ran on a treadmill at moderate intensity for 2 hours followed by an all-out run.
Men given spirulina ran significantly longer before tiring out,  had lower carbohydrate oxidation (-10.3%) and higher fat oxidation (+10.9%),  higher glutathione (an antioxidant) levels at rest and after exercise, and did not experience an exercise-induced rise in oxidative stress.
The researchers concluded that "Spirulina supplementation induced a significant increase in exercise performance, fat oxidation, and GSH concentration and attenuated the exercise-induced increase in lipid peroxidation."5
Spirulina (2 g) may improve allergies
This double-blind study examined the efficacy of spirulina for allergic rhinitis. One hundred fifty participants were given placebo or spirulina (2 g) daily for 6 months. Compared to placebo, spirulina supplementation resulted in a significant improvement of symptoms.
The researchers concluded that "Spirulina is clinically effective on allergic rhinitis when compared with placebo."6
Spirulina may reduce exercise-induced muscle damage and improve exercise performance
This clinical investigation examined the effect of spirulina on exercise-induced muscle damage. Sixteen students were given spirulina platensis (7.5 g total) or placebo daily for 3 weeks and performed treadmill exercise before and after supplementation.
Spirulina supplementation was found to improve several biological markers of exercise-induced oxidative stress and muscle damage, and also prolonged time to exhaustion during the exercise.
The researchers concluded that "ingestion of S. platensis showed preventive effect of the skeletal muscle damage and that probably led to postponement of the time of exhaustion during the all-out exercise."7
Spirulina (4.5 g) appears to lower blood pressure and improve lipid profile
Thirty-six adults were given spirulina maxima capsules (4.5 g) daily for 6 weeks. In addition to a reducing blood pressure, spirulina supplementation had a positive impact on blood lipids, such as lower total cholesterol.
The researchers concluded that "Spirulina could be used as a dietary supplement on dyslipidemic and hypertensive patients."8
Spirulina (2 g) may help with diabetes
This randomized study tested the usefulness of spirulina for helping with diabetes. Twenty-five people with type 2 diabetes were given placebo or spirulina (2 g)  daily for 2 months. The treated group experienced a reduction of fasting and post-meal blood glucose levels, as well as a reduction in triglycerides, total cholesterol, LDL ("bad") cholesterol, and a small increase of HDL ("good") cholesterol.
The researchers concluded that "These findings suggest the beneficial effect of Spirulina supplementation in controlling blood glucose levels and in improving the lipid profile of subjects with type 2 diabetes mellitus."9
Greens products often mix spirulina together with
chlorella
, another nutrient-rich algae, as well as cereal grasses such as wheat grass, barley, and
alfalfa
.
Spirulina Greens Dosage
Successful studies have used spirulina doses ranging from 2 – 8 g daily
Single-ingredient spirullina supplements typically provide 3 – 3.5 g doses, although some recommend going as high as 8 g
Multi-ingredient greens supplements typically contain smaller doses such as 1.45 g
General dose is usually around 3 g
Green food supplements use two specific species of spirulina – Arthrospira platensis and Arthrospira maxima.
Supplements in Review Says
Spirulina 3 – 8 g daily in powder or pill form.

Spirulina is one of the few scientifically proven greens supplements. Given its excellent nutritional profile and bio-active phytonutrients, spirulina lives up to its "superfood" tag. And unlike the large majority of green food products, spirulina has actually been tested by researchers.
All forms of spirulina seem to be effective. The ideal dosage of spirulina is not yet clear, but given that research has not uncovered any serious side effects, you can start with the standard 3 g dose and move up to as high as 8 grams.