Organic nutrient powerhouse wheat grass may support overall health.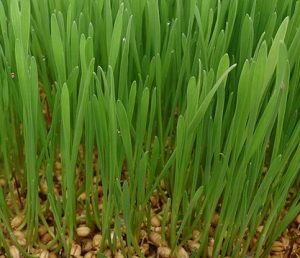 Wheat grass is a popular greens supplement that comes in juice or powder form. Wheat grass is taken to boost general health and well-being, benefits that might be the result of its:
Rich nutritional profile. Wheat grass is high in vitamins, minerals, and bio-active compounds.
Antioxidant and anti-inflammatory activity. Wheat grass contains multiple compounds with antioxidant and inflammation-reducing qualities.
Overview
Wheat grass refers to the common wheat plant (Triticum aestivum) that is harvested before it produces grain. The grass-like leaves of wheat grass are processed into a nutrient-rich juice or powder for use as a greens supplement.
Wheat grass contains minerals, vitamins, enzymes, and is also considered a complete source of protein. Moreover, wheat grass is one of the best sources of chlorophyll – the pigment that gives plants their green color, and may have some health benefits.
Wheat grass is believed to provide multiple health benefits such as improved energy, blood flow, digestion, and general health. Wheat grass can sold by itself or mixed together with other cereal grasses such as barley and alfalfa. But despite its popularity, there is little research evidence for the proposed benefits of wheat grass.
Wheat grass has over 4,000 different varieties, and has been cultivated for thousands of years. Ancient Egyptians are said to have consumed wheat grass for its health and vitality benefits.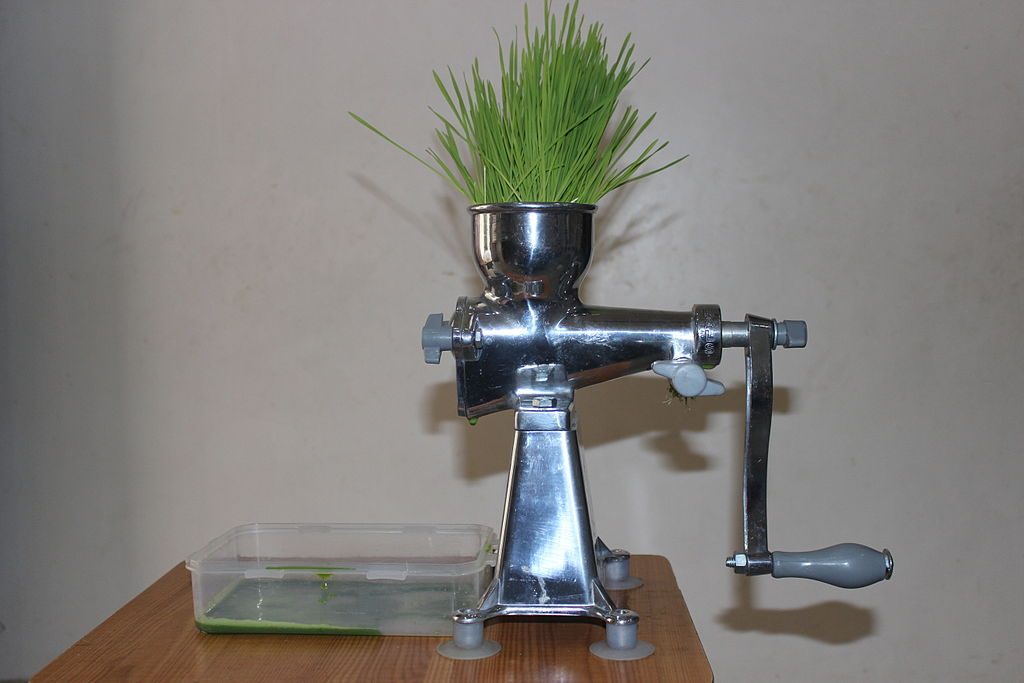 How Wheat Grass Might Improve Your Health
Because wheat grass has not seen much research medical experts can only speculate on how it might be beneficial. Thus far, several possibilities have been proposed:
Antioxidant and anti-inflammatory activity
Flavonoids and other compounds found in wheat grass have been demonstrated to reduce inflammation and have antioxidant properties. These effects have been proposed as the main mechanism behind wheat grass' improvement of ulcerative colitis. In addition, antioxidants might also help with a wide variety of disorders associated with oxidative stress and inflammation, such as neurodegenerative disorders.
Potential interaction with hemoglobin
Chlorophyll, which makes up 70% of wheat grass, shares a similar structure with hemoglobin – the key protein that carries oxygen in red blood cells. Because of this, some have proposed that chlorophyll consumption can increase hemoglobin production.
A low hemoglobin count has been associated with fatigue, weakness, unexplained weight loss, and other health issues.
1
Potential regulation of acid-base balance
One emerging hypothesis is that greens supplements like wheat grass may improve health by regulating the body's pH – a measure of the acid-base balance. Because grains, dairy, and protein are considered acidic foods, a typical Western diet has been suggested to have a high acid load, which may negatively influence many aspects of health such as risk of osteoporosis, obesity, cardiovascular conditions, and overall well-being.
In contrast, vegetables and fruits and by extension greens supplements are considered alkaline foods.2 Nonetheless, this mechanism of action remains disputed.
Wheat Grass Uses & Potential Benefits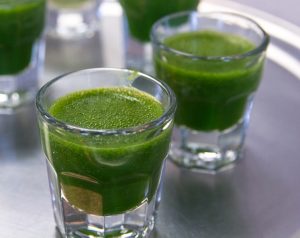 Wheat grass is a popular greens supplement for improving overall health. Like other greens, wheat grass products are considered a concentrated source of vegetables and fruits that can be used to make up for a diet low in these essential food groups.
Wheat grass is taken by different groups of people for various purposes, including vegans, athletes looking to improve their energy and recovery, and those with low vegetable intake.
The proposed benefits of wheat grass include detoxification, improved energy, digestion, and exercise recovery, prevention of hair loss, and promotion of general well-being. Some people also use it to treat specific conditions, such as infections, the common cold, and inflammation.
The alkalinity of wheat grass and other greens has also been suggested to be useful for athletes and bodybuilders in particular, because:
Intense exercise can induce metabolic acidosis
The body's per-exercise pH may influence exercise recovery and endurance
Nonetheless, these beneficial effects have not been scientifically tested, and as such remain largely theoretical.
Research
Human Research
Thus far, wheat grass has only been studied for two specific health conditions – ulcerative colitis and thalassemia.
Wheat grass juice (100 ml) may help with digestive issues such as ulcerative colitis
This randomized, double-blind study examined the use of wheat grass for treating gastrointestinal problems. Twenty-three people with ulcerative colitis (UC) were given place or wheat grass juice (100 ml) daily for a month. The juice group experienced a significant improvement of UC.
The researchers concluded that "Wheat grass juice appeared effective and safe as a single or adjuvant treatment of active distal UC"3
Wheat grass juice (100 ml) appears to support blood health
This study examined the usefulness of wheat grass for people suffering from thalassemia, a blood condition resulting in abnormal hemoglobin. Thirty-eight patients drank 100 ml of wheat grass juice daily for over a year, and compared their blood transfusion requirements (by amount of packed red cells used) to the year before.
The study found that about half the people taking wheat grass needed significantly fewer (25-40%) blood transfusions, suggesting that it helped them replenish hemoglobin.
The researchers concluded that "wheat grass juice has the potential to lower transfusion requirements in thalassemics"4
Wheat Grass Greens Dosage
The most common dose used by successful studies is 100 ml wheat grass juice daily
Wheat grass supplements come in powder form (3 – 8 g per serving), 240 – 355 ml juice bottles, and 1000 mg tablets
Wheat grass is frequently mixed with other greens in proprietary blends
While it may be quite healthy, wheat grass is said to have a very unpleasant taste. Because of this, it is recommended to mix it together with juice or even better, into a smoothie.
Supplements in Review Says
Wheat grass powder 3 – 8 g daily.

Wheat grass may provide a multitude of health benefits to people with insufficient vegetable/fruit intake. Although it hasn't seen much research, wheat grass does seem to contain the kind of nutrients that may be missing from many peoples' diets, and could explain its beneficial effects. Moreover, wheat grass might also have some unique medicinal properties, such as anti-inflammatory activity.
Given the scarcity of research, it's best to follow supplement dosages. Powder seems to be the best form, as it combines the convenience of making juice without having to grow your own wheat grass.