Time-tested herb black cumin appears to alleviate rheumatoid arthritis.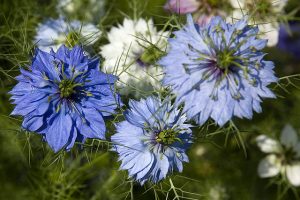 Black cumin is a plant whose oil is known for its healing properties. In the context of joint health it can help with rheumatoid arthritis (RA) through:
Immunomodulatory and anti-inflammatory activity. Black cumin has been shown to reduce inflammation and autoimmune responses involved in RA.
Antioxidant activity. Black cumin's antioxidant components can reduce the oxidative stress implicated in RA.
Overview
Black cumin (Nigella sativa) is a flowering herb common throughout Asia Minor, Southern Europe, and North Africa. The seeds of black cumin have a long history of use in culinary, religious, and medicinal practices, having been utilized by traditional medicine in India, Turkey, Saudi Arabia, Egypt, and many other countries.
The oil found in black cumin seeds is said to help with numerous conditions, such as digestive and respiratory problems, headaches, bacterial infections, and skin and joint issues. These uses are backed by medical research suggesting a multitude of beneficial properties: 1
Antiarthritic (rheumatoid arthritis in particular)
Antihypertensive
Antidiabetic
Analgesic
Antimicrobial
Anti-inflammatory
Antioxidant
Because of these and other effects, black cumin is widely considered one of the most effective and evidence-backed herbal remedies.
Did you know?
Famous Greek physician
Pedanius Dioscorides
used black cumin for headaches, nasal congestion, and other conditions.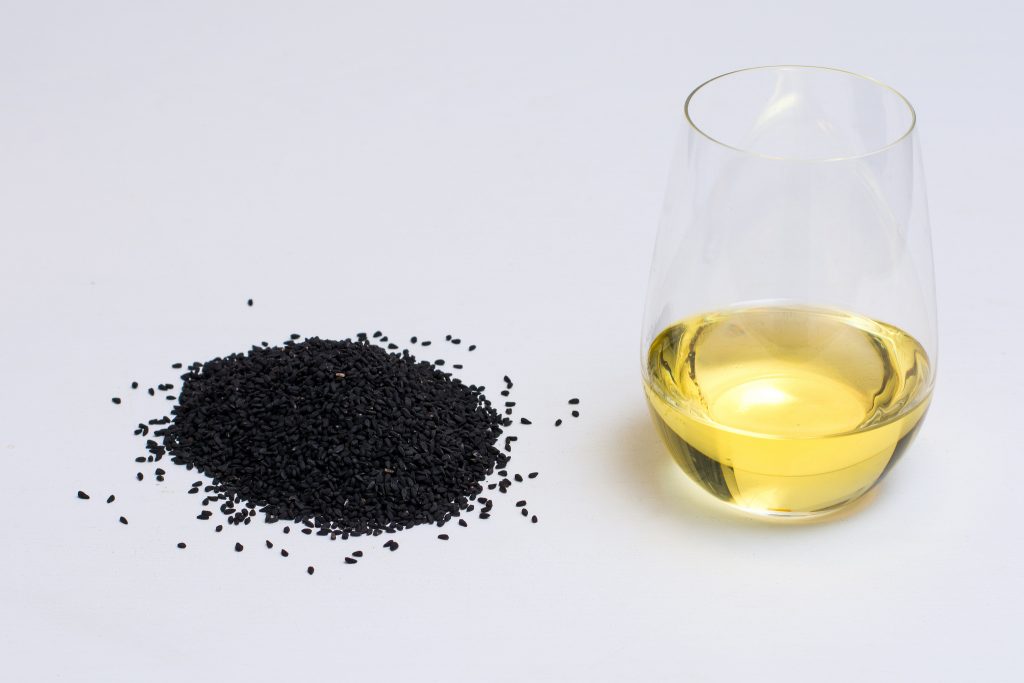 How Black Cumin Might Help With Joint Health
The main active component of black cumin oil is thymoquinone,  but it also contains other beneficial compounds such as dithymoquinone, linoleic acid, oleic acid, thymol, and carvacrol. The constituents of black cumin appear to support joint health through:
Immunomodulatory and anti-inflammatory activity
Black cumin seed oil has been shown to have multiple beneficial effects that reduce the inflammation and autoimmunity that are central to rheumatoid arthritis (RA). Specific mechanisms include:
Inhibition of the NF-kappaB pathway that is associated with inflammation and autoimmune disorders 2
Regulating cytokine production, most notably lowering levels of pro-inflammatory cytokines such as TNF-alpha and boosting anti-inflammatory ones such as IL-10 3
Reducing the number of inflammatory cells such as eosinophils that are associated with allergies and autoimmunity 4
Antioxidant activity
Oxidative stress and lowered levels of endogenous (produced in the body) antioxidants such as superoxide dismutase (SOD), catalase (CAT), and glutathione have been reported in RA. 5As such, it is likely that antioxidant compounds found in black cumin also contribute to its antiarthritic effects.
Black Cumin Uses & Benefits for Joint Health
Cell culture, animal, and human research suggests that black cumin oil can alleviate rheumatoid (autoimmune) arthritis through its anti-inflammatory, immunomodulatory, and antioxidant properties. Coupled with a long history of use, this has made black cumin seed oil a popular joint health supplement for relieving pain and other rheumatoid arthritis symptoms.
Did you know? Black cumin oil was widely utilized as a medical, religious, and beauty herb in Ancient Egypt, and was particularly favored by Egyptian pharaohs and their queens.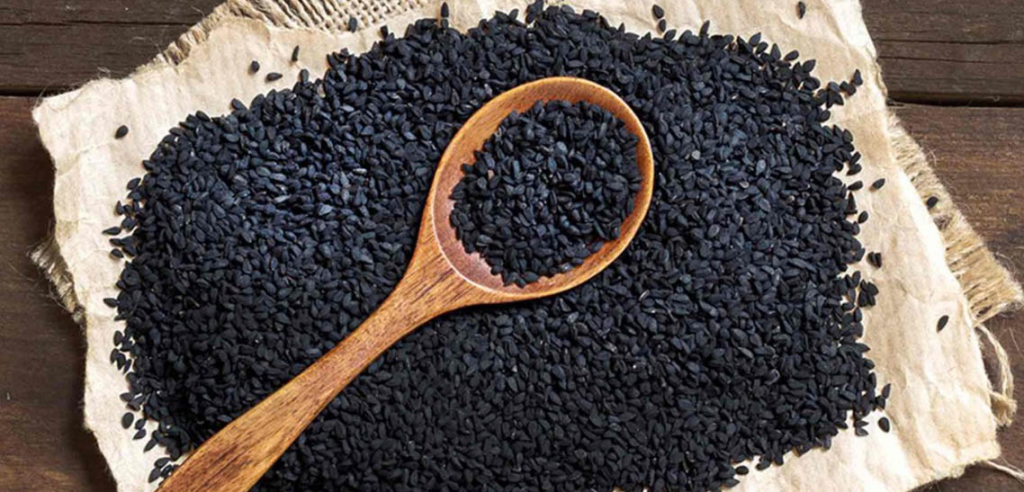 Research
Animal & Petri Dish Research
Numerous animal and cell culture investigations indicate that whole black cumin oil and isolated thymoquinone suppress rheumatoid arthritis in rats. 6 7 8
Human Research
Clinical trials of black cumin supplementation in people with rheumatoid arthiritis have only recently begun, but report positive findings.
Black cumin oil (1000 mg) may alleviate rheumatoid arthritis
This randomized, double-blind, placebo-controlled study examined the efficacy of black cumin in rheumatoid arthritis (RA). A total of 42 people with RA were assigned to take two placebo or black cumin oil capsules (500 mg each) daily for 8 weeks. Only the black cumin group experienced an increase in the anti-inflammatory cytokine IL-10, and reduction in two markers of oxidative stress – MDA and NO.
The researchers concluded that "Nigella sativa could improve inflammation and reduce oxidative stress in patients with RA."9
Black cumin oil (1000 mg) appears to alleviate rheumatoid arthritis in women
In this placebo-controlled study, 40 women with RA were given placebo capsules for a month, followed by another month of black cumin oil capsules (500 mg twice daily). They experienced a significant improvement in RA disease activity, number of swollen joints, and duration of morning stiffness.
The researchers concluded that "Supplementation with Nigella sativa during DMARD [disease-modifying antirheumatic drug] therapy in RA may be considered an affordable potential adjuvant biological therapy." 10
Dosage for Joint Health
Most successful clinical studies of rheumatoid arthritis use 1000 mg (1 g) doses of black cumin oil capsules
Black cumin supplements typically come in the form of seed oil softgels containing 400 – 500 mg oil
Black cumin should not be confused with
curcumin
, a herbal anti-inflammatory compound found in turmeric.
Available Forms
Ground black cumin seed
Cold-pressed black cumin seed oil sold in softgels or as a liquid (most popular form)
Some black cumin products are standardized to contain a certain amount of thymoquinone
Supplements in Review Recommendation
Black cumin oil, 1000 mg for joint health.
We recommend black cumin oil for rheumatoid arthritis. A long history of use and solid research evidence suggest that black cumin is effective at alleviating rheumatoid arthritis.
The most research-backed dose is 1000 mg. Although more research needs to be done before an official dosage recommendation, 1000 mg (taken as two 500 mg capsules daily) of black cumin oil is currently the most common dose used by successful studies.