Black cumin seed oil may alleviate allergies, asthma, and other conditions caused by an overactive immune system.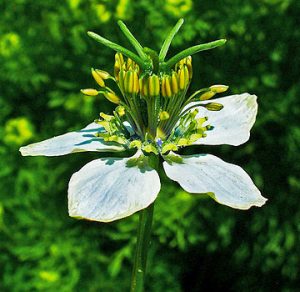 Historically used as a spice and medicinal herb, black cumin seems to possess several immunity benefits:
Anti-inflammatory activity. Black cumin may help with allergies, asthma, and other inflammatory and autoimmune conditions.
Antipathogenic activity. Black cumin appears to have antibacterial, antifungal, and antiviral properties.
Overview
Also known as black caraway, black cumin (Nigella sativa) is a flowering plant found throughout Southwest Asia. Its oil-containing seeds are used as a spice said to have a taste resembling the combination of onions, black peppers, and oregano.
More importantly, black cumin seeds are known for their medicinal properties, and have been used by traditional Arab, Asian, and African medicine to help with a wide range of conditions, including digestive and respiratory problems, headaches, bacterial infections, and as a topical treatment for joint and skin issues.
Modern scientific research has uncovered that black cumin seed oil possesses a number of beneficial effects:
Reduction of elevated blood pressure 1
Regulation of cholesterol and other lipids 2
Anti-inflammatory activity
Antiviral and antimicrobial properties
Enhancement of the immune response
As a result, N. sativa is increasingly being used as a herbal "cure-all" said to help with many different health issues and improve overall well-being. It is especially popular as an immune booster used to relieve problems associated with an overactive immune system, including asthma, allergies, and autoimmune conditions such as multiple sclerosis and
Nigella sativa should not be confused with Bunium bulbocastanum – a different plant that is also referred to as "black cumin". Unlike N. sativa, B. bulbocastanum does not possess any medicinal qualities.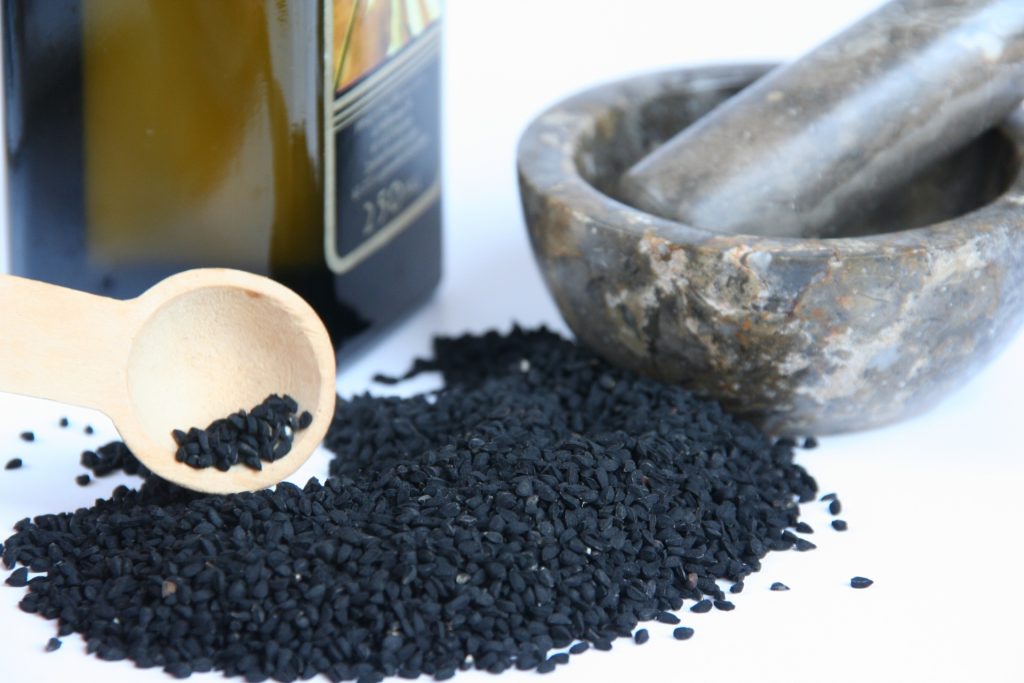 How Black Cumin Might Help With Immunity
Immunomodulatory activity
Black cumin seed oil has been shown to beneficially affect the immune system in multiple ways:
Increasing the count and stimulating the activity of some immune  cell types3
Reducing levels of inflammatory cells such as eosinophils that are associated with allergies and other immune problems5
At least some of these effects are mediated by the ability of thymoquinone – the main active ingredient in black cumin seed – to inhibit NF-kappaB, a group of proteins whose malfunction is associated with inflammation and autoimmune disorders. 6
Bronchodilation
Black cumin extracts have been shown to exert a bronchodilating effect, meaning that they expand (dilate) the airways and thus increase airflow and help alleviate asthma. It is not yet clear whether this mechanism of action is independent or tied to black cumin's anti-inflammatory qualities.
Black Cumin Uses & Benefits for Immunity
As a immunity supplement, black cumin seed oil is mostly used to help with conditions caused by a sensitive, over-active immune system such as allergies and inflammatory or autoimmune disorders. Specific conditions alleviated with black cumin include asthma, allergic rhinitis, and Hashimoto's thyroiditis with early supportive evidence in human trials. There is also some animal research suggesting that black cumin can help with autoimmune conditions such as multiple sclerosis, type 1 diabetes, and rheumatoid arthritis.
Finally, black cumin has also shown the ability to fight viral, bacterial, and fungal infections, especially those considered opportunistic. For example, it has been found to inhibit the growth of Staphylococcus aureus, a common illness-causing bacterium, as well as Candida albicans, a fungi that can become pathogenic in some cases. 7
Black cumin was discovered in the tomb of Egyptian pharaoh
Tutankhamun
, highlighting its long history of use.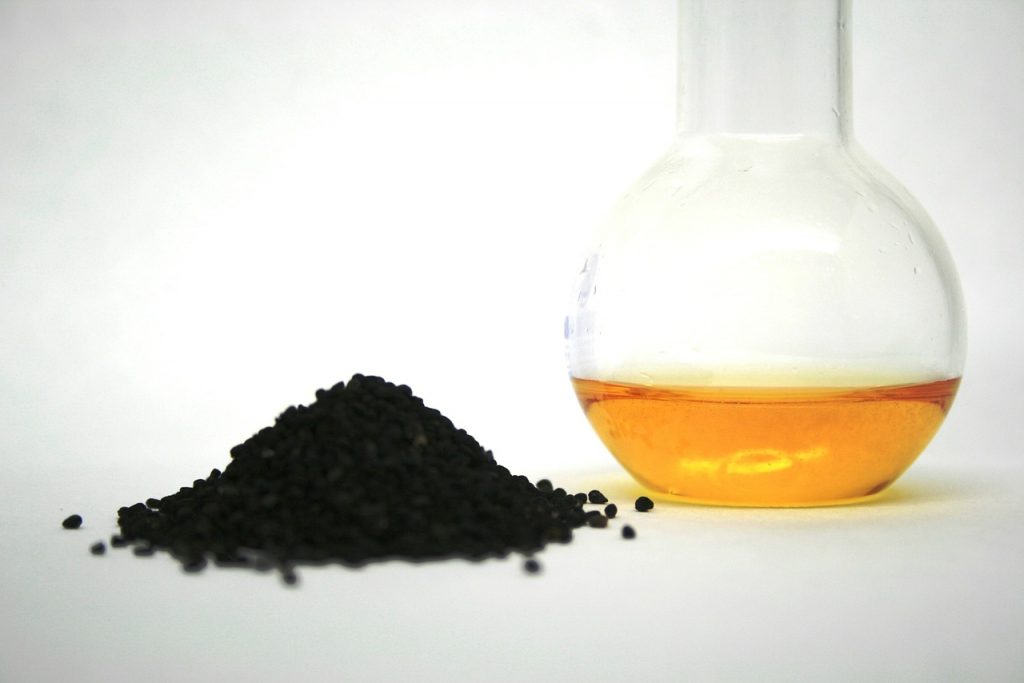 Research
Animal & Petri Dish Research
Cell culture and animal studies – predominantly in mice and guinea pigs – demonstrate that black cumin seed may:
Possess antimicrobial and antiviral properties capable of fighting fungi, viruses, and antibiotic-resistant bacteria 8 9 10
Reduce inflammation and help with inflammatory and autoimmune disorders such as asthma, allergies, and multiple sclerosis 11 12 13 14
Increase total white blood cell count in mice, and enhance immune system function in cases of weakened immunity 15
Human Research
Human studies of black cumin are still few in number, but so far report efficacy in alleviating inflammation and autoimmunity-related conditions such as allergies, asthma, and Hashimoto's thyroiditis.
Black cumin oil (40 – 80 mg/kg) may alleviate allergic conditions
In this investigation, researchers performed four separate clinical studies testing the effects of black cumin on allergic conditions. A total of 152 people with allergies (allergic rhinitis, bronchial asthma, or atopic eczema) were given Nigella sativa oil (40 – 80 mg/kg body weight) daily. Participants in all four studies reported improvements in allergy symptoms.
The researchers concluded that "Black seed oil therefore proved to be an effective adjuvant for the treatment of allergic diseases."16
Black cumin may help with allergic rhinitis
In this double-blind, placebo-controlled trial, 66 people with allergic rhinitis were given placebo or black cumin oil daily for 30 days. The cumin group experienced a reduction in nasal congestion, itching, runny nose, sneezing, and other symptoms for the first 15 days.
The researchers concluded that "N. sativa should be considered for treating allergic rhinitis when the effects of other antiallergic drugs need to be avoided." 17
Black cumin may alleviate asthma
In this placebo-controlled study, 29 people with asthma were given placebo or black cumin seed extract (15 ml/kg body weight) daily for 3 months. Compared to placebo, the cumin group saw improvement of all asthma symptoms, and had to use inhalers and asthma medications less.
The researchers concluded that "The results of phase I study generally suggest a prophylactic effect of N. sativa on asthma disease and warrant further research regarding this effect." 18
Black cumin powder may alleviate Hashimoto's thyroiditis
This randomized, double-blind study examined the benefits of black cumin for Hashimoto's thyroiditis, an autoimmune thyroid disorder. Forty people with the condition were given placebo or black cumin powder daily for 8 weeks. The N. sativa group saw reductions in body weight and BMI and improvements in thyroid-related measures such as T3 and thyroid stimulating hormone levels.
The researchers concluded that "Considering observed health- promoting effect of this medicinal plant in ameliorating the disease severity, it can be regarded as a useful therapeutic approach in management of Hashimoto's thyroiditis."19
Black cumin (1350 mg oil) may help fight hepatitis C
In this study, 30 people with hepatitis C infection were given N. sativa (1350 mg) daily for 3 months. The supplementation improved viral load (amount of virus in the body), total antioxidant capacity, lower-limb edema, and other health measures.
The researchers concluded that "N. sativa administration in patients with HCV was tolerable, safe, decreased viral load, and improved oxidative stress, clinical condition and glycemic control in diabetic patients." 20
Dosage for Immunity
Clinical studies have used different dosing methods, although the most common dosage seems to be anywhere from 1.3 – 8 g of black cumin oil
Most black cumin supplements come in the form of seed oil softgels containing 400 – 500 mg oil
Available Forms
Ground black cumin seed
Cold-pressed black cumin seed oil in softgels or as a liquid
Some products are standardized to contain a certain amount of thymoquinone – the main active ingredient
Supplements in Review Says
Black cumin seed oil 1 g 1-2 times daily for immunity.

Black cumin may help with inflammatory and autoimmune conditions. Early clinical research indicates that black cumin may alleviate allergies, asthma, and other inflammatory and autoimmune disorders. It might also help with some infections, but evidence for these benefits is restricted to animal and petri dish studies.
Research suggests a dose higher than 1 gram. Most successful clinical trials have used doses of over 1 g black cumin seed oil.