Adaptogenic mushroom chaga may help with oxidative stress specifically.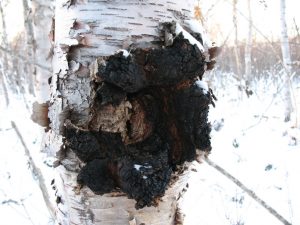 Chaga is a mushroom that grows on birch and other trees. It is valued for its medicinal properties, and may help with:
Oxidative stress. Chaga's antioxidant constituents may help the body deal with oxidative stress (not to be confused with physiological stress).
Boosting the immune system. Chaga may be able to reduce stress by enhancing the immune system.
Overview
Chaga (Inonotus obliquus) is a fungus that grows on birch trees as a mass of branching structures that resemble burnt charcoal.
It is considered a folk remedy in traditional Russian and Northern European medicine, where the wild mushrooms are grated into a fine powder or brewed as tea. Chaga is believed to help the body cope with stress similar to other adaptogens such as rhodiola rosea and ashwagandha. However, it is far better known as an antioxidant.
Recent research indicates that chaga is best utilized as an extract, since the majority of its bio-active ingredients are contained in chaga's indigestible chitin cell walls.
Not all chaga supplements are the same. Always check the fine print when supplementing with chaga. Non-extract chaga supplements skip out on most of the key components that are critical for boosting health, and low quality extracts offer a measly 4-20% polysaccharide (main active ingredient) content.
How Chaga May Help With Stress
Antioxidant activity
Not to be confused with physiological stress, oxidative stress is a process that has been implicated in a variety of harmful effects and conditions. Because chaga contains large quantities of antioxidants such as superoxide dismutase (SOD) and catalase (CAT), it can help the body deal with oxidative stress.1
For example, one study demonstrated that pretreatment with chaga exerted protective effects against oxidative stress-induced aging.2
Increasing immune system activity
Chaga might also help the body deal with the negative effects of stress by increasing immune system activity through its beta-glucan content.3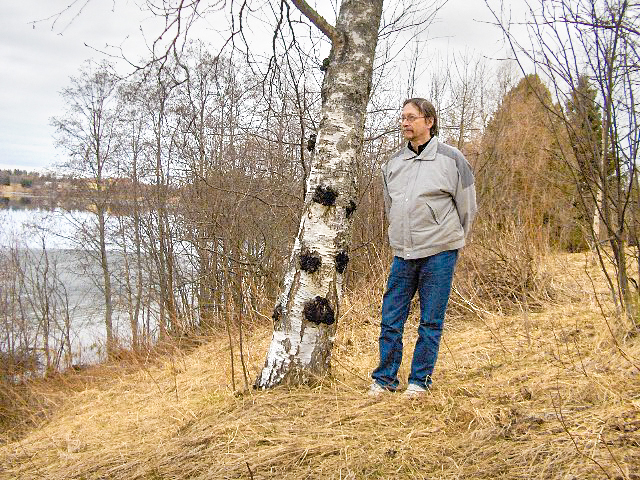 Chaga Benefits & Uses for Stress
As a supplement, chaga is usually sold in its organic form and used to make tea that helps relieve stress, acts as an antioxidant, and boosts the immune system. However, there is currently no research evidence of its stress-reducing, adaptogenic qualities. In addition, because chaga contains more than 200 phytonutrients, B complex vitamins, minerals, fiber and protein, some people also claim that it improves overall health.4
Chaga has also been found to function as an anti-diabetic and antiviral agent.
5
Research
Animal Research
Research primarily focuses on chaga's capacity to combat oxidative stress.
Chaga extract (30 mg/kg) seems to display antioxidant actions in rats
In this investigation, hyperglycemic rats were given either 10, 20, or 30 mg of chaga polysaccharides (PIO) daily for 6 weeks. The total antioxidant status (TAOS) was improved compared to the control based on significantly reduced levels of oxidant and inflammatory markers IL-1β and TNF-α.
The study concluded that "PIO…displays antioxidant actions, hypolipidemic activity, and protects the pancreas from the diabetes induced injuries in STZ-treated rats."6
Chaga extract (300 mg/kg) may ameliorate oxidative stress in mice
In this investigation, mice experiencing oxidative damage due to diabetes were given chaga extract (LIOP) for 3 days. Treatment with chaga seemed to decrease oxidative damage, as indicated by reduced levels of NF-κB and TGF-β, which protected the kidneys from the kind of damage otherwise seen in the control.
The study concluded that "LIOP treatment could ameliorate glucolipotoxicity-induced renal fibrosis, possibly partly via the inhibition of NF-κB/TGF-β signaling pathway in diabetic nephropathy mice."7
Human Research
There are plenty of clinical studies demonstrating the effectiveness of chaga in handling health complications but none are focused on stress.
Dosage for Stress
Chaga extract capsules are available at doses of 0.42 mg – 1 gram
Chaga may also be taken as a tincture, tea, or powder
Supplements in Review Says
Chaga extract 1 g for stress.

Chaga may be helpful for dealing with oxidative stress. Chaga may be useful for dealing with oxidative stress in particular. However, as an overall stress supplement, there are better and more researched options, such as rhodiola rosea.
The best way to take chaga is as an extract. While chaga mushroom is more popular in its natural form, extract supplements seem to be the most effective option.