Resilient herb Rhodiola rosea seems to help manage physical and mental stress.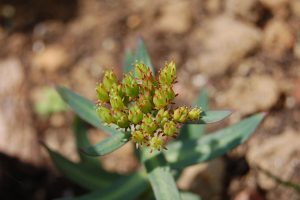 Rhodiola rosea is an impressively durable plant that has been used to deal with strenuous living conditions for centuries. It is believed to facilitate stress management by:
Reducing stress-related fatigue. Research findings support rhodiola's ability to reduce fatigue generated through stress.
Improving performance in high stress scenarios. Rhodiola seems to boost cognitive and physical performance in stressful situations.
Overview
Rhodiola is a perennial plant that grows in cold, high-altitude regions of Europe and Asia. Its short, scaly roots and fleshy stalk provide it with the exterior protection required for thriving under such tough conditions.
The most widely used medicinal Rhodiola species is Rhodiola rosea due to its distinctive composition, including such active ingredients as rosavins, salidroside, and various antioxidants.
Did you know? 
For centuries, Russians have been using rhodiola rosea to help cope with the freezing climate and stressful conditions of Siberia, as well as working the hospital night-shift.
1
Although not yet approved as a medical treatment by the Food and Drug Administration (FDA), Rhodiola rosea has long been used by traditional Russian and Chinese medicine to battle insomnia, depression, erectile dysfunction, fatigue, and other disorders, as well as enhance physical and mental performance. Its potential to resist all sorts of stressors has led to its eventual qualification as an adaptogen.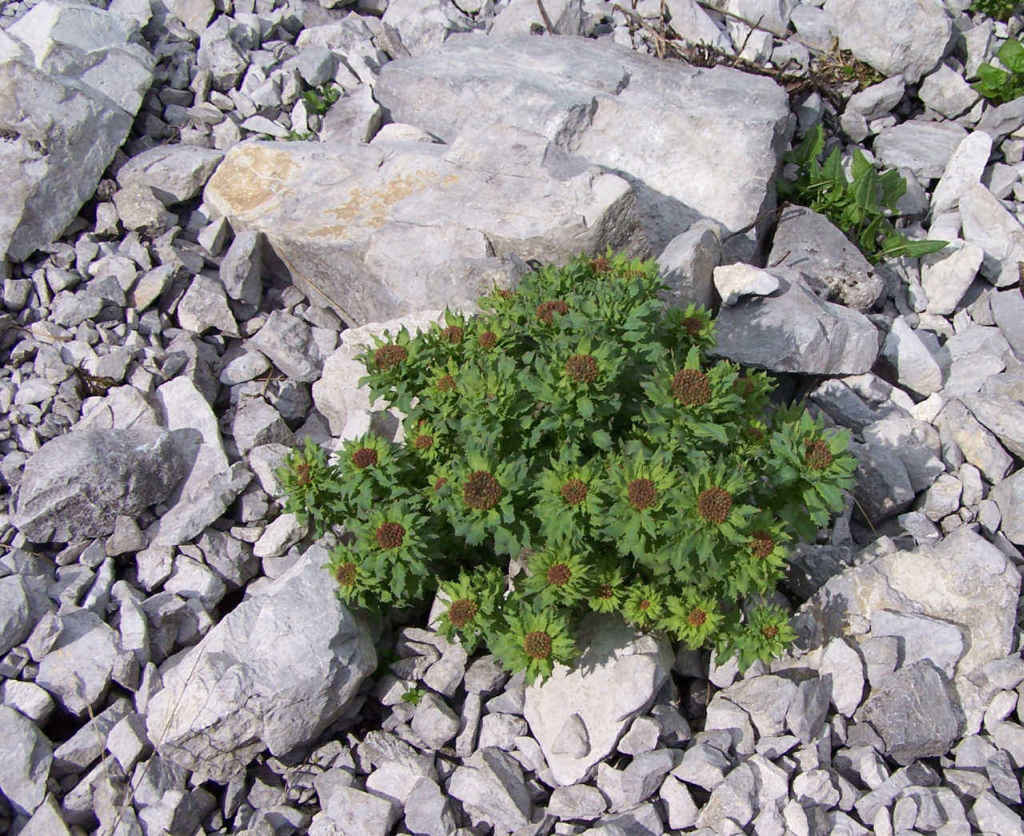 How Rhodiola Rosea May Help With Stress
Rhodiola rosea seems to reduce anxiety and various stress symptoms, particularly fatigue, while simultaneously improving cognitive and physical performance in stressful situations.
Managing stress-related biochemical mechanisms
Although the principal mechanism behind the stress-resistant power of rhodiola has yet to be elucidated, researchers have proposed several possibilities:2
Rhodiola Rosea Benefits & Uses for Stress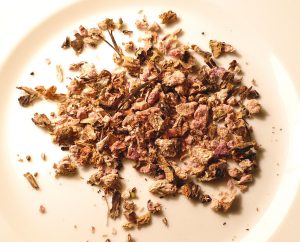 As a potent adaptogen, rhodiola has a myriad of potential uses and benefits:
Ameliorating (and even reversing the symptoms of) stress and anxiety.6
Alleviating physical and mental fatigue from stress.7
Enhancing physical and mental resilience and performance in times of stress.
Antioxidant activity.8
Collectively, these benefits make rhodiola a premier aid for stress and maximizing performance and well-being in all kinds of stressful situations, especially when considering the positive research evidence.
By resisting stress, rhodiola may sustain neurons and hormones. 
The ability of rhodiola to ward off stress – be it exterior or interior – may empower the body to 
boost brainpower
 and 
maintain testosterone
 levels that would otherwise deplete under duress.
Research
Animal Research
Research on rhodiola rosea demonstrates its potential to:
Reduce anxiety and help manage stress. Rhodiola extracts seems to bestow a slew of health benefits to mice, including adaptogenic and anxiolytic effects.9
Human Research
Clinical studies indicate that rhodiola rosea may not only help the body resist stress and recover from fatigue, but also enhance mental and physical performance under duress.
Rhodiola rosea (400 mg) may be therapeutic and improve life-based stress symptoms
In this multicenter, open-label, single-arm investigation, 82 adults with life stress took rhodiola extract at 200 mg twice daily for 4 weeks. Assessments were conducted based on 7 questionnaires, including Numbers Connecting Test, Numerical Analogue Scales of Subjective Stress Symptoms, Multidimensional Fatigue Inventory 20, Perceived Stress Questionnaire, Sheehan Disability Scale and Clinical Global Impressions. Improvements were observed on all tests in regards to stress symptoms.
The study concluded that "rhodiola extract at a dose of 200 mg twice daily for 4 weeks is safe and effective in improving life-stress symptoms to a clinically relevant degree."12
Rhodiola rosea (144 mg) may reduce fatigue
In this randomized, double-blind, placebo-controlled investigation, 30 adults were given either a placebo, ADAPT-232 supplements, or rhodiola rosea pills for 1 week. The rhodiola group showed a significant drop in fatigue level.
The study concluded that "the Rhodiola group showed a significant decrease (p = 0.027) in photon emission in comparison with the placebo group. Furthermore, after supplementation, a significant decrease (p = 0.049) concerning the experienced level of fatigue in the Rhodiola group was observed."13
Rhodiola rosea (100 mg) may improve physical fitness, mental fatigue, and well-being during examination
In this randomized, double-blind, placebo-controlled investigation, 40 male students were given either a placebo or rhodiola rosea extract tablets (SHR-5) at 100 mg for 20 days during exams. The rhodiola group had significant improvements in mental fatigue, physical fitness, well-being and neuro-motoric function (accuracy on a maze drawing test).
The study concluded that "the most significant improvement in the SHR-5 group was seen in physical fitness, mental fatigue and neuro-motoric tests…the study drug gave significant results compared to the placebo group."14
Rhodiola rosea (576 mg) may exert an anti-fatigue effect and increase mental performance in adults experiencing stress-related fatigue
In this randomized, double-blind, placebo-controlled study, 60 adults took placebo or rhodiola rosea extract capsules (SHR-5) for a total of 576 mg per day for a 28-day period. Compared placebo, the rhodiola group saw significant improvements in attention (Conners' computerized continuous performance test II – CCPT II), as well as reduced symptoms of fatigue (Pines' burnout scale) and cortisol levels.
The study concluded that "repeated administration of R. ROSEA extract SHR-5 exerts an anti-fatigue effect that increases mental performance, particularly the ability to concentrate, and decreases cortisol response to awakening stress in burnout patients with fatigue syndrome."15
Dosage for Stress
Clinical research suggests rhodiola doses of 100 – 600 mg to manage stress
Rhodiola supplements typically provide  200 – 600 mg doses of root extract
Supplemental capsules are best taken with food in multiple 100mg doses
Supplements in Review Says
Rhodiola rosea extract 250 mg standardized to 3% rosavins and 1% salidrosides for stress.

We highly recommend Rhodiola rosea for managing stress. Rhodiola's popularity, long history of use, and research evidence as a stress management herb speak for themselves.
The most effective way to take rhodiola is as a standardized root extract.  We suggest sticking to a rhodiola root extract supplement standardized to 3% rosavins and 1% salidrosides at 250 mg per day for optimal stress relief and minimal side effects. The most widely studied supplement is SHR-5, also called the original arctic root.