California poppy may help reduce anxiety according to early research.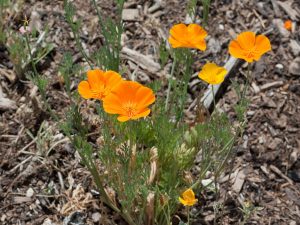 California poppy is a flowering plant believed to support calm and healthy living. It may impart such potential benefits for stress relief as:
Reducing anxiety. California poppy has demonstrated anxiolytic activity in animals.
Improving mood. The herb seems to influence the release of neurotransmitters associated with positive mood.
Overview
Indigenous to various regions of North and South America, California poppy (Eschscholzia californica) is a small perennial plant that grows vibrant flowers on a single stalk. It has a number of proposed uses for health in Native American medicine, especially when smoked or taken as a tea, including calming muscle spasms, ameliorating toothache, improving concentration, and clearing head lice.
Early scientific research has narrowed on its unique alkaloid profile as the primary source of its potential nootropic effects, including anxiolytic and anti-depressive activity.1 Popularity of its supplemental use as a stress reliever has been on the rise in recent years due to interest in its potent interaction with the receptors of key neurotransmitters.
The golden poppy is categorized as an invasive species, although it is often displaced by even more invasive plants, such as mustard.
How California Poppy Might Help With Stress
Activating GABA
Although the precise system behind its stress relieving potential is still being investigated, California poppy's bioactive ingredients, particularly its alkaloids, have demonstrated a capacity to bind to gamma aminobutyric acid (GABA) receptors and subsequently trigger their activation.2 California poppy may thus be able to promote sedative, analgesic, and anxiolytic properties.3
Activating 5-HT receptors
California poppy has also been shown to activate 5-HT(1A) and 5-HT(7) receptors, which have long been associated with the activation of the "happy" neurotransmitter serotonin and its anti-depressant, anxiolytic, and analgesic properties.4 5 6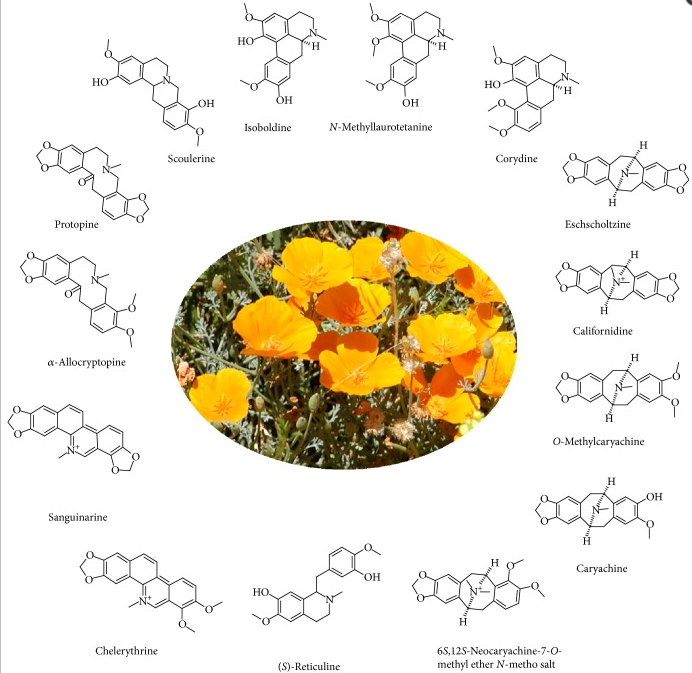 California Poppy Benefits & Uses for Stress
Unlike most of the top natural nootropics, California poppy currently only has one health benefit with clinical support — anxiety reduction. It was specifically shown in a study to diminish mild to moderate generalized anxiety. Early animal research has pinpointed a number of additional potential benefits, such as:
Inducing sedation, especially in cases of insomnia
Mitigating pain
Improving mood
California poppy is still occasionally used by a recreational drug and herb user to relieve stress and related symptoms, even though very limited research supports its effectiveness.
California poppy may negatively interact with drugs and herbal remedies metabolized by
cytochrome P450
enzymes, such as Warfarin, antidepressants,
caffeine
, and statins.
7
Research
Animal Research
Animal research highlights the potential of Californian poppy herbs to ease away anxiety and restless or nervous instincts.
California poppy (25, 100, 200 mg/kg) may have anxiolytic effects in mice
In this investigation, mice administered either 100 or 200 mg of a California poppy extract per kg of bodyweight were found to have reduced movement behavior and induced sleep more quickly. Moreover, mice administered 25 mg/kg of the extract improved their anti-conflict activity as indicated by an increased average number of steps taken on a staircase test and amount of time spent in a box.
The researchers concluded that "this finding validates its traditional sedative properties confirmed by the sleeping induction at doses above 100 mg/kg. Furthermore, when administered at a dose a of 25 mg/kg, E. californica appeared to also have an anxiolytic action."8
Human Research
The only clinical study conducted on California poppy demonstrates its effectiveness in dealing with mild to moderate generalized anxiety.
California poppy as Sympathyl® (80 mg) may diminish mild to moderate generalized anxiety
In this double-blind, randomized, placebo-controlled investigation, 264 patients with mild to moderate generalized anxiety were given either a placebo or a 2 tablets of a drug containing fixed quantities of 2 plant extracts (20 mg of Eschscholtzia californica and 75 mg of Crataegus oxyacantha per pill) and magnesium known as Sympathyl® twice a day for 3 months. Clinical improvement was reported as being higher in the patients taking the treatment than the placebo.
The average state of anxiety score was effectively reduced by 10.6 in the drug group and 8.9 in the placebo group, and subjective anxiety ratings dropped by 38.5 in the drug group and 29.2 in the placebo group. Based on physician judgement, the risk to benefit ratio was also significantly better in the drug than in the placebo group. Few adverse side effects were observed.
The researchers concluded that "Crataegus oxyacantha, Eschscholtzia californica, and magnesium proved safe and more effective than placebo in treating mild-to-moderate anxiety disorders."9
Dosage for Stress
The only successful clinical research study administered two separate 40 mg servings of California poppy combined with Crataegus oxyacantha and magnesium.
Typical supplement doses are 20 – 30 drops of a liquid extract or 1 – 3 pills amounting to approximately 400 – 1500 mg per daily serving.
Some extracts come standardized to 0.6% alkaloids.
Available Forms
Aqueous extract in the form of liquid drops, such as a tea or tincture
Dry leaf or root extract in the form of capsules or tablets
Pure whole plant steeped in boiling water and then strained
Supplements in Review Says
California poppy 400 mg for stress.  
California poppy may help reduce generalized anxiety. Although more research needs to be conducted before we can wholeheartedly recommend California poppy to treat stress relief, it has shown promise in mitigating mild to moderate anxiety.
Start with low supplement doses of California poppy. Clinical research has demonstrated California poppy's effectiveness in safely reducing anxiety at a lower dose than is currently available in normal supplements. So, we recommend starting at the lowest available dose of California poppy — right around 400 mg.