It's not a true nootropic, but caffeine is a reliable, fast-acting stimulant that boosts alertness.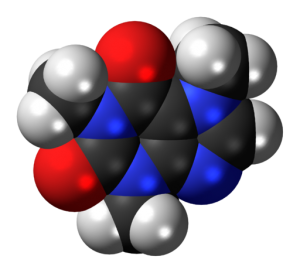 Caffeine is more of a brain-stimulating drug than a brain-nourishing nootropic. It delivers its energizing effects to both body and mind by:
Suppressing "soothing" brain chemicals. Caffeine blocks a neurotransmitter that signals for end-of-day winding down and relaxation–decreasing perceived mental fatigue.
Boosting "excitatory" brain chemicals. Caffeine activates secretion of "fight-or-flight" adrenaline and "motivating" dopamine–creating an alert & energized mindset.
Overview
Caffeine is the most widely used drug in the world. Ninety percent of the world's population consumes caffeine in some form, and eighty percent of adult Americans use caffeine daily.1
As with other psychoactive substances, the passage of time has created more powerful versions of caffeine. Classic six-ounce cups of coffee are now 20-ounce "Venti" cups–upping the caffeine from 95 mg to 410 mg. Meanwhile, energy drinks combine high caffeine dosage with multiple nutrients and chemicals that intensify its stimulating effects even more, giving users a near-instant energy surge.
Here's the reality: Despite the FDA's warning, few people are going to stop using caffeine. For one, it is an addictive substance; ceasing to consume caffeine can lead to withdrawal symptoms. Equally significant, caffeine delivers powerful effects that people can feel. Of the hundreds of "energy boosters" on the market, caffeine is probably the most reliable and time-tested.
Caffeine's energizing benefits are well-documented for enhancing physical performance; this article focuses on caffeine's potential effects on mental performance–where it has been suggested to influence attention, focus, information processing, vigilance, reaction time and more.3
How caffeine works in the body & affects the brain
After you drink that cup of coffee (or tea, cola, energy drinks, etc.), all of its caffeine is absorbed in the small intestine within about 45 minutes.4 The peak concentration of caffeine in the bloodstream hits about 15 minutes after consumption, with effects that sustain for hours. Caffeine has a long six-hour half-life in the body, but is cleared relatively quickly from the brain.
While scientists aren't sure of caffeine's exact mechanisms of action, one main bio-activity is believed to explain most of its benefits for alertness and mental energy:
Caffeine blocks the actions of adenosine, a neurotransmitter that helps regulate the body's circulatory and neurological functions.
In the brain, adenosine is produced as a byproduct of nerve-to-nerve communication. As adenosine builds up in the brain, it binds to special receptors that "settle" nervous system activity, dilates blood vessels, and induces drowsiness. Put simply, adenosine tells the body and mind when it's time to start feeling tired… unless caffeine is in your body.
If caffeine is present, it fits like a puzzle piece into adenosine's receptors. This blocks adenosine from calming the nervous system and sending its "fatigue" signals. Instead, mental alertness is sustained.
Caffeine unleashes additional stimulating effects as it:
Activates the brain's electrical activity. Observed in cortical and hippocampal brain regions in animal studies, this activity has been suggested to contribute to caffeine's cognitive effects.5
Signals adrenal glands to release more adrenaline. The "fight-or-flight" hormone, adrenaline works in the brain to temporarily boost attention levels, focus, reaction time, and mental energy (as well as physical strength and endurance).
All of these effects (and more) are believed to contribute to caffeine's mind-stimulating effects. Let's see how these bio-activities play out in caffeine research results.
How does caffeine feel?
Like a jolt of mental energy. Caffeine accelerates thinking–improving speed of reactions, recall and mental processing. It has been shown to boost work accuracy, alertness and critical thinking skills. The drawback: Caffeine can also feel like headaches, fatigue and nausea in cases of excess and withdrawal.
Research
Caffeine intake enhances cognitive performance
The Jarvis Study measured the cognitive effects of caffeine in 9,003 British adults age 18 and over. Participants were assessed for lifestyle habits, diet, exercise and daily caffeine intake, and were then given cognitive tests measuring reaction time, verbal memory, and visual-spatial reasoning.
After the cognitive testing results were analyzed, researchers concluded that overall caffeine consumption "showed a dose-response relationship to improved cognitive performance." This improved cognitive function was more pronounced in older people than young adults, which may suggest a link between caffeine and age-related cognitive function.8
Review: Caffeine's impact on mood & cognitive function
This review looked at 23 studies conducted between 1992 and 2007, all of which measured caffeine's impact across a range of cognitive functions like memory, accuracy, attention and speed. The combined results of these studies report improvements in subjects' reaction time, memory and vigilance–suggesting a link between caffeine and improved cognitive performance, particularly in regular users.
Researchers reported that although caffeine seemed to help cognitive performance, "the majority reported benefits associated with low to moderate caffeine intakes (37.5 to 450 mg per day)." In other words, consuming more caffeine may not bring greater cognitive benefit.9
Caffeine 150 mg improves measures of cognition and mood.
This double-blind, randomized, placebo-controlled study investigated the individual and combined effects of caffeine 150 mg and L-theanine 250 mg on visual processing accuracy, simple reaction time, numeric working memory reaction time and sentence verification.
Researchers reported that caffeine seemed to boost mental performance leading to "faster digit vigilance reaction time" and "improved Rapid Visual Information Processing (RVIP) accuracy" Caffeine also led to better self-rated mental fatigue scores.10
Caffeine 200 mg seems to interfere with motor learning (vs. Placebo and Naps)
Napping, caffeine and placebo were tested for their effects on verbal memory, procedural motor skills and perceptual learning. A 200 mg dose of caffeine was compared with a 60-90 minute nap and a placebo.
Researchers reported that "Caffeine significantly impaired motor learning compared to placebo and naps," and went on to conclude that these findings "provide evidence of the limited benefits of caffeine for memory improvement compared with napping."11
Caffeine 200 mg helps vigilance and mood
57 volunteers were administered either 2,000 mg quercetin (an antioxidant compound), 200 mg caffeine or placebo, and after one hour, were given a "visual vigilance" test. Participants were also given a mood questionnaire before and after the vigilance test. Caffeine was found to improve detection of visual stimuli and reduce reaction time; the mood questionnaire further showed the caffeine group to have less fatigue, greater vigor and better mood when compared to placebo.
Researchers concluded that administration of 200 mg caffeine "resulted in expected effects on vigilance and mood."12
Dosage Notes
Some people are more sensitive to caffeine than others, due to genetics, frequency of use and other factors including body mass, health condition, age and medication use. Generally, 100-400 mg of caffeine per day–1 to 4 cups of coffee or tea–is considered safe; this is the dosage where caffeine users have been shown to reap the most benefits. Consuming more than 500-600 mg per day can cause side effects.17
Side Effects
Many coffee drinkers familiar with caffeine side effects, especially in conjunction with high intake. These side effects may include nervousness, irritability, shakiness, upset stomach, insomnia, heart palpitations and muscle tremors.18
Available Forms of Caffeine
Plain caffeine: The form you know and love. Found in coffee, tea, chocolate, cola, drugs, supplements, energy drinks… everywhere, really.
Caffeine anhydrous: This water-free caffeine form is what you'll typically see in nutritional supplements, and is advertised as being stronger and easier to absorb than plain caffeine.
References