Agaricus bisporus mushroom may suppress an enzyme that converts testosterone into estrogen, but more research is needed.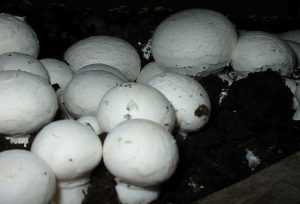 Agaricus bisporus is an edible mushroom species. It is used by some testosterone booster products given its ability to:
Inhibit aromatase, an enzyme needed to convert testosterone to estrogen.
Overview
Agaricus bisporus, also known as common or white button mushroom, is the most widely consumed mushroom in the world. Agaricus bisporus can be white or brown-colored, and is harvested either when young, resulting in small mushrooms called button mushrooms, or when it's mature, resulting in larger mushrooms called portobello.

Agaricus bisporus has seen little clinical research, but two studies in animals and isolated cells do suggest that this mushroom may contain compounds capable of inhibiting aromatase, an enzyme which converts testosterone to estrogen. This has led to its inclusion in some testosterone booster formulas.
Different species of agaricus mushrooms have been used for diabetes, high cholesterol, digestive problems, and other medical concerns.
How Agaricus Bisporus Might Help With Testosterone
Inhibition of aromatase
Agaricus bisporus extract contains unsaturated fatty acids such as linoleic acid, linolenic acid, and conjugated linoleic acid, which may be capable of suppressing the action of aromatase, an enzyme required to convert testosterone into estrogen. This could theoretically reduce estrogen levels and increase testosterone at the same time.
Indeed, this mechanism of action is used by a whole class of drugs called aromatase inhibitors (AIs). AIs are mostly used to treat hormone disorders in men, and may be effective at raising testosterone in older men particularly.
Agaricus Bisporus Potential Testosterone Uses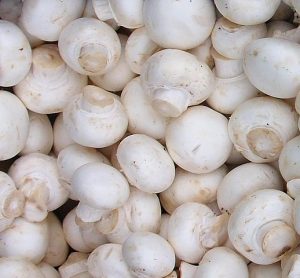 Agaricus bisporus is usually consumed in its whole form as part of a normal diet rather than as a supplement. However, it is also used by some multi-ingredient testosterone boosters such as Cellucor's P6 Xtreme.
Agaricus bisporus is not currently associated with any specific health benefits. Indeed, the claim that it can increase testosterone is based on two studies done on animals and isolated cells, which is far too little evidence.
Having said that, a group of researchers did suggest that a diet high in agaricus bisporus may be able to affect aromatase. In turn, this may theoretically have some benefit for testosterone.
Research
Animal & Petri Dish Research
Agaricus bisporus mushrooms have seen very little clinical research, and it is mostly the results of two studies that have led some people to claim they can raise testosterone.
Agaricus bisporus extract may have aromatic-inhibitting activity
This study examined the efficacy of agaricus bisporus mushroom extract as an anti-cancer agent. Researchers administered the extract to isolated human and animal cells, as well as mice. They found that one of its activities  included the inhibition of aromatase, an enzyme required to convert testosterone into the female sex hormone estrogen.
The researchers concluded that "white button mushrooms contain phytochemicals with anti-aromatase and anti-proliferative activities"1
Agaricus bisporus extract may be able to supress aromatase
This study examined the aromatic-inhibitting effect of agaricus bisporus extract in isolated cells. The extract resulted in a dose-dependant suppression of aromatase activity.
The researchers concluded that "diets high in mushrooms may modulate the aromatase activity and function in chemoprevention in postmenopausal women by reducing the in situ production of estrogen"2
Dosage for Testosterone
Researchers suggest that eating 100 g of agaricus bisporus mushrooms daily may be effective for influencing aromatase
Agaricus bisporus does not appear to be sold as a standalone supplement at this time
Supplements in Review Says
Agaricus bisporus 100 g daily as part of a healthy diet.
Agaricus bisporus may be able to influence testosterone, but it's far too early to recommend it. There's very little research on the medicinal properties of agaricus bisporus, let alone its specific effects on testosterone. Having said that, there's nothing stopping you from trying to incorporate more white mushrooms into your diet.
100 g daily is suggested by research. Although this is still an educated guess, the fact that this number is suggested by clinical researchers makes it the best recommendation available.