Phytochemical quercetin may help maintain or even increase testosterone levels, but evidence is limited to test tube and animal research.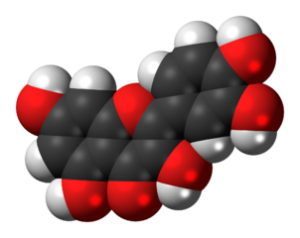 Quercetin is one of the many polyphenol compounds present in plants. Quercetin may be capable of boosting testosterone levels through:
Antioxidant activity. Qeurcetin may help maintain healthy testosterone levels by fighting oxidative stress in the testes.
Decreasing T excretion. Early research suggests that quercetin reduces the activity of an enzyme needed to remove testosterone from the body through urine.
Overview
Quercetin is a flavonoid – a type of compound found in plants. It is particularly abundant in capers, onions, apples, red wine, berries, and tea, as well as the medicinal herbs Gingko biloba and St. John's Wort, and many other vegetables and fruits.
Research suggests that quercetin is a cardioprotective and anti-inflammatory agent, as well as a powerful antioxidant – a substance that helps protect cells from damage caused by reactive oxygen species. In light of this, its main use is to help with cardiovascular and inflammatory disorders that include allergies, varicose veins, high cholesterol, hypertension, and arthritis. It is also used to boost the immune system and  fight off viruses.
In addition, there is early research evidence that quercetin can protect the prostate and testes and even boost testosterone levels, especially in the context of health disorders such as diabetes. Because of this, it is sometimes included as an ingredient in testosterone booster formulas.
A typical diet provides about 5 – 40 mg quercetin daily, although intakes of 200 – 500 mg are possible with high fruit and vegetable consumption.
How Quercetin Might Help With Testosterone
Inhibition of UGT2B17
UGT2B17 is an enzyme that converts testosterone into testosterone glucuronide – the form in which it can be excreted out of the body through urine. This has the effect of lowering your circulating testosterone levels. Quercetin has been shown to inhibit this enzyme's activity by as much as 72% in isolated cell culture, meaning that the excretion of testosterone is slowed down and its circulating levels are increased.
Quercetin may also be capable of increasing testosterone levels by inhibiting aromatase – the enzyme that converts testosterone into estrogen. However, this effect is moderate at best and has yet to be fully confirmed by high-quality research. 1
Antioxidant activity
Quercetin's benefits are mainly linked to its ability to fight oxidative stress caused reactive oxygen species (ROS), which can otherwise cause damage to cells. In the context of reproductive health, oxidative stress in the testes can both lower testosterone levels and negatively affect sperm quality and fertility. 2 3
In some cases, quercetin can actually generate – rather than reduce – reactive oxygen species, acting as a pro-oxidant, the reverse of an antioxidant. Although more research is needed, this effect seems to occur when high doses of quercetin are administered.  
4
Anti-inflammatory activity
Quercetin  has been demonstrated to inhibit NF-kappaB – one of the main inflammatory pathways in the human body that promotes the production of pro-inflammatory cytokines. Chronic inflammation in the body and the testes in particular may be another factor capable of lowering both testosterone levels and fertility. 5
Potential stimulation of steroidogenesis
One recent study reported that quercetin and other flavonoids may be capable of increasing the production of testosterone by increasing levels of steroidogenic acute regulatory protein (Star) protein and enzyme Cyp11a1 – two molecules required to produce testosterone from cholesterol. In particular, the researchers suggest that supplementing pentaacetylquercetin – a form of quercetin – may be a viable strategy for increasing testosterone levels in aging men, since aging is associated with reduced Star levels. 6
Quercetin's Potential Uses & Benefits for Testosterone
Quercetin is rarely taken on its own as a testosterone booster; it is far more popular as part of a multi-ingredient testosterone formula. In such formulas, quercetin is believed to help increase testosterone levels through main ways:
Directly increasing T levels by reducing its excretion and potentially other mechanisms
Indirectly increasing T by reducing oxidative stress and inflammation in the testes
However, these effects have only been reported in animal and cell culture research. As such, it's not yet clear if they translate to humans. Furthermore, a few studies have reported that quercetin can also have negative effects on male fertility such as reduced sperm quality, an effect which may be the result of taking high doses. 7
Research
Animal & Petri Dish Research
Quercetin's effects on the male reproductive system has been extensively examined in mice and rats. Current findings indicate that quercetin can help maintain testosterone levels and protect the testes in cases of oxidative stress, toxins, and related conditions such as diabetes. In the case of healthy males, however, the evidence is conflicting, with some studies showing increased testosterone and fertility, and others reporting reduced fertility.
Quercetin may elevate circulating testosterone levels
This innovative cell culture study is one of the major reasons for quercetin's popularity in testosterone boosters. It examined the effects of wine and its constituent phenolic compounds on the excretion of testosterone through urine.
The researchers tested the effects of red wine and three isolated compounds from wine on the activity of UGT2B17, an enzyme needed to turn testosterone into a form ready for excretion. Wine was shown to inhibit this enzyme's activity by 70% over 2 hours, with isolated quercetin having an ever stronger effect (72%).
The researchers concluded that "Considering the variety of foodstuffs that contain flavonoids, it is feasible that diet can elevate levels of circulating testosterone through reduction in urinary excretion." 8
One of the central issues with flavonoids is that they have poor bioavailability, meaning the body has a difficult time using them once they are ingested. Because of this, studies of quercetin done in vitro (isolated cell cultures rather than whole organisms) should be interpreted with caution.
9
Quercetin may help maintain testosterone levels in diabetes
This study examined whether quercetin's (QR) antioxidant properties can help maintain spermatogenesis in diabetic mice. A total of 50 rats were split into 5 different groups and then had their blood  and testes examined. Compared to untreated animals, rats supplemented with QR saw increases in testosterone levels and sperm quality.
The researchers concluded that "QR has significant beneficial effects on the sperm viability, motility, and serum total testosterone and could be effective for maintaining healthy sperm parameters and male reproductive function in diabetic rats." 10
Quercetin may boost male fertility
This study examined the effects of quercetin on fertility in rodents. Male rats were administered quercetin at doses of 0 – 270 mg/kg body weight daily for 3 – 14 days. Doses of 90 and 270 mg were found to result in significant increases in the weight of the testes, and the quality and concentration of sperm.
The researchers concluded that "…quercetin might indirectly affect sperm quality through the stimulation of the sex organs…the use of quercetin as an alternative drug for treatment of male infertility should be considered." 11
Quercetin and other compounds in onions may increase testosterone levels and sperm health in rats
This study examined whether onions can beneficially affect spermatogenesis. Onion juice was administered to rats for 20 days at doses corresponding to 0.5 and 1 g of fresh onion. Rats in the onion groups had increased levels of testosterone and improved sperm quality, and the high dose group also had increased number of sperm and higher levels of luteinizing hormone (LH).
The researchers concluded that "…onion juice significantly affected the sperm number, percentage of viability, and motility." 12
Quercetin may reduce male fertility
This study examined the effects of quercetin on male fertility. Mice were injected with 2, 8, or 20 mg/kg of body weight doses of quercetin for 2 weeks. This resulted in increased oxidative stress and decreased antioxidant enzyme levels in the testis, an effect accompanied by decreased sperm quality.
The researchers concluded that "the deleterious effects of quercetin on germ cells could be attributed to its pro-oxidant ability that might affect the Sertoli cell functions."13
Human Research
There are currently no human studies of quercetin's use for fertility and testosterone-related concerns.
Dosage for Testosterone
There is currently no suggested dosage of quercetin for testosterone
Single-ingredient supplements typically provide 500 mg of quercetin
Testosterone booster formulas typically contain 60 – 250 mg of quercetin
Available Forms
Quercetin is typically sold in the form of capsules or pills.
Quercetin is often combined with bromelain – another compound believed to have anti-inflammatory effects
Quercetin is naturally present in Ginkgo biloba and St. John's Wort supplements
Quercetin is closely related to rutin, another flavonoid
Supplements in Review Says
Quercetin 250 – 500 mg for testosterone.

Early research suggests that quercetin can help maintain or even boost testosterone. While it's too early to recommend quercetin because of the lack of clinical trials, the findings of cell culture and animal studies show enough potential to give it a try.
Given the lack of human research it's best to stick to supplement dosages. Most supplements provide 250 – 500 mg doses of quercetin. We don't suggest high doses (500 mg+), since they may possibly have the opposite (negative) effect by acting as a pro-oxidant.