St. John's Wort may be the world's most popular herb for supporting a bright, happy mood.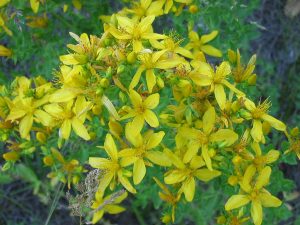 St. John's Wort is a flowering herb that has been used in traditional practices for centuries to support mental health, especially in the context of mood. While it is not a true brain-boosting nootropic, St. John's Wort (SJW) may support clear thinking by:
Stimulating "happy" chemicals. St. John's Wort may increase the availability of serotonin, dopamine and GABA in the brain, supporting brain chemistry associated with a relaxed, positive outlook.
Overview
St. John's Wort is a wild, shrubby plant with clusters of bright yellow flowers. Its modern name purportedly stems from its blooming period around June 24, which is regarded as the birthdate of the Christian prophet, St. John the Baptist.
St. John's Wort's use in folk herbalism practices stretches back hundreds of years. It was used in ancient Greece for protection against evil, and was first mentioned by Greek doctor  Euryphon in 288 B.C. by the name Yperikon.1 Folk remedies have long recommend it to ease nervous ailments, and today it is used all over the world to relieve symptoms of depression–apparently harmonizing with its earlier uses as an "anti-evil" tonic.
The leaves and flowers are the therapeutic parts of St. John's wort, supplying a complex of organic compounds including antioxidants and amino acids.
SJW's psychoactive compounds hypericin, pseudohypericin, hyperforin, and adhyperforin are all suggested to contribute to its mood boosting properties.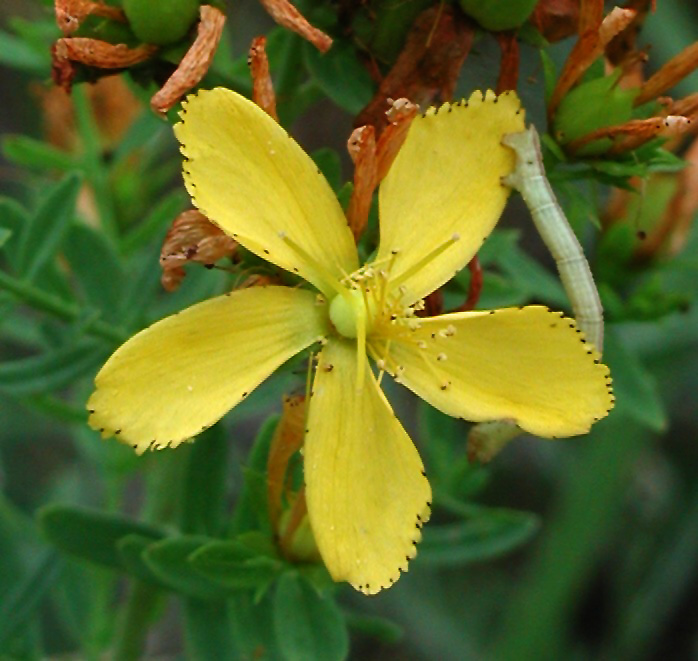 Initially, out of all the nutrients found in SJW, the most important bioactive compound was thought to be hypericin. More in-depth research also suggests hyperforin and adhyperforin's ability to influence chemical messengers in the nervous system that affect mood. When these chemical chemicals are blocked, the brain starts to feel blue and anxiety and depression settle in.
Like selective serotonin reuptake inhibitors (SSRIs), St. John's Wort is believed to inhibit the uptake of "happy" chemicals serotonin, dopamine, and norepinephrine — helping to support & sustain their mood-enhancing activity. However, unlike SSRIs, SJW doesn't directly block neurons involved in neurotransmitter uptake.
Did you know?
St. John's Wort's true active ingredients have long been hotly contested in the scientific community. One recent research update reported that St. John's Wort's mood-supportive benefits demonstrated in animal research cannot be linked to any one single active ingredient, which led researchers to proclaim that SJW is "
an outstanding example of the total extract being defined as the active constituent.
"
2
How St. John's Wort Might Help the Brain
Despite its long track record of effective support for healthy mood and extensive scientific research, St. John's Wort's exact mechanisms of action are not yet known. Some theorized mechanisms of action include:
Downregulation of Beta Adrenergic Receptors
SJW appears to inhibit beta adrenergic receptors, blocking the reuptake of norepinephrine in the brain.3 Reuptake puts the brakes on neurotransmitter signals–in this case it's norepinephrine, which has agitating "fight or flight" effects–and limits the amount of time they spend in the brain's synapses, cutting off messages to the brain and nervous system. SJW helps keep neural pathways open so signals can do their job.
Increase in Serotonin Receptors
Animal studies have shown that St. John's wort led to an increase in 5-HT2 serotonin receptors in the frontal cortex, but in an unusual manner. Instead of blocking serotonin transporters, the hyperforin in SJW inhibits serotonin uptake by elevating sodium concentrations inside cells (but only up to a safe level).4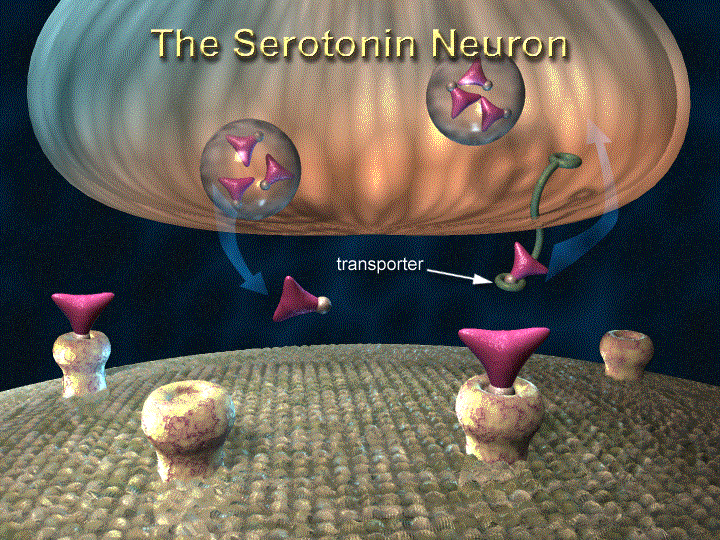 Increase in Extracellular Dopamine
Just one 300 mg dose of hypericum extract- containing the usual 0.3% hypericin extract plus 4.1% hyperforin- raised extracellular dopamine levels by 40% in 1 hour in the prefrontal cortex of rats.5 This appeared to be a result of the extract preventing metabolites DOPAC and HVA from converting dopamine. Hyperforin extracts strongly inhibit the reuptake of dopamine, and pure hyperforin appears to work even better. Just how this works is still unknown, but researchers do know this action is not related to the dopamine transporter itself.
Common St. John's Wort Uses for the Brain
Relieving depression in adults and children. Most studies examining hypericum's effect on people with depressive disorders show that SJW is more effective than placebo, and it works just as well as some popular synthetic therapies.6
Helping with somatoform disorders. Somatoform disorders are literally all in your head, manifesting through mental symptoms like fear and pain which have no physical source or diagnosis. There is good evidence that St. John's Wort helps relieve the symptoms of somatoform disorders.
Reducing stress & anxiety. Some studies suggest St. John's wort shows promise for helping with anxiety disorders and obsessive compulsive disorder (OCD). It may also help with emotional and physical symptoms, especially in women experiencing premenstrual syndrome (PMS) and menopause, including irritability.
Combating seasonal affective disorder (SAD). SJW has improved mood in people with SAD, a kind of depression that typically occurs during the winter and results from a lack of sunlight.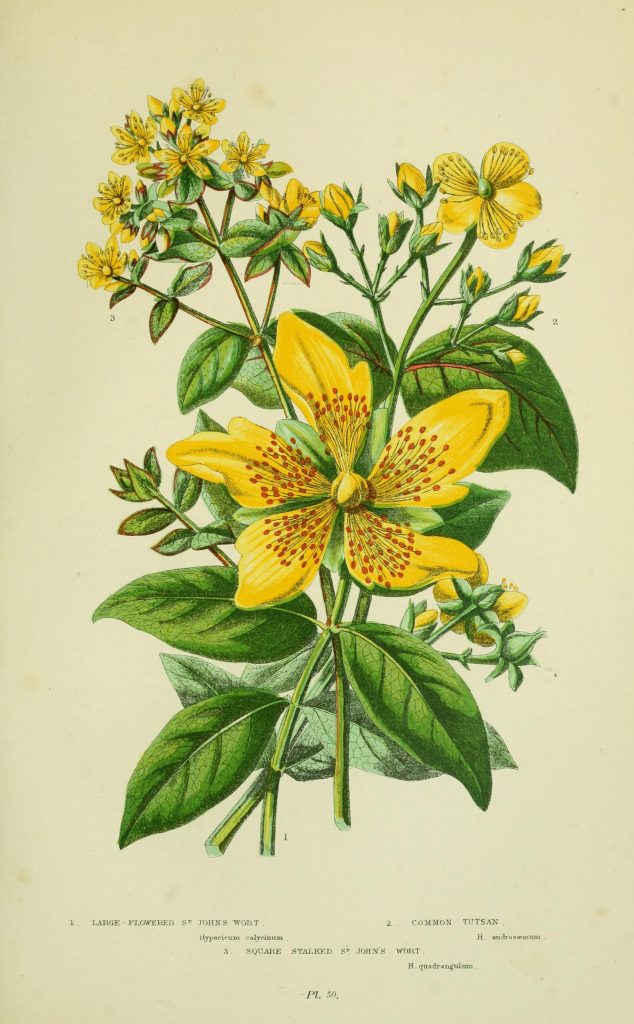 Research
Animal Research
In animal studies, St. John's Wort has been suggested by researchers to:
Reduce brain plaques and enhance cognition, supporting researchers' hypothesis that SJW may hold therapeutic potential for Alzheimer's.7
Exert "robust antidepressant-like activity" via neurotransmitter support, which researchers attributed to Hypericum as the active ingredient.8
Enhance memory retrieval performance, possibly by optimizing neurotransmitter receptors in the brain.9
Did you know?
St. John's wort can interact badly with certain drugs. Taking pharmaceutical antidepressants with SJW can compound hypericum's inhibitory action, leading to dangerously high levels of serotonin and a potentially life-threatening condition called serotonin syndrome. Do not combine St. John's wort with antidepressants without first seeking your doctor's advice.
10
Human Research
St John's Wort 900 mg appears to outperform a synthetic for mood support
This trial studied St. John's wort's effectiveness as compared to a conventional synthetic therapy and placebo pill. 135 men and women with major depressive problems were randomized for 12 weeks of double-blind treatment. Participants were given either 900 mg/day LI-160 St. John's wort extract, 20 mg/day of synthetic antidepressant, or placebo. The Hamilton Rating Scale for Depression (HAMD-17) was used to measure mood throughout. During this study, the group taking St. John's wort showed more improvement of symptoms than the synthetic or placebo.
Researchers concluded, "St. John's wort was significantly more effective… and showed a trend toward superiority over placebo."11
Hypericum extract 350 mg may help improve mild depressive symptoms
This randomized, multi-center, double blind, parallel group trial studied the efficacy and safety profile of hypericum extract compared with placebo and primary care treatment for moderate depression. 236 patients were given 1050 mg of hypericum extract or 350 mg three times daily, and then compared it with the other therapy for 8 weeks. At the end of the study, researchers concluded that hypericum extract is clinically safe and effective to treat mild depressive symptoms.
Researchers concluded that "At an average dose of 350 mg three times daily hypericum extract was more effective than placebo and at least as effective as 100 mg imipramine daily in the treatment of moderate depression." They also reported St. John's Wort is safe, and appears to improve quality of life.12
Meta Analysis: Hypericum extract is well-tolerated and effective at supporting healthy mood
A meta-analysis study of randomized and double-blind trials was collected from a computer database to determine the efficacy of St. John's Worth for helping with mood. Researchers evaluated 29 trials with almost 5,500 study subjects, all of whom were given hypericum extracts, standard antidepressants and placebo. The findings appeared to suggest a significantly more favorable emotional balance outcome with hypericum.
Researchers concluded, "The available evidence suggests that the hypericum extracts tested in the included trials a) are superior to placebo in patients with major depression; b) are similarly effective as standard antidepressants; c) and have fewer side effects than standard antidepressants."13
Hypericum extract 300 mg has an antidepressant effect
In this double-blind, randomized, placebo-controlled trial, 375 patients  were given 300 mg of Hydroalcoholic hypericum perforatum extract 3X daily to investigate its mood-balancing effect compared with placebo.  Results showed that hypericum extract causes significant reduction in depression-related core symptoms as measured by the Hamilton depression scale.
Researchers concluded that Hypericum perforatum was "Found to be safe and more effective than placebo for the treatment of mild to moderate depression."14
Hypericum extract 300 mg offers beneficial effect for acute and chronic depressive symptoms
In this double-blind, randomized, placebo controlled study, 426 patiens were given 300 mg Hypericum extract 3X daily to assess its potential for assisting with moderate depression. Study results showed patients had favorable results on HAMD and Beck Depression Inventory, as well as significantly better overall improvements than those taking placebo. At study's end, researchers reported that hypericum extract showed promise as a long-term maintenance therapy for patients with early-onset and chronic depressive symptoms.
Researchers concluded that St. John's Wort "…showed a beneficial effect in preventing relapse after recovery from acute depression."15
Oral hypericum extract 900 mg may be effective for moderate depression
In this study, a double-blind, randomized, placebo-controlled, prospective study was used to assess the tolerability and clinical efficacy of a tradenarjed oral Hypericum extract in the therapy of moderate depression. The 140 volunteers were given either 900 mg hypericum extract or placebo once daily, and were then evaluated with a battery of cognition tests. At the end of the study, the result showed hypericum groups appeared to improve their mood scoring in von Zerssen's Adjective Mood Scale, the Clinical Global Impressions scale, and in a global efficacy assessment.
The researchers concluded that their study "provided evidence that Hypericum extract STW 3-VI in a once-daily dosing regimen may be an effective and well-tolerated option for patients with moderate depressive disorders."16
Hypericum extract 300 mg fails to help with attention deficit hyperactivity disorder
In this randomized double-blind placebo controlled trial, 54 children received 300 mg of Hypericum extract (or placebo) 3X daily for eight weeks to address attention deficit hyperactivity disorder. At the end of the study, the results showed no statistically significant improvement in the use of hypericum extract for ADHD symptoms.
The researchers concluded that "In this study, use of Hypericum perforatum for the treatment of attention deficit hyperactivity disorder over the course of eight weeks did not improve symptoms."17
Hyperforin–a key constituent of St. John's wort specifically activates TRPC6 channels.
A 2007 study investigated the properties of hyperforin and its effect on neuronal serotonin and norepinephrine uptake compared to synthetic antidepressants, and found that while standard SSRIs directly block neuronal amine uptake, hyperforin increases serotonin and norepinephrine concentrations in the brain. Furthermore, this study found that hyperforin specifically targeted TRPC6, a human gene linked to anxiety and depression.
Researchers concluded that these findings indicate, "Hyperforin integrates inhibition of neurotransmitter uptake and neurotrophic property by specific activation of TRPC6 and represents an interesting lead-structure for a new class of antidepressants."18
Dosage Notes
For mood disorders and mild depression in adults, the usual dosage is 300 mg standardized capsules or tablets (containing 0.3% hypericin extract) three times a day.
Supplements in Review Recommendation
St. John's Wort, standardized to 0.3-0.5% hypericin, 300 mg
If blue moods make it hard for you to think straight, St. John's Wort may help. It is not a true mental performance booster; early research on its potential for ADHD failed to show benefit. However, extensive research and centuries of traditional use support St. John's Wort as an effective natural mood-booster… and for some, a bright mood may translate into clearer, sharper cognitive performance.
300 mg is within the clinical range that SJW studies use to support mood. Taking the herb in standardized form gives assurance of potency by supplying higher levels of what is believed to be St. John's Wort's most active mood-supportive compound: Hypericin.
References