Ashwagandha is a potent masculine health enhancer, including evidence-backed benefits for serum T levels.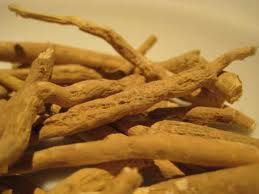 Ashwagandha, referred to scientifically as Withania somnifera, has been widely used in herbalism practices to simultaneously reduce stress while bolstering physical prowess. As a testosterone booster and manly herb, it is believed to help via:
Oxidative stress reduction. Ashwagandha consumption reduces several reactive oxidative species (ROS), which would otherwise hinder T-levels.
Sperm support. Notable rises in total sperm count and motility have been identified, which may reflect increases in testosterone.
Muscle strengthening. Taking the root extract may increase muscle strength and performance, further optimizing its testosterone-related manly health benefits.
Overview
Literally meaning "smell of horse" in Sanskrit for its distinct horsey aroma, the ashwagandha root is quite nearly revered as a supernatural elixir by practitioners of Ayurveda, and has subsequently been utilized to restore the balance between the mind, body, and spirit of its followers for thousands of years.
Oriental herbalism enthusiasts also claim that ashwagandha extracts have the ostensible capacity to impart not only vigor, but also virility, both of which are highly prized attributes in those seeking to advance their masculinity. As such, ashwagandha has often been exploited not just for its health-supportive and stress-relieving capabilities, but additionally to enhance libido and sexual function in males. Eating the plant won't transform you into a horse, but it may just bless you with something a little more practical.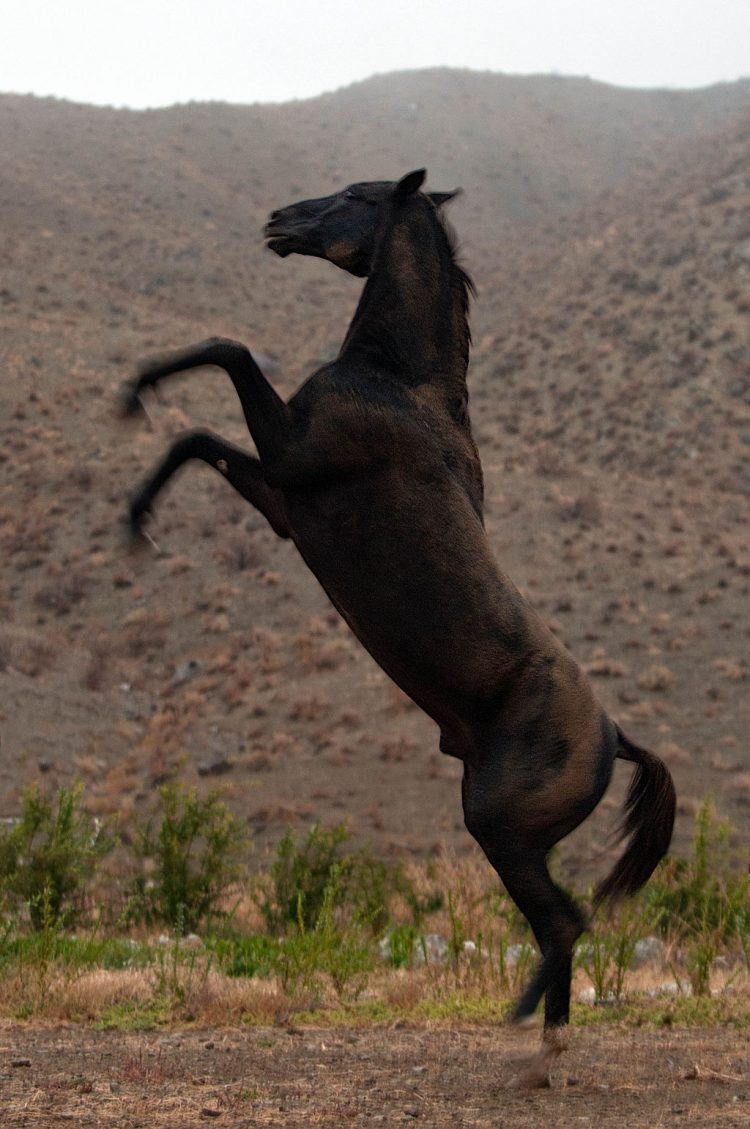 The seemingly-mystical wonders of ashwagandha plants may stem from the substantial amounts of withanolides & saponins they contain, which are considered its active ingredients. Ancient Ayurvedic speculation has, in recent years, been backed by scientific studies attributing multiple benefits to these active compounds, includingT-boosting effects. Those looking to up their testosterone, enhance their physical training, or intensify their sexual prowess need look no farther than this stud of an herb.
How Ashwagandha May Help Testosterone & Masculinity
Anti-stress activity may help testosterone
Reducing stress and anxiety,1 as corroborated by lowered cortisol levels and potent anxiolytic effects during periods of chronic stress, may benefit overall T-levels.2 How about that for knocking out two birds with one stone?
Protect testes & sperm, associated with T health
Treating spermatozoa with ashwagandha for three months significantly reduced apoptosis and intracellular reactive oxygen species concentrations while increasing that of metal ions. Reducing oxidative stress and cell death improved semen quality, which offers an encouraging outlook on virility.3
Enhances sperm motility for a "T-like" effect
Progressing sperm quality and count often stems from abundant testosterone levels. One particular study encountered a whopping 167% rise in sperm count, a 53% increase in semen volume, and a 57% improvement in sperm motility, all concomitant with a 17% elevation in serum testosterone.4
Supplies natural T-boosters called Saponins
Saponins5, glucosides with foaming characteristics, have been recognized as natural T-booster compounds. Along with other T-boosters like fenugreek, bulbine and tribulus, Ashwagandha root contains an abundant supply of T-supportive saponins.6
Macho Plant?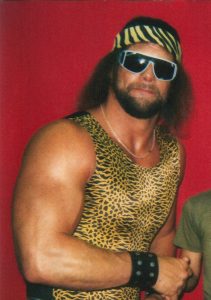 Whether due to the myriad of health-related perks it empowers its users with or its distinctive name, ashwagandha is a force to be reckoned with. Sure, any skeptic has the right to question its somewhat shady background as a mythical wonder plant, but numerous reputable sources have its back, too.
Concerning masculinity, ashwagandha may serve as a multi-purpose enhancer as much for those undergoing intensive strength training as for those recouping from exercise-induced damage. It has been cited to excel sprint performance (i.e., improve power output and velocity) via increasing an athlete's maximum attainable oxygen volume;7 reduce fatigue and pain;8 and maximize cardiorespiratory endurance via fat oxidation.9
Did you know?
Intimacy enthusiasts
may be pleased to know that ashwagandha seemingly invigorates sex performance and male fertility by restoring the harmonic balance of
metabolites
 and reproductive hormones.
10
Let's take a more in-depth look at what the research says.
Research
Animal Research
Animal studies demonstrated the T-boosting effects of ashwagandha as evidenced in a combination of the well-being of the sexual organs of male rats and overall diminished internal stress. The cherished plant seems to produce various productive effects:
Aid in testicular development in male rats. The spermatogenic growth may derive from a testosterone-like effect11
Protect sexual organs from oxidative stress induced by swimming in male rats12
Increase testosterone levels in rats via a reduction in oxidative stress and hormonal imbalance13
Collectively, the animal studies allow for an optimistic outlook on the T-boosting potential of ashwagandha.
Human Research
Ashwagandha as KSM-66® increases sperm count by 167% and testosterone by 17%
In this pilot study, 45 adult men with low sperm count were given either ashwagandha (675 mg, 3X daily) as KSM-66® or placebo for a span of 90 days, and were then tested across a range of masculine health parameters. At the study's end, researchers reported that the KSM-66® group experienced a 167% increase in sperm count, a 53% increase in semen volume, and a 57% improvement in sperm motility versus placebo.  In addition, the KSM-66® experienced a significant 17% increase in testosterone levels and a 34% increase in the T-helper luteinizing hormone — suggesting even greater potential benefits for masculine health.
Researchers in this study concluded that Ashwagandha was associated with "a significantly greater improvement and regulation were observed in serum hormone" and that their results add to "the evidence on the therapeutic value of Ashwagandha (Withania somnifera), as attributed in Ayurveda for the treatment of oligospermia leading to infertility."4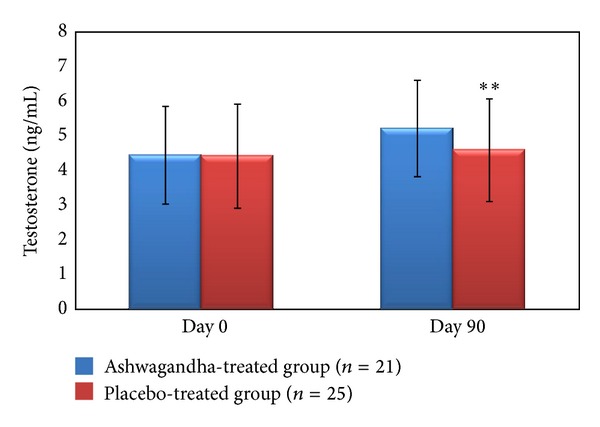 5 g of ashwagandha root extract helps T levels & sperm
Seventy-five men were given 5 g of ashwagandha root powder mixed with milk daily over the course of three months in a double-blind trial. Sperm improvement was dually qualified by marked increases in anti-oxidant vitamins, as well as serum LH and testosterone levels.
The study concluded that ashwagandha consumption "inhibited lipid peroxidation and protein carbonyl content and improved sperm count and motility."15
Drinking 5 g of ashwagandha powder with milk each day may increase T-levels
Powdered ashwagandha root was taken by 60 infertile men with otherwise normal sperm morphology every day for three months in 5 g quantities with skim milk, which resulted in increased sperm concentration and motility. Testosterone (10-20% increase) and cortisol (11-32% decrease) levels were also recorded.
Researchers concluded that "a decrease in stress, improved the level of anti-oxidants and improved overall semen quality in a significant number of individuals."16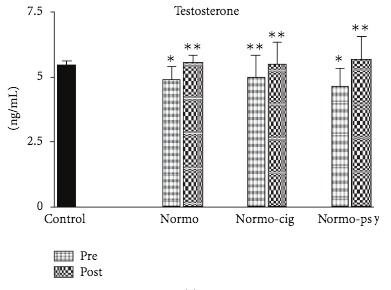 300 mg of ashwagandha root extract supports testosterone & muscle mass
57 males participating in a resistance training program took 300 mg of ashwagandha root extract twice daily over the course of 8 weeks in this randomized, double-blind placebo-controlled study. Muscle strength, muscle size, body composition, muscle recovery, and serum testosterone levels (elevated to 96.2 ng/dL compared to the 18.0 ng/dL with the placebo) were all documented to have benefitted.
The researchers concluded that "ashwagandha supplementation is associated with significant increases in muscle mass and strength."17
Although there is no illustration of the precise mechanism behind ashwagandha's T-boosting ability, there certainly is ample evidence to confirm it bestows comparable properties upon its patrons. An overwhelming stretch of benefits may be drawn from the use of ashwagandha as a T-boosting supplement.
Which cherry is right for you?
 Both of which are colloquially alluded to as winter cherry, Ashwagandha is not to be confused with
Physalis alkekengi
, the latter possibly maintaining anti-fertility effects.
18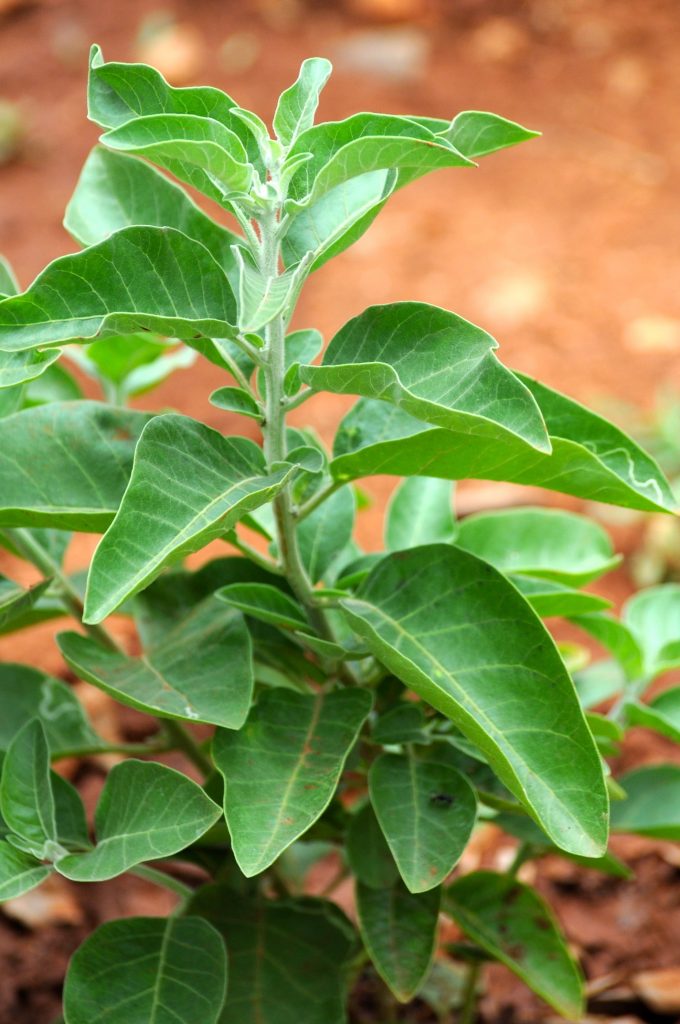 Ashwagandha Dosage for Testosterone & Masculinity
Ashwagandha is most often take as a root or water extract with the following dosages:
500 mg of ashwagandha water extract daily, or
300 mg of ashwagandha root extract twice daily
The root extract may be powdered into a tablet or commingled with milk
For purposes of supplementation, ashwagandha is most preferably consumed as either a water or root extract (more potent) with acceptable doses ranging from 300 mg to 1000 mg up to three times a day. Ashwagandha supplements:
Water extract, known as KSM-66 (300 mg), taken once daily
Encapsulated root powder (300 – 1000 mg) taken once or twice daily
Supplements in Review Recommendation
Ashwagandha root extract as KSM-66®, 300 mg
Take ashwagandha to boost T-levels and more. Powdered ashwagandha root extract helps enhance testosterone levels, sperm count and function, muscle mass, physical performance, sex drive… pretty much every aspect of manly wellness. It helps fight stress, too.
KSM-66® is the Good Stuff. This premium, patented & branded form has undergone a good deal of human clinical research, including one study that linked it to a 17% increase in testosterone and even larger across-the-board increases in luteinizing hormone, sperm motility and semen volume. For these reasons, we think Ashwagandha as KSM-66® is a must-have herb for testosterone boosting regimens and other masculine health applications.
References