DHEA is a precursor to both testosterone and estrogen, but it's surrounded by question marks and a Big Warning*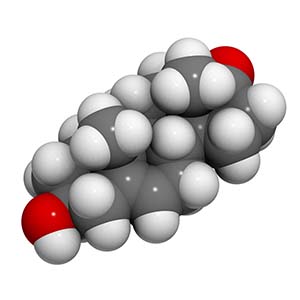 DHEA is a type of hormone made by the adrenal glands and the testes. It is unclear whether DHEA has any impact on circulating T-levels, but it does seem to have some links to testosterone:
Needed for testosterone synthesis, DHEA is a nutritional precursor that's two steps away: DHEA → androstenedione →  testosterone.
Like testosterone, DHEA declines with age. Supplements can restore DHEA to a youthful state, which may or may not be tied to youthful T-levels.
May block the SHBG hormone that deactivates T; this effect seems to be more pronounced in women who are taking DHEA.
Other Benefits for Men
Correlates to IGF-1 growth hormone in men; some evidence for helping  with erectile function, weight loss and cognitive performance
Overview
DHEA skyrocketed to fame in the 1990s after research suggested it might have anti-aging properties. It all began with the discovery that DHEA declined as people grew older: Peaking during our 20s, the hormone diminishes by about 2% per year until our 70s-80s, at which point we stabilize with around 10%-15% of our youthful level.1 This DHEA decline has been suggested to trigger the age-related switch from anabolic activity (building and renewing tissues) to catabolic activity (breaking down and destroying tissues).
In one sensational study in the 1990s, DHEA supplementation was found to restore the hormone to ideal youthful levels, which seemed to boost growth hormone and bring "a remarkable increase in perceived physical and psychological well-being" to the study participants.2
Lo and behold, DHEA was suddenly a "Fountain of Youth" supplement… even though the study was kind of small and not particularly well-designed. Subsequent research seemed to suggest DHEA supported cognitive function, and might make skin thicker and more hydrated, reinforcing its anti-aging reputation.
Is DHEA tied to anti-aging via calorie restriction?
One of the only anti-aging strategies that is backed by science is calorie restriction. Some early evidence suggests it may work, in part, via DHEA pathways: In monkeys, cutting calorie intake by 30% and sustaining the reduction over time has been found to slow the normal age-related decline of blood DHEA levels.3
What about testosterone?
DHEA is an androgen (masculine sex hormone) that is secreted by the adrenal glands, and to a lesser extent, by the testes and the brain. After it is synthesized or taken in supplement form, DHEA acts as a steroid precursor to hormones: It is converted into androstenedione, which is then used to make dihydrotestosterone (DHT) and testosterone. DHEA is also "aromatized" into estrogen.4
Similar to testosterone, age-related decline of DHEA is associated with cognitive problems, depression and erectile dysfunction.5 DHEA supplementation has been shown again and again to raise blood levels back to "youthful" status. When it comes to testosterone benefits, research seems to suggest DHEA affects women more than men, and 70+ populations more than anyone younger. Outside of its "precursor" status to testosterone, its mechanisms of action remain unclear.
DHEA is controversial.
Despite a lack of strong evidence, this hormone has a reputation of being powerful: DHEA is considered a "banned substance" by the NBA, NFL, NCAA, and United States Olympic Committee. Plus, in Canada, DHEA is considered a drug—you can't even buy it as a supplement. Why the red flags? DHEA is technically a steroid, which may be why it's lumped in with Performance Enhancing Drugs (PEDs). These sports organizations might be overreacting, but they honestly seem to believe DHEA gives athletes an unfair competitive advantage.
Bans and dire warnings seem suggestive of DHEA's potential. Say what you will about its effectiveness or unclear benefits, but DHEA cannot be called a "weak" supplement. Whether or not its potency affects testosterone remains to be seen, but let's check out some of the available research.
Research
Animal Research
Notably, there is hardly any animal research on DHEA. This is because only negligible amounts of circulating DHEA have been detected in lab animals, making DHEA studies virtually impossible. Even primates only produce about 10% of the DHEA found in humans. We did find one monkey study that shows nothing in regards to testosterone, mentioned above. Human research tells a bigger story.
Human Research
In one small and early study, researchers investigated how a single 50 mg serving of DHEA might influence T-levels. Researchers concluded that while the conversion of DHEA to testosterone was low, it was "proven to be real."6 But even if real, will increasing testosterone and promoting its conversion add up to any real results… is it enough? Some human clinical trials seem to suggest that DHEA has minimal T-related wellness benefits, but may positively impact other areas of health:
The "DHEAge Study" shows a small T-boosting effect
In this placebo-controlled, double-blind study of 280 men and women between the ages of 60 and 79, researchers evaluated how DHEA 50 mg daily might influence hormone status, including testosterone. Researchers found that DHEA supplementation restored blood DHEA levels to "youthful adult" status after six months, but the levels seemed to tail off after one year of supplementation. Small increases in testosterone and estradiol (female sex hormone) were noted, as well as improvements in skin thickness and hydration. These benefits were more pronounced in female participants.7
A note on this T-boost: In subjects under age 70, the slight boost in T that was recorded at the six-month mark dropped back down to near baseline levels at the 12-month mark. In participants over age 70, the T-boost remained elevated at both six-month and 12-month marks. This seems to suggest DHEA may be more effective at boosting T in populations over age 70.
100 mg DHEA May Influence Sex Hormones
A randomized, double-blind, placebo controlled crossover clinical trial evaluated the effects of 50 mg DHEA daily for three months. The study was small, nine men, ten women, all between the ages of 50 and 65. At study's end, researchers said supplementation restored blood DHEA to "youthful" status. DHEA reduced Sex hormone-binding globulin (SHBG) with greater effects in women than in men. IGF-I was found to be increased in both women and men. These hormonal changes were tied to lower body fat mass in men (more in women) and greater strength in knee muscles and lumbar back muscles.8
DHEA 50 mg helps sustain T-levels during exercise
High intensity exercise has been shown to temporarily drive down T-levels. In one small study, researchers set out to see if DHEA 50 mg daily might help with this phenomenon, and compared its effects across a control group of 8 younger men (average age 21), and test group of 8 middle-aged men (average age 49). At study's end, researchers found that the DHEA seemed to increase T-levels in the middle aged group while blocking the T-decline that typically accompanies intense training, concluding it may have "significant benefits" related to the body's adaptation to intense exercise.9
Our take: DHEA might have some weak T-boosting effects, but these effects appear to be more pronounced in women and in older populations.
Research investigating how DHEA might affect T-levels seems a little weak, but it's well-known that DHEA plays a key part in testosterone and estrogen production. There's a catch, though: DHEA seems to boost T more in women, while boosting estrogen more in men.
If you're taking DHEA for T, you're barking up the wrong tree.
BUT… DHEA is a hell of a fascinating supplement. Research in other areas shows far greater DHEA promise than testosterone, including benefits for skin health (elasticity, hydration, even "age spots"), depression, bone strength and erectile performance. With benefits like these, there may be some explanation for T-booster supplements using DHEA, even if it's not much of a T-booster in itself.
Dosage
The main thing to remember with DHEA dosage is that side effects appear to be far more dramatic once you cross the 100 mg threshold, and may worsen if you take it long-term. Other DHEA Dosage notes:
25-50mg of DHEA is enough to restore healthy and youthful levels
100-200mg higher dosage used in more severe cases, but risks side effects
Retail dosage range: 5 mg – 200 mg
Mayo Clinic says 25 mg DHEA daily for low androgens
Hall of Shame!
Of the 12 different DHEA supplements tested by ConsumerLab, only one product failed… but it failed spectacularly: PhysioMuscle DHEA was found to supply only 14.7% of the DHEA dosage that was listed on the label. Boooo, PhysioMuscle!
Side Effects
This is where DHEA gets weird. At higher 100+ mg dosages (and in some reports, even in moderate 50 mg doses), DHEA has been linked with side effects including acne, stomach upset, excessive sweating, and hair loss. In women, DHEA's androgen-like activities have been tied to "masculinizing" side effects: Facial hair growth, deepening of the voice, and irregularities in menstrual cycle. Because of these side effects, some experts caution against high-dose, long-term usage of DHEA.
Available DHEA Forms
DHEA: Plain DHEA is synthetically derived from soy or wild yam in a lab. However, wild yam supplements are not the same as DHEA: Only the synthetic form can be utilized by the body
7-Keto® DHEA: 7-Keto is like "DHEA Lite"… it isolates and supplies a metabolite of DHEA that's associated with weight loss. In theory, 7-Keto might help deliver weight management benefits without harsh side effects or hormonal changes that may be associated with regular DHEA.
Supplements In Review Recommendation
Although it's involved in sex hormone production, DHEA is not really a "T-booster." It's also controversial, with major side effects at high doses. If you do decide to try it, proceed with caution, avoid mega-dosing, and take it under the direction of a doctor. Also, do not take DHEA if you are a collegiate, amateur or professional athlete–you might test positive for a banned substance.
We feel like 25 mg is a smart, conservative dosage: The minimum amount needed to restore DHEA to a younger state. Notably, some research shows that exercise helps maintain DHEA levels in older people,10 which makes us wonder if these populations should just start an exercise routine instead of buying DHEA supplements.
*Inside Scoop: About that Big Warning…
Not all, but the best, most reputable supplement makers all have highly detailed, scary side effects listed on their DHEA products. They practically look like cigarette warnings. Why is this? It traces back to a decree by the State of California, which was probably motivated by DHEA controversies, including the NBA, NFL, and NCAA bans. Some feel the warning is ridiculous. Whether warranted or not, it definitely adds to DHEA's reputation of potency and power. Here's what it looks like: