Animal Research
e: 18pt;">
Ancient Indian and Chinese health tonic, now popularly taken by men to help with T-levels, strength, libido and weight loss.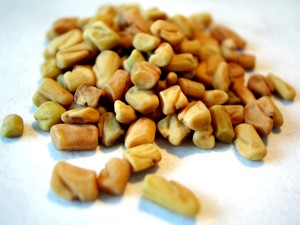 Fenugreek seed is a widely used men's health supplement that may offer benefits related to athletic and sexual performance. In terms of testosterone, it has been suggested to:
Act as an aromatase inhibitor. With this bio-activity, fenugreek may help keep men's estrogen levels low, thereby freeing up more testosterone.
Block 5-alpha-reductase. Since 5-alpha-reductase coverts T into Dihydrotestosterone (DHT), blocking it, in theory, may sustain T-levels… but you lose DHT's manly benefits.
Other Benefits for Men
Fenugreek is regarded as a physical performance booster with anabolic muscle-building potential. It may have properties that assist with fat-burning and post-workout recovery.