Time-tested botanical aphrodisiac that improves men's sexual function and might maintain testosterone.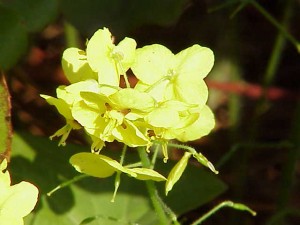 Horny goat weed (also called Epimedium or simply "HGW") has been used as a folk remedy and masculine health tonic for centuries. Based on animal research, HGW's bio-activities include:
Stimulating activity of Leydig cells, which are largely responsible for the production and release of testosterone in the testes.
Mimicking the effects testosterone to improve the condition of reproductive organs and support penis structure.
Other Benefits for Men
HGW seems to stimulate sensory nerves in the penis, enhancing sexual desire and pleasure. It's also believed to decrease cortisol levels (a primary stress hormone), which may help to improve energy levels and mental well-being.
Overview
For over 2000 years, Epimedium, or "Yin Yang Huo," has traditionally been used to increase energy levels and rejuvenate reproductive functions. There are more than 50 species involved with the Epimedium genus of plants. The most frequently used species in HGW supplements are Epimedium grandiflorum and Epimedium sagittatum, which have shown to significantly improve T levels, libido, and penile rigidity.1
According to legend, the first person to realize the aphrodisiac properties of Epimedium was a Chinese goat herder whose goats displayed frisky activity after ingesting the plant's leaves—hence the common nickname "Horny Goat Weed." Since then, HGW has gained global acceptance as a "natural sex enhancer" for humans, as well—yet most research on the herb still derives from animal observation.
How we think HGW might work
Based on animal research, icariin (ICA), HGW's "active ingredient," seems to help neuronal growth and gene expression in the penis and testes, which may resulting in elevated T levels and enhanced erectile function. While the exact mechanisms underlying HGW remain unclear, the herb has shown to aid the following:
Testes' Leydig Cells (T-factories) to increase T production
Neuronal growth to alleviate cavernous nerve damage
PDE5 inhibition to relax smooth muscle and increase blood flow in penis2
With these roles, HGW seems to play an important part in boosting healthy sexual functions, potentially repairing physical and hormonal abnormalities in male sexual organs.
Icariin: Horny Goat Weed's Active Ingredient
Icariin, or ICA, is a flavonol glycoside and the primary active component of HGW. Often referenced interchangeably with HGW, ICA has been demonstrated to treat impotence, improve sexual function, and inhibit PDE5. Various studies have also investigated its roles as testosterone mimetic, antioxidant, antidepressant, as well as its therapeutic potential for bone health.
3
4
HGW: Natural sex enhancer, overall health booster
In addition to enhancing general sexual functioning, HGW also has anti-inflammatory, antidepressant, and neuroprotective properties, which can indirectly improve sexual health and testosterone levels.5
Our take: HGW might help with testosterone production in humans. Its ties with "masculine health" are associated with its legendary "sex enhancer" status, which may or may not be linked to T.
Our HGW T-boosting theory is primarily supported by animal research. However, close observation on ICA content reveals a potential danger that might eliminate HGW benefits, or worse.
Research
Animal Research
Through animal research, an unsettling discovery is revealed: HGW is an effective sex enhancer… but only if you take the right amount. Inappropriate amounts of icariin can render the supplement ineffective or even harmful.
One animal study found that icariin at a low dose (1mg/kg bodyweight ICA) boosted testosterone in rats, whereas high icariin content (10mg/kg bodyweight ICA) was associated with lower testosterone levels. Additionally, low dose icariin significantly improved penile neurite length after the rats were subjected to cavernous nerve injury.
Another animal study evaluated the testosterone mimetic properties of icariin and found that a dose of 200mg/kg of a 40% extract (80mg/kg bodyweight ICA) boosted testosterone and improved erectile function.
Although this study showed positive results with a much higher icariin content than the "high icariin content" of the first study, the discrepancy can be attributed to differences in dosing intervals and icariin purity. However, if the efficacy of icariin shows signs of dose-dependency, this begs the question: How much icariin is too much?
In a study that investigated the dosage effects of 0, 50, 100, and 200mg/kg bodyweight ICA, the highest ICA group showed either no improvement or adverse effects in nearly every observed category of reproductive health. Fortunately, the 50 and 100mg/kg groups showed significant increases in T levels, sperm count, and oxidative balance.6
HGW May Boost Sperm Count by 148%
In all studies, icariin did not boost LH and FSH levels, regardless of dosage. This suggests that icariin acts primarily on the testes. While FSH isn't promoted, the third animal study found icariin increased FSHR expression, a receptor for FSH, which promotes sperm production. Another study treated mice with 400mg/kg bodyweight Epimedium to find:
3% boost in sperm count
3% boost in sperm motility
4% boost in testicular weight7
Human Research
Human studies on Horny Goat Weed and testosterone are sparse. However, a few studies related to sexual health are available, including one that shows a potent and significant HGW bio-activity:
PDE5 gained attention in the media and in researchers' labs after Viagra (sildenafil) showed that inhibiting it can treat ED. A study utilizing human recombinant PDE5 tested the activity of aphrodisiac plant extracts and individual compounds based on their abilities as PDE5 inhibitors.
Researchers concluded that only Epimedium brevicornum and icariin effectively inhibited PDE5 with inhibition rates of 80% and 72%, respectively.8
Dosage Notes
Typical doses of retail horny goat weed supplements ranges from 250 mg to 2,000 mg per serving.
Side Effects
Due to the lack of human examination and long-term toxicology studies, information on HGW side effects is limited. Through online monitoring of discussion boards, researchers noted several reported cases of fever, increased heart rate, aggressive behavior, and irritability tied to HGW. Potential extent of HGW side effects is currently unknown.9
Available Forms of Horny Goat Weed
HGW is available in various formats, including capsules, tablets, drinks, and foods. Nutrient forms include:
"Plain" HGW: Found as either "dried plant leaf" matter or powder, and commonly presented as tea, food additives, capsules, and tablets. Often limited in its icariin potency.
Horny Goat Weed Extract: Extracted Epimedium ranges in icariin content from 10% icariin to 100% pure icariin. Unfortunately, more is not necessarily better as over-extraction of icariin can render the flavanoid "unstable" and thus "inactive." Which is why we have…
Standardized Horny Goat Weed: Supplies a "standardized" amount of icariin between 10% and 60% to maintain icariin stability and activity in the HGW sample. This is key because overall composition of HGW can affect the efficacy of icariin.
Supplements in Review Recommendation
Horny Goat Weed, 750 mg, standardized to 10% Icariin
Horny Goat Weed may play a role in maintaining testosterone, but is not really a T-booster. It is, however, a legendary sex enhancer. If you want to take it for libido and sex drive, by all means do… just don't expect much impact on your testosterone levels.
HGW standardized to 10% Icariin makes sense. It gives you more of the active ingredient you want, and less of the other compounds in HGW–which in some cases may make the herb easier to tolerate.