Sweet-flavored legume root supplies protective flavonoids, but may increase stress hormones & decrease T.
Primarily native to Europe & Asia, Licorice has been used in traditional Western & Eastern health systems for various digestive & disease conditions. Yet, despite a positive association with health and a relatively high safety rating, Licorice might have an anti-androgenic effect in men. Key bio-activities include:
Increased cortisol. Licorice's Glycyrrhetinic Acid provokes reliable increases in stress hormone cortisol levels.
Decreased T. Glycyrrhetinic Acid also induces reliable reductions in serum T numbers, possibly directly interrupting T-synthesis.
Overview
Despite a long history of use in ancient herbalism, Licorice is known by many solely as a candy. In the modern Western world, Licorice is the red or black chews that are mysteriously sweet AND sugar-free. But it's increasingly being recognized as food that's more functional than confectionery–as it has been for the past few centuries.
Traditionally, Licorice has been used for a number of ailments, ranging from digestive problems to heart issues to the common cold. Because of its massive popularity among naturalists and its increasing prevalence in processed foods, Licorice has fallen under the scrutinizing thumbs of modern research, which has recently discovered something both exciting & potentially alarming: Licorice alters testosterone levels.
Due to this, many manufacturers were quick to rank Licorice as a T-booster, but as we continue to learn about this sweet treat, it seems that Licorice's relationship with male sex hormones may swing the other way.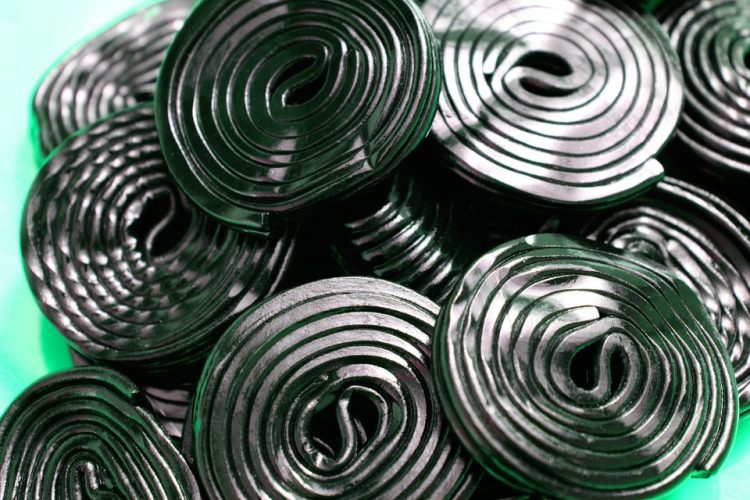 How Licorice Might (or Might Not) Help T
Increases cortisol levels
This is somewhat of a controversial claim here. Some research seems to qualify Licorice as an adaptogen (stress-reducing herb), while most research condemns the root for increasing stress hormone cortisol–occasionally to toxic levels.1 Licorice does this by inhibiting 11β-hydroxysteroid dehydrogenase Type 2 (11βHSD2) enzyme, which converts active cortisol to inactive cortisone (technically, Licorice also inhibits 11βHSD1, which converts cortisone to cortisol, but it's more effective at blocking 11βHSD2–creating a higher active cortisol:cortisone ratio).
Under certain conditions–such as adrenal fatigue–this increase in cortisol may have therapeutic value, if engaged correctly. But if your goal is to boost testosterone, then you're most likely trying to reduce cortisol. Not increase it.
Inhibits conversion of androstenedione to T
Blocking T-synthesis definitely does not help T… which is essentially what's happening. Licorice does this by deactivating another enzyme, 7βBHSD5, the catalyst in the conversion of androstenedione to testosterone. Without this action, T-synthesis is disrupted. Less total T is produced.
Strangely, this doesn't seem to affect other testicular functions–in actuality, some researchers believe that certain Licorice constituents (Licorice's flavonoids in particular) actually promote this aspect of male health, despite Licorice's demonstrated attack on testosterone.2
Research
Animal Research
There are two rat studies that stand out on Licorice research for their complementary insights on Licorice's interaction with testosterone. The first study, which observed the combined effect of T injections & various Licorice extract dosages (75, 150, & 300 mg/kg) on androgen status in castrated rats, noted that the 150 & 300 mg/kg groups had significantly reduced:
Prostate weight
Total T
Androgen receptor activity3
The "antiandrogenic" actions found in this study were supported by another rat study, which analyzed the effects of 500, 1000, & 2000 mg/kg Licorice extracts in the context of "male reproductive function":
On the whole, male reproductive function (testicular weight, macro- & micro-scopic histology, daily sperm production, sperm quality, etc.) was not impaired by Licorice extract–although there was a slight decrease in prostate weights & daily sperm production at the high 2000 mg/kg dose. Additionally, while there wasn't a significant difference between the dosage groups, T levels were decreased by Licorice extract as high as 28.6% (in the high dosage group).4
Combined, these studies seem to suggest that moderate Licorice dosages might take a direct hit on T levels in a way that circumnavigates male reproductive health.
Human Research
1 week of 7 g Licorice (500 mg Glycyrrhizic Acid) daily reduced T by 55%.
In a small study on the effect of Licorice on "gonadal function" in seven healthy men, aged 22-24, 7 g Licorice (500 mg Glycyrrhizic Acid) was administered for a week to demonstrate Licorice's depreciation of T via inhibition of 17β-hydroxysteroid dehydrogenase (in effect inhibiting conversion of androstenedione to testosterone). Serum T, androstenedione, and 17β-hydroxysteroid dehydrogenase levels were measured at Day 0, 4, 7, and 4 days after discontinuation of Licorice supplementation to illustrate the relationship between Licorice & T.
By the end of the study, the results demonstrated licorice inhibiting 17β-hydroxysteroid dehydrogenase and, consequentially, the conversion of androstenedione to T for an average decrease in T by 55%. However, these effects were nearly reversed after 4 days of discontinuation.5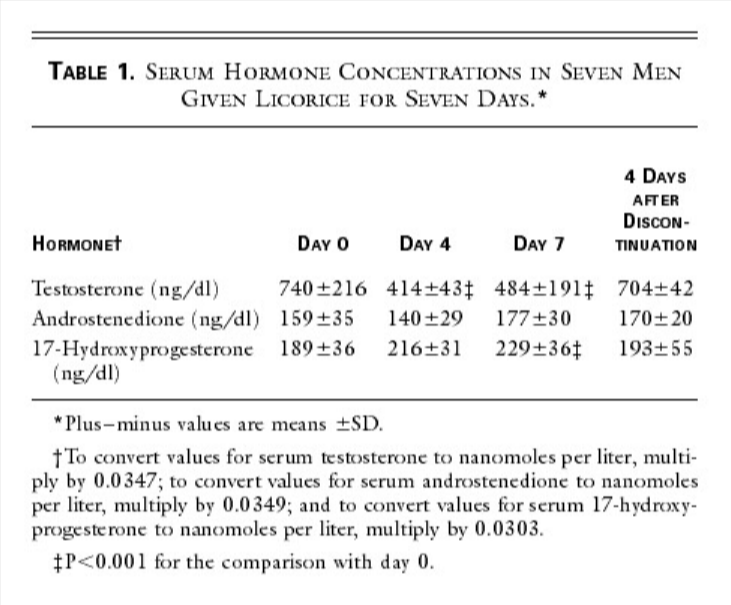 Disclaimer: This study observed a tiny sample of only seven men, aged 22 to 24, including the outlier subjects. Due to this, we can't necessarily take these statistics as accurate representations of a whole demographic. Instead take this study's conclusion as a preliminary indicator of Licorice's T-reducing capabilities–which are further explored in the next two studies.
5.6 g Licorice (500 mg Glycyrrhizic Acid) non-significantly reduced T by 9.5%.
Following the previous study, another research group attempted to twice replicate the decrease in T–except with an administration of 5.6 g Licorice (500 mg Glycyrrhizic Acid). The results indicated no significant decrease in T in both trials, leading the researchers to criticize the previous study's observed 55% decrease in T as an overestimate affected by shoddy statistical analysis & inclusion of outlier data.6
REVISITED: 1 week of 7 g Licorice (500 mg Glycyrrhizic Acid) daily reduced T by 26%.
In response to the second group's refutation of their data, the initial researchers returned for a re-trial of their initial study design–7 g Licorice (500 mg Glycyrrhizic Acid) daily for 1 week–except this time they administered the Licorice to a much larger sample size. Their results:
Licorice still reduced T levels among healthy men, except by an average 26%. Additionally, the researchers found a slight upsurge in Luteinizing Hormone (LH) among the men–however, this may have been due to the lower amounts of free-floating T levels, which triggers the pituitary gland to secrete more LH.7
Our Take: Licorice is a complicated plant. Judging by the Animal & Human research presented here, it would seem that Licorice offers zero benefits in regards to male health. This isn't true. Bear in mind that Licorice has other healthy active compounds aside from Glycyrrhizin–which seems to be the primary offender on T. While we don't recommend Glycyrrhizin-laden Licorice extracts for T-boosting, we're excited to see how future research unlocks our understanding of Licorice's flavonoid constituents.
Dosage Notes
Traditionally, in Chinese medicine, Licorice root has been consumed around 8 g – 15 g–occasionally up to higher dosages of 100 g during illness. For supplementation, however, Licorice extract dosages range from:
Licorice w/ Glycyrrhizin: 150 mg – 300 mg daily
Licorice w/o Glycyrrhizin: 1,200 mg daily8
However, take note that Deglycyrrhizinated Licorice (i.e. Licorice w/o Glycyrrhizin)  has documented safe supplementation at 1,800 mg daily, as well, but for only up to 4 weeks.9 Avoid consuming extracts upwards of 500 mg Glycyrrhizic Acid, which appears to reduce T levels in otherwise healthy men.10
Side Effects
Glycyrrhizin remains the problem child ingredient in Licorice–not just with regards to T & cortisol, but in terms of side effect risk, too. Consuming too much Glycyrrhizin has been associated with a few side effects ranging from "queasiness" (noted within 45 minutes of eating 200 mg Licorice)11 to pseudohyperaldosteronism:
As opposed to real hyperadosteronism (marked by increased blood pressure, decreased blood potassium through increased aldosterone levels), pseudohyperaldosteronism mimicks the condition through elevated cortisol levels instead, which are induced by the over-inhibition of 11-βHSD2 enzyme via Glycyrrhizin.12
On the other hand, supplementing 1,800 mg Licorice Flavonoid Oil daily (w/o Glycyrrhizin) up to 4 weeks or 1,200 mg Licorice Flavonoid Oil daily seem to be safe and largely risk-free of side effects.
NOTE: 
Licorice candy & food additives also contain active Glycyrrhizin levels (otherwise they wouldn't taste so sweet). The report of Glycyrrhizin-related side effects with such products has garnered the attention of researchers & regulators alike, warranting a series of "warning messages" against consuming Licorice sweets & foods.
13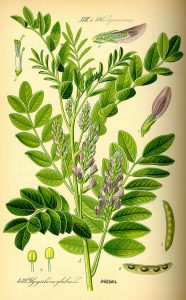 Available Forms
Similar to other herbs of traditional medicine systems, Licorice can be consumed nutritionally–i.e. in root form, in tea, as a ground powder–or supplemented as a capsule, tablet, or liquid. As a supplement, Licorice comes in the forms of:
Licorice Root. Pure Licorice root, typically capsulated, containing modest amounts of active Glycyrrhetic acid & flavanoids.
Licorice Extract. More potent Licorice containing more condensed supplies of active Glycyrrhetic acid & flavonoids.
Licorice Flavonoid Oil. Deglycyrrhizinated Licorice (i.e. w/o Glycyrrhizin), containing only active Licorice flavonoids.
Supplements in Review Recommendation
Licorice Flavonoid Oil, 1200 mg daily
We do not recommend Licorice as a T-booster. If increasing testosterone and/or reducing stress levels is/are your goal(s), then supplementing Licorice would be counter-intuitive. This root plant seems to accomplish the opposite of boosting T. However, we recognize why many (including men) would want to try Licorice for its other known benefits. Luckily, Licorice Flavonoid Oil is an option, which removes the T-reducing constituent and has a decreased risk of side effect. Men who are on the fence with this supplement, try LFO before diving in completely. Or check here for more on T-boosters.
Research