Legendary men's health tonic that supports testosterone, virility and vitality.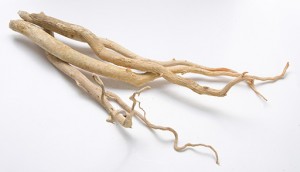 Tongkat Ali (Eurycoma longifolia, or TA) is a traditional sex enhancer, and modern research suggests it might have potential anti-estrogen and T-boosting effects. TA's bio-activities include:
Other Benefits for Men
Overview
Eurycoma longifolia (EL), known in Malaysia as Tongkat Ali (TA), is a famous natural aphrodisiac of Southeast Asia. Literally meaning "Stick of Man," TA is commonly referred to as Malaysia's "homegrown Viagra" for its symbolic status as a male sex enhancer. Due to its growing fame, TA is extensively researched by the Malaysian government for its potential sexual health benefits.
Unsurprisingly, TA has garnered attention in the Western world for its libido enhancing properties. In animals and humans, TA has proven an effective sex hormone stabilizer, especially in low T conditions. Modern research aims to divulge the mysteries behind this, and explore TA's true value to male health.
Here's how we think TA might work: It has been theorized to release bound testosterone from sex hormone-binding globulin (SHBG)… culminating in higher "free" T levels.3 TA regulates the following sex hormone pathways and more:
With these roles, TA seems to offer vital support to reproduction, potentially because of its involvement in the biosynthesis, release, and inhibition of important sexual hormones.
TA: The bitter taste of virility
In regards to male health, TA's quassinoids (extremely bitter tasting compounds) appear largely responsible for TA's T-boosting effects. Despite low oral bioavailability (10.5%), eurycomanone (most potent quassinoid in TA) shows decreases in estrogen and higher sperm counts.5
Our take: TA seems to stimulate and sustain optimal sex hormone levels, enhancing male reproductive health—which may be linked to testosterone.
Our T-boosting theory is supported by a number of human research—however, animal research shows a potential TA restriction that might severely reduce the accessibility of its testosterone benefits.
Research
Animal Research
Animal research uncovers a possible limitation: TA seems to significantly increase testosterone… primarily in low testosterone conditions. Depending on pre-existing T levels, TA supplementation may or may not boost testosterone.
One animal study noted that low dose TA (8 mg/kg body weight) increased sperm count and spermatogenic (sperm producing) cells in a condition of high estrogen exposure—a setting associated with markedly decreased T concentration.6
Another animal study found that the combination of TA and testosterone worked synergistically against castration-induced osteoporosis (loss-of-bone-mass associated with low T levels), increasing bone strength while minimizing the harsh side effects of high dose testosterone replacement therapy.8
These studies support the idea that TA restores abnormal sex hormone conditions to a balanced state. Additionally, in otherwise normal rats (normal T levels), higher doses of TA (200-800 mg/kg) increased levator ani muscle size—a muscle that supports the pelvic organs. Unfortunately, T levels were not assessed in these rats.9
The big question: Does TA only increase testosterone in T-deficient conditions? The answer is… largely unknown. While reports of T-boosting under normal conditions are available, they are questionable and few in number.
Human Research
Despite the obscurity of TA's full T-boosting potential, a few human studies show sex-enhancing promise:
Tongkat Ali 400 mg Increases Testosterone in Elderly Males and Females
One interesting pilot study on TA and testosterone researched  both elderly males and females. 25 physically active subjects (13 male and 12 female) were given 400 mg TA extract daily for 5 weeks—during which, the researchers assessed testosterone, cortisol (stress hormone), DHEA, and SHBG levels, as well as kidney function, muscle damage, and strength.
Exercise is known to lower cortisol levels and increase testosterone—thus, physical activity may explain the improved cortisol:testosterone ratio shown in this study. Yet, in a separate placebo-controlled study researching "mildly stressed" men and women, TA supplementation (200 mg/day for 4 weeks) still significantly improved stress hormone profiles by:
Tongkat Ali 200 mg Boosts Sperm Count by 65.5%
A human study assessed how TA might help 350 sub-fertile (low to no fertility) male patients. Of the initial 350 recruited patients, 75 men completed at least one of the three cycles (3 months/cycle) of TA treatment (200 mg/day)—17 made it to the third cycle. Following each cycle, patients were tested for semen volume, sperm concentration, sperm motility (activity and viability of sperm), and sperm morphology (shape and size of sperm).
Increased sperm count = Boost in male virility = Healthy Testosterone
Dosage Notes
In both human and animal trials, TA showed dose-dependent  efficacy, with little to no effect at low doses—perhaps due to the low oral bioactivity of eurycomanone (10.5%).
On the flipside, high doses of TA exhibited toxic effects in rats (Lethal Dose 50 at 2600 mg/kg).
Current recommendations for male use normally range from 200-400 mg water extract TA with a calculated acceptable daily intake (ADI) of 1.2 g/adult/day. However, a high dose of 600 mg has been reported as non-toxic after two months of daily consumption.13
Side Effects
Anecdotally, long-term consumption of TA root extract has been associated with insomnia, facial flushing, testicular pressure, and hyperaggressiveness—however, no current scientific evidence supports these side effects. Additionally, TA supplementation (400 mg/day for 6 weeks) in athletes did not breach doping policies of the International Olympic Committee. 14
Available Forms of Tongkat Ali
TA is typically found in capsules and tablets, but may also appear as raw powder, liquid extract, and coffee and tea additives. Nutrient forms include:
"Plain" TA: Offers the most basic and least bioactive (thus, the least effective) TA format. Commonly found in capsule or powder form.
TA Extract: Varies in composition to increase TA bioactivity. Beware false "Eurycoma longifolia" products that claim "extract ratios" from 1:20 to 1:200 without information about their bioactive content, method of extraction, or purity. Their true content may alter the supplement's efficacy and safety. Remember: Authentic TA is bitter. Very bitter. Fake or inferior TA is not.
"Standardized" TA: Supplies a "standardized" composition of bioactive ingredients (1% eurycomanone, 22% protein, 30% polysaccharides, 35% glycosaponin). Demonstrated to be effective and safe at high doses for long-term consumption.
Supplements in Review Recommendation
Tongkat Ali 100:1 extract, 500 mg 
Tongkat Ali has a strong reputation as a men's vitality herb. It's backed by suggestive research as a testosterone booster… and we think it probably works for T. If it doesn't, well, you'll still get to feel the male performance-enhancing effects that have made this "Malaysian Ginseng" a legend.
We recommend a 100:1 extract of Tongkat Ali. It may have multiple active ingredients, which makes standardization more of a challenge. A highly concentrated extract will provide more of all the herb's active ingredients, which seems like the best bet to us.