Rosemary may possibly help with hypothyroidism, but targeted research is lacking.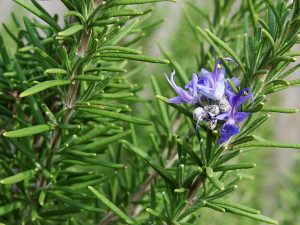 Rosemary is a medicinal plant. Thyroid health supplements sometimes include rosemary because it has:
Antioxidant and anti-inflammatory activity. These effects may potentially help with hypothyroidism and its symptoms.
Potential improvement of thyroid signaling through enhance thyroid receptor activity.
Overview
Rosemary (Rosmarinus officinalis) is a woody herb that belongs to the mint family of plants. It is known for its fragment smell, and is used in medicine, food preservation & flavoring, and making perfume. Rosemary has notable health effects such as:
Stimulating hair growth
Reducing anxiety and other nootropic benefits
Reducing inflammation
Antioxidant activity
Improving blood flow
In terms of thyroid health, rosemary oil is sometimes used topically to help with hair loss, joint pain, and other symptoms of an underactive thyroid gland. In addition, some believe that rosemary can help enhance thyroid hormone signalling and reduce thyroid inflammation, but these  uses lack strong evidence.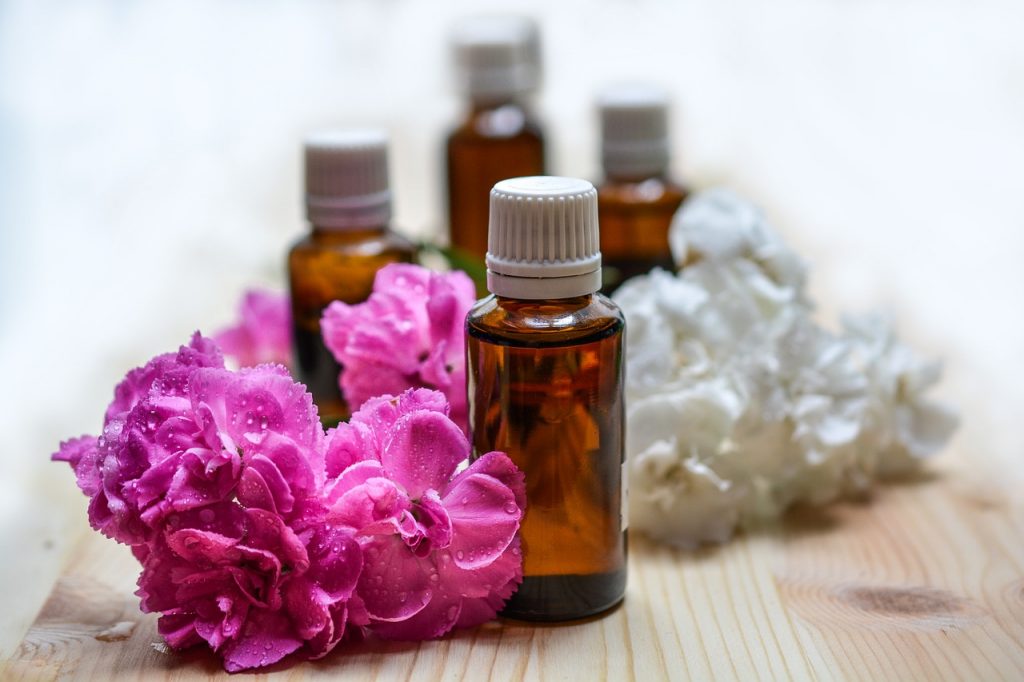 How Rosemary Might Help With Thyroid Health
Rosemary contains bio-active phytochemicals such as rosmarinic acid, camphor, caffeic acid, ursolic acid, betulinic acid, carnosic acid and carnosol that may aid thyroid health through:
Antioxidant and anti-inflammatory activity
Rosemary contains several compounds – most notably rosmarinic acid – which have antioxidant and anti-inflammatory properties.1 2 These activities may help manage hypothyroidism symptoms and possibly reduce the inflammation involved in autoimmunity-related thyroid disorders such as Hashimoto's.
Potential enhancement of thyroid signaling
Another potential way thyroid benefit of rosemary is enhanced thyroid hormone signaling. When thyroid hormone receptors (TRs) found in cells are activated by thyroid hormone, they can exert their effects as one of three molecules:
Monomer – a single molecule
Homodimer – two TRs combined together
Heterodimer – one TR combined with one retinoid X receptor (RXR)
The heterodimer form has the strongest response to thyroid hormone, and as such is considered the most active.3 Because a single study in isolated cells reported that application of carnosic acid (found in rosemary) increased the number of retinoid X receptors (RXR), the theory is that an increase in RXR helps make TR more responsive to thyroid hormone.
However, this mechanism requires further evidence and remains largely theoretical. 4 5
Did you know?
A rare mutation of the thyroid receptor can lead to thyroid hormone resistance – a state where the body does not respond to thyroid hormones as well as it should, and manifests in symptoms similar to hypothyroidism.
6
Rosemary's Popular Uses for Thyroid Health
Multi-ingredient thyroid supplements sometimes include rosemary because of the belief that it enhances thyroid receptor signalling, therefore enhancing the effects of thyroid hormone. However, this potential mechanism has little evidence and remains purely hypothetical.
In addition, some people use rosemary topically to fight certain symptoms of hypothyroidism such as hair loss, hair thinning, and joint pain. Although these uses have not been tested in the context of thyroid issues, there is some evidence that rosemary oil can promote hair growth and reduce inflammation when applied topically. 7
Research
There are currently no studies on the use of rosemary for thyroid health. Most of the evidence for rosemary's benefits is indirect, meaning that it could be beneficial but has not actually been tested in the context of thyroid health. As a result, there is no way to confirm whether it has any thyroid benefits.
Dosage for Thyroid Health
There is no established dosage of rosemary for thyroid function
Rosemary supplements typically supply 275 – 500 mg of rosemary extract in capsules or come in the form of essential oil
Multi-ingredient thyroid supplements typically provide 80 mg of rosemary leaf extract
Available Forms
Capsule or tablet, which may be standardized to contain a certain amount of carnosic acid
Essential oil – applied topically
Tea
Supplements in Review Says
Rosemary extract capsules 250 – 500 mg for thyroid health.

We do not recommend rosemary for thyroid health. There are currently no studies looking specifically at the effect of rosemary or its constituents on thyroid function.
Try 250 – 500 mg of rosemary extract. If you do want to give rosemary a try we recommend sticking to supplement-suggested dosages, most of which tend to be in the 400 – 500 range.