Sensoril® is a patented Ashwagandha extract, clinically proven to reduce stress and minimize fatigue.
Sensoril is a trademarked, patented Ashwagandha extract, derived from the roots and leaves of the withania somnifera plant. Offering an abundance of health benefits, including reducing stress levels, improving energy and enhancing cognitive functioning, Sensoril is the best-selling Ashwagandha supplement. This review details the advantages of Sensoril over other Ashwagandha supplements on the market:
Patented. Sensoril is a multi-patented supplement for a composition of withania somnifera under US patents  6153198A and 7318938B2
Standardized. Sensoril is standardized to 10% withanolides (the active ingredient).
Clinically backed. The benefits of Sensoril are backed by multiple clinical studies.
Overview
Sensoril is an organic and vegetarian Ashwagandha extract. As the best-selling Ashwagandha extract on the market, Sensoril has been available for twelve years and is supported by multiple clinical studies.
Sensoril has been developed by Natreon Inc, a leader in nutritional ingredient innovation. Sensoril is derived from the root and leaves of Withania somnifera, or Ashwaghanda. This plant is commonly used as a medicinal herb in traditional African medicine to aid an array of ailments.
Sensoril is 8 times as powerful as other Ashwagandha supplements on the market.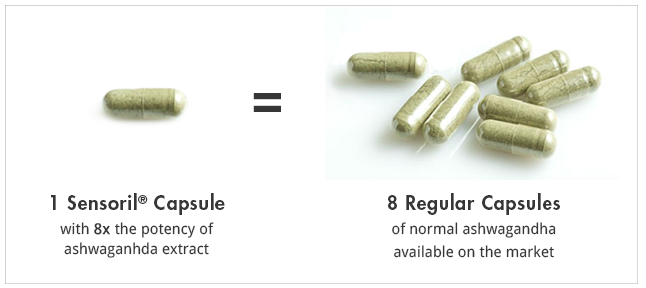 Why use Sensoril?
The unique blend of Ashwagandha extract relieves stress and boosts the antioxidant levels in the body to increase immunity. The extract also boasts antibacterial and anti-inflammatory properties to aid cholesterol levels, treat erectile dysfunction, increase fertility, lower anxiety, support healthy energy levels, and support mental cognition.
Sensoril's blend is derived from the leaves and roots of withania somnifera, which provides a higher level of withanolide glycoside content – the active compound within Sensoril. In fact, Sensoril's formulation is the only ashwaghanda extract standardized to 10% withanolides (most other extracts contain up to 3% withanolides).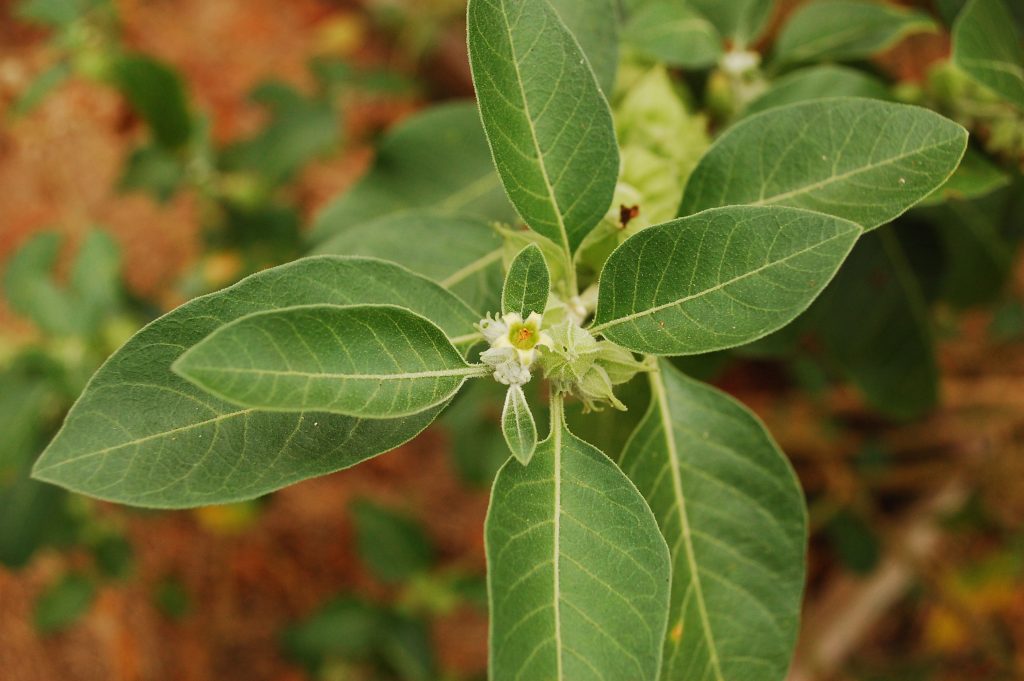 Did you know? Ashwagandha is also known as Indian Gingseng and originates from India.
Sensoril Patents
Sensoril has a patent (US Patent 6153198A) for a high purity Withania Somnifera composition. This composition, of a stable, herbaceous form, delivers a cognitive effect when taken in a dose of 200-800mg daily. This patent also comprises a composition of at least 3% withanolide glycosides and sitoindosides, as well as a process of making the extract composition, including extracting root stock from a Withania Somnifera plant. This patent was acquired by Natreon Inc in 2000.
Sensoril also has an additional patent (US Patent 7318938B2) for a Withania Somnifera composition with at least 8% withanolide glycosides and sitoindosides content. This patent was acquired in 2008.
Sensoril Nutritional Supplement Uses
Ashwaghanda boasts an abundance of health benefits. However, the patented formula of Sensoril is intended for stress relief, cognitive support, and boosting energy.
Sensoril Stress Supplements
One of the main functions of Sensoril is to target stress. When the body encounters stress, it goes into 'fight or flight' mode, producing higher levels of the stress hormones cortisol and adrenaline. Those with increased cortisol levels may experience hypertension, lower immunity, reduced libido, high blood sugar, and carbohydrate cravings.
Sensoril works to calm the hypothalamus (the part of the brain responsible for hormones linked to sleep, hunger, thirst, and other important physiologic functions) to deliver a balancing effect on the body. Restoring balance helps to better regulate sleep, hormone levels and stress management.
Clinical studies have demonstrated the effectiveness of Sensoril in lowering stress in adult subjects. As well as Sensoril being available as a supplement on its own, it can be combined with other ingredients to increase optimal efficacy. For example, it can be combined with Vitamin B complex to aid healthy cortisol levels and the central nervous system.
Sensoril Energy Supplements
Sensoril is effective in enhancing energy levels and decreasing fatigue. Unlike traditional energy supplements, Sensoril is not formulated with caffeine, meaning users wont experience headaches, jitters, or other side effects related to caffeine consumption. By using Ashwagandha, Sensoril is able to provide long-lasting energy without any side effects. In fact, Ashwagandha has been used for hundreds of years in Ayurvedic medicine to aid energy and endurance. Unlike caffeine, the body rarely becomes tolerant to the effects of Ashwagandha so an increased dosage is not required over time. Studies have demonstrated the efficacy of Sensoril in minimizing fatigue and increasing energy levels, as well as improving mood.
Sensoril Benefits and Brand Advantages
Clinically Effective – the benefits of Sensoril have been backed by several clinical studies.
Well-Researched – Sensoril has been studied to determine its effectiveness.
Stable – Sensoril has a three year shelf life.
No Use of Solvents – the active ingredient is extracted with only water.
Standardized – Sensoril is standardized to 10% withanolides (the majority of similar supplements contain between 1-3%).
Contains No Caffeine – Sensoril has zero caffeine so it enhances energy levels without causing side effects.
Potent – Sensoril is 8 times more powerful than other Ashwagandha extract supplements.
Vegetarian – the formulation of Sensoril is vegetarian and gluten free.
Kosher and Halal Certified – Sensoril is suitable for a wide range of consumers.
Sensoril Research
Human Research
Effect of standardized aqueous extract of Withania somnifera on tests of cognitive and psychomotor performance in healthy human participants
This double-blind, placebo-controlled, crossover study measured the effects of Sensoril on 20 healthy male subjects. Participants in this trial were randomized to receive two 250mg capsules of Sensoril daily or a placebo over a 14 day period. Cognitive and psychomotor performance was tested pre-dose (day one) and 3 hours post dose (day fifteen) using computerized psychometric tasks. After 14 days, the participants crossed over to receive the other treatment for a period of 14 days. The same test procedure was performed to assess cognitive and psychomotor performance. The results revealed significant improvements in reaction times in those consuming Sensoril.
The researchers concluded that "Withania somnifera extract can improve cognitive and psychomotor performance and may, therefore, be a valuable adjunct in the treatment of diseases associated with cognitive impairment." 1
A standardized withania somnifera extract significantly reduces stress -related parameters in chronically stressed humans
In this double-blind, placebo-controlled study, 98 subjects with mild to moderate stress were randomly assigned to groups, including 125mg daily of Sensoril, 125mg twice daily, 250mg twice daily, and a placebo. Stress levels were assessed at day 0, 30 and 60. Subjects consumed Sensoril or a placebo for a 60 day period. The results displayed a significant reduction in stress cortisol levels at all doses, as well as a significant reduction in anxiety, irritability, sleeplessness, fatigue, and other factors relating to stress.
The researchers concluded that "This study provides evidence that the consumption of WSE significantly reduces experiential and biochemical indicators of stress without adverse effects." 2
Effect of withania somnifera extract on mental stress induced changes in hemodynamic properties and arterial wave reflections in healthy subjects
In this randomized, double-blind, placebo-controlled crossover study, 20 healthy subjects were analyzed. Participants were given 500mg of Sensoril twice daily or a matching placebo for a period of 14 days with a wash out period of 14 days. Blood pressure and arterial wave reflections were measured before and after a mental stress test. The results revealed a significant reduction in blood pressure, serum cortisol and C-reactive protein, as well as a significant improvement in augmentation index, including pulse pressure.
The researchers concluded that "Withania somnifera extract decreased the mental stress induced changes on aortic wave reflections measured by sphygmocor in normal healthy subjects, suggesting the beneficial effects of this formulation in reducing the cardiovascular pharmacodynamic effects of mental stress and hence in decreasing the cardiovascular morbidity." 3
 Sensoril Dosage
The recommended Sensoril dosage is 250mg daily. However, clinical trials have shown effectiveness at 125mg.
Sensoril Side Effects
Clinical research has not demonstrated any side effects of using Sensoril.  This supplement has one of the most comprehensive safety records of all ashwagandha extracts on the market. Furthermore, clinical research has revealed the safety and efficacy of ashwagandha root and leaf extract in Sensoril.
Supplements in Review Recommendation
Sensoril is a clinically backed supplement for stress relief. Its patented formula comprises a potent form of ashwagandha root extract, standardized to 10% withanolides. This extract offers an abundance of health benefits. However, it has been well-researched to reveal stress relieving advantages, including improving sleep, blood pressure, and cognition.
A 250mg dose daily is recommended. This dosage will provide optimal efficacy for alleviating stress, reducing fatigue and improving cognition.
References