Limited research points to the stamina-boosting potential of bee pollen.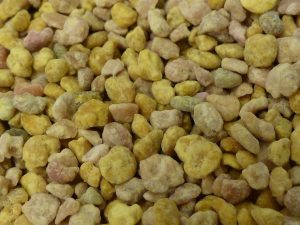 Collected by worker honeybees, bee pollen has long been regarded as a great way to promote well-being, with such potential energy benefits as:
Improving stamina. Preliminary research shows that bee pollen extracts may slightly improve endurance exercise performance.
Overview
Bee pollen is formed when female nesting bees lay an egg on top of a pollen ball foraged by worker bees. Since it's gathered from different flowers, each pollen ball is naturally unique in its makeup. The average pollen ball is 40-60% sugar (fructose and glucose), 2-60% proteins, 3% minerals and vitamins, and 1-30% fatty acids.
Bees typically load pollen balls into honey combs and add honey and royal jelly in order to turn them into bee bread – their main food source. Before this procedure is complete, pollen balls can be harvested for use in health and medicine.
Believe it or not, bee pollen actually holds more amino acids and vitamins than many other common foods, including beef, eggs, and cheese, which may be the reason why it's been used by herbalists for so many years.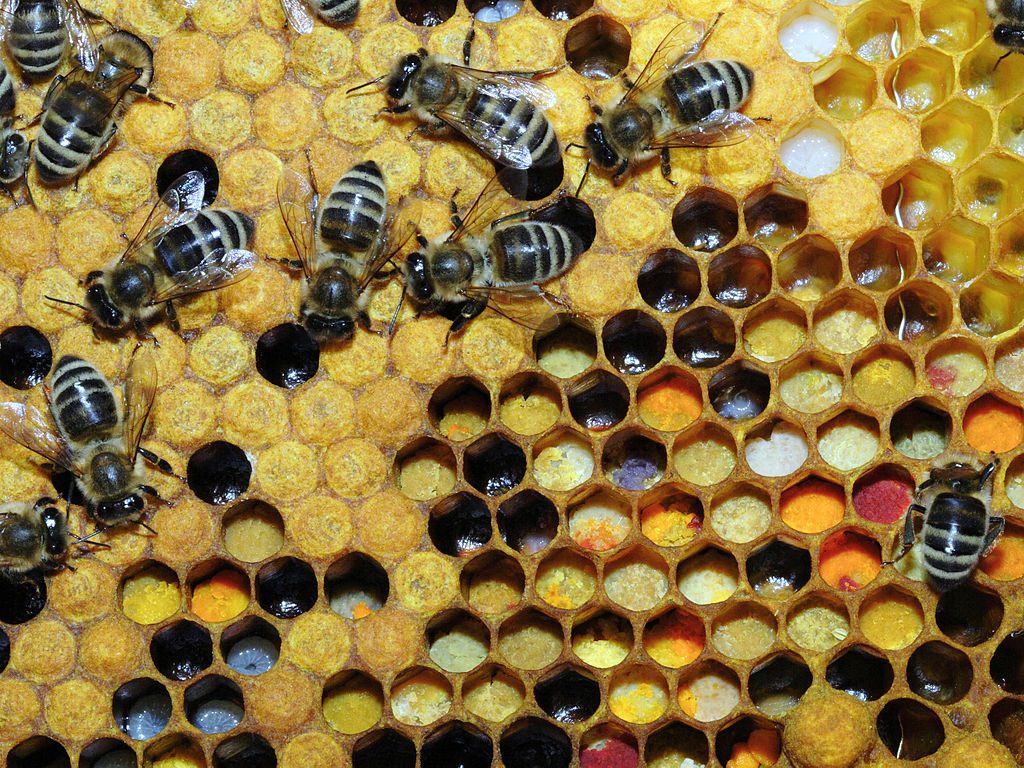 Bee pollen allergy. 
Although quite rare, bee pollen allergies can lead to grave side effects (like
anaphylaxis
) in sensitive individuals.
1
How Bee Pollen May Help With Energy
The mechanism behind the ability of bee pollen to increase energy for physical performances is currently unknown, although it may be related to its antioxidant effects.
Antioxidant activity
The antioxidant capacity of bee pollen may be the root of its potential stamina-boosting effect. Bee pollen was found to reduce free radical scavenging activity (oxidative stress) by up to 50%, probably due to its high quantity of flavonoids and phenolic acids, both of which protect cells from oxidative damage.2
In addition, bee pollen was found to markedly reduce the deterioration of cells by inhibiting lipofuscin, which would otherwise lead to the kind of fatigue-inducing wear and tear seen in the body as it ages.3
Bee Pollen Benefits & Uses for Energy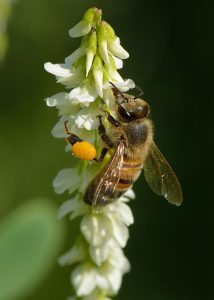 Bee pollen has been used for medicinal purposes since the existence beekeeping, and its mysterious benefits have been mentioned in as far back as ancient Egyptian and Biblical texts.
Traditional herbalists believe bee pollen has nutritional and diuretic properties, and so have offered it as a restorative tonic for stomach pain, excessive bleeding, depression, and dysuria.4
Its supposed rejuvenating effects have stirred up the popular belief that bee pollen can improve physical performance and stamina, which is probably why many athletes take bee pollen supplements to get an edge in endurance sports, such as cross country running and swimming, despite the short supply of bee pollen research available.
Bee pollen supplemental stack, NaO Li Su, may improve memory. 
Chinese medicine practitioners use a bee pollen
stack
containing radix polygoni multiflore, semen ziziphi spinosae, radix salviae multiorhizae, fructus schisandrae, and fructus ligustris lucidae, known as NaO Li Su, to combat declining memory.
5
Research
Animal Research
Animal research highlights the potential of bee pollen to benefit energy as evidenced by:
Improve physical performance in broiler chickens.6
Enhanced reproductive and growth performance in White bucks.7
Human Research
Clinical studies centering on bee pollen are currently lacking. Among existing research, bee pollen shows some promise in improving physical performance for endurance exercise such as swimming and cross country running.
Bee pollen could potentially improve swimming performance
In this placebo-controlled investigation, 20 swimmers took either a placebo or a bee pollen extract for 6 weeks (including a missed period of 27 days due to illnesses). Maximum oxygen uptake increased in both groups but no major difference was found, likely due to the short length of the study.
The study concluded that "vital capacity showed a significant increase in the treatment group… In a study of longer duration, this difference could lead to an improved performance by the pollen treatment group due to fewer interruptions to training."8
Bee pollen (144 mg) may slightly improve running performance
In this randomized, placebo-controlled, double-blind investigation, 18 male runners were given placebo, 4 protein extract capsules at 36 mg each, or 4 bee pollen extract tablets at 36.5 mg each every day for 12 weeks. After running 100 miles a week, the bee pollen group saw improved running performance but not to a significant degree.
The study concluded that "The findings failed to uncover any advantage in taking pollen or protein extracts for improvement or maintenance of K, Hct, and Hgb blood levels or improvement in performance."9
Dosage for Energy
Research studies use from 36 – 144 mg bee pollen per day
Typical supplement capsules contain 36 mg and are to be taken 2 – 4 times daily
Bee pollen plus pistil extracts contain 120 mg and are to be taken twice daily
Tea or other drinks, 1 – 2 teaspoons powder in 8 oz liquid
Bee pollen supplements likely vary in consistency. The regular traveling of worker bees constantly alters pollen composition with different molds, spores, and bacteria, which is why it is nearly impossible to produce identical bee pollen supplements.
Supplements in Review Says
Bee pollen, 36 – 144 mg for energy.

Early stages of bee pollen research shows its potential to boost endurance performance. Bee pollen research is restricted and not thoroughly convincing when it comes to its use in energy. However, bee pollen has shown some promise in improving physical performance of endurance exercise such as running or swimming.
36 – 144 mg seems to be the ideal dosage range.  Typical supplemental bee pollen capsules hold 36 mg and should be taken 2 – 4 times daily.