Asian ginseng root seems to impart anti-fatigue and cognition-boosting effects.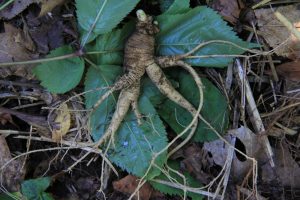 Revered as a medicinal herb for thousands of years, ginseng is now one of the most widely used dietary supplements. It is believed to have invigorating properties, with such potential energy benefits as:
Improving cognitive performance. Ginseng seems to boost alertness and other aspects of cognitive function.
Reducing fatigue. The herb seems to increase endurance and overall energy levels.
Overview
Ginseng has been hailed as a health-boosting herb in traditional medicine for thousands of years. Its name derives from the Chinese word, ren shen, or "man-root," highlighting how ginseng's forked shape resembles a man's legs.
Among the 11 different species of the fleshy ginseng plant, Panax ginseng – more commonly referred to as Asian or Korean ginseng – is considered the most relevant as a health booster. Over time, it has earned a strong reputation as a medicine for countless ailments and illnesses, although its most scientifically-backed benefits include improved memory, reduced fatigue, and reduced symptoms of menopause.
Ginseng is also popularly taken as a supplement to boost testosterone and for pre-workouts due to its high content of ginsenoides. Today, ginseng is one of the most commonly used dietary supplements in the world.1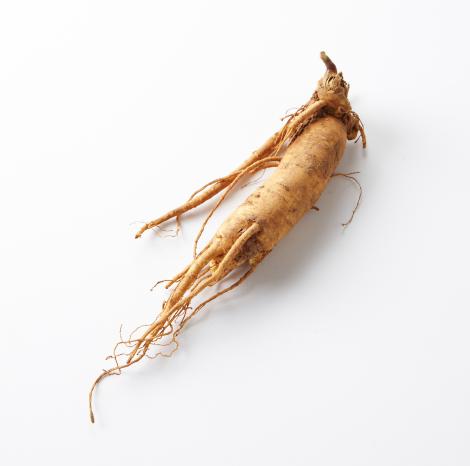 How Ginseng May Help With Energy
The mechanisms behind ginseng's energizing nature seemed to be linked to its high ginsenoside content. So far, researchers have identified multiple mechanisms, including:
Boosting brain neurochemicals
Ginseng increases energy production in the brain2 as well as brain activity, as noted by higher levels of important brain neurotransmitters after ginseng consumption, including dopamine, noradrenaline, serotonin.3
Other potential mechanisms
Other promising theories include: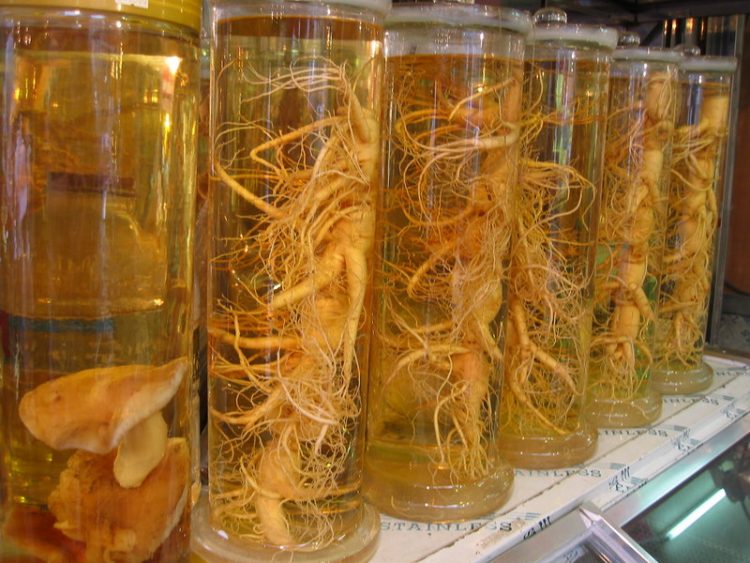 Ginseng Benefits & Uses for Energy
Ginseng has been supplemented for its natural invigorating properties for thousands of years. Root extracts seem to impart a particularly potent effect on both mental and physical energy levels.
Some of ginseng's mental benefits include :
Increasing alertness
Increasing focus
Enhancing mental performance6
Alleviating attention deficit disorder (ADHD)
Meanwhile, it's physical effects include:
Ginseng-infused energy drinks may benefit athletic performance.
Energy drinks including portions of ginseng and several vitamins may improve physical performance, increase weight loss, and boost energy.
11
Research
Animal Research
Ginseng has been reported to have several energy-boosting qualities according to animal research:
Fatigue reduction. The anti-fatigue effect of ginseng empowered rats to swim and exercise for a significantly longer period.12 13
Mental stimulation. Ginseng was discovered to extend the lifespan of productive brain cells.14
Human Research
Clinical studies have shed light on the invigorating properties of ginseng, which seems capable of reducing fatigue, enhancing mental acuity and attention span, and increasing training endurance.
Ginseng (400 mg, 4% ginsenosides) may enhance mental alertness
In this randomized, double-blind, placebo-controlled, crossover investigation, 20 adults took 400 mg of ginseng with a 4% ginsenoside content and asked to complete two serial mental arithmetic tasks and a Cognitive Drug Research (CDR) test. Based on Bond-Lader visual analogue scales, the ginseng group had significant cognitive improvements, including accuracy in attentional tasks, compared to the placebo group.
The study concluded that "improved secondary memory performance on the CDR" as well as "improvement in the speed of performing memory tasks and in the accuracy of attentional tasks."15
Ginseng (400 mg, 4% ginsenosides) may reduce mental fatigue
In this placebo-controlled, double-blind, crossover investigation, 27 adults took placebo or 200 mg or 400 mg of  ginseng with 4% ginsenoside 1 hour before doing 6 cognitive demand tests. Compared to the control, ginseng enhanced participants' performance of the mental arithmetic task and subjectively reduced mental fatigue during the cognitive demand task.
The study concluded that "Panax ginseng and glucose enhanced performance of a mental arithmetic task and ameliorated the increase in subjective feelings of mental fatigue."16
Ginseng (1 g) may reduce chronic fatigue
In this randomized, double-blind, placebo-controlled investigation, 90 patients with idiopathic chronic fatigue (ICF) were given either a placebo or 1 gram of P. ginseng daily for 4 weeks. According to a self-rating numeric scale (NRS) and a visual analogue scale (VAS), patients were found to have reduced mental and physical fatigue.
The study concluded that "results provide the first evidence of the antifatigue effects of P. ginseng in patients with ICF, and we submit that these changes in antioxidant properties contribute in part to its mechanism."17
In this meta-analysis, 12 randomized controlled trials (RCTs) involving 630 people and examining the impact of ginseng on physical and mental well-being were evaluated. The main impact of ginseng was found to be a reduction in fatigue, although this did not result in enhancing physical performance.
The study concluded that "the use of ginseng supplements had the efficacy on fatigue reduction, but not physical performance enhancement."18
Dosage for Energy
Research studies use 400 – 1000 mg of panax ginseng
Typical supplements come as 100 – 500 mg capsules standardized to 4 – 8% ginsenosides
A raw herb or organic dried root, 1 – 2 g
Chewable tablet or softgel, 50 – 100 mg
Look for the right ginseng. American ginseng is another popular species of ginseng used as a dietary supplement. However, unlike its Asian cousin, it does not seem to hold any energy-related benefits.
Supplements in Review Says
Panax ginseng root extract standardized to 4-8% gingenosides, 200 – 400 mg for energy.

Ginseng is a time-proven energizer. We recommend ginseng for boosting energy levels, especially when it comes to staying focused. The herb specifically seems to enhance alertness and stamina, while reducing fatigue with little to no side effects. It also appears to have potential as an adjunct remedy for health complications, such as chronic fatigue syndrome and attention deficit disorder.
Take 200 – 400 mg of standardized P. ginseng.  We recommend taking 200 – 400 mg of G115® ginseng (P. ginseng) pill containing 4 – 8% ginsenosides.. One of the most commonly used versions is Ginsana®.