Tropical "miracle tree" moringa oleifera may support overall health in multiple ways.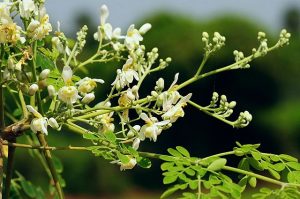 A fruit tree common in India and other tropical countries, Moringa oleifera is a plant widely used as food and medicine. It has shown an impressive range of beneficial properties:
Antioxidant activity. Moringa contains potent antioxidant compounds.
Improved cardiovascular health. Moringa has been shown to reduce elevated blood sugar, pressure, and cholesterol levels.
Anti-inflammatory activity. Moringa may reduce inflammation, which is involved in conditions such as allergies and autoimmunity.
Rich nutritional profile. Moringa is a good source of protein, vitamins, minerals, and other nutrients.
Overview
Moringa oleifera, also known as the miracle tree, is a tree species found throughout the tropics and subtropics. Its leaves, flowers, and fruit are edible and highly nutritious, serving as a vegetable in India, Pakistan, Philippines, Hawaii, and Africa. Indeed, moringa is considered a good source of amino acids, vitamins, minerals, and beta carotene, and is particularly high in calcium, magnesium, iron, and vitamins A & C. In addition, it also contains bio-active phytochemicals such as carotenoids, zeatin, quercetin, beta sitosterol, and kaempferol.
Aside from dietary uses, the leaves, roots, seed, bark, fruit, and flowers of moringa are also utilized in traditional medicinal systems to treat infections and inflammatory, cardiovascular, gastrointestinal, and other disorders. Clinical research suggests that moringa has an impressive list of medicinal properties:
Antiepileptic and antispasmodic
Anti-inflammatory
Antioxidant
Diuretic
Antihypertensive
Antidiabetic
Antibacterial and antifungal
Fever reduction
Cholesterol reduction
As a greens supplement, powdered moringa is claimed to have a wide variety of benefits, including alleviation of many different disorders, increased energy levels, better sleep, enhanced immunity, and improvement of overall health.
Traditional Indian
Ayurvedic
medicine claims that moringa can be used to alleviate over 300 health disorders.
| | | | | | |
| --- | --- | --- | --- | --- | --- |
| Nutrients | Fresh leaves | Dry leaves | Leaf powder | Seed | Pods |
| Calories (cal) | 92 | 329 | 205 | – | 26 |
| Protein (g) | 6.7 | 29.4 | 27.1 | 35.97 ± 0.19 | 2.5 |
| Fat (g) | 1.7 | 5.2 | 2.3 | 38.67 ± 0.03 | 0.1 |
| Carbohydrate (g) | 12.5 | 41.2 | 38.2 | 8.67 ± 0.12 | 3.7 |
| Fibre (g) | 0.9 | 12.5 | 19.2 | 2.87 ± 0.03 | 4.8 |
| Vitamin B1 (mg) | 0.06 | 2.02 | 2.64 | 0.05 | 0.05 |
| Vitamin B2 (mg) | 0.05 | 21.3 | 20.5 | 0.06 | 0.07 |
| Vitamin B3 (mg) | 0.8 | 7.6 | 8.2 | 0.2 | 0.2 |
| Vitamin C (mg) | 220 | 15.8 | 17.3 | 4.5 ± 0.17 | 120 |
| Vitamin E (mg) | 448 | 10.8 | 113 | 751.67 ± 4.41 | – |
| Calcium (mg) | 440 | 2185 | 2003 | 45 | 30 |
| Magnesium (mg) | 42 | 448 | 368 | 635 ± 8.66 | 24 |
| Phosphorus (mg) | 70 | 252 | 204 | 75 | 110 |
| Potassium (mg) | 259 | 1236 | 1324 | – | 259 |
| Copper (mg) | 0.07 | 0.49 | 0.57 | 5.20 ± 0.15 | 3.1 |
| Iron (mg) | 0.85 | 25.6 | 28.2 | – | 5.3 |
| Sulphur (mg) | – | – | 870 | 0.05 | 137 |
How Moringa Oleifera Might Improve Your Health
Antioxidant activity
Dozens of studies have reported on the potent antioxidant activity of moringa preparations. Because oxidative stress plays a major role in the development of a wide range of health disorders, moringa's antioxidant properties can theoretically help with many different conditions. 1
Anti-inflammatory and immunomodulatory activity
Inflammation is a defensive response controlled by the immune system, whose dysfunction is involved in inflammatory conditions such as allergies and autoimmune disorders. Moringa and its seeds in particular have shown the capacity to affect the immune system function and reduce inflammation in cell culture and animal research, primarily by inhibiting the activity of pro-inflammatory pathways and molecules such as inducible nitric oxide synthase (iNOS) and the cytokines TNF-α, IL-6 and IL-8. 2
Hypolipidemic activity
Moringa leaf has been demonstrated to reduce elevated levels of blood lipids (fats) such as cholesterol in animals and humans. High cholesterol is is linked to cardiovascular disorders. 3
Hypoglycemic activity
Moringa leaf preparations have been consistently shown to reduce elevated blood sugar levels – the central feature of diabetes – in both animal and human research. 4
Antihypertensive activity
Moringa may help reduce elevated blood pressure.
Antimicrobial activity
Moringa contains compounds that may help counter the growth of certain harmful bacteria and fungi.
Crushed moringa seeds act as a natural
coagulant
and are utilized for water purification in developing countries.
Moringa Oleifera Potential Uses & Benefits
Powdered moringa leaf is a popular green superfood supplement proposed to support overall health, similar to other organic greens products such as chlorella and spirulina. Among its many benefits, moringa is claimed to aid immunity, boost energy levels, improve cardiovascular function, reduce elevated blood pressure, cholesterol, and blood sugar, and alleviate diabetes, allergies, asthma, and other inflammatory conditions.
Although there is a large body of research evidence highlighting the biological activities of moringa that can add up to these and other benefits, human trials are lacking. As such, it is too early to recommend moringa for the treatment of any condition.
Moringa oleifera is known by many names in different countries,  including the "miracle tree", "drumstick tree", "horse radish tree", and "tree for purifying."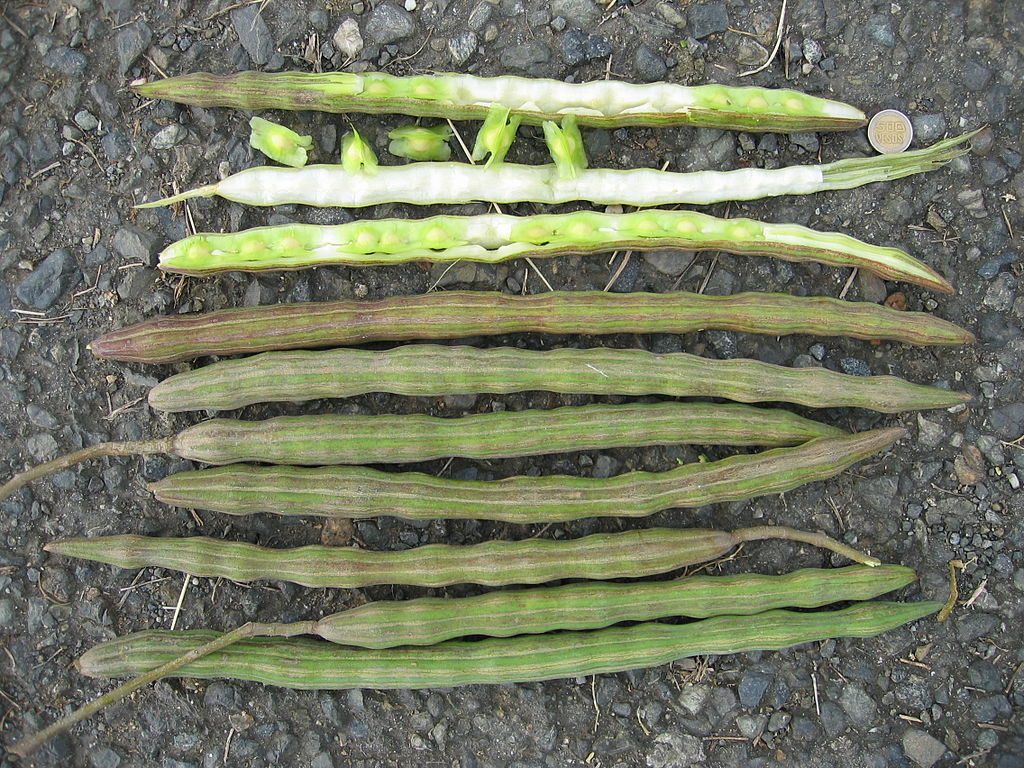 Research
Petri Dish and Animal Research
Studies done in cell cultures and animals suggest that leaf and seed preparations of moringa oleifera can have a wide variety of beneficial effects:
Antioxidant, lipid-lowering and antiatherosclerotic properties, suggesting "therapeutic potential for the prevention of cardiovascular diseases" 5
Spasm-relieving, diuretic, and anti-inflammatory effects, as demonstrated in rats 6
Potent antioxidant properties that can help alleviate oxidative stress, which is believed to play a role in certain health disorders 8 9 10
Antimicrobial properties that may potentially help protect the body against certain infections 11
Hypotensive (blood pressure-lowering) effects 12
Reduction of elevated cholesterol blood levels in mice 13
Reduction of elevated blood sugar levels in rats, suggesting  therapeutic potential for diabetes 14
Human Research
Although more human studies of moringa are needed, existing findings are promising and confirm many of the beneficial effects reported in cell culture and animal research.
Moringa leaf powder (8  g) seems to reduce blood sugar in diabetics
This study examined the use of moringa in diabetes. A total of 55 type 2 diabetics were split into 3 groups for 40 days: control (no treatment), 8 g moringa leaf powder, or 6 g Azadirachta indica seed powder daily. Those in the two treatment groups saw a reduction in fasting  and post-meal blood glucose levels, as well as blood lipid levels.
The researchers concluded that "Among the two herbs selected Moringa oleifera leaves powder was found to be more effective…" 15
Moringa leaf powder (7 g) appears to have potent antioxidant properties and reduce blood sugar
This randomized trial tested the antioxidant potential of moringa. A total of 90 postmenopausal women were divided into 3 groups: no treatment, moringa leaf powder (7g), or amaranth leaf powder (9 g). Supplementation with both plants significantly increased markers of antioxidant capacity such as levels of glutathione peroxidase, and also decreased markers of oxidative stress such as malondialdehyde. In addition, the researchers also noted a 13.5 % reduction in fasting blood sugar levels and increased levels of hemoglobin (17.5%).
The researchers concluded that "these plants possess antioxidant property and have therapeutic potential for the prevention of complications during postmenopause."16
Moringa seed powder (3 g) may alleviate asthma
This study examined the use of moringa seeds for asthma. A total of 26 people with asthma took 3 g of powdered moringa seed kernels daily for 3 weeks, and had their symptoms and respiratory function examined before and after the supplementation. The participants saw improvements in symptoms and severity of asthma attacks, as well as various tests of respiratory function.
The researchers concluded that "The results of the present study suggest the usefulness of M. oleifera seed kernel in patients of bronchial asthma."17
Moringa leaf tablets (4.6 g) may improve blood lipid levels
In this study, 20 people people elevated blood lipid levels were given dehydrated moringa leaf powder tablets (4.6 g) daily for 50 days. Supplementation improved the blood lipid profile, causing reductions in non-HDL cholesterol.
The researchers concluded that "the data indicates the positive beneficial impact of drumstick leaves  supplementation on the Non- HDL-C values."18
Moringa Oleifera Greens Dosage
Clinical research studies suggest 4.6 – 8 g daily doses of moringa leaf powder and 3 g of seed powder
Moringa supplements typically come in the form of leaf powder to be taken in 2 – 3 g doses and mixed with drinks or food
Available Forms
Moringa leaf powder. The most commonly used version of moringa, typically mixed with water, into a smoothie, or steeped into tea.
Moringa seed powder. Early research suggests that the seeds may be the best part of the plant for anti-inflammatory effects.
Some products mix together different powdered parts of moringa, including flowers, leaves, seeds, stems, and bark.
Supplements in Review Says
Moringa oleifera leaf powder 2-4 g.

Moringa supplements may help support overall health. Moringa may just live up to its superfood tag as it is full of nutrients and bio-active compounds that can benefit your health. Furthermore, the benefits of moringa are supported by a growing volume of research.
Powdered moringa leaf is the most popular form. As with most greens supplements, the most effective way to take moringa is as a powder mixed with food or drinks.