Artichoke liver health benefits may include protection from toxicity and excess fat accumulation.
Artichoke is a flowering vegetable that has a long history of use as a nutritious food. Its potential benefits to liver health include:
Protecting liver cells. Research has suggested artichoke protects the liver against toxins and oxidative stress.
Facilitating liver function. The plant carries bioactive compounds that can help the liver manage cholesterol and bile.
Overview
A fibrous green thistle, artichoke (Cynara scolymus) is most widely recognized as an edible plant whose flower buds are eaten before they come into bloom. Records of people growing and cooking it as food go as far back as the time of the ancient Greeks and Romans.
Artichokes are ripe with nutritious ingredients: Its flower heads boast a rich content of antioxidants, and its leaves contain compounds known as cynarin and cynaropicrin that are believed to stimulate the production of bile in the liver and eventually transport bile to the gall bladder and out of the body.1 The fundamental role of these chemicals in liver function have spurred the belief that artichoke can further improve liver health.
Artichoke proponents historically have offered leaf extracts of the plant in cases of digestion problems and irritable bowels.2 More recently, a plethora of other potential uses related to liver health have emerged including lowering cholesterol levels and protecting liver cells.
Did you know? In addition to its use in liver supplements, research points to the potential use of artichoke as a nootropic — particularly for memory formation.
How Artichoke Might Help With Liver Health
Hepatoprotection
Artichoke root and leaf extracts have shown potential to protect the liver against damage, and may even promote the regeneration of liver cells.3
The primary means of hepatoprotection is likely antioxidant activity. Artichoke extracts — including tert-butylhydroperoxide (t-BHP) and cumene hydroperoxide — have demonstrated substantial antioxidative and protective capacity against compounds causing oxidative stress.4  They specifically prevent the formation of malondialdehyde (MDA) and sustain the natural antioxidant glutathione.5
Artichoke Liver Health Benefits and Uses
The liver manages various essential bodily processes that artichoke may bolster: producing and clearing both bile and cholesterol. Artichoke may benefit these liver function by: 6
Lowering cholesterol levels
Enhancing bile secretion
Minimizing steatosis, which is the accumulation of excess fat in the liver
The vegetable may also be capable of protecting liver cells from oxidative stress and toxins such as lead and alcohol through its amazing store of antioxidants.7 8 These promising effects have encouraged supplement users to take artichoke to lower cholesterol levels, cleanse or detox the body, and support liver health.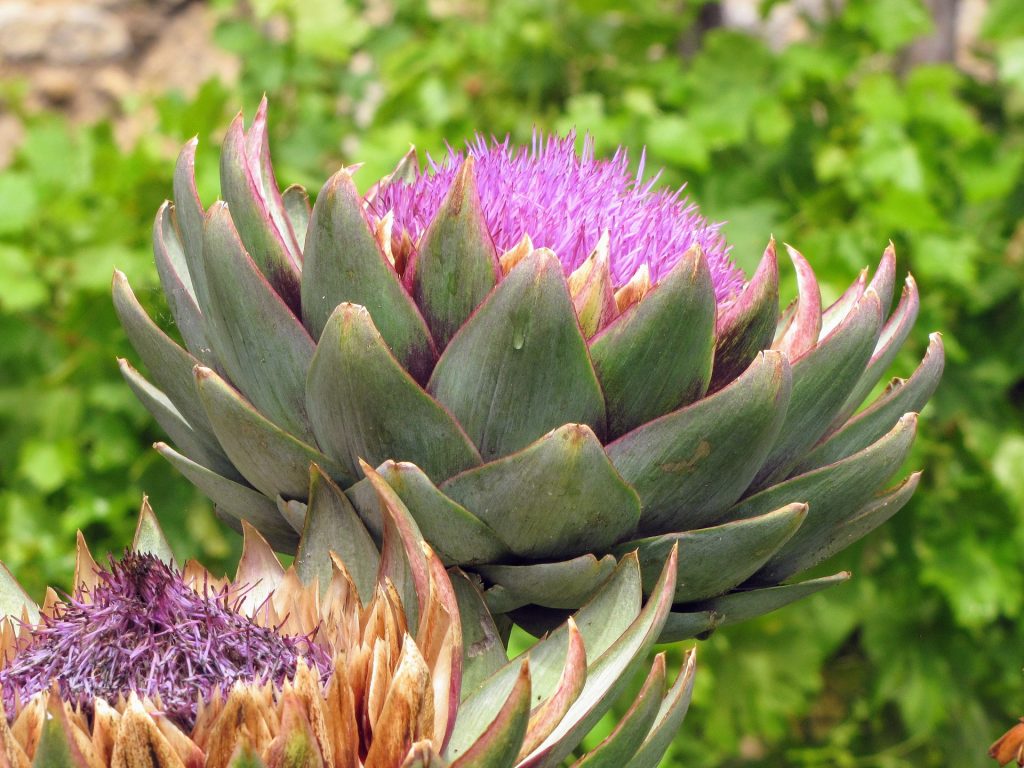 Research
Animal Research on Artichoke Liver Health Bioactivities
Numerous animal studies have shown that artichoke leaf extract may promote a wide range of benefits for the well-being of the liver, some of which include:
Human Research
Clinical studies suggest artichoke liver health benefits may result from a number of different biological activities:
Artichoke (1800 mg) may support liver enzymes
In this randomized, double-blind investigation, placebo-controlled investigation, 143 patients with hyperlipoproteinemia, which is an inability to break down certain fats, took 1800 mg of either a placebo or an artichoke dry extract (CY450) every day for 6 weeks. The extract group had significantly greater reductions in cholesterol levels (of nearly 10%) than the placebo group — suggesting that the extract helps the liver's enzymes break down fats.
The researchers concluded that "artichoke dry extract CY450 (can be used) for treating hyperlipoproteinemia and, thus, prevention of atherosclerosis and coronary heart disease."16
Artichoke (1280 mg) may reduce cholesterol levels
In this randomized, placebo-controlled investigation, 75 adults with mildly elevated cholesterol levels took either 1280 mg of an artichoke lead extract (ALE) or a placebo every day for 12 weeks. The ALE group had their total cholesterol decreased by an average of 4.2% compared to the placebo group. The difference was statistically significant.
The researchers concluded that "ALE consumption resulted in a modest but favourable statistically significant difference in total cholesterol after 12 weeks."17
Artichoke (2700 mg) may protect liver cells and diminish liver fat 
In this randomized, double-blind investigation investigating possible artichoke liver health benefits, 60 patients with nonalcoholic steatohepatitis (NASH) — characterized by oxidative stress, inflammation, and steatosis in the liver — took 2700 mg of either an artichoke extract or a placebo every day for 2 months. The researchers found that the artichoke group had significant improvements in the quality of liver enzymes and reductions in the amount of fat and cholesterol in the liver compared to the placebo group.
The researchers concluded that "this study sheds light on the potential hepatoprotective activity and hypolipidemic effect of Cynara scolymus in management of NASH."18
Artichoke Liver Health Dosage
Successful clinical research studies use from 1280 – 2700 mg
Typical supplements range from 400 – 1200 mg
Available Forms
Leaf and root extract
Capsule or tablet
Liquid drops
Powder
Juice
Tea
Artichoke tea is produced commercially in Vietnam, Romania, and Mexico, and has a slightly bitter and woody taste.
Supplements in Review Recommendation
Artichoke 450 mg – 1000 mg for liver health.  
Artichoke is beneficial to liver health. Research has demonstrated its capacity to assist basic liver processes and additionally keep the organ safe against toxins and oxidative stress. The true extent of artichoke's impact on liver health needs to be elucidated in continuing studies.
Take up to 1000 mg of extract per day. Start with no more than 1000 mg of artichoke leaf extracts in whichever approved form best suits individual taste and comfort.