Acetyl-L-Carnitine may help with the depression and memory loss that sometimes affects geriatric populations.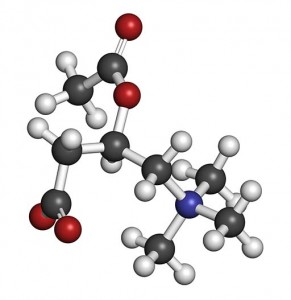 Acetyl-L-Carnitine (also called ALC, LAC or ALCAR) is an amino acid that supports health across many body systems. Within the brain specifically, ALCAR has been suggested to promote:
Neurotransmitters. ALCAR is a necessary ingredient for acetylcholine formation, and also promotes nerve transmission of other brain chemicals.
Brain energy metabolism. ALCAR "fuels up" mitochondria, supports their membranes, and flushes away their waste–helping to support peak cell energy.
Overall brain optimization. Lesser evidence suggests it supplies neuro-protective antioxidant activity, promotes nerve growth factor and boosts brain circulation.
Overview
L-Carnitine is an amino acid that's synthesized within the body and is also present in the diet, particularly in meats and high-protein foods. Sometimes the body uses L-Carnitine faster than it can be synthesized, at which point it is considered a "conditionally essential" nutrient.
L-Carnitine is used throughout the body for a variety of health-supportive purposes. One form of L-Carnitine–Acetyl-L-Carnitine–has drawn particular interest in neuroscience for its potential effects on brain chemistry, brain cell health, and overall nervous system function.
L-Carnitine vs. Acetyl-L-Carnitine: What's the Difference?
L-Carnitine and Acetyl-L-Carnitine are sometimes discussed under the generic term of "Carnitine," but they are
structurally
different, and each has its own advantages:
L-Carnitine: Energizes cells, but cannot cross the blood-brain barrier. Supplemental L-Carnitine is hard to absorb; only 18% of it reaches the bloodstream. Since it is a more affordable form, L-Carnitine is favored by athletes and dieters who want Carnitine's fat-metabolizing and energizing benefits, but who are not seeking any brain benefits.
Acetyl-L-Carnitine: More expensive, but easier to absorb: Taking 2 grams daily for 50 days was found to boost blood ALCAR levels by 43%.1 ALCAR does everything that L-Carnitine does, but can also cross the blood-brain barrier to nourish the brain. A comparative study found that ALCAR protects brain cells from oxidative stress, while L-Carnitine does not.2
How does Acetyl-L-Carnitine work in the brain?
Acetyl-L-Carnitine has a few different bio-activities that appear to be helpful for brain health and function, but two in particular seem to stand out the most:
1. ALCAR supports acetylcholine, a neurotransmitter tied to sharp memory and healthy mental function.
Acetyl-L-Carnitine has a chemical structure that's similar to acetylcholine, enabling it to serve as a precursor in the production of acetylcholine. Specifically, ALCAR "donates" groups of molecules that are used as raw materials for making fresh new acetylcholine.3
Did you know? Alzheimer's-afflicted brains show a 25% to 40% reduction in carnitine acetyltransferase, a brain enzyme that works with L-carnitine & acetyl-L-carnitine. This brain enzyme decline led researchers to link low ALCAR, low acetylcholine and Alzheimer's onset; they went on to suggest ALCAR as a viable therapy for brain degeneration.4
2. ALCAR promotes brain energy with unique support for brain cells' mitochondria.
ALCAR acts as a "shuttle" that transports fatty acids through cell membranes, including cells' power-plant mitochondria:5
As ALCAR shuttles fatty acids into mitochondria, it provides fuel that is "burned" for energy.
As ALCAR shuttles fatty acids out of mitochondria, it flushes away toxic metabolic byproducts.
ALCAR maintains mitochondria in practically every cell in your body, but seems especially important in the brain, which consumes 20% of the body's energy and generates a lot of toxic byproducts as a result.
Here's the problem:
Research suggests that as animals grow older, their brain chemistry and energy metabolism changes. In particular, as animals age:6
↓ Acetyl-L-Carnitine levels start to naturally decline
↓ Acetylcholine levels start to naturally decline
↓ Mitochondria start to misfire and lose efficiency
All of these age-related changes are considered contributing factors to brain degeneration, including Alzheimer's and dementia.
ALCAR might help.
Animal studies suggest Acetyl-L-Carnitine seems to match up well against these cognitive decline risk factors, helping to:7
Replenish ALCAR & acetylcholine levels in brain & body
Reverse age-related changes to mitochondrial structure
Restore efficient mitochondrial energy production
ALCAR's apparent ability to boost acetylcholine and rejuvenate aging brain cells (and mitochondria) has led researchers to suggest that it is beneficial for geriatric people with age-related brain concerns, especially major depressive disorders and Alzheimer's.8
Let's take a look at some of the research studies that delve into ALCAR for the brain, and see if they help to validate these assertions.
How does Acetyl-L-Carnitine feel?
You may not feel ALCAR… unless you're elderly or an alcoholic. Within those specific groups, Acetyl-L-Carnitine seems to help with memory, mood and mental performance. In theory, ALCAR's brain chemical support and ability to "charge up" brain cells' mitochondria may help sharpen cognition in other populations too. ALCAR marketers suggest it may support energized, quick thinking–but these potential nootropic benefits are not yet backed by human studies.
Research
Animal Research

In rats given 30 or 60 mg ALCAR, the 60 mg group showed the best neurotransmitter status, leading researchers to suggest ALCAR "may have positive effects" for depression and dementia.9
Researchers have reported that when compared to young rats, Acetyl-L-Carnitine "significantly reverses the age-associated decline of mitochondrial membrane potential" in old rats… but also cautioned that ALCAR increased oxidative stress.10
Human Research

Meta-Analysis: ALCAR helps with Mild Cognitive Impairment (MCI)
This meta-analysis combined the results of 21 randomized controlled trials on Acetyl-L-Carnitine in 1,204 total patients (591 who had taken ALCAR, 613 who had taken placebo). After analyzing all results, researchers found that ALCAR appeared to have a significant effect on attention, mental performance, memory and higher intellectual functions.
Researchers concluded that ALCAR "improved mild cognitive impairment," seemed to ward off further brain deterioration, and should be considered as a therapy for brain degeneration. However, researchers admitted their meta-analysis results may be weakened by bias.11
Acetyl-L-Carnitine may help to slow the rate of cognitive decline
In a well-designed study, 130 Alzheimer's patients were given ALCAR or placebo daily for a year and were tested across 14 different measures of cognitive performance. At the study's end, both the ALCAR group and placebo group worsened in their mental performance testing–but the ALCAR group's mental decline was slower than the placebo group's in 13 of the 14 brain function measures.
Researchers concluded the ALCAR group "showed better scores on all outcome measures," noting significant differences in intelligence, verbal, long-term memory and selective attention performance.12
Acetyl-L-Carnitine 3 g may help younger Alzheimer's patients
One placebo-controlled study investigated how ALCAR might benefit Alzheimer's patients. 431 participants were given either 3 g ALCAR daily for a year or a placebo daily for a year and were measured with two cognitive performance scales. Study results showed younger patients with early-onset Alzheimer's (under age 65) saw more benefits from ALCAR than those over age 65.
Researchers concluded that "a subgroup of [Alzheimer's] patients aged 65 or younger may benefit from treatment with [ALCAR] whereas older individuals might do more poorly."13
A follow up study reanalyzed the results and came to similar conclusions, suggesting that ALCAR "slows the progression of Alzheimer's disease in younger subjects."14
In another follow-up study that compared ALCAR's effect on those with early-onset (age 45-65) and regular Alzheimer's, researchers reached a different conclusion, reporting that "there were no significant differences between the treatment groups."15
ALCAR 1,500 mg seems to help with depression in the elderly
In this study, 28 elderly patients aged 70-80 who had been diagnosed with depression were given either 1,500 mg Acetyl-L-Carnitine or placebo daily, and were then evaluated with three cognitive tests and by clinical observation.
At the study's end, researchers reported that, based on results of two of the cognitive tests, ALCAR appears to be "effective in counteracting symptoms of depression in the elderly."16
Acetyl-L-Carnitine 2 g may help short-term memory in dementia patients
In this small (but well-designed) placebo-controlled study, researchers investigated if a 24-week course of 2 g Acetyl-L-Carnitine daily might help 20 patients with Alzheimer's-type dementia. After administering cognitive tests, researchers reported ALCAR failed to affect several measures of brainpower–but did trend towards improvement in name-learning, digital recall and reaction time.
Researchers concluded Acetyl-L-Carnitine "may have a beneficial effect on some clinical features of Alzheimer's-type dementia," and noted it seemed most effective for short-term memory performance.17
ALCAR for Alcoholism?
Alcohol abuse is associated with brain fog. In one study, 55 alcoholics with cognitive impairments, all of whom had abstained from alcohol for one month, were given either 2 g Acetyl-L-Carnitine or placebo daily for a span of 90 days. At the study's end, subjects who took ALCAR showed test score improvements in long-term memory, logical memory, identifying similarities, and in copying simple drawings. Researchers concluded that acetyl-L-carnitine may be "a useful and safe therapeutic agent" for helping people with alcoholism-induced cognitive problems.18
Dosage Notes
Acetyl-L-Carnitine daily dosage suggested for brain degeneration is between 1-4 g.
For blue moods and malaise, ALCAR is suggested in the dosage range of 1-3 g daily.
For memory concerns related to aging, 1-2 g ALCAR daily is recommended.
Side Effects
Acetyl-L-Carnitine is naturally found in the body; it is considered well-tolerated and safe. Rarely reported side effects include dizziness, upset stomach, an increase in appetite, restlessness and rashes.
Available Forms
L-Carnitine: The standard form of carnitine found in many common protein-rich foods.
Acetyl-L-Carnitine: L-Carnitine with an extra acetyl molecule group. This is the enhanced-absorption form that is capable of reaching and nourishing the brain.
Propionyl-L-Carnitine: L-Carnitine combined with propionic acid. This form is noted for its antioxidant activity, and is mostly used for heart health applications.
Lipo-Carn®: An interesting branded ingredient that supplies L-Carnitine and Alpha Lipoic Acid. This seems like a good idea; these two nutrients have been shown to work better when they are combined together.19
GlycoCarn®: A branded carnitine form targeting athletes, GlycoCarn® is Glycine Propionyl-L-Carnitine Hydrochloride (GPLC) produced with patented technology.
Supplements in Review Recommendation
Acetyl-L-Carnitine, 1,500 mg
We cannot recommend Acetyl-L-Carnitine as a nootropic supplement. The bottom-line reason is that most people are capable of synthesizing all the ALCAR they need–so supplementation probably just isn't necessary.20 ALCAR supplementation does seem to help a subgroup of people with depressive disorders and brain degeneration (including Alzheimer's). In the latter group, it seems more likely to work in the elderly and in and those with early-onset brain degeneration (under the age of 65).
We suggest 1,500 mg of Acetyl-L-Carnitine–mid-range dose, absorbable form–just in case you want to try ALCAR as a nootropic anyway. We wouldn't blame you. ALCAR's brain energy and acetylcholine benefits (along with its other potential benefits) seem like they would boost mental performance. And maybe for you, they will. But for now, all human research seems to say ALCAR is only therapeutic for people who are already in cognitive decline.
References