Bacopa is an Ayurvedic "adaptogen" herb that may enhance and accelerate learning and mental performance under stress.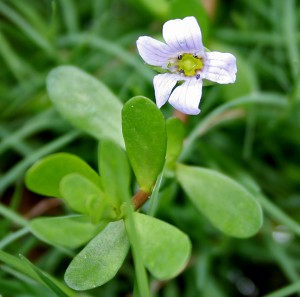 Bacopa has been used for centuries in Ayurvedic health practices as a Brahmi herb to enhance cognitive function. Modern research backs traditional uses, suggesting Bacopa has many brain-boosting activities:
Protects brain cells. Bacopa is an antioxidant that rejuvenates the activity of other potent brain enzyme antioxidants, superoxide dismutase (SOD) and glutathione peroxidase (GPx).1
Fights brain plaque deposits. Early animal research seems to suggest it may help to fight the amyloid plaque deposits that are tied to Alzheimer's.
Anti-inflammatory. Bacopa exhibits soothing effects that appear to counter the inflammation that contributes to brain degeneration and cognitive decline.
Anti-cholinesterase. It neutralizes the enzyme that attacks and degrades acetylcholine, an important brain chemical for memory and mental performance.
Brain circulation booster. Researchers have suggested that Bacopa's cerebral circulation benefits may partly account for its nootropic effects.
Overview