Huperzine-A is an alkaloid that is rapidly absorbed into the brain, where it may fight mental degeneration.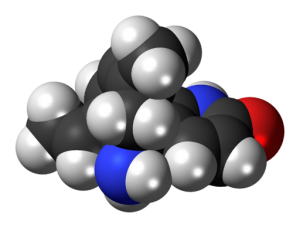 Lab-synthesized from the Chinese Club Moss plant (Huperzia serrata), Huperzine-A (sometimes simply called Hup-A) is believed to function as a nootropic by:
Boosting acetylcholine. It neutralizes an enzyme that destroys this key cognition neurotransmitter.
Enhancing brain energy. Hup-A may support brain-cells energy-generating mitochondria.
Promoting nerve growth factor (NGF). This may enhance many aspects of brain health and function.
Protecting brain cells. Hup-A is an antioxidant that boosts activity of other brain antioxidants.
Overview
Hup-A is a relative newcomer to nootropic nutritional supplements; it was first discovered in the 1980s. Its source, however—Chinese Club Moss or Huperzia serrata—has been around for much longer, used for centuries as a wellness herb in traditional Chinese health practices.
China is also the home of scientific studies on this compound, where research has largely centered on its potential to help with degenerative brain issues like Alzheimer's and dementia.
Is Huperzine-A a Supplement or a Drug?
Like
vinpocetine
, Huperzine-A sits between a natural supplement and a pharmaceutical drug. It originates in Chinese Club Moss, which is "natural," but it can only be produced via laboratory manipulation that yields a single, highly purified compound. This makeup is drug-like, as opposed to herbal supplements that are less processed and supply multiple compounds. Confusing matters further, formulas in Europe combine Hup-A with synthetic drugs for degenerative brain issues; and in China, Hup-A is prescribed as an Alzheimer's "drug."
How does Huperzine-A work?
Huperzine-A has 5 different bio-activities that address degenerative, age-related brain problems. Its most celebrated bio-activity: It seems to boost acetylcholine efficiently and effectively.
Acetylcholine is a brain chemical associated with memory, sharp mental performance and lasting brain health, which may be critical for cognition in the context of degenerative brain concerns like Alzheimer's and dementia. Hup-A is believed to raise and and sustain brain acetylcholine by blocking acetylcholinesterase (AchE), an enzyme that degrades the neurotransmitter. Hup-A's well-established "cholinegeric" activities may help to protect and preserve brain cells.
Our take: Hup-A's acetylcholine benefits may boost short-term mental performance while setting the stage for long-term brain health.
This main acetylcholine benefit is complemented by 4 more brainy bio-activities, as Hup-A helps to:
All these benefits seem to hold special promise for helping with brain degeneration. For this reason, Hup-A has been studied in Alzheimer's patients; this may be its most common use in brain health.
Huperzine-A may fight brain degeneration by "significantly slowing down the course of neuronal death,"5 and may enhance memory in older adults who have forgetfulness, Alzheimer's and vascular dementia.6
Strong words for Hup-A's brain health potential
Researchers' statements from studies and reviews really seem to hammer home Hup-A's potential brain support. Check out the following quotes:
Huperzine-A "crosses the blood brain barrier smoothly" and has shown "high specificity of AchE (the enzyme that destroys acetylcholine) with a prolonged biological half-life."7
Hup-A has been called "a powerful inhibitor of acetylcholinesterase (AChE)" that improves both "cognitive functions and the quality of life" in Alzheimer's patients.8
Some researchers have called Hup-A a potent "inhibitor of AchE with a rapid absorption and penetration into the brain," with multiple bio-activities that may "further enhance its value and potentiality as the therapeutic agent for Alzheimer's." (Bai, et al.)
Let's look into some of the actual Hup-A brain studies that have compelled some researchers to make such powerful positive statements about this fascinating compound.
How does Huperzine-A feel?
Hup-A is probably most noticeable in the area of memory. It may also improve mood and mental sharpness, especially in the context of age-related cognitive decline. Huperzine-A's rapid uptake into brain tissues suggests more fast-acting benefits for cognitive performance, while its brain-chemical and brain-energy benefits suggest potential for alertness, focus and mental agility. Early evidence indicates Hup-A may have memory and learning benefits for younger populations, too.
Research
Animal & "Petri Dish" Studies
One study found that Hup-A countered the effects of Alzheimer's-related beta-amyloid proteins in the brain while sustaining acetylcholine levels. Researchers concluded that Huperzine-A may "alleviate the cognitive dysfunction" associated with beta-amyloid formation.9
Petri-dish animal research shows that Hup-A appears to boost brain cell growth and proliferation. This has led researchers to report that "HupA has a direct or indirect neurotrophic activity, which might be beneficial in treatment of neurodegenerative disorders." Neurotrophic activities help with brain cell growth, proliferation and survival.10
Rat brain cells exposed to beta amyloids showed a rapid decline in mitochondrial energy and function, and an increase in destructive free radicals. However, researchers discovered pre-incubating cells with Hup-A for two hours boosted energy and reduced free radicals instead. They concluded Hup-A "protects mitochondria against Abeta (beta-amyloid) damages."11
Human Studies
Huperzine-A 400 mcg might help cognition & quality of life in Alzheimer's
202 patients diagnosed with possible or probable Alzheimer's were given either 400 mcg Huperzine-A or placebo daily for a span of 12 weeks. Throughout the study, subjects were tested with a variety of cognitive function measures. At the study's end, researchers noted the Hup-A group showed improvements in cognition, behavior and mood when compared to baseline and placebo.
Researchers concluded that Huperzine-A "remarkably improves the cognition, behavior, ADL [activities of daily living] and mood of Alzheimer's patients."12
Review: Hup-A may enhance brainpower in Alzheimer's and vascular dementia
Eight clinical trials on Alzheimer's (AD, 733 participants) and two clinical trials on vascular dementia (VD, 92 participants) were combined to see if Hup-A might help. Researchers found that Hup-A improved cognitive performance (especially memory) and activities of daily living in both AD and VD patients, with longer duration of supplementation bringing better results in the AD group.
Researchers concluded Hup-A is a well-tolerated therapy "that could significantly improve cognitive performance in patients with AD or VD," with the caveat that it should still be used cautiously.13
58% of Alzheimer's patients showed improvement with Hup-A 200 mcg
In this study, 50 Alzheimer's patients were given 200 mcg of Hup-A and 53 were given a placebo every day for a span of 8 weeks. Throughout, study subjects were evaluated with several cognitive tests that measured dementia, mental wellness, mood, daily activity performance and more.
At the study's end, researchers reported that about 58% of the patients taking Hup-A showed improvements in memory, cognition, and behavior. Researchers concluded that Huperzine-A appears to be a promising therapy for helping with Alzheimer's symptoms.14
200 mcg Huperzine-A linked to higher memory test scores in adolescents
In a small, double-blind controlled study, 34 pairs of middle-school and junior-high students who had complained of memory problems were given either 100 mcg Hup-A or placebo daily for a period of 4 weeks. After analyzing the results, students who had taken the Hup-A were found to score higher on Memory Quotient testing than the placebo group.
Researchers concluded that the Huperzine-A capsules "enhance the memory and learning performance of adolescent students."15
Is Huperzine-A research biased?
All the above research studies look great, but have you noticed a trend? Hup-A is made from Chinese Club Moss, which is produced in China…and all of the best human studies on Hup-A just happen to have been conducted in China, too.
You get our drift. We're not saying this invalidates the research, but Huperzine-A's evidence would certainly be strengthened by well-designed studies conducted in other parts of the world where Chinese Club Moss is not grown, processed and formulated into nootropic supplements.
Dosage Notes
200 mcg Huperzine-A daily seems to be a common dosage used in positive clinical research.
Retail supplements commonly supply Hup-A in dosages of 50 mcg, 100 mcg and 200 mcg.
Side Effects
Hup-A is super well-tolerated. One researcher even declared that Huperzine-A is "devoid of unexpected toxicity."16 Sounds pretty safe to us!
Available Forms
Huperzine-A: Just the compound, lab-extracted from Chinese Club Moss.
Standardized Huperzine-A: Marketed as supplying an exact level of Hup-A in each capsule. In our opinion, "plain" Hup-A is likely standardized anyway, since it is extracted from the herb in a lab.
Huperzia serrata: Raw Chinese Club Moss… but it's not the same as Hup-A, and should be avoided. See our "Dirty Tricks" note below.
Supplements in Review Recommendation
Huperzine-A is a must-have brain nutrient. Researchers mostly rave about its ability to help with age-related cognitive decline. We are also intrigued by research suggesting Hup-A helps learning and memory in younger people. This early evidence, along with its rapid uptake into the brain, suggests to us that Hup-A might have dynamic & fast-acting nootropic benefits in addition to its well-known role in fighting brain degeneration later in life.
200 mcg is the dosage you want. This level has been widely studied and is a good starting point for evaluating mental performance benefits. Since it's effective in this tiny dosage, Hup-A is well suited for nootropic complexes. "Plain" Hup-A is your best bet; we feel that Hup-A marketed and labeled as "standardized" confers no advantage over the "plain," even though it may cost more.
Inside Scoop: A Huperzine-A "Dirty Trick!"
Huperzine-A is produced in a lab from Huperzia serrata, also known as Chinese Club Moss. But even though they look similar on a supplement label, "Huperzine-A" and "Huperzia serrata" are not the same. Hup-A is the active compound you want; Huperzia serrata is the herb where it originates.
Here's the dirty trick: Some nootropic supplements will use Huperzia serrata in their formulations because it is cheaper than Huperzine-A. Looking at the label, you might assume Huperzia serrata is just as good as Hup-A. But raw Huperzia serrata herb doesn't tell you how much Hup-A it supplies… which is probably far too little to benefit cognition, anyway.
If you want to try Huperzine-A, make sure your nootropic supplement of choice lists "Huperzine-A" on its label. If you see a supplement using non-standardized Huperzia serrata instead, head for the hills and never buy that brand again–they are using dirty tricks to give you less and charge you more.
References