L-Tyrosine may enhance mental performance by boosting neurotransmitters & fighting stress.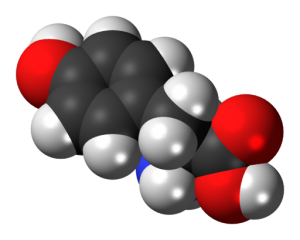 L-Tyrosine (a.k.a. Tyrosine; it's the same thing) is an amino acid made from phenylalanine and used in the synthesis of proteins. As a nootropic, it is valued for countering stress with healthy brain chemistry for alertness and peak mental performance. Within the brain, L-Tyrosine supports:
Neurotransmitter production. The body uses tyrosine to produce norepinephrine, dopamine, and epinephrine.
Healthy stress responses. Tyrosine suppresses production of stress hormones and restores brain chemicals that are depleted by stress.
Overall mental performance. Tyrosine supports cognition, mood and memory, especially during sleep deprivation and exposure to environmental stressors.
Overview
Tyrosine is a large amino acid we get from certain animal and plant proteins in our diet. Turkey, sesame seeds, and soy are all sources of tyrosine. In recent years, tyrosine has emerged as one of the most important nootropic compounds for overall brain function, due to its unique ability to counter one of the worst enemies of brainpower:
L-Tyrosine is a Nootropic for Stress
Multiple human studies have shown that tyrosine improves memory and mental performance under a variety of stressful conditions.1
Stress is notorious for depleting the catecholamine brain chemicals that are critical for sharp mental performance. This is because stress spurs the catecholamine system into overdrive, causing it to "burn through" its catecholamines — especially norepinephrine and dopamine — faster. Stress also depletes the body's natural tyrosine stores.
These factors may form a vicious cycle, since stressful situations demand sharp cognition, but also deplete the brain chemicals that enable peak mental performance.
If you don't have enough catecholamine neurotransmitters, cognitive consequences may include "brain fog", mental fatigue, stress and memory problems.
Researchers suggested that supplemental tyrosine might help because it "can exert acute effects on catecholamine systems within and outside the brain."2
L-Tyrosine Brain Bio-Activities
Within the brain, tyrosine has been suggested to:
Boost norepinephrine. Tyrosine boosts norepinephrine synthesis in areas of the brain where it is in high demand, and signals for its release during stress.
Increase dopamine. Dopamine has been tied to sharper attention and improved alertness, and is a target chemical of ADD/ADHD drugs.
Support epinephrine. Epinephrine is considered to be the third major catecholamine neurotransmitter; tyrosine is its nutritional precursor.
Block stress hormones. Corticosterone and other stress hormones increase the physical consequences of stress.
Our take: With its catecholamine support and other beneficial brain activities, Tyrosine may be uniquely qualified to break the "stress → poor mental performance → more stress" cycle.
The following image illustrates just how important tyrosine is for brain chemistry: It serves as a "Master Precursor" that cascades down the chain to spark production of all the brain's major catecholamine neurotransmitters:

Possible Mental Performance Benefits
Testing has shown tyrosine seems to activate and enhance cognitive performance, including within the brain's "attention circuitry."3 Researchers have also suggested that supplementing with the catecholamine precursor tyrosine "may increase responsiveness to stress,"4 a benefit supported by research demonstrating that tyrosine helps cognition & memory under taxing conditions including:
Sleep deprivation
Mental fatigue
Cold exposure
Multitasking
Loud noise exposure
Beyond nootropic mental performance benefits, tyrosine's catecholamine support may also hold promise for ADD/ADHD, both of which have been linked to low brain catecholamine levels. In fact, drugs for these conditions work in similar pathways as tyrosine, sharpening attention by producing large spikes in brain catecholamine levels.
Did you know? Tyrosine may be a fast-acting brain booster. Early human research has suggested tyrosine significantly boosts norepinephrine, epinephrine and dopamine within 45 minutes, with the elevation lasting a relatively short 30 minutes. (Rasmussen, et al.)
L-Tyrosine's bio-activities position it as a leading nootropic for boosting brain chemicals and countering the brain-dulling effects of stress. Let's see how some of the tyrosine research supports these roles.
Research
Animal Research
There's a good deal of positive animal research on tyrosine, including many studies that opened the door for human research. The findings on some of the animal studies suggest that tyrosine may:
Maintain normal behavior (in rats) during exposure to stress
Maintain norepinephrine levels in chronically stressed brains5
Block some of the stress hormones that deplete norepinephrine levels6
Human Research
Tyrosine helps maintain memory during cold exposure (environmental stress)
In one double-blind, placebo-controlled study, 19 volunteers underwent testing on three different days, first eating a snack bar infused with 150 mg of L-Tyrosine per kilogram body weight or a placebo snack bar. Subjects were then immersed in water at 35 degrees Celsius or 10 degrees Celsius for 90 minutes, during which they were tested for mood, mental performance and stress hormones. Results revealed the tyrosine group performed better on memory tests, and required less study time to retain knowledge.
Researchers concluded these results are "indicative of more rapid and accurate information processing," and suggested that supplemental tyrosine appears to improve working memory during the cold exposure that would typically "degrade cognitive performance."7
Tyrosine fights stress in cold and low-oxygen environments
In a double-blind, placebo-controlled, crossover study, researchers investigated if supplementing subjects with 100 mg of tyrosine per kg of body weight might help their stress responses when exposed to cold and hypoxia (low oxygen levels) for 4.5 hours.
Researchers reported that tyrosine supplementation "significantly decreased symptoms, adverse moods, and performance impairments" in subjects with average or above-average stress responses. Researchers suggested that tyrosine be considered for "a variety of acutely stressful situations."(Banderet LE, et al.)
Tyrosine improves mental performance during stressful 90 dB noise exposure
In this placebo-controlled study, 16 volunteers, all young and in good health, took 100 mg of tyrosine per kg of body weight and a placebo on separate days. On each day, the study subjects were tested for their performance on stress-sensitive tasks while being exposed to stressful 90 decibel noises.
Researchers reported that tyrosine appeared to "improve (mental) performance on two cognitive tasks," with benefits realized one hour after taking the supplement. Tyrosine failed to influence mood in any way.8
Tyrosine 2 g enhances some cognitive performance measures on n-back test
In this randomized, placebo-controlled, double-blind study, 19 female volunteers were given 2 g tyrosine or placebo prior to the N-back test, a measure of mental performance that is split into a less challenging (1-back) stage and a more mentally demanding (2-back) stage. While Tyrosine failed to reach significance in the 1-back test, in the 2-back test it as associated with significant reductions in "false alarms" and significant improvements in "correct rejections."
Researchers reported the results "reinforces our suspicion that only tasks with considerable cognitive demands benefit from Tyrosine." They further suggested that even though research is early, "Supplementation of Tyrosine… may promote cognitive enhancement in inexpensive, efficient and healthy ways."9
Tyrosine may decrease the negative mental performance effects of fatigue and multitasking
A double-blind, placebo-controlled trial examined two groups of volunteers who were kept awake for a period of 24 hours and took a battery of tests measuring their mood and mental performance: At the 6-hour mark, the experimental group received 300 mg tyrosine in two 150 mg doses, and the other group received a placebo. The tyrosine group was found to have improvements in the expected declines on measures of wakefulness and mental performance when compared to the control group.
Based on these results, researchers concluded "tyrosine may prove useful in counteracting performance decrements during episodes of sustained work coupled with sleep loss." 10.
Tyrosine may sharpen memory & mental performance while multitasking
One study examined tyrosine's effect on working memory on 20 people asked to perform either a single task or multiple tasks that tested short-term memory, visual & auditory monitoring skills, and arithmetic. The group given 150mg/kg of tyrosine 1 hour before the tests showed a significant improvement in working memory on the multitasking test, when compared to the placebo group.
Researchers concluded that tyrosine "may sustain working memory when competing requirements to perform other tasks simultaneously degrade performance," and went on to suggest that tyrosine in supplement form may help maintain mental performance in such situations.11
Tyrosine may help cognitive performance during combat training
Tyrosine showed a positive effect on cognition in 10 cadets given a tyrosine supplement (up to 2g per day) during 6 days of a combat training course: the experimental group scored higher on measures of attention and memory and also experienced a decrease in systolic blood pressure compared to a control group of 11 cadets given a placebo.
Researchers concluded that tyrosine supplementation may, "under operational circumstances characterized by psychosocial and physical stress, reduce the effects of stress and fatigue on cognitive task performance"12
Dosage Notes
Positive clinical studies on tyrosine used a dose range of 100mg/kg to 300mg/kg (split into two doses of 150mg/kg). This means that the low-end 100 mg tyrosine per kg bodyweight would translate into an 8.8 g dose for an adult man and a 7.5 g dose for an adult woman.
WebMD suggests 150 mg tyrosine per kg. of bodyweight for nootropic benefits
Standard L-Tyrosine supplements are typically dosed at 500 mg – 1.5 g daily
Enhanced N-Acetyl-L-Tyrosine (NALT) is in the 300 mg – 350 mg daily dosage range
Available Forms: Tyrosine vs. N-Acetyl-L-Tyrosine
The forms of tyrosine can get confusing. So what's the difference? First off, despite appearing different, "tyrosine" and "L-tyrosine" are the exact same thing.
NALT as a Nootropic
But N-Acetyl-L-Tyrosine, also known simply as NALT, is different: It has been upgraded with an extra acetyl group. This molecular alteration makes tyrosine more soluble in water, increases its rate of absorption from the intestines, and improves its bioavailability. NALT is the preferred nootropic form for brain-boosting benefits. Summary:
Plain tyrosine: Also labeled as "L-Tyrosine." This is the cheaper commodity form, found in basic nootropic supplements.
N-Acetyl-L-Tyrosine (NALT): More expensive than plain, but more bioavailable — absorbed into the bloodstream more quickly and efficiently.
Side Effects
Tyrosine is likely safe, even when taken in large amounts of up to 150mg/kg day, and was well-tolerated in the studies examined. Some subjects reported minor side effects such as heartburn, headache and digestive distress, but these events were rare.
Supplements in Review Recommendation
Tyrosine as N-Acetyl-L-Tyrosine, 350 mg
If stress is draining your brainpower, Tyrosine is a "must-have" nootropic. It may also be a good speculative nootropic for those dealing with attention and focus issues. Tyrosine is one of the most evidence-backed nootropics for brain chemicals, and may be considered a "Master Precursor" that's used to synthesize the most important neurotransmitters for sharp mental performance.
N-Acetyl-L-Tyrosine (NALT) is better than plain Tyrosine. Most positive studies use mega-doses of tyrosine, which may not be practical for everyday supplementation. Since it has greater bioavailability, the NALT form will supply more nootropic activity in smaller dosages. NALT 350 mg is a good starting point for supporting brain chemical balance and healthy stress responses.
References