Exotic Chinese mushroom with nerve-regenerating potential that might sharpen cognitive performance.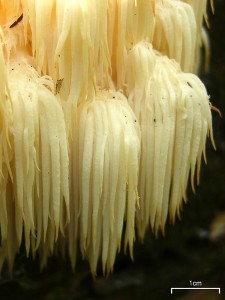 Lion's Mane (Hericium erinaceus) is well-known in cuisine, but less so in brain health. While its exact mechanisms are unknown, some evidence suggests this mushroom may support brain health by:
Boosting nerve growth factor to help with brain regeneration and plasticity
Fighting beta-amyloid proteins that precede many degenerative brain issues
Protecting neurons; it has been suggested to defend the brain against stress
Overview
There are 2,000+ mushroom species used in food and in herbal health practices. Most of the medicinal mushrooms are typically used for immune support. Lion's Mane mushroom (also called Yamabushitake or Hericium erinaceus) stands apart because, of all the medicinal species known, it is the only mushroom shown to improve brain health.
Most research seems to focus on two active compounds in Lion's Mane: Hericenones and erinacines. While the scientific opinion on Lion's Mane's active compounds is conflicted, it is generally believed that erinacines drive Lion Mane's primary brain-supportive activity:
Lion's Mane erinacines may boost brain Nerve Growth Factor (NGF).
Note: A third compound in Lion's Mane, amyloban, may fight amyloids, but is also clouded by patents and weak evidence. Hericenones and erinacines are most identified with brain cell regeneration.
Why does Nerve Growth Factor matter for brain health?
NGF is important for brain health because it promotes the following outcomes:1
Induces differentiation of fresh stem cells into specialized brain cells
Promotes growth, healthy function, survival and longevity of brain cells
Maintains and organizes brain cells and neurons throughout the nervous system
Regulates biological activities related to brain plasticity and memory
Since deficiency of NGF is believed to be a contributing factor to Alzheimer's disease, NGF has been identified as a possible therapy for brain degeneration. The challenge? As proteins, NGFs cannot cross the blood-brain barrier. Therefore, science has focused on how to enhance our own natural production of NGF.
Lion's Mane seems to fit the bill–its active hericenones and erinacines can both cross the blood brain barrier. Its erinacines in particular have been suggested by some researchers to "have potential as medicine for degenerative neuronal disorders such as Alzheimer's and peripheral nerve regeneration."2
Let's check out some of the research behind this fascinating mushroom's potential bio-activities and benefits within the brain.
How does Lion's Mane feel?
According to early evidence, if you're feeling more brain fog as you grow older, Lion's Mane may clear your mind and restore your memory and mental edge. The mushroom helps maintain brain cells, too–potentially warding off cognitive decline as you get older. One study also found Lion's Mane seemed to improve depression and anxiety symptoms in women over the age of 40.
Research
Animal & "Petri Dish" Research
Human Research
Lion's Mane (3 g) improves mild cognitive impairment
In this study, 30 men and women between the ages of 50 and 80 diagnosed with mild cognitive impairment were given either placebo or four 250 mg tablets containing 96% Lion's  Mane three times daily for 16 weeks. Subjects were tested using a cognitive function scale before starting supplementation; at weeks 8, 12, and 16; and once more 4 weeks after stopping supplementation. Researchers reported the Lion's Mane group exhibited higher cognitive performance scores during supplementation, but those stores decreased significantly after supplementation stopped.
Researchers concluded that "The results obtained in this study suggest that Yamabushitake [Lion's Mane] is effective in improving mild cognitive impairment."7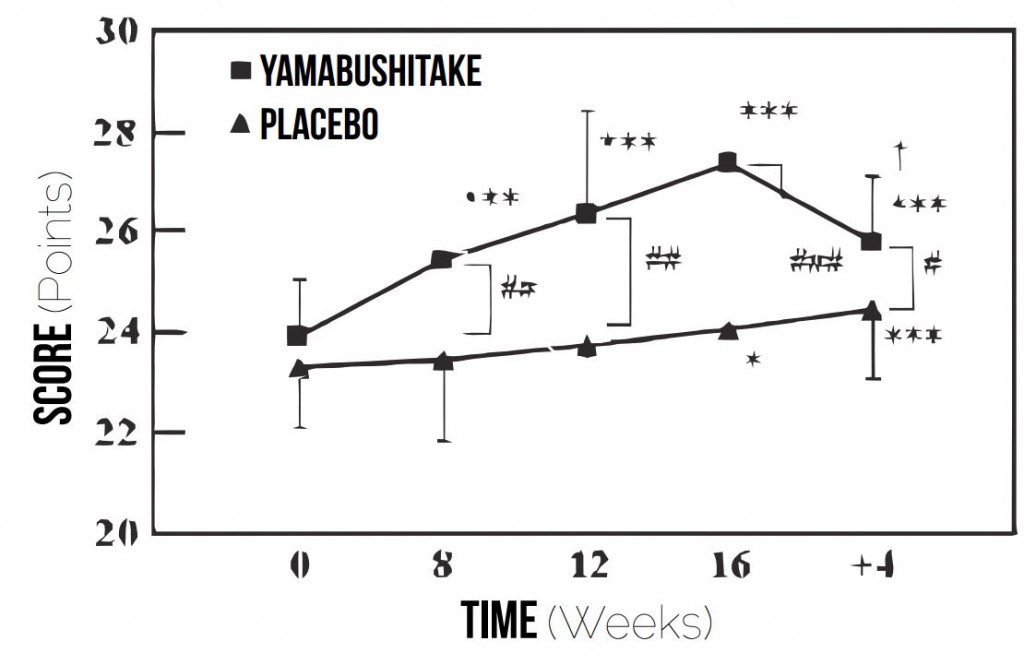 Lion's Mane may help depression in women 40+
30 women with an average age of about 40 took either a placebo or cookies spiked with Lion's Mane for four weeks and were evaluated for cognitive and mental health state. Depression, anxiety, loss of concentration, sleep quality, and a range of menopausal symptoms were measured. Researchers also measured "indefinite complaints" including cognitive dysfunction, irritability, bladder health, lower back pain, and apathy. At the study's end, researchers reported that Lion's Mane brought significant improvements in menopausal symptoms, depression and indefinite complaints. The mushroom showed trends for better concentration and anxiety that did not reach significance. Sleep quality was unaffected.
Researchers concluded, "our results show that H. erinaceus intake has the possibility to reduce depression and anxiety." Researchers suggested that these benefits may be related to the mushroom's well-documented NGF-enhancing activity, but also admitted there might be additional unknown bio-activities at work too–warranting additional study.8
Dosage Notes
There's not much research, but the better human trial found benefit using Lion's Mane 750 mg.
Retail dosage is typically in the range of 300 mg to 2000 mg per serving.
Side Effects
Lion's Mane is a food that is widely consumed; it is safe and well-tolerated, and is not associated with any significant side effects.
Available Forms
Plain Lion's Mane: Straight-up powdered mushroom. The cheapest form available.
Lion's Mane extracts: A more potent form of the mushroom; we've seen these presented as 14:1 extracts (14 pounds of mushroom concentrated into 1 pound of extract).
Standardized Lion's Mane: Processed to supply exact levels of active ingredient; we've seen supplements with Lion's Mane standardized to 30% and 50% polysaccharides (the active hericenones and erinacines are metabolites of polysaccharides).
Scoopable Lion's Mane powder: Can be added to water, juice, smoothies, shakes, etc.
Lion's Mane tea: It's a popular culinary mushroom, so this probably tastes OK–but in this form, it seems hard to get a handle on how much actual active ingredient you'd be getting.
Amycenone®/PLM-Fraction: This "branded" ingredient is standardized to Hericenones 0.5%, Amyloban 6%. It seems to target a lesser-known Lion's Mane active ingredient–Amyloban–which is positioned as a mushroom compound that fights beta-amyloid proteins. Originating in Japan, it is extremely expensive, and may be found in a supplement called Amyloban®3399.
Note: Some Lion's Mane mushroom may be labeled as "Organic," which means it's cultivated on organic botanicals.
Supplements in Review Recommendation
You want to regenerate brain cells. Who wouldn't? Not only does brain cell RE-generation help counter brain DE-generation (dementia, Alzheimer's), but we believe it must help mental sharpness, too. Lion's Mane may boost neural regeneration by stimulating nerve growth factor. Whether this translates into better human cognition remains to be seen, but early research shows promise. That fact, plus mushrooms' legacy in herbal wellness–with Lion's Mane emerging as THE mushroom species for brain health–compel us to recommend it.
500 mg Lion's Mane is our suggestion, and here's why: The best human study used 750 mg daily, but another review suggested lower concentrations might stimulate NGF better than higher concentrations.9 With this in mind, we suggest starting at 500 mg and seeing how it works, and bumping up to 750 mg if no improvement is noted at 500 mg.
References