NADH is believed to boost brain chemical energy, and may be helpful for those with Chronic Fatigue Syndrome.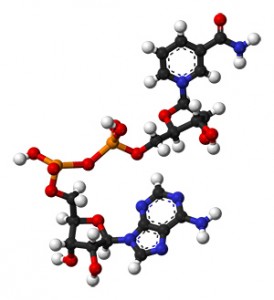 NADH (Nicotinamide Adenine Dinucleotide + Hydrogen) is an antioxidant coenzyme related to the B-Vitamin family. Within the brain, NADH has been suggested to support:
Energy production: NADH helps spark the synthesis of chemical energy (ATP) in brain cells.
Neurotransmitter status: NADH increases neurotransmitter production, especially dopamine.
Healthy brain aging. NADH is an antioxidant that may protect brain cells from age-accelerating free radicals.
Overview
NADH is a coenzyme that's used in the formation of ATP, the chemical energy that powers our bodies and minds. Closely related to the B-vitamin family, NADH is most highly concentrated in the body's most energy-intensive organs: The heart and the brain.
Within the brain, specifically, NADH's role in ATP power production seems to boost mental energy; its lesser roles in neurotransmitter production offer further support for mental clarity and mood balance.1 These bio-activities are important for cognitive function… but there's a big problem:
NADH seems to decline with age
The NADH shortfall appears to be pronounced in women between the ages of 45 and 65, who seem to have more difficulty accessing and using their body's stored NADH.2
Researchers have suggested that this gradual lowering of NADH levels is due to the fact that older brain cells consume more NADH (and a related antioxidant, glutathione) faster than younger cells do.
Researchers have further warned this drop in NADH+glutathione could lead to "a catastrophic decline in redox ratio."3 (The redox ratio they refer to means oxidative stress, and its related cell damage and accelerated cellular aging.)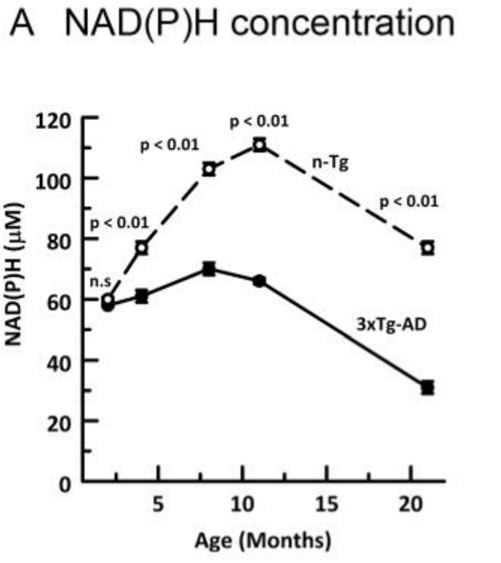 Supplemental NADH can help restore what's been lost from natural decline, so the brain can benefit from its nourishment. Let's take a closer look at NADH's two main bio-activities for brain health:
NADH increases production of ATP
Thinking, moving, breathing—these activities are all powered by the ATP energy source that fuels our cells. ATP is formed with NADH+Oxygen.5 In theory, supplemental NADH gives the body more raw materials to create the body's ATP "energy currency."
By boosting ATP, NADH helps power-up brain cells with the energy they need to "fire" and communicate–potentially unleashing all the benefits of an energized mind: Improved focus, concentration, memory and processing speed.
But that same critical role in ATP energy production may present risks for cellular vitality and longevity when NADH starts to naturally decline:
Declining NADH → Depleted ATP → Diminished Energy → Cell Death
NADH increases production of neurotransmitters
NADH increases production of two brain chemicals that are important for mental performance:
Dopamine is associated with movement, and is known as a "feel good" compound. Increased levels of dopamine can result in elevated moods.
Norepinephrine is your "fight-or-flight" hormone. Increased levels of norepinephrine can enhance alertness and cognitive function, allowing for quicker, clearer thinking.
In supporting these neurotransmitters, NADH seems to create a good brain chemistry environment for focus, sharp cognition and positive thinking.6
NADH is a widely studied nutrient for brain health. Ongoing research continues to investigate how NADH may help with degenerative brain concerns and aspects of mental performance including memory, alertness, and energy.
But of all its potential roles in brain health, NADH is especially intriguing as a therapy for Chronic Fatigue Syndrome (CFS), since this prolonged and debilatating condition is notoriously difficult to treat.
NADH has shown some promise in CFS research. However, although NADH appears to help bust brain fog and increase mental energy, research results remain somewhat conflicted. Let's take a closer look at some of this NADH research.
How does NADH feel?
As a nootropic, NADH's brain-ATP and neurotransmitter benefits may sharpen alertness, boost mental energy and elevate moods. NADH has been suggested for degenerative brain concerns and cognitive problems tied to jet lag. It seems to show the most promise as a therapy for the brain fog of Chronic Fatigue Syndrome (CFS).
Did you know?
A journal review analyzed nutritional supplement effectiveness for people with Chronic Fatigue Syndrome. After evaluating 17 supplements in 26 clinical trials with 3,273 total subjects, only two nutrients were found to help with chronic fatigue: NADH & magnesium.7
Research
10 mg NADH alleviates CFS symptoms
26 patients with CFS were given either 10 mg of NADH or 10 mg of a placebo for a period of four weeks. At the end of the four-week time period, treatment was stopped for the following four weeks, before switching to a final four-week period of supplementation. Throughout the study, subjects were evaluated via questionnaires, lab tests and physical exams.
At the end of the study, 8 out of 26 participants responded positively to the NADH treatment and only 2 out of the 26 participants responded favorably to the placebo treatment. Researchers concluded that "NADH may be a valuable adjunctive therapy in the management of the chronic fatigue syndrome."8
NADH may help with Alzheimer's disease (AD)
One clinical study evaluated the effects of NADH in patients with Alzheimer's disease. 24 patients were matched for age and cognitive function using the Mattis Dementia Rating Scale (MDRS) and the Mini Mental State Examination. All participants were either given an oral NADH supplement or a placebo. After six months of treatment, researchers found that the participants who were given the oral NADH supplement showed no evidence of progressive cognitive deterioration and higher total scores on the MSRD in contrast to the participants who were given the placebo.
Researchers concluded that this clinical study supported previous studies and that, "this study supports NADH as a treatment for Alzheimer's."9
NADH 10 mg unlikely to help dementia
One clinical study replicated a previous study to evaluate the effects of NADH on patients with dementia. 25 patients who had mild to moderate dementia were administered a 10 mg NADH supplement daily and were evaluated for three months. Only 19 patients fully completed the study, and the researchers found no evidence that demonstrated any improvements in terms of cognitive function in the patients as previously demonstrated in past studies.
Researchers argued that, "NADH is unlikely to achieve cognitive improvements…and present theoretical arguments against an effectiveness of this compound in dementia disorders."10
20 mg NADH might help with jet lag
Jet lag can drain brainpower by 30% to 70%. Researchers hypothesized NADH's ability to increase ATP energy, dopamine and norepinephrine might help. In one study, 25 participants were flown from the West Coast to the East Coast overnight, experiencing a three-hour time difference. Upon arrival, subjects were given 20 mg of NADH or placebo, and were later tested for cognitive functioning, mood and sleepiness.
Participants who took 20 mg of NADH performed significantly better on the cognitive and psychomotor tests, in addition to reporting less sleepiness. Researchers concluded that "NADH significantly reduced jet lag-induced disruptions of cognitive functioning."11
Dosage Notes
Retail dosage: Supplements typically supply NADH in 5 mg, 10 mg, and 20 mg dosages
Research dosages: For brain and nootropic benefits, 10 mg seems to be the most commonly researched NADH dose.
Available Forms of NADH
NADH is what it is: Nicotinamide adenine dinucleotide (NAD)+ hydrogen (H). There are no special forms of NADH; any supplement in any brand will be supplying the same compound. NADH is sometimes combined with other nootropics in brain supplement complexes.
Side Effects
Since the body naturally produces NADH, it is very well-tolerated. In many of the research studies, no adverse side effects were noted, save for mild and transient stomach discomfort.
Supplements in Review Recommendation
NADH is a good brain supplement for those with Chronic Fatigue Syndrome. NADH's brain-energizing effects seem to cut through the brain fog and doldrums associated with CFS, instead promoting mental clarity, alertness and balanced mood. It may help with age-related brain concerns, too, since it naturally declines as we grow older.
NADH 10 mg is the dosage you want; research suggests 10 mg is effective and well-tolerated. Since NADH is a "commodity" nutrient with no enhanced forms, we recommend buying it cheap (as long as it's from a quality manufacturer). More expensive NADH supplements will be supplying the same exact nutrient, so there's really no need to spend more than you have to.