Pine bark extract appears to perform multiple brain-supportive actions that may help short- & long-term cognition.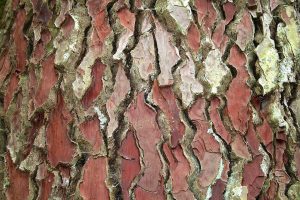 Pine bark, especially in patented form extracted from French Maritime pine trees (Pycnogenol®), has been suggested in research to support brain health by:
Supplying antioxidant activity. Its antioxidants can cross the blood-brain barrier and protect brain cells against aging.
Modulating inflammation. Related to its antioxidant activity, this benefit helps to soothe brain inflammation that contributes to degeneration.
Boosting circulation. A potent Nitric Oxide booster, it may help to promote peak blood flow to the brain.
Possible anti-amyloid. Very early research suggests it may help counter irregular proteins implicated in cognitive decline.
Overview
Pine Bark Extract (PBE) has a long history of traditional use, with health applications recorded in Ancient Greece and an early mention by Hippocrates for its ability to soothe inflammation.
Modern science has confirmed that PBE supplies a matrix of active antioxidants called oligomeric proanthocyanidins (OPCs), which are believed to account for most of its beneficial properties.
The Pine Bark OPC matrix is believed to be especially potent in terms of antioxidant activity, making it an effective supplement for anti-aging strategies focusing on the Free Radical Theory of Aging.
Pine Bark's OPC antioxidants have also been found to be bioavailable, capable of raising blood antioxidant status and modulating inflammation.1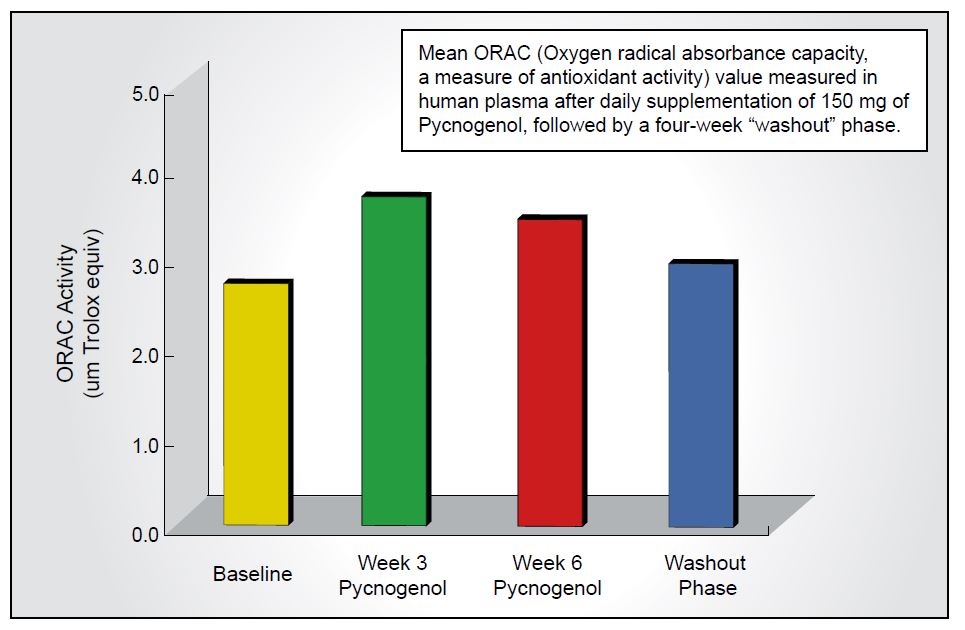 Pine Bark Extract's "soothing antioxidant" properties have made it a popular and effective nutritional supplement ingredient for a range of health concerns.
Beyond its cellular anti-aging potential, PBE has been suggested to support:
Skin health
Cardiovascular health
Immune performance
Joint comfort & flexibility
Respiratory health
Blood sugar balance
Exercise performance
Many other aspects of health
In a nootropic context, Pine Bark Extract's anti-aging benefits (and other beneficial bio-activities) appear to translate to long-range support for overall brain health.
However, emerging evidence indicates PBE may have more mental performance-oriented benefits as well, helping to support memory, focus and mental clarity. Pine bark has also been suggested to have possible therapeutic value for younger populations dealing with ADD/ADHD.
Let's see how PBE's nootropic mechanisms of action may work to support cognition.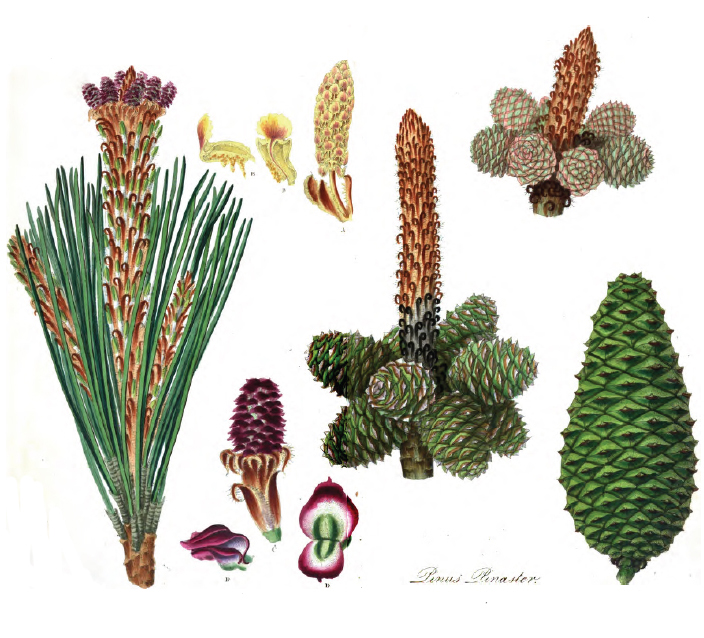 Pine Bark's Brain Bio-Activities
Antioxidant Support
Antioxidant activity helps brain health. Free radical-induced oxidative stress and vascular issues may be linked to cognitive concerns affecting memory, mental performance, and brain function. Age-related memory impairment is linked to low brain antioxidant levels, while researchers have said poor circulation to the brain may account for 80% of cognitive problems in the elderly.2
Pine Bark Extract can cross the blood-brain barrier and bring its antioxidant complex to brain cells, where it helps neutralize the damaging, age-accelerating effects of free radicals.
Research has suggested antioxidant flavonoids found in Pine Bark Extract's complex may support the brain in additional ways; promoting neuroplasticity, an aspect of brain health that is strongly tied to memory and new learning; and stimulating neurogenesis, the regeneration of brain cells.3
Inflammation Modulation
Free radicals generate inflammation; by neutralizing free radicals, PBE is believed to modulate the body's inflammatory responses. Some animal research has also suggested PBE seems to inhibit the release of pro-inflammatory histamines from mast cells.4 While this particular pine bark bio-activity has not yet been demonstrated to help brain health in particular, inflammation is strongly linked to some degenerative brain issues, so it bears mentioning.
Nitric Oxide-Induced Vasodilation
Cerebral circulation is a key contributor to peak mental performance. Pine Bark Extract interacts with the endothelium to help encourage release of nitric oxide (NO), a compound that signals blood vessels to relax and widen. NO is also important for the signaling of neurons in the brain.5 This bioactivity enables the PBE complex to promote peak bloodflow to the brain, which may in turn assist with delivery of micronutrients, glucose and oxygen that are needed for energized brain function and healthy cognitive performance.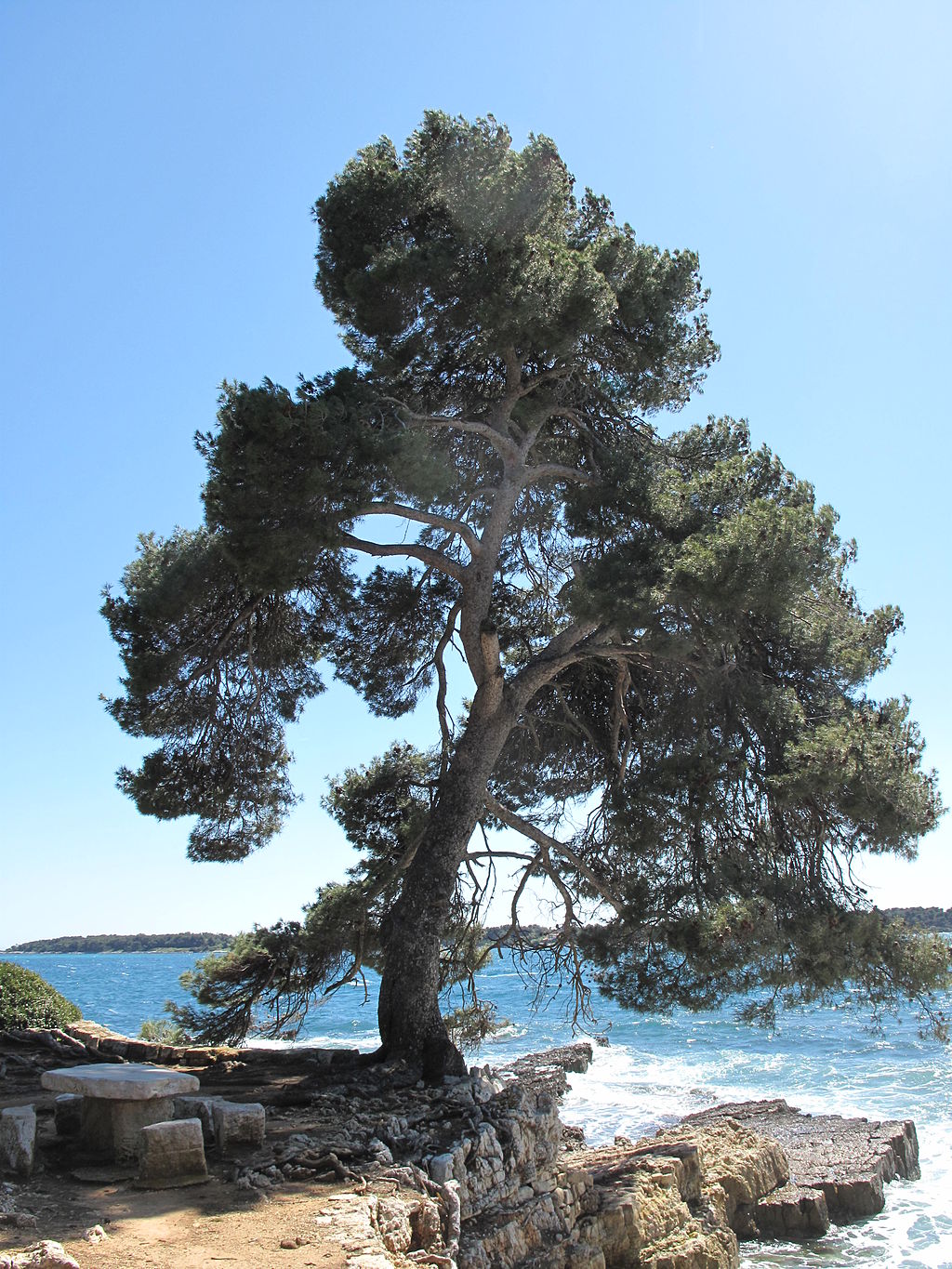 Research
Test Tube Research
Pine Bark Extract may protect cells from amyloids
In a test-tube study, human pulmonary artery cells taken from the endothelium inner lining were exposed to beta-amyloid – a contributing factor to Alzheimer's – for 24 hours. The damage to cells was then measured. Next, researchers pre-incubated the endothelial cells with pine bark extract (as pycnogenol), which was found to significantly minimize amyloid damage.
Researchers concluded, "Pycnogenol can protect vascular endothelial cells from injury, and the data suggest that pycnogenol may be useful for the prevention or treatment of vascular or neurodegenerative diseases associated with Abeta toxicity."6
Human Research
Pine Bark Extract may help focus & concentration in children with ADHD
One clinical trial administered 1 mg of PBE (as Pycnogenol) per kg of bodyweight in children with ADHD. After 4 weeks, supplementing with PBE appeared to have a beneficial effect, apparently easing ADHD symptoms related to focus, concentration, overstimulation and physical coordination. The PBE was also reported by research to be associated with less catecholamine neurotransmitters (epinephrine, norepinephrine, dopamine) to be excreted in urine. This seems to suggest PBE may work in accordance with the catecholamine hypothesis for ADHD.
In the study's conclusion, the researchers suggested Pine Bark Extract (as Pycnogenol) could be a "natural supplement to relieve ADHD symptoms of children."7
PBE may protect DNA in children with ADHD
In some children with ADHD, damage to DNA has been noted. One study examined how PBE (as Pycnogenol) might help, via its DNA-protective antioxidant activity. After one month of pine bark extract supplementation, researchers found that the children's total antioxidant status (TAS) was raised, with greater increases noted after PBE supplementation stopped. Researchers also noted that DNA damage was reduced in the PBE group.
At the study's end, researchers noted more investigation is needed, but nevertheless concluded that Pycnogenol "Reduces oxidative damage to DNA, normalizes total antioxidant status, and improves attention of ADHD children."8
Pine Bark Extract appears to promote mental performance in normal students
In this placebo-controlled study, 53 students between the ages of 18 and 27 were given pine bark extract as Pycnogenol for a span of 8 weeks and tested for various measures of cognitive performance. At the study's conclusion, the Pycnogenol group was found to have 4.46% less failures in cognitive tests than the control group.
Researchers concluded that their results indicate "a role for Pycnogenol (pine bark extract) to improve cognitive function in normal students."9
PBE appears to enhance Quality of Working Memory in adults age 60+
101 subjects between the ages of 60 and 85 took 150 mg Pycnogenol or placebo daily for three month. Throughout the study, the subjects were tested for multiple aspects of cognitive performance, including focus, memory and psychomotor skills. At study's end, researchers reported that Pycnogenol appeared to significantly help with cognition, especially in the Quality of Working Memory index. The researchers also found that markers of oxidative stress known as F2-isoprostanes appeared to be reduced in the PYC group. Lower oxidative stress markers may suggest higher antioxidant activity in the blood and the brain.
Researchers concluded, "Statistically significant interactions were found for memory-based cognitive variables and lipid peroxidation products, with the Pycnogenol group displaying improved working memory and decreased concentrations of F2-isoprostanes relative to the control group."10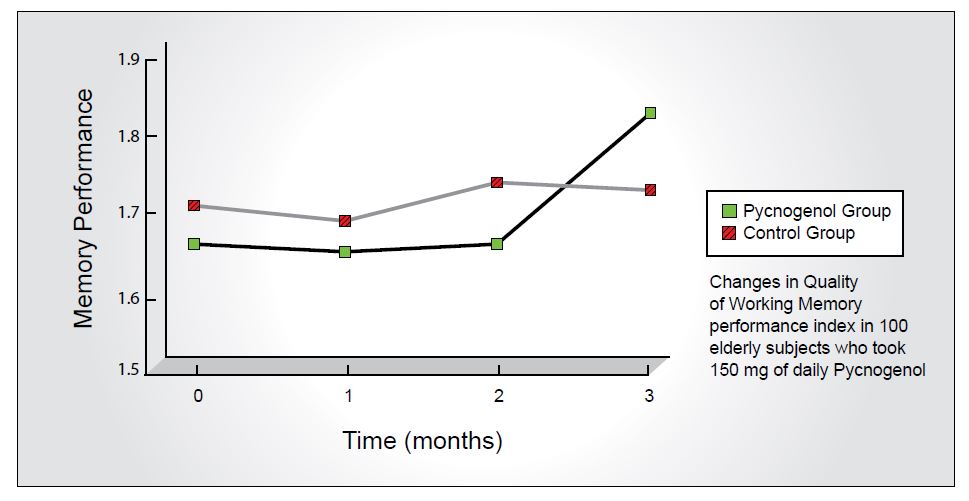 Pine Bark as Pycnogenol linked to improvements in memory, mood & cognitive performance
In this study, 60 professionals between the ages of 35 and 55 were administered a placebo or 150 mg of PBE per day (as Pycnogenol) in conjunction with a plan to assist mental performance and antioxidant status.  After 12 weeks, researchers reported that the Pycnogenol group showed a significant 30% reduction in blood free radicals, along with small but significant improvements, including a 16% improvement to mood, an 8.9% improvement to mental performance, a 13.4% improvement in advance sustained attention, and a 3.6% increase in memory.
Researchers concluded that supplementing with Pycnogenol for 12 weeks seemed to "improve cognitive function and oxidative stress in healthy professionals."11
Dosage Notes
The National Institutes of Health recommends pine bark extract dosages between 45 mg and 360 mg daily.
Horphag, the company that makes Pycnogenol pine bark extract, usually suggests that it be dosed at .5 mg per pound of bodyweight.
Retail pine bark extract & Pycnogenol supplements are typically offered in 30 mg, 60 mg, and 100 mg capsules.
Side Effects
Pine bark extract is safe, bioavailable and well-tolerated. As Pycnogenol, these benefits have been demonstrated in multiple clinical trials.
Available Forms of Pine Bark Extract
Plain PBE. This powdered pine bark is the cheapest form.
Standardized Pine Bark Extract. More expensive, but these PBE supplements supply exact levels of antioxidant compounds, with up to 95% proanthocyanidins standardization commonly seen.
Pycnogenol®. A branded form that's standardized to 65% proanthocyanidins and is harvested from French Maritime Pines, which are thought to have a stronger antioxidant complex to contend with their harsh coastal environment. Most of the best PBE research has used Pycnogenol.
Supplements in Review Recommendation
Pine Bark Extract as Pycnogenol®, 150 mg
Pine Bark Extract supplies inflammation-soothing antioxidant activity that likely supports long term brain health. Its vasodilation benefits (along with other supportive activities) may promote robust cognitive performance, and PBE is one of the most promising research-backed natural compounds for ADD/ADHD.
Pycnogenol is the best form of pine bark extract. It is made by a large, well-established manufacturer that's conducted dozens of clinical trials and invested heavily in their ingredient to demonstrate safety and efficacy. The drawback is Pycnogenol is more expensive than plain PBE, but we think it's worth it. 150 mg is a clinically studied Pycnogenol dosage for mental performance, and therefore ideal if budget allows; if not, 100 mg may be another good dosage for brain health.
References