An essential B vitamin player that may optimize brain neurotransmitters for fast, sharp thinking.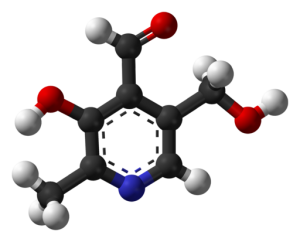 Vitamin B6, also known as pyridoxine, is an established nutrient for overall wellness. Of its many health-supportive functions in the body, three in particular address brain health and mental performance:
Neurotransmitter support. B6 helps create & convert brain chemicals for memory & mood.
Brain circulation. B6 fights the homocysteine that slows circulation & cognition.
Neurogenesis support. B6 helps "grow" the brain's neurons, sheaths & neural connections.
Overview
Vitamin B6 plays a part in over 100 different enzymatic reactions in the body, including many that are crucial for cardiovascular health.1 B6 is well-known for contributing to overall health, but also has important roles for brain health, specifically, that aren't quite as well known… but they should be.
Vitamin B6 is 100X more concentrated in the brain than in the bloodstream, highlighting its importance for brain health.2
Some of B6's brain-supportive roles include:
B6 (as P-5-P) boosts brain neurotransmitters
B6 is involved in the formation and release of critical brain chemicals for healthy cognition—making it an essential "foundation" nutrient for overall mental performance. Vitamin B6–as the "activated" form Pyridoxal 5'-Phosphate (P-5-P)–helps the body to manufacture the following brain chemicals:
Serotonin & GABA: Support emotional health; feeling good and happy3
Norepinephrine: For attention span & fast thinking while under stress4
Melatonin: Helps to regulate brain rhythm and sleep5
In addition to making neurotransmitters, P-5-P also helps the body to use neurotransmitters more efficiently. It is a necessary cofactor in the following brain-chemical conversions:
Tryptophan → Serotonin
5-HTP → Serotonin
L-DOPA → Dopamine
With all these critical brain chemical roles, it comes as no surprise: Low vitamin B6 may neurotransmitter status. Deficiencies in B6-related brain chemicals have been linked to mood problems, including depression, as well as psychoses and age-related cognitive decline.
Our take: In restoring healthy neurotransmitters, B6 may support the ideal brain chemical state for long-term memory, relaxation, positive mood and good attention span.
B6 fights brain-dulling homocysteine
You've probably heard of homocysteine, a type of blood fat, being a risk factor for cardiovascular disease. It is risky because it makes blood thick and sluggish, and also "shreds" the insides of blood vessels. These vascular damages seem to diminish cerebral circulation and cause cognitive problems:
One study found that–in 1,140 adults aged 50-80–the lowest scores on learning and memory tests were associated with the highest blood homocysteine levels.6
B6 helps with homocysteine metabolism,7 thereby helping circulation and protecting blood-brain barrier from homocysteine's "shredding" microvascular damage.8
B6 has also been shown–along with other B-vitamins–to slow brain atrophy in people with mild cognitive impairment (MCI)9–a benefit found to be more pronounced in those with high homocysteine levels. This evidence seems to suggest homocysteine metabolism may be a key pathway for B6 to regulate brain circulation and maintain sharp thinking.
Here's the problem: Many of us don't get enough B6; which is reflected in low levels of its active P-5-P form in the bloodstream. Researchers have also suggested that the US Recommended Daily Allowance of B6 may be too low to reverse this important vitamin's shortfall.10 In theory, supplemental B6 might help restore healthy levels associated with peak cognitive performance. Let's see if any research supports this idea.
How might Vitamin B6 help mental performance?
Mood. B6 isn't clinically proven, but some evidence suggests it might help with depression and doldrums. As it promotes serotonin and GABA, B6 raises two key brain chemicals for mood balance. In theory, these, and other B6 brain chemical benefits, may support sharp memory, calm mindset, and attention span. B6 is also used for ADHD in children and Alzheimer's in older people, but these uses are not yet substantiated.11
Research
Animal Research
In one rat study, researchers investigated how B6 deficiency might affect brain function. Rats who were deficient in dietary B6 were found to have lower levels of P-5-P, its active form, circulating in their blood. These deficient rats were also found to have a 50% reduction in brain glucose utilization rate, which the researchers linked to "serious cognitive deficits."12
Human Research
B6 improves brain storage of information
37 men between the ages of 70 and 79 were given 20 mg of B6 (as pyridoxine HCL) or placebo every day for three months. The effects were then compared in various tests for concentration and intelligence. Researchers discovered B6 supplementation had positive effects in only one area of cognition: Memory (especially long-term memory).
Researchers concluded that "vitamin B-6 supplementation improves storage of information modestly but significantly."13
High-dose "anti-stress" B6 may help mental health
Low B6 status has been suggested to decrease production of neurotransmitters in animal research models. High-dose B6 supplementation is believed to "amplify" levels of P-5-P, which may restore these neurotransmitters–and in doing so reverse dysphoric states (stress, brain fog, mental fatigue, sadness).
Review authors have suggested that "high intakes of pyridoxine may have the potential to improve [cognitive & mood] prognosis in many individuals."14
B6 and other B-Vitamins FAIL to slow cognitive decline
In this study, 409 people with mild-moderate Alzheimer's Disease and normal B-vitamin and homocysteine levels were given either a placebo or a high-dose B-vitamin containing 5 mg folate, 25 mg B6, and 1 mg B12. Study participants took the supplements every day for 18 months, and were tested throughout to evaluate any changes to their Alzheimer's Disease Assessment Scale (ADAS-cog) score. Researchers reported that the B-vitamin supplement reduced homocysteine levels, but "had no beneficial effect on the primary cognitive measure" or the ADAS-cog score.
Researchers concluded that a regimen of high-dose B-vitamin supplements "does not slow cognitive decline in individuals with mild to moderate AD."15
Dosage Notes
Vitamin B6 RDA for adults age 19-50: 1.3 mg
RDA for men over age 51: 1.7 mg
RDA for women over age 51: 1.5 mg
Retail doses of B6 are much higher than RDA; most are typically around 100 mg
Supplements of "active" B6 as P-5-P are typically found in 25 mg – 50 mg dosage
B6 within B-complex formulas uses smaller dosages, 5 mg – 50 mg, but may reach 100 mg
Mayo clinic suggests a dosage of 20 mg B6 for cognitive function support.
Side Effects
Side effects from vitamin B-6 are rare, but taking too much could harm nerves, lead to gastric distress and nausea, create headaches and difficulties sleeping.
Available Forms
There are actually six different forms of B6, but only 2 are found in supplements:
Pyridoxine hydrochloride: This is the plain, basic form of Vitamin B6. It is cheaper to produce, and is what you will typically find in multivitamins and B-complex supplements.
Pyridoxal 5′-phosphate (Also written as P-5-P, P5P or PLP): This is the "activated" coenzyme form of B6 that accounts for its enzymatic reactions, including those that drive the production of brain neurotransmitters. P-5-P is considered a preferred, premium form that's easier to absorb and is more potent. It is a little more expensive than plain B6.
Supplements in Review Recommendation
Vitamin B6 as P-5-P, 15 mg
B6 is a "foundation nutrient" for brain chemical balance. Mild B6 deficiency is relatively common, and B6 deficiency seems to impair mental function. The good news: Low B6 levels are easily corrected with supplementation.16 We feel B6 belongs in all brain health regimens, but keep your expectations realistic: B6 is not a cognitive supercharger; it seems to be more of a brain maintenance nootropic with possible mood benefits.
P-5-P is a superior form of B6. For best results, go for the good stuff. Since it's the "active" form, it is plausible P-5-P may be more potent than an equivalent dose of plain B6. Mayo Clinic suggests 20 mg of B6 for cognitive benefits, so we suggest a little less P-5-P, with a 15 mg dosage. The lowest standalone P-5-P supplement dosage is typically 25 mg; lower doses can be found in nootropic complexes.
Inside Scoop: Vitamin B6 Helps you DREAM
Want to dream bigger? B6 may help. In a study of B6 and dreaming, 12 college students participated in all three dosage regimens: 100 mg B6, 250 mg B6, or placebo. The students took each supplement before bedtime for five straight nights, and recorded dream reports upon waking. Researchers found B6 was linked to significantly greater dream-salience; a measure of dreams color, vividness, emotional intensity and bizarreness.
Researchers concluded by suggesting B6 may increase brain arousal during REM sleep, and suggested B6's role in converting tryptophan to serotonin might be the bio-activity that explains this phenomenon.17
References