Semi-essential amino acid arginine may have nitric oxide targeted pre-workout benefits.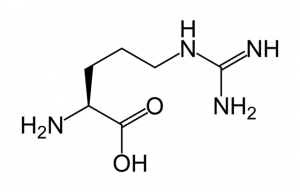 Arginine has been one of the most popular workout supplements over the past two decades, even though its supposed benefits remain contested. In theory, Arginine may aid workout performance by:
Increasing nitric oxide (NO) production, leading to improved strength, endurance, recovery, and muscle gains
Overview
Arginine, also known as l-arginine, is a semi-essential amino acid, meaning that although the human body can synthesize it naturally, dietary intake may still be needed. A typical diet provides about 4-5 g of arginine a day; prominent food sources include seafood, watermelon, nuts, and meat.1
In the body, arginine converts to nitric oxide, a compound best known for acting as a vasodilator – a blood vessel-widening agent. Because of this, arginine has been successfully used to help patients with a wide array of conditions that improve with increased vasodilation and enhanced circulation.
Arginine is also a popular ergogenic (athletic-performance-boosting) supplement, believed to improve exercise performance by increasing nitric oxide levels.
Despite this reputation, thus far research shows mixed results with some studies reporting benefits such as increased muscular strength and endurance, while others show no effect. The majority of researchers agree that it is premature to recommend arginine as an ergogenic aid.
Furthermore, many of the studies that found arginine to be effective administered it in large doses by infusion directly into the vein. Considering that supplementing arginine this way regularly is unrealistic, and given the lack of conclusive results with oral supplementation, it's best to wait until further research.
Arginine alpha-ketoglutarate (AAKG)
AAKG is a supplement formula that combines arginine with alpha ketoglutarate, a compound which plays a role in the Krebs cycle used by all oxygen-consuming organisms to generate energy. The idea behind this formulation is that it further improves exercise performance by increasing the production of adenosine triphosphate (ATP) – the body's main energy molecule.
It is also possible that alpha ketoglutarate may help maintain glutamine, an amino acid which plays a role in the formation of proteins, particularly in muscle tissue.2AAKG is marketed as a bodybuilding supplement.
Similar to arginine, the use of AAKG for improved athletic performance has shown mixed results.34
Arginine's Suggested Pre-Workout Bio-Activities
Nitric Oxide Conversion
Arginine functions primarily by converting into nitric oxide (NO), a compound which has a large variety of effects on the human body, including its vasodilator (blood vessel-widening) properties.
In turn, increased NO levels are believed to boost blood flow, theoretically improving the delivery of nutrients and removal of wastes from muscles during exercise, as well as improving protein synthesis during and after exercise.
These actions could in turn result in improved strength, recovery, lean muscle gains, and delayed fatigue during exercise.
For example, a few studies have shown that arginine supplementation may result in reduced lactate and ammonia levels – waste products that are produced during intense exercise, and play a role in muscle fatigue.5
However, there is still no conclusive evidence that arginine supplementation actually increases NO levels in healthy subjects.6 As such, it is impossible to confirm that arginine supplementation has any exercise-related benefits at all.
Creatine Synthesis
Another proposed mechanism of action is arginine's role in the synthesis of creatine; arguably the most popular ergogenic compound in the world today.
Diets supplemented with arginine have been reported to increase muscle creatine concentrations by about 1-2% in tested animals. However, this mechanism has seen very little research and remains untested in humans.7
Growth Hormone Modulation
One possible explanation for the popularity of arginine – particularly with bodybuilders – is the idea that it raises growth hormone (GH) levels, a hormone which is released during exercise, and plays a major role in muscle growth, the breakdown of fats, and more.
This belief may stem from results of older medical trials that administered high doses of arginine directly into the vein, which is not a realistic option for regular supplementation.8
On the other hand, recent research shows that when oral arginine supplementation is combined with exercise, it actually blunts secretion of GH.91011 As such, it may actually be counter-productive to combine resistance training with arginine.
Arginine May Work Better for Out-Of-Shape People
As a general rule of thumb, current research suggests that arginine supplementation is more effective in untrained and moderately-trained individuals, with little to no benefit for well-trained athletes. Researchers hypothesize that the enhanced pulmonary, cardiovascular and neuromuscular performance gained from continued exposure to exercise may override the possible benefits of arginine, particularly the enhanced NO activity.12
Research
Animal Research
Animal trials of arginine as an ergogenic aid are relatively rare, given its safety and widespread use in humans. Nonetheless, specific findings indicate that:
Arginine supplementation may boost aerobic exercise capacity in mice13
Exercised rats appear to have significantly higher levels of NO when supplemented with arginine.14
Arginine supplementation in rats improves exercise-induced angiogenesis – the development of new blood vessels15
Human Research
Human trials of arginine present mixed results, with some showing real benefits such as improved strength, and others reporting no effects. Researchers are in agreement that using arginine as an ergogenic aid requires further study, and that it is premature to recommend its use.
This study looked at the effectiveness of arginine alpha ketoglutarate (AAKG), a variant of arginine specifically marketed as a bodybuilding supplement. Eight resistance trained and 8 untrained men took either placebo or 3 g AAKG 45 minutes before a bench press and leg press resistance training session; a week later, the groups were switched and performed the same exercise. There was no significant difference between placebo and AAKG groups.
The researchers concluded that "in the current study, acute AAKG supplementation provided no ergogenic benefit, regardless of the subjects training status. Based on the current study an acute ingestion of AAKG is not recommended for healthy individuals to increase maximal strength and muscular endurance for resistance training exercises"16
The goal of this study was to examine the metabolic effects of arginine supplementation during exercise. Eight healthy, recreationally-active men performed two exercise tests 2 weeks apart, receiving either 3 g of arginine or placebo treatment. Exercise was done 90 minutes after supplementation on a cycle ergometer. Their physiological parameters, such as heart rate and blood lactate levels, were recorded during and for 30 minutes after the exercise session.
The only major difference was that blood lactate was lower three and five minutes after exercise for the arginine group, while ammonia was lower from three to ten minutes, suggesting that arginine supplementation slightly reduces exercise-induced lactate and ammonia accumulation.
The researchers concluded that "the results of this study show that L-ARG reduces significantly lactate and ammonia release and shows a tendency to reduce oxygen consumption/carbone dioxide release, suggesting an increased exercise capacity. Further studies could be useful to investigate whether oral L-ARG might also improve exercise capacity in healthy humans"17
This study tested whether arginine supplementation had any benefits for muscle strength during resistance training. Fifteen men were given either placebo or 6 g of arginine and performed 3 sets of 10 maximal repetitions of an elbow flexion and extension exercise 80 minutes later, with 2 minutes of rest between sets. Strength performance did not significantly differ between the two groups, although the arginine group had higher muscle blood volume (MBv) during the recovery periods.
The researchers concluded that "…acute L-arg supplementation increases Mbv during recovery from sets of resistance exercise with no increase in strength performance. It is still premature to recommend nutritional supplements containing L-arg as an ergogenic aid to increase muscle strength during resistance training in healthy subjects"18
The goal of this trial was to examine whether arginine supplementation can improve exercise performance by increasing nitric oxide production. Nine men took a beverage with 6 g arginine (Arg) or placebo (PL) and performed moderate and high-intensity cycling exercises. After 10 days, the experiment was repeated with those taking PL now take Arg, and vice-versa. Arginine noticeably increased nitrite levels, reducing the oxygen cost of moderate-intensity cycling by 7%, and prolonging time to exhaustion by 20% during high-intensity cycling (707 seconds Arg vs 562 seconds for PL).
The researchers found that "Acute dietary supplementation with 6 g of L-arginine, which increased indexes of NO synthesis, reduced the steady-state V̇O2 during moderate-intensity exercise and also reduced the V̇O2 slow component and increased the time to task failure during severe-intensity exercise in healthy adults"19
This study investigated the impact of arginine supplementation on intermittent high-intensity exercise performance. Ten healthy judo athletes participated in two experimental conditions at separate times, in random order – 3 days of placebo or 3 days of 6 g/day arginine followed by intermittent high-intensity cycling exercise.
While arginine supplementation significantly increased arginine levels, it did not have any impact on performance parameters such as plasma nitrite, lactate and ammonia levels.
The researchers concluded that "…short-term supplementation of arginine had no effect on plasma NO, lactate and ammonia concentrations and performance in intermittent anaerobic tests in well-trained male athletes. The use of arginine supplementation to increase NO production, reduce metabolites accumulation and improve exercise performance in athletes should be critically reevaluated…"20
This goal of this study was to investigate whether arginine alpha ketoglutarate (AAKG) has any effect on exercise performance. Thirty-five men with resistance training experience were assigned to take placebo or 12 g AAKG divided into 3 daily doses, and performed 4 days of resistance training per week for 8 weeks.
Performance-related tests, such as body composition, were performed at week 0, 4, and 8. The trial found that AAKG supplementation resulted in an improvement of 8.82 kg for the one-repetition maximum bench press, an indicator of an individual's maximum strength, as well as improved Wingate anaerobic test results. However, these improvements were not reflected by changes body composition.
The researchers concluded that "AAKG supplementation appeared to be safe and well tolerated and positively influenced 1RM bench press and Wingate peak power performance…Further research is needed to examine the role of AAKG supplementation during training in untrained and trained populations before definitive conclusions can be drawn regarding its potential ergogenic value"21
Arginine Challenged By Citrulline
Research shows that supplementation of citrulline – another amino acid – is more effective at raising the body's arginine levels than arginine itself. Unlike arginine, which is largely taken up by the liver and converted into urea, citrulline is captured by the kidneys, where it converts to arginine.
One study in rats found that supplementing identical doses of citrulline and arginine resulted in blood arginine levels rising to 228 μmol/l vs only 167 μmol/l. This may explain why citrulline has overshadowed arginine in recent years as a sports supplement.22
Dosage Notes
 3-6 g appears to be a common dosage range in research studies.
Retail supplements are often in the range of 500 mg – 1 g arginine per serving
Side Effects
Possible side effects of arginine include abdominal pain, diarrhea, and gout.23 Doses over 20 grams can also lead to tachycardia (an abnormally rapid heart rate) and hypotension (abnormally low blood pressure).24
Available Forms of Arginine
Arginine is typically sold in capsule or powder form, by itself or mixed with other amino acids and vitamins in sports nutrition formulas. Specific variants of arginine include:
Arginine Hydrochloride: Arginine combined with a hydrochloride salt molecule, which is frequently used in medication and supplements to improve active compounds' water solubility
Arginine Alpha-ketoglutarate (AAKG): Arginine combined with alpha-ketoglutarate, a formulation that is advertised specifically as a bodybuilding supplement.It is a little more expensive than plain arginine, but is a preferred form for its enhanced ability to boost nitric oxide on two pathways, as well as its potential benefits for supporting peak energy levels during training.
Supplements in Review Recommendation
Arginine as AAKG, 3 g serving size
Arginine is well-established as a PWO by reputation alone. Arginine research is early and suggestive at best, but combined with its widespread popularity among athletes, is enough to earn a recommendation. AAKG seems like the best bet. It costs more, but its enhanced nitric-oxide-boosting ability and additional pre-workout activies are worth the extra investment. Consider citrulline as a PWO supplement that may outperform arginine.
References