Given its role in energy production, vitamin B12 is a common ingredient in pre-workout formulas.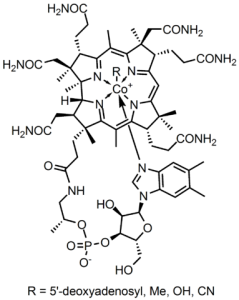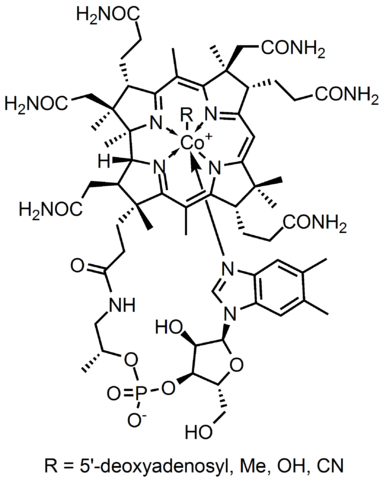 Vitamin B12 is an essential vitamin needed for the proper functioning of the brain, nervous system, blood cells, and more. Although it does not appear to enhance exercise per se, B12 does play a role in:
Energy metabolism and cell synthesis. B vitamins help the body extract energy from food, and B12 is particularly important for the production of blood cells.
Overview
Vitamin B12, also known as cobalamin, is an essential vitamin that plays a key role in the normal functioning of the brain, nerves, blood cells, and DNA. Like all vitamins, B12 cannot be produced in the body and must come from the diet; good sources include meat, fish, dairy, and other animal products.
Although most people get enough B12 from food, deficiency is believed to affect anywhere from 1.5 to 15 percent of the U.S. population, and is particularly common in people aged 60 and older. The main causes of of B12 deficiency are poor absorption, especially in older individuals, and a vegetarian lifestyle.
Because B12 deficiency can cause symptoms including weakness, fatigue, and cognitive impairment, supplementing vitamin B12 alone or as part of a multi-ingredient pre-workout formula may be helpful. However, it's important to stress that research has not shown any exercise benefits from supplementing vitamin B12 in healthy, non-deficient people.
Whereas vitamin B12 is found in virtually all animal foods, plants do not produce any B12. As a result, vegetarians and vegans are at risk of developing vitamin B12 deficiency. Thankfully, supplementing or eating B12-fortified foods is an effective way of keeping levels high without consuming animal products.
1
How Vitamin B12 Might Help PWO Formulas
Cell synthesis and energy metabolism
B vitamins help the body produce energy from the three major components of food: carbohydrates, fats, and proteins. Furthermore, vitamin B12 in particular plays an important role in erythropoiesis – the production of new red blood cells, keeping nerve cells healthy, and building DNA.
These functions explain why B12 is a common ingredient in ergogenic supplements, and why it is frequently claimed to enhance energy levels.  It could also explain why a deficiency of vitamin B12 may result in cognitive impairment and depression – factors that may indirectly impair workout performance.2
Doctors estimate that B12 deficiency may be affecting more than 20% of people aged 60 and over. The main cause (over 60% of cases) is believed to be food-cobalamin malabsorption syndrome – the inability to release B12 from food, followed by pernicious anemia (15-20% of cases), a condition where the digestive tract doesn't make enough intrinsic factor to isolate B12 from food.
3
Vitamin B12's Reputation
Vitamin B12 is popularly known as the energy vitamin. Indeed, supplement companies and big industry names including the likes of Dr. Oz claim that vitamin B12 can improve not just energy, but also related areas such as mood, metabolism, memory, concentration, alertness, and even weight loss.
Knowing that a B12 deficiency can negatively impact these functions, there is some truth to these claims. Consequently, at-risk groups such as people over 50 and vegetarians/vegans may very well benefit from a pre-workout formula that includes this essential vitamin.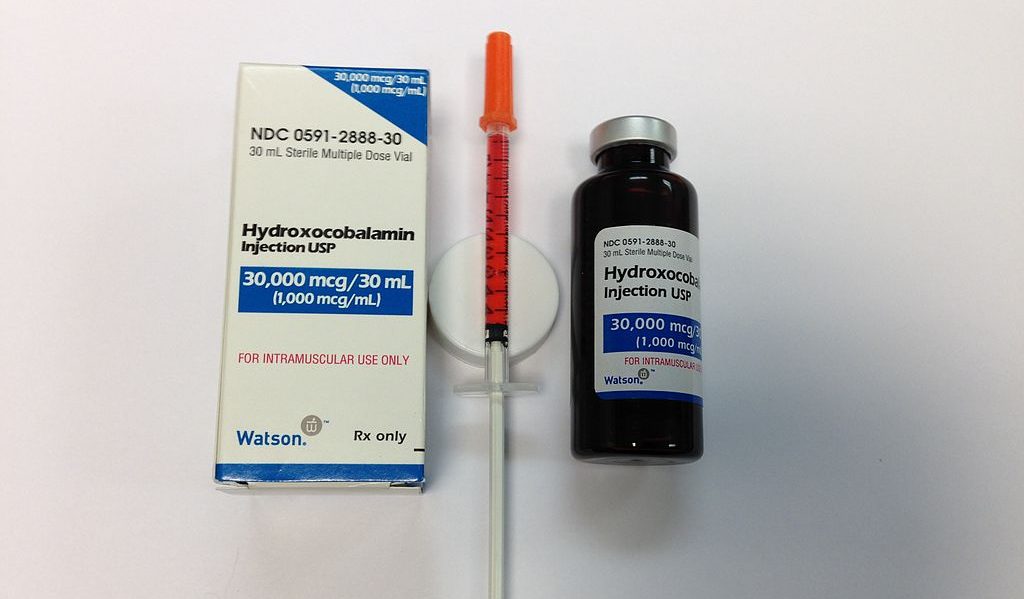 Nonetheless, it's important to remember that supplementing B12 in healthy, non-deficient individuals has been shown to have no impact whatsoever on exercise performance.4
Research
Human Research
Human research of vitamin B12 has not reported any positive effects on exercise performance, recovery, or any other workout-related benefit in non-deficient people.
Vitamin B12 does not appear to enhance exercise performance
In this double-blind study, 36 healthy men aged 18-21 were randomly assigned to receive placebo or vitamin B12 (cyanocobalamin 1 mg) injections three times a week for 6 weeks. Before and after supplementation, the participants performed a number of tests of both aerobic and anaerobic exercise performance, including cycling, hand and arm strength, leg strength, and abdominal strength. There was no difference in performance between the two groups, or between the pre and post-supplementation tests.
The researchers concluded that "vitamin B12 did not produce any significant effect on the physical performance capacity of normal, healthy individuals"5
Exercise does not appear to raise the dietary requirement for vitamin B12
This paper discussed whether athletes need to increase their B vitamin intake to maintain peak exercise performance. The researchers examined research trials of 6 different B vitamins, and found that while athletes may need to increase their riboflavin and B6 intake, it does not appear that folate and B12 need to be supplemented.
The researchers concluded that "Current research suggests that exercise may increase the requirements for riboflavin and vitamin B-6; however, more research is needed to further deter-mine if exercise increases the need for folate and vitamin B-12"6
Dosage for Pre-Workout
Given the lack of successful studies, there is no recommended dosage for vitamin B12 as a pre-workout aid
Pre-workout formulas supply anywhere from 1.2 to 50 mcg of vitamin B12 per serving
Standalone vitamin B12 supplements offer doses ranging from 500 to 6000 mcg
Side Effects
Vitamin B12 may cause diarrhea and other minor side effects in some people, but is otherwise perfectly safe.
Available Forms of Vitamin B12
Vitamin B12 is typically sold in tablet or liquid form as methylcobalamin, which is advertised as having superior absorption. It is also frequently grouped together with other vitamins into a complex or multivitamin, or with other ingredients in a pre-workout formula as cyanocobalamin.
Supplements in Review Recommendation
Vitamin B12 as Methylcobalamin, 2500 mcg.
Supplementing pre-workout B12 is a good idea for vegetarians/vegans, and people over 50. These groups don't get enough B12 from their diet or have trouble absorbing it, which may negatively impact workout performance. However, there do not appear to be any benefits for healthy, non-deficient individuals.
There's no harm in taking this dose of B12 to see if your energy and/or mood improves. If you're concerned that you're not getting enough B12, a single-ingredient supplement, especially in the mythylcobalamin form, is safe and easily absorbed.
References