A pinch of chamomile may soothe the body as it prepares for sleep.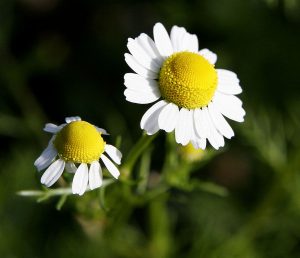 Considered by some to be the Western counterpart to ginseng, chamomile has been in use since the days of ancient Egypt, Greece, and Rome. It has long been popular as a remedy for various medical complaints and may also be useful for sleep by:
Promoting sedation. Chamomile is commonly regarded as a mild tranquilizer, especially for its apigenin content.
Inducing sleep. The herb is reportedly useful for calming the body and helping deepen sleep.
Diminishing anxiety. Modest anxiolytic activity has been spotted in chamomile users.
Overview
Chamomile, or "earth apple" in its original Greek, is the common name for a collection of daisy-like plants. It is native to numerous countries throughout Europe, including Germany, France, Spain, and Italy, to list a few, which accounts for its widespread use. The popular herb holds several varieties under its wing. Each type is distinct and demands its particular conditions to flourish.
Two of the most prominent species are:
German chamomile, Matricaria chamomilia. Referred to as the "water of youth," the German version is most routinely employed in cases of inflammation, anxiety, and insomnia.
Roman chamomile, Chamaemelum nobile. Sweet and crisp, Roman chamomile is believed to be a calming agent and sleeping aid.
Chamomile has been extensively used in Ayurvedic and Western medicine in a myriad of forms both internally and externally. Several of its principal applications are as an anti-inflammatory, an anti-allergenic, a relaxing sleep aid, a digestive, and a measure to combat symptoms of the everyday cold and fever.1

Primary restorative components drawn from its flowers include:
Volatile oils (terpenoids). Bisabolol and bisabolol oxides A & B seem most impactful.
Flavonoids. Apigenin appears to be the most active among the 36 flavonoids.
Recent and continuing research has pinpointed it's calmative and anxiolytic properties as backing for its prospective as a relaxant and sleep aid.
How Chamomile May Help With Sleep
Promoting Anxiolytic & Sedative Effects
Apigenin, one of the most abundant compounds isolated from chamomile, is believed to promote anxiolytic and muscle-relaxing effects due to its connection to benzodiazepine.2
Benzodiazepines are widely used in medical practices to diminish anxiety, muscle tension, and insomnia. One study found that apigenin was clearly capable of reducing anxiety at low doses and inducing mild sedation at much higher doses by assisting the binding of chemicals to benzodiazepine receptors and other similar GABAergic neurotransmission mechanisms.3
Beyond apigenin exist other similar compounds in chamomile extracts capable of binding to benzodiazepine and GABA receptors, which may contribute to its competence as a sedative, but few, if any, studies have confirmed their effectiveness.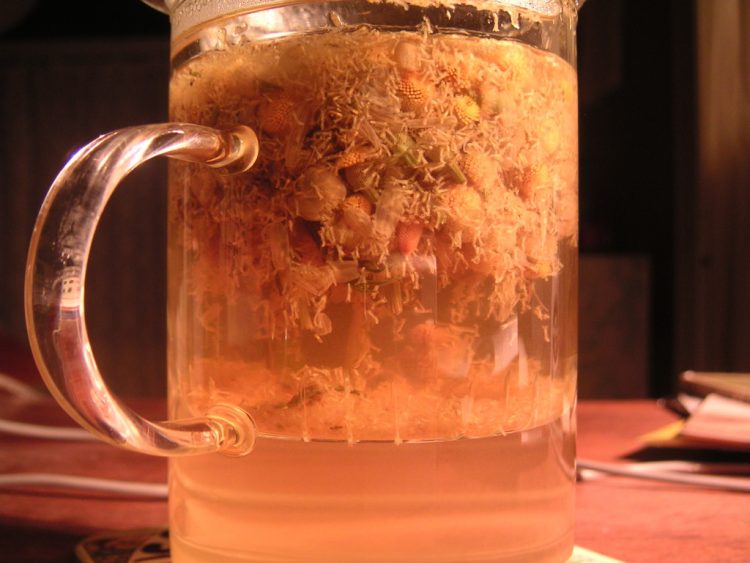 Chamomile may have a sedative effect in people with heart conditions.
In one study hoping to determine the effects of chamomile on the heart, the researchers noted that out of 12 patients, 10 fell asleep quickly after taking two bags of chamomile tea in 6 ounces of hot water. The outcome indicates chamomile's potential as a hypnotic, but the lack of placebo-control means the result may not necessarily be tied to chamomile alone.
4
Chamomile Benefits & Uses for Sleep
For the most part, chamomile preparations have been used to manage insomnia through sedation, which involves a collection of calming, muscle-relaxing, and sleep inducing effects, thanks to apigenin.5
Tea and essential oil aromatherapy appear to be the most frequently consumed forms of chamomile, although inhalation of its oil vapors seemed to reduce adrenocorticotropic hormone (ACTH) levels, which generally increase as a consequence of stress.6
On top of minimizing stress hormones, chamomile may be an option that works for anxiety relief, particularly in cases of generalized anxiety disorders.7
As with many other natural sleep aids, chamomile may safely be combined with similar herbal remedies, such as hops, lemon balm, and valerian, for boosted potency.
Research
Animal Research
Research indicates that chamomile has potential as a sleep aid by:
Relaxing the body. A slow, concentration-dependent relaxation was observed in pig blood vessels after applying a few chamomile compounds, such as apigenin and bisabolol.8
Decreasing sleep latency. A significant decrease in sleep latency was noted in rats that ingested chamomile.9
Reducing stress. Calves administered chamomile in their diet had significantly lower cortisol levels10
Human Research
In the limited number of clinical studies available, chamomile appears to reduce anxiety and promote sleep but does not quite achieve statistical significance. Farther studies are needed to verify chamomile's true impact on sleep as well as the most effective dosage.
Chamomile extract (270 mg) may moderately improve sleep in adults with chronic insomnia although not to a degree of statistical significance
In this randomized, double-blind, placebo-controlled study, 34 adults with insomnia were given either 270 mg of chamomile or a placebo twice daily for 28 days. There were slight to modest improvements in sleep latency, night time awakenings, daytime functioning, and fatigue severity, but none of the results reached a level of statistical significance.
The study concluded that "chamomile could provide modest benefits of daytime functioning and mixed benefits on sleep diary measures relative to placebo in adults with chronic primary insomnia."11
Chamomile tea may alleviate sleep quality problems in postnatal women
In this randomized investigation, 80 postnatal Taiwanese women with poor sleep quality were given either chamomile tea or control care over the course of 2 weeks. Chamomile significantly lowered sleep inefficiency and the symptoms of depression on the short term.
The study concluded that "chamomile tea may be recommended to postpartum women as a supplementary approach to alleviating depression and sleep quality problems."12
Chamomile extract (220 mg) may reduce anxiety in adults with generalized anxiety disorder
In this randomized, double-blind, placebo-controlled investigation, 61 patients with mild generalized anxiety disorder (GAD) were given a chamomile extract or placebo for a period of 8 weeks. At the end of the study, there was a significantly greater reduction in average total Hamilton Anxiety Rating (HAM-A) scores for those who took chamomile.
The study concluded that "chamomile may have modest anxiolytic activity in patients with mild to moderate GAD."13
Chamomile is not recommended in cases of pregnancy and ragweed allergy. 
Chamomile is known to provoke untimely uterine contractions, which makes its consumption an unnecessary risk for pregnant women. In addition, people allergic to ragweed and other herbs in the daisy family should avoid its use altogether.
14
Dosage for Sleep
Chamomile may be taken as:
Supplemental tablets, 90 mg – 400 mg (2.5 mg bisabolol, 2.5 mg apigenin)
An aqueous extract containing ample apigenin-7-O-glucoside
An essential oil, 20 mg
A tincture, 45% alcohol, 30 – 60 drops, 3 times daily
A skin lotion or facial cream, 0.307% essential oil
A drink or tea, 2 teaspoons of dried flower per 8 ounces of hot water
Herbal tea bath, 4 – 5 tea bags (or 4 – 5 teaspoons of loose leaf chamomile)
Most chamomile extracts are standardized to 1.2% apigenin.
Supplements in Review Says
Chamomile seems to promote sleep and relaxation. We recommend taking chamomile for its modest potential as a sleep aid. Although chamomile does seem to encourage sleep by calming the body, clinical studies concerning the flower are somewhat lacking. Probable sleep effects include improving sleep quality, reducing sleep latency, and decreasing insomnia. Additional health benefits may include stress relief and anxiety mitigation.
Take chamomile as a tea, 1 cup before bedtime.  We suggest trying 1 cup of chamomile tea in the evening while research using extracts continues to advance and determine proper dosage. A prominent supplemental tablet from Planetary Herbals known as Chamomile Sleep® shows promise. The soothing evening drink should help to prepare the body and mind for rest and eventual sleep.