Extraordinary antioxidant effects of astaxanthin may make it a prime nutrient for competitive vision performance.

Astaxanthin is a naturally-occurring, vibrant pigment found in an array of aquatic creatures. Its antioxidant prowess is harnessed for a number of health benefits, including such possible uses in vision enhancement as:
Preserving well-being of the retina. Astaxanthin seems to preserve retinal cells through its antioxidative and inflammation-modulating effects.
Stimulating photo-protection. The pigment appears to cushion the eye's delicate photoreceptor cells against UV rays and bright lights.
Enhancing visual acuity. Visual accommodation, focusing ability, and eye fatigue may be improved with astaxanthin supplementation.
Overview
Astaxanthin (AST), along with lutein and zeaxanthin, is a lipid-soluble xanthophyll carotenoid that contains an essential chain of conjugated double bonds at its center. The pigment's extended chain holds decentralized electrons that are responsible not only for the bold, pinkish-red hue of salmon, trout, flamingos, and an assortment of crustaceans, such as krill and lobster, but also accountable for its remarkable effectiveness at inactivating reactive oxygen species.
Antioxidation king. Out of hundreds of carotenoids, astaxanthin is believed to possess the most impressive antioxidant potential.1
Lipid-soluble. As a lipid-soluble compound, astaxanthin has direct access to the retina through the blood-brain barrier.2
Go with supplementation. Due to the relatively low quantities of astaxanthin identified in food, supplementation appears to be the most effectual manner of taking the valuable pigment.
Studies surrounding astaxanthin demonstrate its capacity to enhance blood flow to the retina, which is a biological action that may enable it to minimize visual fatigue and protect against all types of retinal injury.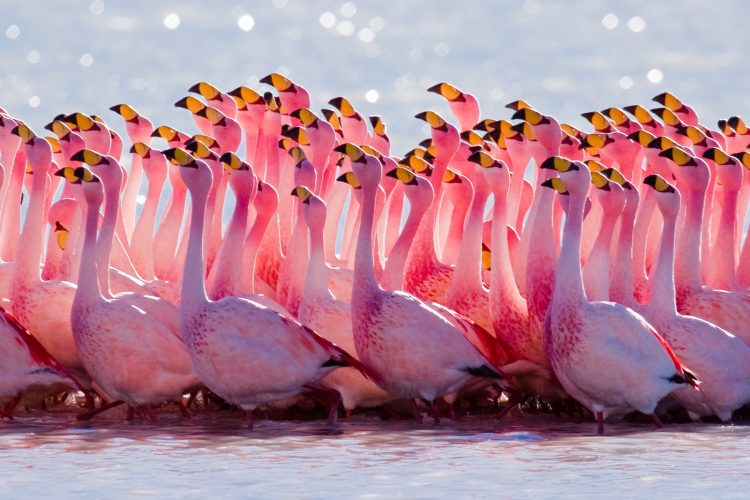 Astaxanthin present in microalgae screens UV light impairment to eyes. Various microalgae that grow in high-sunlight conditions near or on water surfaces produce astaxanthin specifically as protection from the harmful effects of blazing sunlight.
As it turns out, this bioactivity may help protect us humans from UV rays too, in both the skin and the eyes.
Research concerning the photoprotective effects of astaxanthin revealed that it out-performed every other carotenoid by a significant margin when it came to shielding against the effects of ultraviolet radiation on human skin.3 Quenching hazardous UV rays may be beneficial for macular health, too, as the eyes are similarly vulnerable upon exposure to rays.
Did you know? The most abundant supply of astaxanthin out of all microalgae has been pinpointed in the microalgae haematococcus pluvialis.4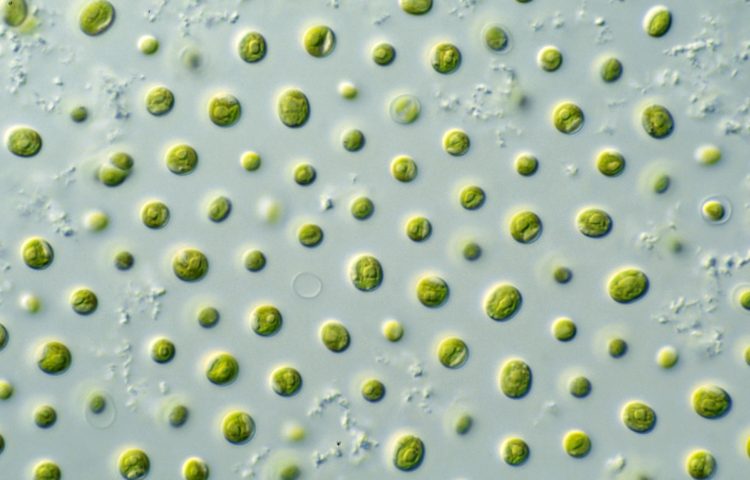 How Astaxanthin May Help with Vision Performance
Protecting the Retina Via Antioxidation
Various pharmacological activities have been associated with astaxanthin, including anti-oxidative, anti-tumor, and anti-inflammatory effects, the mechanisms of which impart a neuroprotective effect. A noteworthy study demonstrated that astaxanthin significantly reduced retinal ischemic damage and reactive oxygen species (ROS) production, and inhibited cell death, which may make the pigment an effectual protector against retinal damage.5
Modulating Inflammation
Inflammatory processes play an integral role in damaging sensitive areas of the body, including the eye. Fortunately, astaxanthin has excellent potential as an anti-inflammatory due to its constructive impact on vascular structure and function and concomitant ability to prevent intraocular angiogenesis and inhibit the expression of inflammatory molecules.67
Promoting Microcirculation
Through its antioxidative properties, as well as its ability to intercept reactive molecular species within the membrane's hydrophobic interior and along its hydrophilic boundaries, astaxanthin may block oxidative damage and inflammation while boosting immunity and microcirculation. Such upshots may subsequently improve visual acuity and eye accommodation and delay age-related functional decline.8
Providing Photoprotective Effects
Ultraviolet radiation can have severe consequences in the eye by stimulating apoptosis, increasing ROS, and promoting membrane perturbation in retinal cells. More so than other carotenoids, astaxanthin displays a photoprotective effect and naturally counteracts harmful UV-induced alterations. Astaxanthin may thus have a potent preventive effect towards photo-oxidative changes.9
Astaxanthin Vision Performance Benefits & Uses
Astaxanthin is highly valued as an antioxidant that can bioaccumulate in eye tissues and execute numerous vision-relevant health benefits, including protecting against macular degeneration10, guarding retinal cells from UV radiation11, minimizing the hindrance of bright lights12, and preventing the deleterious effects of reactive oxygen species13.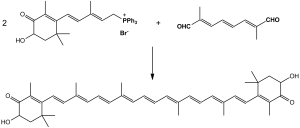 The antioxidative and anti-inflammatory applications especially seem to aid in reducing eye strain and enhancing focusing ability, i.e., visual accommodation. Taken collectively, the advantages of astaxanthin supplementation may have auspicious implications in other categories of vision performance, such as improvement of contrast sensitivity, rapid recovery from flash blindness, and overall heightened vision when dealing with computer displays, although more corroboration is needed to such regard.
Astaxanthin, a visionary supplement for athletes?
Not surprisingly, astaxanthin's wide-ranging utility has inspired its surfacing use as a physical performance booster, which complements its apparent vision sharpening benefits and seemingly positions it as a top-notch performance-oriented nutrient for athletes.
14
Research
Animal Research
Copious investigations link astaxanthin to visual enhancements and ocular protection. A medley of promising results include:
Fighting choroidal neovascularization (CNV). CNV volume was significantly suppressed in animals treated with astaxanthin through inhibition of macrophages, inflammatory molecules, such as VEGF, and the NF-κβ pathway to maintain proper oxygen and nutrient supply to the eye.15
Protecting the retina against free radicals. Astaxanthin displayed neuroprotective effects in rat retinal cells by reducing the oxidative stress caused by reactive oxygen species, as well as preventing the neurotoxicity of hydrogen peroxide deprivation.16
Suppressing retinal injury. Visual evoked potentials (VEP) that were elevated in rat retinas as a result of increased ocular pressure were returned to baseline upon astaxanthin ingestion.17
Exerting antioxidative and anti-inflammatory activity. Astaxanthin consumption reduced ocular oxidative stress and inflammation in rat retinas.18
Safe-guarding against calcium-induced oxidative stress. Degradation induced by calcium was blocked in porcine lenses after application of astaxanthin.19
Attenuating apoptosis of retinal cells. Apoptosis and oxidative stress were diminished in retinal ganglion cells of diabetic mice after administration of astaxanthin.20
Human Research
Astaxanthin supplement (6 mg) may help vision performance in adults with eye strain
In this investigation, the effect of astaxanthin supplementation at 6 mg/day after dinner for 4 weeks on 22 adults with presbyopia was determined based on pupillary constriction ratios before and after taking AST. Average pupillary constriction ratios were significantly improved in both right and left eyes from 0.32 ± 0.12 before to 0.36 ± 0.12 after supplementation.
The study showed that "astaxanthin may also improve the accommodation function of the eye and some subjective symptoms related to presbyopia in middle-aged and older people with complaints of eye strain."21
Astaxanthin supplement (5 mg) may improve accommodation amplitude and visual focusing ability in computer workers
In this randomized, double-blind, placebo-controlled investigation, 26 visual display terminal (VDT) workers were given oral astaxanthin supplementation at 5 mg/day 30 minutes before dinner for 4 weeks. The right eye was examined for accommodation, critical flicker fusion (CFF), and pattern visual evoked potential (PVEP).  Accommodation amplitude (2.82 ± 1.6 diopters) was significantly larger after AST use, which reflects visual improvement.
The study concluded that "accommodation amplitude improved after astaxanthin supplementation in VDT workers," and "it is likely that antioxidant activity of astaxanthin may be involved in improvement in accommodation amplitude."22
Astaxanthin supplement (12 mg) may maintain eye health by increasing choroidal blood flow
In this randomized, double-blind, placebo-controlled investigation, 20 adults were given 12 mg of astaxanthin supplement over the course of 4 weeks. Laser speckle flowgraphy (LSFG) was utilized to noninvasively visualize the hemodynamics of the choirodal circulation and calculate square blur rate (SBR) for relative blood flow readings. A significant increase in macular SBR was noted after AST ingestion with no adverse effects.
The study concluded that "administration of AST over a 4-week period can elevate the choroidal blood flow velocity."23
Dosage for Vision Performance
Astaxanthin extract may be taken as:
12 mg dosages, daily, with a meal
Supplemental capsule, 4 mg, twice daily, with a meal
Supplements in Review Recommendation
Astaxanthin supplement, 4 mg, as AstaFX®
We recommend astaxanthin as a probable vision enhancer. The antioxidating effect of astaxanthin's rich supply of carotenoids may protect against retinal damage, up ocular circulation, and improve visual performance and accommodation, according to relevant research.
4 mg is a good starting dosage. While astaxanthin is found in a variety of foods, it would take eating a lot of it to ingest the quantity required to impact visual performance. We recommend a 4 mg dose two times a day with a meal for patented, standardized support of ocular health and vision enhancement, especially to upgrade visual accommodation and acuity.
References