Superfruit black currant supplies active C3G to support dark adaptation and night vision performance.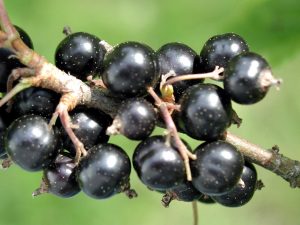 Black currant is prized as a health-supportive herb for its nutrient-dense seeds, leaves, and berries, not to mention the lively tartness it provides for drinks and desserts. Specifically in regards to eye care, black currant extracts are suggested to help vision performance by:
Protecting the retina. Black currant is rich in anthocyanins that minimize harmful oxidative processes in the eye, potentially supporting long-term macular health.
Regenerating rhodopsin. This compound is key for low-light and shifting-light vision and adaptation, and is linked to black currants' popular use for night vision.
Maintaining retinal vascular function. Black currant seems to protect endothelial cells against vascular failure, diminish inflammation, and increase nitric oxide production in the retina.
Overview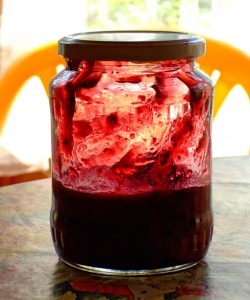 The native northern European and Asian shrub, black currant, or ribus nigrum, is esteemed for the clusters of piquant berries it produces during the summer. Due to their tartness, the berries are often mingled with other fruits, or turned into jams, juices, and purées.
Beyond their use in culinary traditions, black currants supply a range of health-supportive nutrients, making them valued in herbal wellness practices:
Black currant berries are prized for their high concentration of antioxidants and other phytochemicals
Black currant seeds supply high levels of vitamin E, alpha-linolenic acid (ALA) and gamma-linolenic acid (GLA)
With its nutrient-dense profile, black currant is used in a variety of natural health applications, including for joint health, immune performance, cardiovascular wellness, brain health, women's hormonal balance and other areas.
For this page, however, we're focusing on black currant's emerging role as a potential supporter of eye health and vision performance.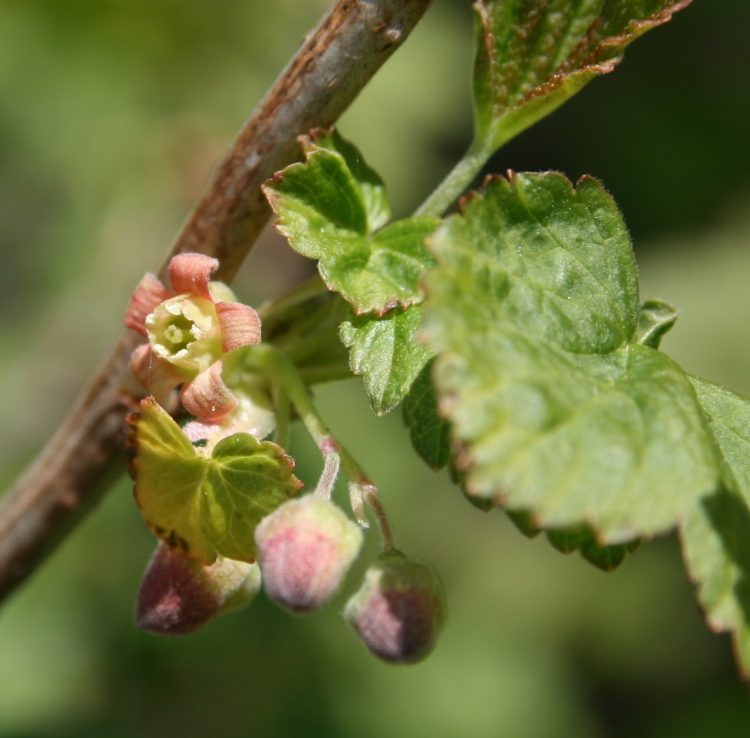 Black Currant for Vision Performance
Black currant's rising popularity as a vision performance-enhancer – markedly so in athletic and gaming circles – and is primarily attributed to black currant's copious store of antioxidants.1 These antioxidants include flavonoids, such as rutin, and four main anthocyanins: delphinidine-3-glucoside, delphinidine-3-rutinoside, cyanidine-3-glucoside, and cyanidine-3-rutinoside.2 Black currants are also rich in Vitamin C; pound-for-pound, they supply 5X as much Vitamin C as oranges do.
Currant's Vision Performance Compound: C3G
One of the most intriguing vision-bolstering antioxidants in black currant, especially in gaming, athletics, and competitive scenarios, is Cyanidin-3-glucoside (C3G),
By Yikrazuul (Own work) [Public domain], via Wikimedia Commons

A pivotal component of many berries, C3G flavonoid has been pinpointed as the "active ingredient" of black currant that speeds up the regeneration of rhodopsin, allowing for quicker dark adaptation while optimizing visual acuity.3
Studies have shown that, along with other anthocyanosides found in black currants, C3G may support ideal dark adaptation and speed up visual processes by binding directly to rhodopsin in the dark and upon light activation.
Additional proposed sight-supportive bio-activities of C3G include:
Protection of endothelial cells against dysfunction and vascular failure; key for retinal circulation
Inflammation modulating properties; it may help counter this contributor to retinal degeneration
All of these activities are important for healthy retinal function, positioning Black Currant (and its C3G) as a possible supporter of long range healthy eye function, in addition to supporting night vision and visual performance in the here-and-now.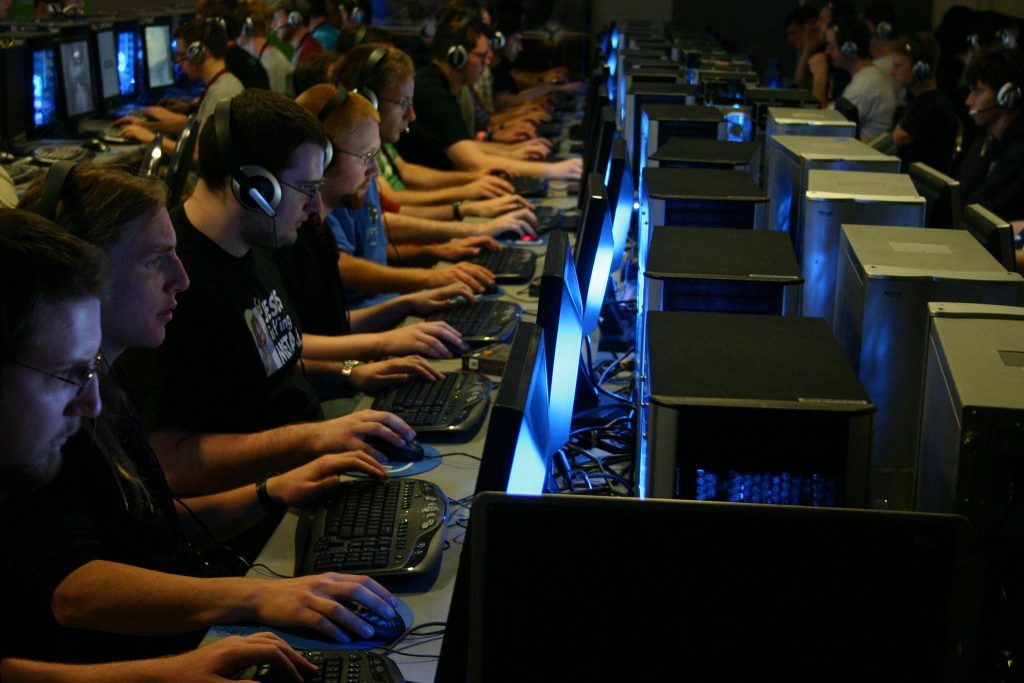 How Black Currant May Help with Vision Performance
Regenerating rhodopsin
Also referred to as visual purple for its reddish-purple hue, rhodopsin is a light-sensitive receptor protein found in the rods of the retina and famous for activating vision in low-light conditions via its acute light sensitivity.6 Studies seem to lean toward anthocyanosides found in black currant, especially C3G, as critical playmakers in dark adaptation by implementing rapid rhodopsin regeneration and the activation of retinal enzymes.7 Similar anthocyanosides are present in bilberry, which reportedly may serve as a new means of promoting visual recovery.
Promoting Ocular Circulation
Black currant anthocyanins have been shown in some early human research to increase circulation to the eyes in patients with glaucoma.8 This is consistent with black currants' suggested circulation-supportive properties, but appears to add specific support for the ocular circulation that is critical for eye health and visual performance.
Enhancing antioxidant defenses
Antioxidant activity has repeatedly been hailed in medical science research and practices as a compelling tool to combat cellular deterioration and apoptosis all throughout the body, including in the eyes. Black currant packs a zesty punch of antioxidants in each serving through its impressive stock of anthocyanins, vitamins, and numerous related polyphenols.9 This antioxidant activity has been suggested to help maintain macular health and support healthy vision during the aging process.
Black Currant Vision Performance Benefits & Uses
The most evidence-backed benefit of taking black currant as a supplement appears to be for low-light and shifting-light vision as a result of its interplay with rhodopsin. Ocular advantages of taking C3G are gaining steam with anecdotal reports of other vision performance benefits, including reduced eyestrain, enhanced contrast sensitivity, improved visual recovery from glare and shadows, and "faster" vision the may help to support quick reflexes. Black currant's high concentration of plant pigment antioxidants also bode well for its use in maintaining eye function against certain age-related vision issues.
Research
Animal Research
Research indicates that black currant may aid in low-light and contrast sensitivity vision performance through rhodopsin regeneration.
C3G appears to stimulate rhodopsin regeneration in frog retinas
Concentrations of black currant supplement were applied to frog rod outer segment (ROS) membranes to investigate its effect on rhodopsin regeneration. C3G appeared to accelerate the formation of a regeneration intermediate in rod photoreceptors.10
Human Research
While human study concerning the vision enhancing effects of black currant supplementation is limited, it appears favorable, with room for growth through continuing studies.
Black currant anthocyanoside (50 mg) concentrate may enhance dark adaptation and reduce visual fatigue.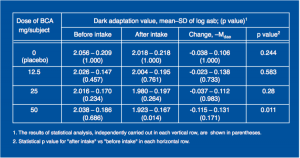 In this double-blind, placebo controlled, crossover study of dark adaptation, 12 healthy adults were given doses of 12.5, 25, and then 50 mg of black currant anthocyanoside (BCA) concentrate to determine its effect on their dark adaptation threshold. Results demonstrates that the dark adaptation visual threshold lowers at all doses of BCA but only significantly so at 50 mg doses. The investigation also considered accommodative alteration or transient myopic shift of refractive status following an extended or continuous visual task as a reliable indicator of visual fatigue. Intake of BCA at 50 mg positively prevented the decrease in refraction values (with an average change of -0.030 mm) that otherwise generally occurs, which indicates improvements in asthenopia, or visual fatigue, after BCA consumption.
The researchers who performed this study concluded that "oral intake of BCA brought about a reduction of the dark adaptation threshold and promoted recovery from or served to prevent VDT work-induced transient refractive alteration and subjective symptoms of visual fatigue."11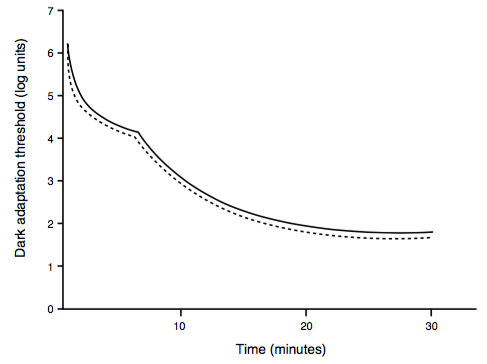 Black Currant antioxidants may be helpful in cases of glaucoma
In this study, researchers investigated how black currant anthocyanins may influence the progression of open-angle glaucoma. Study subjects received 50 mg of black currant anthocyanins (or placebo) once per day for a span of two years. Throughout, they were tested for cardiovascular markers, intraocular pressure, ocular circulation, and visual field mean deviation. Researchers found that Black Currant increased ocular circulation when compared with placebo, as appeared to bring a significant improvement to visual field mean deviation.
Researchers concluded that supplementing with black currant anthocyanins "…may be a safe and promising supplement for patients with open-angle glaucoma in addition to antiglaucoma medication."12
Dosage for Vision Performance
Black currant anthocyanoside concentrate, 50 mg – This is a clinically backed dose for black currant taken to enhance night vision
Supplements in Review Recommendation
Black currant extract, standardized for C3G or anthocyanins, 50 mg 
Black currant has potential vision benefits. The principal benefits of supplementing with black currant seem to be visual adaptation in low-light or dark settings with concurrent improvements in visual recovery. Possible complementary advantages may include reducing eye fatigue, enhancing contrast sensitivity, and speeding up vision reflexes. Taken together, the merits of black currant supplementation may be ideal for athletes and gamers looking for an edge in tasks demanding swift execution especially in conditions of dim or altering lights.
If you can, try to find Black Currant standardized to C3G. This is the compound that seems to be generating the most buzz as a vision performance-enhancer. If your black currant is standardized for C3G, then you'll get a guaranteed level of this active compound in each serving. Research is early on black currant for vision, but 50 mg is one dose that was positive for night vision enhancement, and seems a good starting point for addressing vision performance.
References