Natural antioxidant alpha-lipoic acid appears to be an effective fat burner.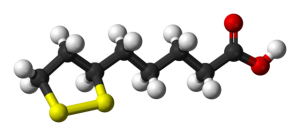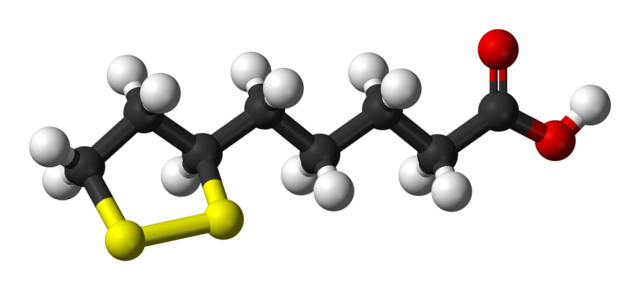 Alpha-lipoic acid is a powerful antioxidant compound with multiple functions in the human body. It could possibly function as an effective weight loss supplement through:
Decreasing appetite and increasing energy expenditure through inhibition of the AMPK enzyme
Directly reducing body fat by inhibiting the creation of new fat cells, fat molecules, and increasing the breakdown of fatty acids
Countering oxidative stress, which is linked with obesity and a known detrimental side effect of the fat-burning process
Overview
Alpha-lipoic acid (ALA) is a vitamin-like fatty acid compound naturally present in humans and animals. ALA is also found in in many foods, including spinach, broccoli, potatoes, yams, yeast, tomatoes, brussels sprouts, as well as kidney and liver meat.
ALA's main function is to aid the work of several enzymes in the mitochondria—the structures which generate most of a cell's energy. In addition, ALA is also known as a powerful antioxidant—a substance which protects cells from damage. Since it is soluble in both water and fat and can reach all parts of the cell, ALA has gained a reputation of being the "Universal Antioxidant."
These health-promoting bio-activities have made ALA popular for helping with diabetes, Alzheimer's, mental performance, chronic fatigue, cardiovascular health, bone health, and other areas.1
ALA also appears to have potential as a weight loss supplement; as one recent review summarizes, "the mechanisms mediating the antiobesity actions of [alpha]-LA have been widely studied and it can be concluded that [alpha]-LA reduces bodyweight."2
Alpha Lipoic Acid vs. R-Alpha Lipoic Acid
Alpha-lipoic acid has two main forms – the R-isomer and S-isomer variants, which have the same chemical formula but slightly different structure. R-alpha-lipoic acid (also known simply as R-Lipoic Acid) is the naturally occurring form of ALA, while the S-form is produced at a ratio of 1:1 to the R-form when ALA is made synthetically.3
The R variant of ALA has been suggested to be up to 10X more potent as the S variant.
Despite this, most ALA supplements sell a 50/50 mixture of R-ALA and S-ALA, due to the expense of isolating the two. Unless a given supplement specifically states that it contains r-alpha-lipoic acid, it should be assumed that both forms are present.
ALA's Fat-Burning Bio-Activities
Alpha-lipoic acid has been shown to have a wide array of actions which could explain its weight loss benefits. Most of these mechanisms are well-supported, but further study is warranted.
The most widely-accepted mechanism of action for ALA is inhibition of AMPK: An enzyme which plays a role in energy regulation in the hypothalamus region of the brain. AMPK is believed to activate when cell energy is low, increasing appetite and lowering the body's energy expenditure.
It's also possible that ALA could simultaneously improve the activity of AMPK in other tissues, such as muscle, where it could have the effect of increased energy expenditure and fat oxidation.
In addition, ALA is also believed to have 4 additional effects which might directly reduce body fat:
Inhibition of lipogenesis, which creates fatty acids & triglycerides from sugars
Increased lipolysis, which is the breakdown of fats
Reduced adipogenesis, the process through which new fat cells are formed;
Reduction of triglycerides contained within fat cells.
These four mechanisms have been demonstrated in a number of animal and human studies, but are not as well-established as the AMPK effect.67
Another possibility: Supplementing ALA might further boost its natural action in the mitochondria, leading to improved mitochondrial metabolism. In turn, this could result in more fats being "burned" for energy.
Finally, ALA's antioxidant properties may also contribute to its weight loss effects; several studies have found a relationship between higher body mass index (BMI) and higher oxidative stress, which could be reduced by taking antioxidants such as ALA.8
ALA + L-Carnitine: Fat-Burning Synergy?
Alpha-lipoic acid appears to have synergetic action with another compound crucial to the proper functioning of the mitochondria: L-carnitine. Like ALA, L-carnitine is naturally present in the human body, and is required for the transport of fatty acids into mitochondria where they can be broken down for energy.
Several studies have shown the ALA + acetyl-l-carnitine combo to be more potent than either substance alone for improving mitochondrial function, and for stimulating the oxidation of fatty acids — both bioactivities that may help with diabetes and obesity.9
Research
Animal Research
Animal research of alpha-lipoic acid confirms its potential as a weight loss supplement, with effects on both the body-wide and cellular levels.
This frequently-cited study investigated the effects of alpha-lipoic acid (ALA) on bodyweight in rats. The researchers hypothesized that ALA could decrease the activity of hypothalamic AMPK – an enzyme which plays a role in regulating food intake. Male rats were divided into 4 groups: control, diet with 0.25% ALA, 0.5% ALA, and 1% ALA for 2 weeks. ALA was found to decrease food intake and energy expenditure in a dose-dependent manner, leading to weight loss. The 1% dose had the strongest effect.
The researchers concluded that "hypothalamic AMPK is important in the central regulation of food intake and energy expenditure and that alpha-LA exerts anti-obesity effects by suppressing hypothalamic AMPK activity"10
The goal of this study was to examine the effect of r-alpha-lipoic acid supplementation in old rats. A total of 344 young and old rats were fed either a normal diet, or one supplemented with 0.5% R-ALA for 2 weeks.
Although supplementation had no significant effect on young rats, in old rats one of the findings was increased metabolic rate – the rate at which the body burns calories. R-ALA restored the metabolic rate of old rats to near the same level of their younger counterparts. In turn, treated old rats also lost a small amount of weight over 2 weeks.
The researchers concluded that "supplementing old rats with 0.5% (w/w) lipoic acid for 2 wk partially reverses the age-associated loss of mitochondrial function, an increase in oxidative stress, and the damage and decline in general metabolic activity"11
Human Research
Human trials of alpha-lipoic acid as a fat burner and weight loss drug have been largely positive.
This study examined the effects of alpha-lipoic acid (ALA) on isolated human fat cells from overweight and obese men and women. The cells were treated with ALA (100 and 250 µM). It was found that ALA treatment reduced the triglyceride (the primary form of fat stored in the body) content of fat cells by about 25% over 24 hours. ALA also appeared to reduce lipogenesis – the creation of new fatty acids & triglycerides.
The researchers concluded that "the present study demonstrates the ability of α-LA to down-regulate key lipogenic enzymes, inhibiting both de novo lipogenesis and fatty acids esterification and reducing triglyceride accumulation in subcutaneous adipocytes from overweight/obese subjects through the activation of AMPK signaling pathway"12
The aim of this study was to test alpha-lipoic acid (ALA) as an anti-obesity supplement. A total of 1127 overweight or obese participants, 445 men and 682 women, were given ALA (0.8 g) daily for 4 months. Overweight (BMI of 25-30) lost an average 8% of body weight, and also had reduced blood pressure. Obese individuals (BMI of 30 or more) lost 9% of body weight and also had reduced blood pressure.
The researchers concluded that "ALA is an ideal antioxidant candidate for the therapy of obesity related [health concerns]."13
This study examined the potential of eicosapentaenoic acid (EPA) and alpha-lipoic acid (ALA) as weight loss supplements. Ninety-seven overweight women were divided into 4 groups: placebo, EPA (1.3 g), ALA (0.3 g), and EPA plus ALA treatment (1.3 g/0.3 g) daily for 10 weeks. All groups also followed a low-calorie diet. Only ALA—with or without EPA—was found to significantly improve weight loss: the ALA group lost 8.3% total weight and 14.5% total fat, versus only 6.1% and 11% for placebo.
The researchers concluded that "α–lipoic acid supplementation at a dose of 300 mg/day combined with an energy-restricted diet might help to promote weight loss and fat mass reduction in healthy obese women"14
The goal of this study was to examine whether alpha-lipoic acid (ALA) could help obese individuals lose weight. A total of 360 obese men and women were divided into 3 groups: placebo, ALA 1200 mg/day, and ALA 1800 mg/day for 20 weeks. Only the 1800 mg ALA group experienced significant weight loss (2.1%) vs only about 1.1% for 1200 mg ALA and 0.8% for placebo.
The researchers concluded that "We showed that 1800 mg/d of oral alpha-lipoic acid was effective in achieving significant weight loss in obese subjects…and may be effective as an adjunctive [supplement] for obesity"3
Dosage Notes
Optimal alpha-lipoic acid dosage for weight loss remains a contested topic, and no recommendations currently exist. Successful human studies have used doses ranging from 0.3-1.8 g daily for several weeks or months. This range is similar to recommended ALA dosages for blood sugar problems (0.6-1.2 g).
Side Effects
Lipoic acid may cause an allergic skin reaction; a rash or an itching sensation. It appears to be well-tolerated overall, however; researchers have tested doses of up to 2.4 g/day for 2 years and did not report any adverse effects.16
Available Forms of Alpha Lipoic Acid
Alpha-lipoic acid is mostly commonly sold in capsules as a mixture of R-ALA and S-ALA, meaning that it has equal amounts of both forms.
Less commonly, ALA is sold as 100% R-alpha-lipoic acid, which is considered to be more potent.
Supplements in Review Recommendation
ALA as R-Alpha-Lipoic-Acid, 150 mg
ALA shows strong potential for natural weight loss support. Beyond its fat-burning capacity, ALA appears to help brain health, anti-aging and a number of other areas of wellness. With a promising body of human research studies and an excellent safety & tolerability profile, ALA makes sense in natural fat-loss supplements.
Look for ALA as R-Alpha-Lipoic-Acid (alternately labeled "R-Lipoic-Acid" or "R-Fraction Alpha Lipoic Acid). This "activated" ALA form appears to be far more potent than plain ALA, making it an ideal choice for fat-loss complex supplements that feature multiple ingredients.
References