Rich in medium-chain triglycerides (MCT), Coconut Oil may support weight loss efforts via energy metabolism enhancement.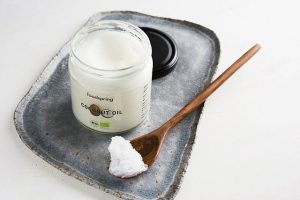 The fat-melting effect of coconut oil has long been a point of question among doctors and dietitians. As more studies are completed and historical facts uprooted, it seems as though the anti-coconut oil crowd may have been fueled by economic, not scientific, motives. The evidence we have today suggests that coconut oil may help with weight loss by:
Increasing energy expenditure (EE): Energy is stored in our bodies as adipose cells, so increasing EE means burning more fat.
Overview
Upon returning home from a 16th century expedition, famous explorer Vasco De Gama recounted tales of the use of coconut among the indigenous west Indian people to King Manuel I of Portugal, inspiring him to write, "…from these [coconut] trees and their fruit are made the following things: sugar, honey, oil, wine, vinegar, charcoal, and cordage…and it serves them for everything they need."
Indeed, due to its purported wellness properties, the coconut palm is referred to as "The Tree of Life" by many Pacific Island cultures. While reports of the therapeutic effect of coconut palm byproducts on many ailments remain to be tested, researchers do agree on one thing: coconut oil may aid with weight loss because it is extremely rich in medium-chain triglycerides (MCTs). MCTs are relatively small fat molecules that, in contrast with long-chain triglycerides, have been shown to aid weight loss through a variety of physiological processes. They make up about 65% of coconut oil fat content, but are practically absent in every other common plant oil.3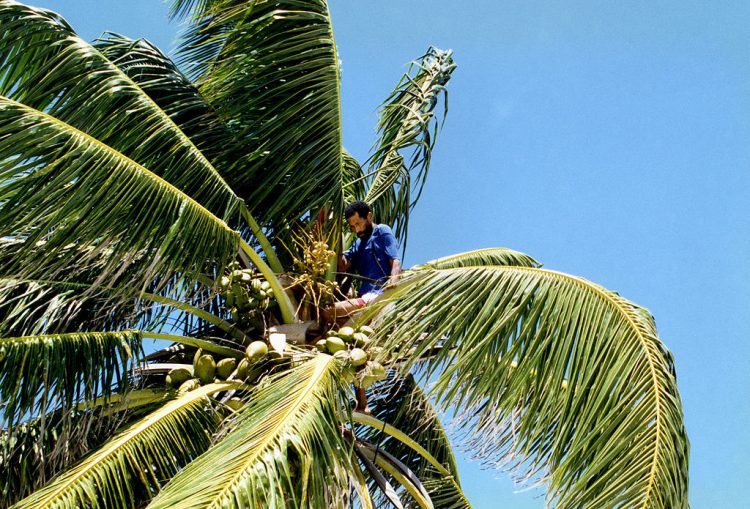 How Coconut Oil Might Help Burn Fat
Increases Energy Expenditure
Studies suggest that coconut oil may increase your energy expenditure. As stated above, MCT's are moved quickly to the liver, which is responsible for the breakdown of molecules in the body. Your liver requires energy to do this, which it obtains from your fat cells.  This differs from LCT-rich oils, which are absorbed and metabolized in the small intestine and stored in fat cells. Similar to other plant products such as matcha or guarana extracts, coconut oil may induce internal processes which burn your own fat.  4
Improves body composition
As opposed to the LCT's of other oils, the major component of coconut oil, MCT's, are highly soluble. When ingested, MCT's are rapidly absorbed and transported directly to the liver for oxidation. This rapid transport of MCT's through the body allows them to bypass the metabolic processes responsible for transforming fatty acids (such as those found in other oils) into fat tissue. Thus, coconut oil does not likely contribute to the deposition of fat into the body.56
Coconut Oil's Reputation
Coconut oil's reputation has survived World War II, literally. Since its introduction into the Western world, derivatives of the coconut palm have been used for everything from rope, to soap, to engine fuel. Coconut oil itself was a popular cooking staple throughout the Industrial Age in Europe. Once World War II swept through the South Pacific, coconut exports dropped significantly, and alternative (and higher-priced) vegetable oils, such as soybean, began to dominate the market.
Marketing campaigns were designed to downplay the benefits of coconut oil, and trick the public into believing the high saturated fat content of coconut oil was extremely unhealthy. We now know that the small, naturally saturated fats of coconut oil are in fact extremely healthy, and a potential boon to burning fat.7
Coconut Crabs: A potential source of coconut oil?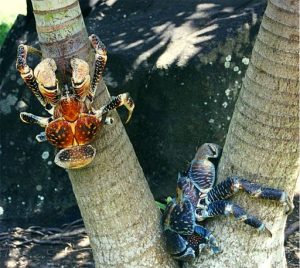 Along the coastlines of Indian and Pacific islands, the largest terrestrial arthropod can be found crawling through tropical underbrush. These coconut crabs (Birgus latro), so called because of their proven ability to tear open and consume coconut flesh, are a delicacy in the region.8
In fact, anecdotal evidence suggests that their oily abdominal sac may be similar in composition to coconut oil,7 and one study even reported a distinct aftertaste of copra, the coconut kernel from which coconut oil is extracted. If you do have the opportunity to try this South Pacific delicacy, be warned, the coconut crab can be highly toxic, with cases reported as recently as 2010.1011
Animal Research
Rats fed diet rich in medium-chain fatty acids gained less weight than rats fed long-chain fatty acids
Rats were fed a diet containing either MCT's of LCT's as the major fat source twice daily for six weeks. Researchers found that rats fed a diet supplemented with MCT's gained 20% less fat, and had fat content weighing 23% less than LCT-fed rats.
Researchers concluded that "the decreased deposition of fat in the MCT-fed rats may have resulted from…oxidation of MCT-derived fatty acids in the liver…leaving almost no MCT derivatives for incorporation into body fat."12
Human Research
Diet supplemented with MCT oil decreases fat and increases energy expenditure in overweight men
In a crossover trial, twenty-four overweight men were fed a diet rich in MCT or LCT for 28 days per treatment. When fed the MCT-rich diet, the subjects experienced a significant decrease in upper body adipose tissue. In addition, MCT-oil was associated with an increased energy expenditure and fat oxidation towards the beginning of the trials, but not towards the end.
The researchers reported that "consumption of a diet rich in MCTs results in greater loss of AT compared with LCTs, perhaps due to increased energy expenditure and fat oxidation observed with MCT intake. Thus, MCTs may be considered as agents that aid in the prevention of obesity or potentially stimulate weight loss."4
Dosage for Fat Burning
Most retail sources of coconut oil recommend a 1 Tbsp, or 14 gram per serving
For weight loss, other sources claim 30 mL daily, taken at once or on three 10 mL doses, is the correct dosage
Coconut oil in the form of soft gel capsules are often sold in doses of 3 grams
Side Effects
Allergic reactions to coconut oil can be extreme, but rare. In addition, large amounts of coconut oil can significantly increase cholesterol levels.
Available Forms of Coconut Oil
Oil. Coconut oil has a high melting point, so you will find it as a solid white oil, likely in a glass jar or plastic container.
Soft gel capsule. If you don't like the taste of coconut oil, or just prefer to take it on pill-form, many supplement companies sell coconut oil as soft gel capsules.
Supplements in Review Recommendation
Coconut Oil, 15 grams daily
Coconut oil appears to play a role in burning fat. This white solid (at room temperature) is metabolized so quickly by the body it doesn't even have a chance of adding fat to those pesky fat cells. Even more, it works the liver so hard, it induces your body to consume even more energy.
We recommend taking 15 grams of coconut oil a day. If you're going to use any oil, try replacing fat-depositing oils such as vegetable and olive oil with coconut oil. If you don't use oil regularly, try taking coconut oil via soft-gel capsule to get those fat-burning processes churning.
References