A cactus-like South African succulent used in local health traditions, Hoodia is used for appetite control.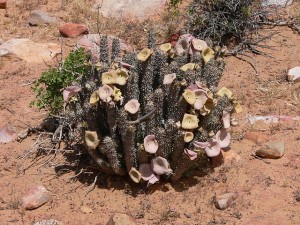 Various species of Hoodia, most notably Hoodia gordonii, have been consumed by South African tribal people to help ease thirst and hunger. Although technically not a "fat-burner," Hoodia has been suggested to help with weight management efforts via one key bio-activity:
Hoodia may help to suppress & control appetite, which in turn leads to lower food intake and subsequent weight loss.
Overview
Hoodia is a genus of succulent plants native to Southern Africa, which have been traditionally used by the tribal San people for appetite & thirst suppression when going on long hunting trips in the Kalahari Desert. Although Hoodia usually refers to Hoodia gordonii, other Hoodia species are also reported to share some of the same effects, such as Hoodia parviflora.
The key active ingredient in Hoodia is widely believed to be the chemical P57, although recent research suggests than other compounds such as Gordonoside F may also be responsible.
Hoodia exploded in popularity after being featured in the media as a "miracle" weight-loss supplement in the 2000s. Despite this, Hoodia has not been conclusively proven to help with weight loss.
Unfortunately, Hoodia's "trendy miracle weight loss herb" reputation spawned a number of unscrupulous hoodia supplements that were low quality, adulterated or tainted.
One such product, P57 Hoodia, was the subject of an FDA Medication Fraud Alert in 2011. Apparently the P57 Hoodia formula was found to be tainted with sibutramine, a potentially dangerous controlled substance that was banned from the U.S. market in 2010.
To add further fuel to the controversy, some supplement companies have used lower than reported quantities of Hoodia or even none at all.1
As a result of huge demand, Hoodia was given protected status in Namibia and South Africa, and can only be legally harvested by licensed individuals and companies. The price of a kilogram of Hoodia reached as high as $200 at one point, making it a popular item in illegal trade.2
The biggest issue with Hoodia remains the lack of scientific research. Most studies done in humans have not been reported in scientific papers and their data is not accessible.
Did you know? Although Hoodia resembles cacti and has been nicknamed the "slimming cactus", it is not actually part of the cactus family of plants. Other names for Hoodia include Bushman's Hat and Queen of the Namib.
Hoodia's Fat-Burning Bio-Activities
Hoodia's mechanism of action may come from the compound P57 which is believed to reduce appetite by sending signals to the hypothalamus – the part of the brain which controls hunger and other processes.
Here, P57 is believed to function similar to high levels of glucose by telling the brain that you're full, resulting in suppression of appetite.3
However, this mechanism does not rule out the possibility of other bio-active compounds in Hoodia with different modes of action. One such compound is Gordonoside F, which is believed to function by activating GRP119, a receptor which plays a key role in increasing insulin release and reducing food intake.4
Big Pharma Bails on Hoodia
Despite its popularity, large companies such as Pfizer and Unilever have withdrawn from developing Hoodia weight loss products even after spending millions of dollars on research.5 Pfizer attributed their withdrawal to the difficulty of synthesizing P57, Hoodia's believed active ingredient, whereas Unilever cited safety and efficacy concerns.67
Research
Animal Research
Studies of hoodia in mice showed promising results for appetite suppression and subsequent weight loss.
This study tested the effect of P57 injected directly into the brain of mice. P57 resulted in an increase of ATP, the body's main energy molecule, of 50-150% in neurons of the hypothalamus – the part of the brain which controls hunger and other processes. Food intake was reduced by 40-60% for the next 24 hours following P57 injection at doses of 0.4 – 40 nmol. The researchers postulate that increasing ATP is a key mechanism in how the hypothalamus regulates food intake.
The researchers concluded that "P57AS3 or related molecules may be intriguing probes to further elucidate the amplification of signaling of this energy sensing function…agents which thus might be harnessed to allow energy-sensing remodeling within the hypothalamus or to restore more adaptive energy homeostasis within the whole organism, as a treatment for obesity or insulin resistance"8
The purpose of this study was to test that hypothesis that the compound Gordonoside F found in Hoodia was responsible for activating GRP119, a receptor which plays a role in reducing food intake. The researchers tested the effect of Gordonoside F on isolated cells, and on living mice. It was found to reduce food intake and promote glucose-stimulated insulin secretion (GSIS) in isolated cells.
The researchers concluded that "…the activation of GPR119 receptor is an important mechanism underlying H. gordonii's therapeutic effect. Given the present results on homogeneous compounds and the long history of safe application of H. gordonii in body-weight control, we believe that the novel scaffold of Gordonoside F provides a promising opportunity for developing new drugs in treating metabolic diseases"9
This study tested the appetite-suppressing effects of P57 isolated from two Hoodia species – Hoodia pilifera and Hoodia gordonii. P57 was given orally to rats with dosages ranging from 6.25 – 50 mg/kg/day for 3 days, with all doses showing a decrease in food consumption and body mass over an observation period of 8 days.
P57 30 mg/kg/day were also found to be more effective than 15 mg/kg/day of fenfluramine – an appetite-suppressant previously used in anti-obesity drugs. Whereas mice given fenfluramine ate slightly less food and gained weight after 8 days, the ones given P57 had a larger reduction in food intake and lost weight after 8 days.
The researchers concluded that "These preliminary tests that were conducted on rats using the compound 1 indicated that the molecule has significant appetite-suppressant activity and also results in decreased body weights when consumed orally over a three day period"10
Human Research
Human trials of Hoodia are relatively rare, despite its popularity as a weight loss supplement. This is partly due to the fact South Africa patented P57, and signed a licensing agreement with only one company to research its use – Phytopharm.11
Unlike most studies, this trial looked at a difference species of Hoodia – Hoodia parviflora. The study examined the effects of 40 days of supplementation with a Hoodia parviflora-based product. A total of 103 participants ranging from normal to obese weight took either 3 g frozen supplement containing 95% ground Hoodia parviflora or placebo cubes daily. The Hoodia group lost an average of 0.58 kg compared to 0.2 kg gain in placebo, although this effect was not apparent for very obese individuals (BMI ≥ 35). No moderate to severe side effects were reported.
The researchers concluded that "These results support the use and further study of H. parviflora in products to aid weight loss and maintenance and possible appetite suppression for healthy adults"12
This study examined the effects of 2.22 g/day Hoodia gordonii purified extract (HgPE) on safety and weight-related parameters in 49 overweight women. The women were divided into a placebo, or 2×1.11 g HgPE groups for 15 days. No significant difference was found in food intake, weight, or body fat. Women in the HgPE group also had higher blood pressure, and were more likely to have side effects such as dizziness, nausea, and vomiting compared to placebo.
The researchers concluded that "the totality of data from this study did not provide evidence of efficacy in terms of a reduction in energy intakes and body weights in the HgPE treatment group relative to in the placebo-treatment group"13
However, they did not rule out Hoodia's potential for weight loss completely, noting that more research is needed
Dosage Notes
The ideal dosage of Hoodia is not apparent from research studies due to lack of data, and because different researchers used both whole Hoodia, as well as isolated compounds. Commercially-available supplements recommend a maximum dose of 4,000 mg/day Hoodia concentrate. More common dosages for retail hoodia supplements are far lower, ranging from 500 mg to 2000 mg hoodia daily.
Side Effects
There is insufficient information on Hoodia's side effects, and studies show mixed results. Some trials showed no adverse effects, while others reported mild to moderate reactions including increased blood pressure, dizziness, and vomiting.
Available Forms of Hoodia
Plain Hoodia: Made from just the cactus-like plant's pulpy leaf, this is the most basic and cheap form of hoodia on the market.
Hoodia concentrated extract: This is a more potent form used in supplements, concentrated to up to a 20:1 ratio.
Snack Less™: This line of products combines Hoodia parviflora with chewing gum and fruit bars. Snack Less was developed and researched over 10 years in Israel by the company Desert Labs.14
Supplements in Review Recommendation
Don't take Hoodia for weight loss.
Hoodia has a cool back-story. The idea that it was used by African Bushmen on long hunting trips, combined with its skyrocketing trendiness as a "miracle herb" in the early 2000s, make the herb really compelling. But the Hoodia research isn't nearly as compelling as its marketing story.
Plus, unfortunately, Hoodia's popularity spawned a lot of low-quality supplements. We're also noticing that some major supplement retailers in the U.S. seem to be dropping Hoodia from their weight loss offerings, which could be a red flag. And finally, Big Pharma's decision to halt development of Hoodia products over safety concerns is another big red flag.
With these points in mind, we do not recommend Hoodia as a fat-burner or weight-loss supplement. There's just not enough evidence and way too much controversy.
References