L-Carnitine and its amino acid derivative Acetyl-l-Carnitine (ALCAR) may assist with fat-burning activities within cells.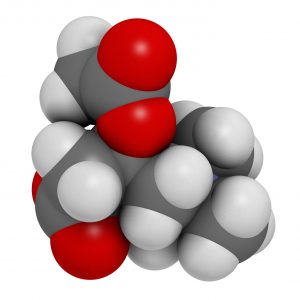 Acetyl-l-carnitine (also called ALCAR) is the acetylated form of l-carnitine, a compound that plays a key role in cell energy production. These carnitine forms have been marketed as a possible fat burning and weight loss agent through one main mechanism:
Increased fat oxidation (the body's usage of fat for energy), which may aid weight loss
Overview
Carnitine is naturally produced in the liver and kidneys from the amino acids lysine and methionine. It is also present in animal products such as meat, fish, and milk; a typical diet provides about 60-180 mg of carnitine daily. L-Carnitine deficiencies are relatively rare, and are usually the result of a disorder or illness.1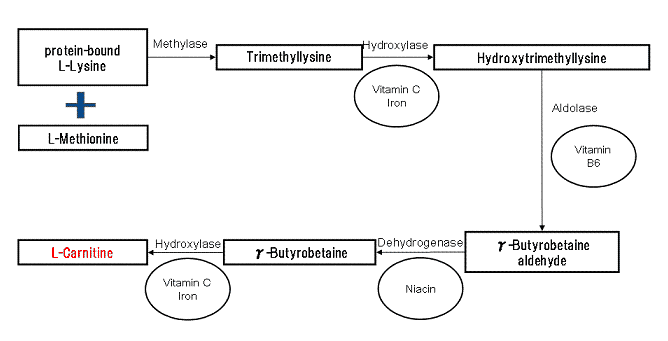 In addition to helping with carnitine deficiency, acetyl-l-carnitine supplements are used for a variety of health issues, including Alzheimer's, depression, age-related memory loss, poor blood circulation in the brain, cataracts, infertility, nerve pain and athletic performance. It is considered by some to be a brain-energizing nootropic, and is included in some brain-booster supplements.
As a fat-burner, L-carnitine has also been marketed for weight loss, but little human research backs that use. The current stance of the research community seems to be that there is not yet enough evidence of l-carnitine's for weight loss.2 However, ALCAR does seem to possess mechanisms of action that may have the potential to support weight management efforts.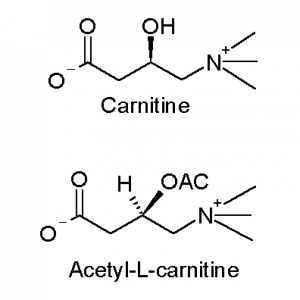 L-Carnitine vs. Acetyl-L-Carnitine
Carnitine, L-Carnitine, Acetyl-L-Carnitine… what's the difference?
Carnitine and L-Carnitine are essentially the same. In the Acetyl-L form (ALCAR), however, complexes carnitine molecules with an acetyl group — a process that is believed to boost carnitine's absorption, activity and effectiveness.
Due to its bioavailability advantages, most modern carnitine supplements use the acetyl form rather than plain l-carnitine.
Acetyl-L-Carnitine's Fat-Burning Bio-Activities
Carnitine is naturally present in the human body, and its major function is to transport fats into the mitochondria – structures which are responsible for generating most of a cell's energy. Here, the fatty acid molecules can be oxidized or "burned" in order to produce energy.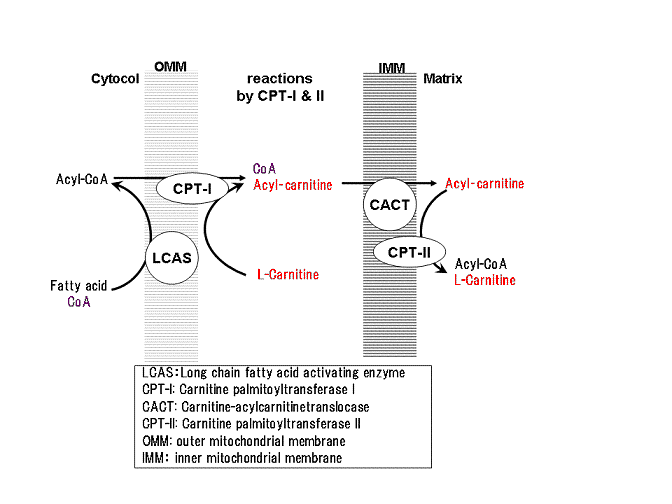 Furthermore, during a period of inadequate food supply, such as when dieting (especially on ketogenic low-carb diets), the breakdown and oxidation of fats is naturally increased, which explains why people on a diet gradually lose fat.
Given these facts, it is theorized that supplementing carnitine, particularly during a period of insufficient dietary intake, may further boost the oxidation of fats — potentially initiating or improving fat loss.3
In addition, carnitine may aid fat metabolism by increasing the transfer of acyl-CoA enzymes from mitochondria, which may further enhance the formation and transfer of fatty acids.4
ALCAR + ALA Synergy
L-carnitine appears to have a synergetic action with another compound crucial for the proper functioning of the mitochondria – alpha-lipoic acid (ALA). Like carnitine, ALA is naturally present in the human body, and is essential for the function of several enzymes involved in mitochondrial energy generation. Multiple studies have shown the combination of ALA and acetyl-l-carnitine seems to be more potent than either substance alone for improving mitochondrial function and for stimulating the burning of fatty acids.5
Research
Animal Research
Animal studies of carnitine for weight loss have produced mixed results.
L-carnitine (5 g/kg bodyweight) does not appear to improve weight loss in dieting rats
The goal of this study was to investigate if l-carnitine supplementation could help rats lose weight while dieting. Thirty-six rats were divided into control (no diet), low-calorie diet, and diet plus l-carnitine (5 g/kg bodyweight daily) groups for 23 days; the diet provided about half of the calories needed to maintain weight. No beneficial effect of carnitine was found, as both diet groups lost about the same amount of fat and overall weight.
The researchers concluded that "supplementation with L-carnitine in rats as model species has no beneficial effect on weight development and body composition during an energy-deficient diet"6
L-carnitine (250 mg daily) in combination with a low-calorie diet for 18 weeks may speed up weight loss in obese cats
This study examined whether l-carnitine could have any beneficial effect on weight loss in obese cats. Twenty-four obese cats were divided into two groups, one receiving l-carnitine (250 mg) and the other receiving placebo treatment daily for 18 weeks. In addition, all cats were restricted to a low-calorie diet (60kcal/kg bodyweight). Both groups achieved significant weight loss by week 18, but the carnitine group lost more body weight (23.7% vs 19.6%).
The researchers concluded that "Although cats receiving supplemental L-carnitine lost weight at a faster weekly rate than control cats during all intervals except week 16, without body composition studies, the con-clusion cannot be made that carnitine facilitated loss of body fat and conserved lean tissue mass"7
Human Research
Human trials of supplemental l-carnitine for weight loss are scarce, and show mixed results.
L-carnitine (3 g daily) for 10 days appears to increase fat oxidation rates in healthy individuals
The goal of this study was to examine the effect of l-carnitine supplementation on fat metabolism. Five men and 5 women were given carnitine (3 g) daily for 10 days, and their fat oxidation rates were measured before and after by measuring C02 exhalation. Carnitine resulted in increased fat oxidation, as shown by an increase in exhalation from an average of 5.2% to 7%. In turn, increased fat oxidation could lead to weight loss over a longer period of time.
The researchers concluded that "our data show for the first time that supplementary L-carnitine significantly increases fatty acid oxidation as determined by the cumulative 13CO2 exhalation method"8
L-Carnitine (4 g daily) supplementation does not appear to promote weight loss in overweight women
This study was the first to test l-carnitine supplementation for weight loss in humans. Thirty-six moderately overweight women were assigned to take 2 g of either placebo or l-carnitine (L-C) twice daily for 8 weeks, in addition to 30 min of walking 4 days a week. Neither group experienced significant weight loss, nor were there any major differences in any variables between L-C and placebo. In addition, 5 of 18 women in the L-C group dropped out of the study due to nausea and diarrhea.
The researchers concluded that "L-C supplements do not appear to be suitable as part of any weight loss therapy, despite claims to the contrary on a wide range of health food products…"9
L-carnitine supplementation (3 g) may improve fat oxidation, possibly leading to weight loss after prolonged use
The goal of this study was to examine the effect of l-carnitine supplementation on fat oxidation and other parameters in overweight individuals. Seven slightly overweight women and 5 men followed a diet with or without 3 g carnitine daily for 10 days.
The l-carnitine group had improved fat oxidation compared to placebo. Although both groups maintained their body fat and lean mass, the researchers suggest that 10 days is not long enough for the improved fat oxidation to result in decreased body fat and overall body mass.
The researchers concluded that "In contrast to the unchanged protein turnover rates, the l-carnitine supplementation led to an increased C-fat-oxidation (15.8% v 19.3%; P = .021) corresponding to an improved dietary fat utilization"10
Dosage Notes
Doses of 3-4 g daily are the most common in research studies.
Acetyl-l-carnitine supplements suggest doses of 0.5-2 g daily.
Standalone ALCAR capsules will typically range from 250 mg to 1,000 mg per
Side Effects
L-carnitine supplements appear to be safe and well-tolerated. Transient and mild side effects may include mild diarrhea, nausea, or rash.
Available Forms of Acetyl-L-Carnitine
Carnitine is available in capsules and tablets, as a standalone supplement or combined with other nutrients in a complex. Sports nutrition supplements sometimes offer Carnitine as a scoopable powder that is mixed into drinks and shakes. Specific forms include:
L-Carnitine is the plain, commodity form of the nutrient. It is the cheapest form available, and some opt for it to achieve higher doses without breaking the bank.
Acetyl-l-carnitine is the most popular form of l-carnitine in dietary supplements. Affordable but advanced, it features better bioavailability than plain L-Carnitine.
L-Carnipure® is a patented & branded form that binds a tartrate salt or ester to the carnitine to improve absorption. It is expensive, but premium-quality.
Supplements in Review Recommendation
Carnitine as Acetyl-L-Carnitine, 1,500 mg
L-Carnitine is light on research, but big on promise. Its fundamental roles in cell energy make sense for fat-burning — especially for vegetarians who may not be getting much ALCAR (found in meats) in their diets. With additional brain energy benefits, we think ALCAR has a place in weight management plans, especially combined with other fat-burners.
Acetyl-L-Carnitine (ALCAR) strikes the right balance of price and potency. 1,500 mg is about halfway to the high-end of dosage used in clinical research, so would seem to be a good starting point. Assess your tolerance before increasing dosage beyond 1,500 mg.
References