Human Research
ze: 18pt;">
Vitamin B12 may support the cell energy process that underlies fat-burning activity.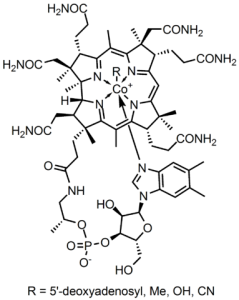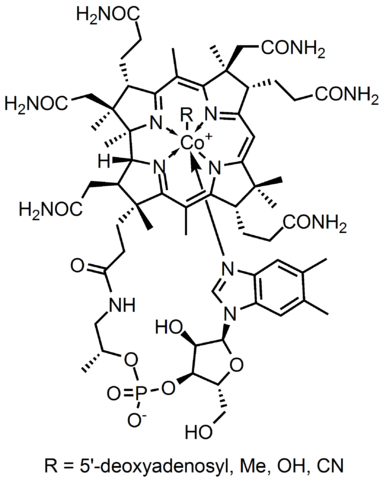 Vitamin B12 is a water-soluble essential vitamin required for the proper functioning of the brain, nervous system, DNA, and blood cells. It may be a speculative fat burner due to its role in:
Cell energy metabolism. B12 is a necessary nutrient for breaking down and converting foods we eat into life energy.
Overview
Vitamin B12, also known as cobalamin, is one of the 13 essential vitamins – compounds that are required for the body to function properly.
In particular, vitamin B12 plays a central role in the normal functioning of the brain, nerves, and blood cells. In its active methylcobalamin form, B12 helps to balance and regulate blood homocysteine levels.
B12 supports the brain. When B12 levels are low, brain degeneration seems more prevalent — making B12 a popular ingredient in nootropic stacks and brain supplements. B12 also acts as a methyl donor, helping to synthesize protein and DNA – the genetic material found in all cells.
Most relevant to its potential role as a fat-burner, specifically: Vitamin B12 plays critical roles in cell energy metabolism.
Populati
Populations at Risk for B12 Deficiency

nited States, B12 deficiency is estimated to affect anywhere from 1.5% to 15% of the population.1 Low levels seem more prevalent in certain populations, especially the following:2
Vegetari
Vegetarians & Vegans

be found only in animal foods such as meat, fish, and dairy. For this reason, vegans and vegetarians are more often deficient, and are advised to take a B-12 supplement.
Adults ov
Adults over Age 50

w older, levels of hydrochloric acid in the stomach tend to decline. This presents a challenge for nutrient absorption in general, but especially for absorbing the form of Vitamin B12 that is naturally present in foods we eat.

This age-related decline is why the US Dept. of Health says, "People over 50 should get most of their vitamin B12 from fortified foods or dietary supplements because, in most cases, their bodies can absorb vitamin B12 from these sources."

Both these populations are suggested to get the majority of their dietary B12 from supplements or fortified foods — because they use the crystalline form of the vitamin that is believed to be easier to absorb.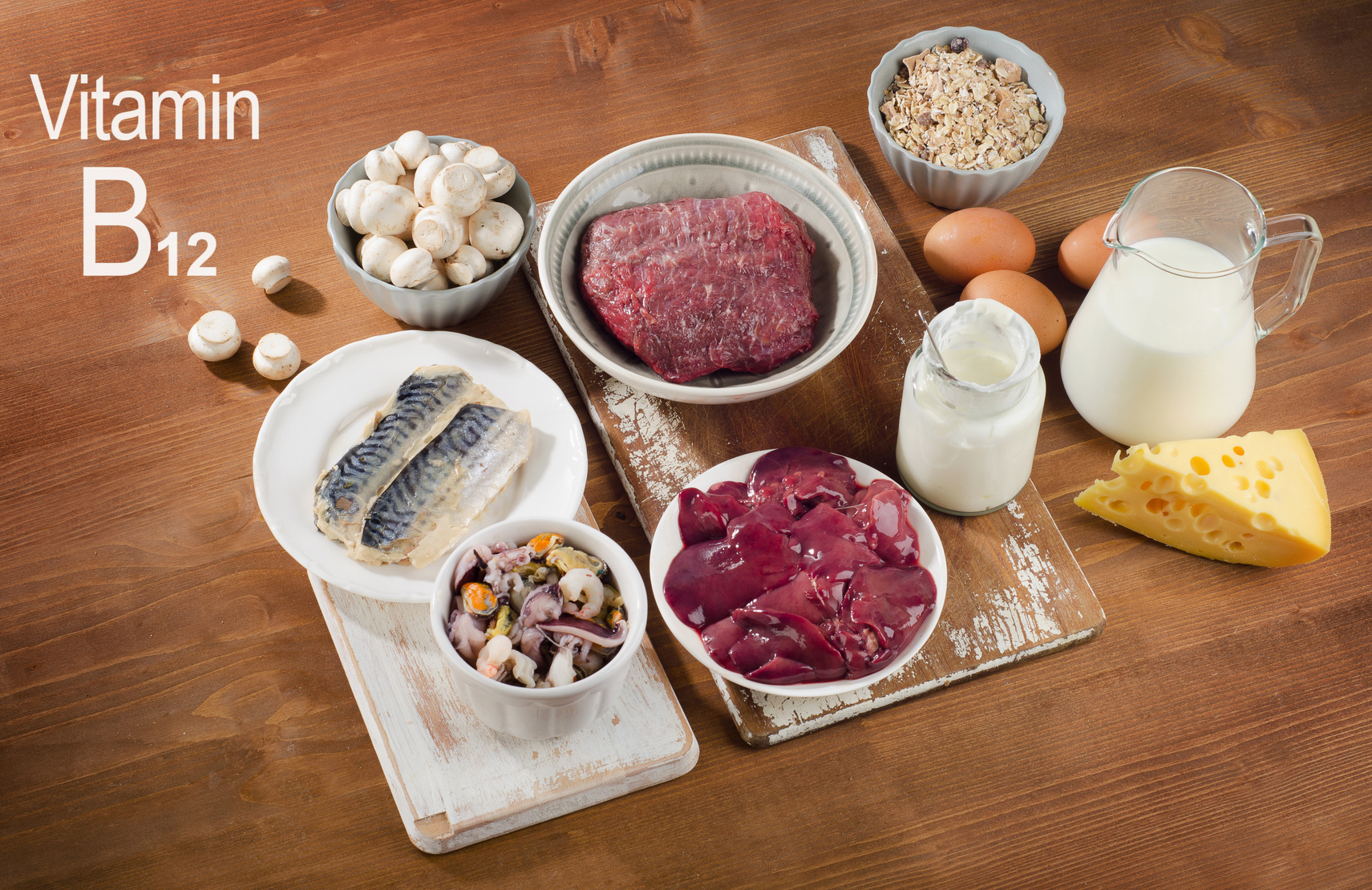 Vitamin B12's 
Vitamin B12's Fat Burning Bio-Activities

its more well-established roles in cardiovascular and nervous system health, Vitamin B12 has also recently been promoted as a weight loss aid, taken by injection or as part of a multi-ingredient supplement.

Evidence for B12 as a fat-burner is early and suggestive at best. But in the context of weight management supplements, B12 has been suggested to help by:
Supporting overall v
Supporting overall vitality

sociated with feelings of fatigue and low energy. In theory, supplementing with B12 can restore healthy levels, and in doing so, restore the vitality that helps advance fitness and weight management efforts.
Supporting cell ener
Supporting cell energy metabolism

ethylcobalamin form is necessary for biochemical metabolism — life-supportive processes that include the breakdown and conversion of foods we eat into energy that we burn.3

B12's metabolic activity seems directly related to fat-burning, and may suggest B12 is a necessary nutrient for fat-burning to occur. But it's important to remember that this is a theoretical and early position that has not yet been demonstrated in strong human research.

Some experts suggest B12 may only help our health in general in cases of deficiency.4 But we've already established that B12 deficiency may be more common than you think — especially in one population that also may have more concerns with weight: Adults over age 50. 

For this reason, we think that B12's potential weight management support makes more sense in those age 50+ who may have age-related weight gain concerns.
Research
Huma
Research

p>There is no research that looks particularly at vitamin B12 as a weight loss agent, and studies that examined a possible connection between obesity and vitamin B12 levels report conflicting results.

The goal of this study was to see if there was any connection between vitamin B12 levels and obesity, insulin resistance, or metabolic syndrome. A total of 976 patients were grouped in accordance to their health parameters: obesity, overweight, control, metabolic syndrome, and insulin resistance. The researchers found that there was a significant negative correlation between vitamin B12 levels and body mass index (BMI), meaning that patients with higher body weight tended to have lower B12 levels.
The researchers concluded that "Low Vitamin B12 level was associated with obesity and overweight, but not with insulin resistance, metabolic syndrome and gender. Vitamin B12 was negatively correlated only with body mass index"5
This study sought to determine if morbid obesity was linked to lower vitamin levels. A total of 110 patients with morbid obesity and 58 healthy individuals had their vitamin levels tested. Although the morbidly obese participants had lower concentrations of several vitamins, such as B6, vitamin B12 was found to be adequate.
The researchers concluded that "morbidly obese Norwegian patients seeking weight loss may have low circulating concentrations of several vitamins, including 25-hydroxyvitamin D, vitamin B-6, vitamin C, and lipid-adjusted vitamin E"6
Dosage Notes
Giv

Dosage Notes

there are currently no dosage recommendations for vitamin B12 supplementation for weight loss.
Recommended daily allowance for Vitamin B12 is approximately 2.5 micrograms
Retail supplements typically supply between 1000 mcg – 5000 mcg
Side Effects
Vitamin B
Side Effects
tamin that is well-tolerated, even at higher dosages. It does not appear to cause any significant side effects or adverse events.
Available Forms of Vitamin B12
Available Forms of Vitamin B12

tamin B12 is typically sold as cobalamin in tablet or lozenge form. Cobalamin is an affordable form of B12, but not the most active or effective. Cyanocobalamin must be converted into methylcobalamin in order to perform its most important health-supportive bio-activities.

Methylcobalamin: B-12's benefits are driven by the Methylcobalamin, the form that accounts for most of the B12 naturally present in the body. Potent and bioavailable, methylcobalamin is believed to be easier for the body to absorb and utilize than plain cyanocobalamin.
Supplements in Review ReSupplements in Review Recommendationsize: 14pt;">Vitamin B12 as Methylcobalamin, 2500 mg
B12 supports metabolic processes that are related to fat burning. But it's important to remember that as a fat burner, B12 is backed by theory only. Age-related B-12 decline is real, however. Since B12 is well-regarded for helping health in many other areas — circulation, nerve health, brain health and more — and since older adults may fall short on B12, it makes sense to supplement with it for fat-burning, especially if you're age 50+.
Taking Vitamin B12 as methylcobalamin is the right idea. Absorption seems to be the major obstacle in B12 supplementation, and methylcobalamin is more absorbable, bioavailable, and active than plain cobalamin B12. 2500 mcg is a mid-range dose for supplements, and a good starting point for B12.
References