Animal Research
e: 18pt;">
Early research suggests alpha-lipoic acid may protect against nonalcoholic fatty liver.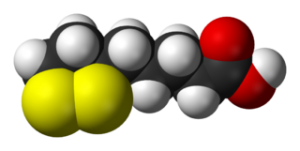 Alpha lipoic acid (ALA) is a fatty acid known for its roles in energy production and antioxidant protection. ALA has been suggested to support liver health through:
Antioxidant activity. ALA protects the liver from oxidative stress by neutralizing free radicals and regenerating the body's other antioxidants.
Warding off steatosis. ALA protects against fat accumulation in the liver (steatosis), which is linked to fatty liver disease.
Overview
Alpha-lipoic acid (ALA) is a vitamin-like fatty acid present in the human body. ALA is also found spinach, broccoli, potatoes, yeast, tomatoes, brussels sprouts, kidney meat, and other food sources.
ALA is an essential element of energy production because it aids the function of enzymes found in the mitochondria—the structures which generate cellular energy. In addition, ALA is recognized as a powerful antioxidant—a compound that protects cells from oxidative damage. Since it is soluble in both water and fat and can reach all parts of the body, ALA has gained a reputation of being the "universal antioxidant."
These two critical roles have made ALA a popular supplement for a variety of health concerns, including diabetes, weight loss, brain function, chronic fatigue, cardiovascular health, and liver disorders. In terms of liver health, ALA is most commonly used for nonalcoholic fatty liver disease (NAFLD), hepatitis, and alcohol-related liver conditions.
Did you know?
Alpha lipoic acid has two main forms – R-alpha-lipoic acid (R-ALA) and S-ALA. R-ALA is the naturally occurring form, whereas S-ALA is made synthetically at a ratio of 1:1 to the R-form. R-ALA is believed to be more potent than S-ALA,
1
but most ALA supplements contain a 50%/50% mixture of R-ALA and S-ALA. Unless a supplement states that it contains r-alpha-lipoic acid, it should be assumed that both forms are present.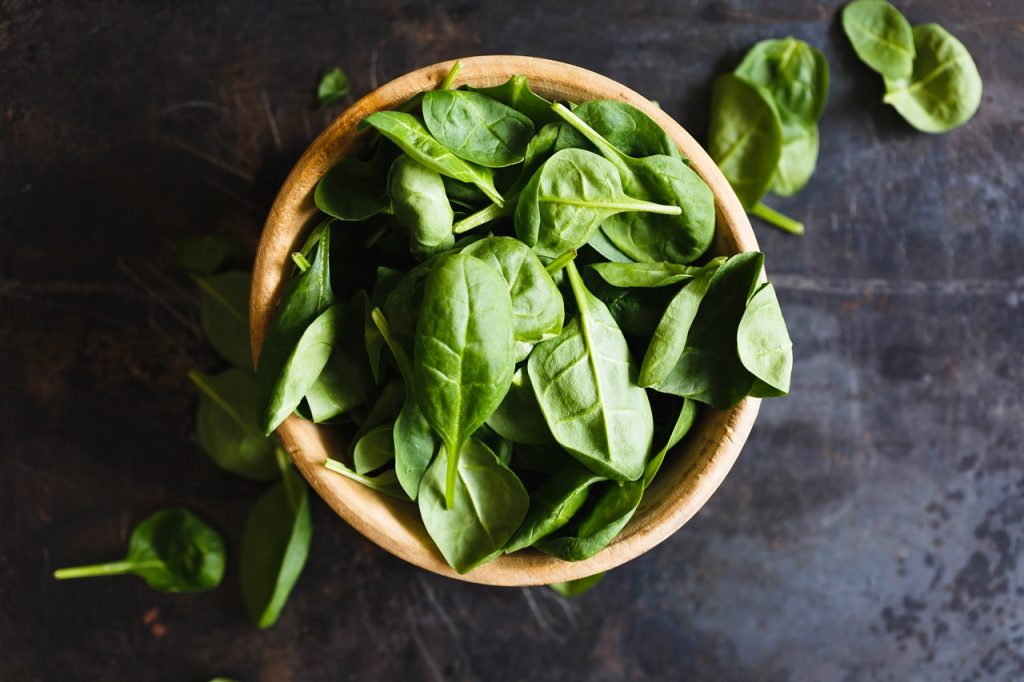 How Al
How Alpha Lipoic Acid Might Help With Liver Health

17;s not entirely clear how ALA can support healthy liver function, but researchers propose several possibilities:
Antioxidant support
e id="attachment_20510" style="width: 300px" class="wp-caption alignright">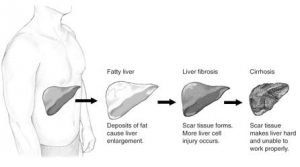 Stages of liver damage starting with steatosis (fatty liver). Image by Countincr [Public Domain], via Wikimedia Commons

Oxidative stress is known to play an important role in liver disorders.2 As an antioxidant, alpha-lipoic acid helps reduce oxidative stress by neutralizing free radicals. In addition, when ALA is changed into a different molecule called dihydrolipoic acid (DHLA), it is capable of regenerating the body's other antioxidants, such as glutathione, vitamin C, and Vitamin E. 3 Combined with its ability to dissolve in both water and fat, this makes ALA an incredibly potent, liver-protecting antioxidant.
Protec
Protecting against steatosis

production and storage of fat in the liver (steatosis) is a central feature of fatty liver disease. ALA has been shown to ward off liver steatosis by decreasing the activity of the protein SREBP‐1c. 4
Alpha Li
Alpha Lipoic Acid Uses & Benefits for Liver Health

ple use ALA to protect against or slow the progression of common liver disorders, such as fatty liver, hepatitis, and cirrhosis.

There is some early evidence that ALA might ward off nonalcoholic fatty liver disease (NAFLD) – the most common liver disorder worldwide – but there is too little research to say anything conclusive. ALA's effects may also be helpful in cirrhosis and other liver disorders, but not enough studies have been done to support its use for these conditions.

Did you know?

ALA is sometimes used as a

nootropic

that protects the brain from oxidative stress.
Research<
Research

esearch

Animal studies suggest that ALA protects against nonalcoholic fatty liver and liver damage.

ALA supplementation (200 mg/kg) appears to prevent NAFLD in rats

This study examined whether alpha lipoic acid can protect against non-alcoholic fatty liver disease (NAFLD). Rats were divided into two groups: untreated, or given 200 mg/kg ALA daily for 16 weeks. ALA supplementation improved measures of multiple factors involved in the development of NAFLD, including oxidative stress, inflammation, immune system activation, and liver steatosis (fat accumulation).
The researchers concluded that "Chronic ALA supplementation prevents NAFLD through multiple mechanisms." 5
ALA may protect against liver fibrosis
This study examine the use of ALA in protecting against liver fibrosis and cirrhosis. The supplementation of ALA to rats with thioacetamide (TAA)-induced liver fibrosis prevented the development of both fibrosis and cirrhosis.
The researchers concluded that "…A may have a beneficial role in the treatment of chronic liver diseases caused by ongoing hepatic damage." 6
ALA appears to protect liver from chemical damage
This study tested the ability of ALA to protect against hepatotoxicity (chemical liver damage). Rats treated with ALA (25-100 mg/kg) were protected against acetaminophen (APAP)-induced hepatotoxicity, which can typically cause liver failure.
The researchers concluded that "…inhibition of NO overproduction and maintenance of intracellular antioxidant status may play a pivotal role in the protective effects of alpha-LA against APAP-induced hepatic and renal damage." 7
ALA appears to protect against nonalcoholic steatosis
This study examined the protective effect of ALA on nonalcoholic steatosis – a central feature of NAFLD. Thirty rats were fed a standard, high-fat, or high-fat plus ALA diet. ALA supplementation prevented liver damage and accumulation of triglycerides caused by the high-fat diet.
The researchers concluded that "…his investigation demonstrated the ability of lipoic acid to prevent nonalcoholic steatosis induced by a high-fat intake." 8

Human Res
Human Research

dies of ALA report mixed findings.

ALA (300 mg) does not appear to improve alcohol-related liver disease

This randomized, double-blind study examined the effects of thioctic acid (another name for alpha-lipoic acid) on alcohol-related liver disease. A total of 40 patients were given placebo or ALA (300 mg) daily for 6 months. ALA did not have any significant impact on the progression of the condition.
The researchers concluded that "Changes occurred irrespective of treatment with thioctic acid, which suggested that, over six months, this drug did not influence the course of alcohol-related liver disease."9
ALA (400 mg) plus ursodeoxycholic acid (300 mg) may protect the liver in NAFLD
This double-blind, randomized, placebo-controlled study tested the effects of the combination of ALA and ursodeoxycholic acid (UDCA, one of the bile acids) on NAFLD. A total of 120 people were given placebo or ALA (400 mg) with UDCA (300 mg) daily for 12 months. Compared to the placebo group, the ALAUDCA group experienced improvement of several measures of liver health, including levels of gamma-glutamyl transpeptidase (GGT), alanine aminotransferase (ALT), aspartate aminotransferase (AST), albumin and platelets (PLT). In addition, they also had a reduction in NAFLD fibrosis score.
The researchers concluded that "ALAUDCA therapy reduced AST, ALT, GGT values and improved NAFLD fibrosis score and AST/ALT ratio..." 10
Dosage fo
Dosage for Liver Health

earch studies most commonly use 300-400 mg dosages of alpha lipoic acid
ALA supplements usually provide 250-600 mg dosages in capsule form
Available
Available Forms

ha-lipoic acid is mostly commonly sold in capsules as a 50/50 mixture of R-ALA and S-ALA.
ALA can also be sold as 100% R-alpha-lipoic acid, which is considered to be more potent, but has a higher price.
SSupplements in Review Recommendationrong>

Alpha lipoic acid 300-400 mg for liver health.
ALA holds early promise for alleviating NAFLD. Early research indicates that ALA may protect the liver from nonalcoholic fatty liver, but there isn't enough evidence to recommend its use.
Most studies use 300-400 mg dosages. Studies of ALA tend to use 300-400 mg dosages, which is fairly close to the dosages recommended by ALA supplements.